Google Pixel Fold Review: A Foldable Galaxy Rival With Trade-Offs
Pixel Fold Review: Google's Foldable Phone Opens Up Options


Google Pixel Fold: Starting at $1799.99


Google's first foldable is slim and pocket-friendly, but its unfolded form factor could use some work.






Attractive, slim foldable design
The best cameras on a foldable
Foldable screen is great for video and multitasking
Comfortable folded form factor

Battery might not last all day
Does not open completely flat
Google's foldable software lacks features
More bugs than the average Pixel
High $1,800 price tag



Google was involved in Samsung's early efforts to make a foldable device, introducing large-screen optimizations to Android only after Samsung promised it was serious about folding phones. You can't talk about the Pixel Fold without acknowledging Samsung's lead. While
Google
worked on refining standard Pixel phones, Samsung evolved its foldables across five generations. Now, having gotten a better handle on flat phones, Google is
taking a swing
at its own foldable Pixel.
You won't mistake the Pixel Fold for a Samsung phone—Google's foldable is the thinnest on the market, making it much more comfortable to use than other foldables. At the same time, Google's desire to make the phone as thin as possible means the hinge doesn't quite open a full 180 degrees. However, the Fold is still a Pixel through and through, with a Tensor G2 chip, the stupendous Pixel camera experience, and Google's custom version of Android for foldable devices. Although, in an unexpected twist, Samsung might have an edge on Google when it comes to software features.
More on that shortly but let's dive into the particulars...
Google Pixel Fold Features and Specs
Processor

Google Tensor G2


Display

5.8-inch 1080 x 2092 cover display @120Hz
7.6-inch 1840 x 2208 foldable display @120Hz

Memory

12GB


Storage

256 or 512GB UFS 3.1


Rear-Facing Cameras

48 MP f/1.7 primary w/ OIS, 10.8MP f/3.1 5x telephoto w/ OIS, 10.8MP f2.2 ultrawide

Front-Facing Cameras

8MP f/2.0 (internal), 9.5MP f/2.2 (cover)


Video Recording

U

p to 4K @ 60fps, 1080p @ 240fps

Battery

4821 mAh, 21W wired charging, 5W wireless charging (7.5W with Pixel Stand 2)


OS

Android 13


Dimensions

Unfolded: 158.7 x 139.7 x 5.8 mm
Folded: 139.7 x 79.5 x 12.1 mm

Weight

283 grams


Connectivity

Wi-Fi 6e, Bluetooth 5.2, NFC, USB-C, LTE, 5G (sub-6GHz and mmWave), UWB


Colors

Porcelain, Obsidian


Pricing

Starting at $1,799.99 On Amazon

Like all foldables, there's a futuristic vibe to the Pixel Fold, but it also has elements of the past. The external screen is 5.8 inches with a resolution of 1080 x 2092 and a 120Hz refresh rate. Most modern phones have a tall aspect ratio because wider phones are more difficult to hold. The Pixel Fold's cover screen is a 17.4:9 ratio, very close to the 16:9 phones of yesteryear. It's a much more usable shape than the ultra-skinny cover display on Samsung's foldables, but we'd like to see a ratio between the two.
The phone has a glossy aluminum frame with a matte glass back panel. Each half of the phone is a mere 5.8mm thick, and the hinge allows it to close completely flat. That's something Samsung's foldables have not done until the newest Galaxy Z Fold5, but Google's phone is still more than a millimeter thinner than the Fold5 when closed at 12.1mm. If Samsung's foldables are too bulky for you, the Pixel Fold might be agreeable. But don't confuse this with a small phone; it's still massive compared to non-foldables.
As much as we like the Pixel Fold closed, the unfolded form factor makes this phone feel unfinished. Google says its quest to keep the phone thin meant the hinge has to remain slightly bent, so the Pixel Fold is never completely flat when open. Going into this review, I thought I'd stop noticing the slight angle, like a hole punch camera or a slight screen crease. However, I find myself constantly flexing the device, wondering if I really opened it all the way because it never feels completely stable. It's not a deal breaker, but it feels like something Google should have been able to avoid.
The Fold's bezel wasn't a major annoyance, though. Google's foldable has larger plastic dividers along the top and bottom of the internal screen, which makes it look a bit less refined than Samsung's perfectly even bezels. However, it does provide space for a selfie camera so there's nothing interrupting the Pixel Fold's display.
The folding OLED itself looks very good, with a 120Hz refresh rate and 1840 x 2208 resolution. It can boost to 1,550 nits of brightness outdoors, just 200 nits less than the Z Fold 5. Either phone will be readable even under intense sunlight. The shape of Google's foldable is a bit odd, though. It's wider than other
foldables
when closed, so the same thing goes for the unfolded mode. Android apps tend not to handle widescreen layouts as well, and the Fold's 6:5 ratio falls into that category. The upshot is split-screen mode—two apps side-by-side on this screen are spacious and eminently usable.
All foldables have at least some crease in their folding OLED panels, but the Pixel Fold's crease is particularly noticeable. This might be exacerbated by the hinge that doesn't open all the way—regardless, you'll see and feel the crease more so than on other foldables. The OLED has a layer of ultra-thin glass inside, supposedly the same material we've seen in Samsung's foldables. However, the Pixel's display feels softer to us. All foldable screens are prone to scratches if you're not careful. We've seen a few reports of damage to Google's foldable, but ours is holding up well so far.
Even Samsung cannot fit an in-display fingerprint sensor in a foldable, so Google's thinner Pixel Fold had no hope there. The Pixel Fold has a sensor built into the power button, which is above the volume rocker on the right edge. The sensor is reliable in our testing, but it's noticeably slower than similar side-mounted sensors on Samsung's foldable phones.
Google Pixel Fold Software
Google's Pixel edition of Android has always been a high point, offering a clean interface and an assortment of focused features that are actually worth using. The Pixel Fold has all the usual Pixel goodies like Call Screen, Hold for Me,
Magic Eraser
, Assistant voice typing, and more. Google's calling features, in particular, are a godsend for anyone who hates voice calls. If you get used to having these features, moving to any other phone can feel like a downgrade.
We also appreciate Google's elegant implementation of Material You on
Android 13
. The color palettes pulled from wallpapers are attractive and not as over-the-top as Samsung's or OnePlus' versions. The Fold also has Cinematic Wallpapers, an AI-powered feature that debuted on the
Pixel 7a
. It can take a regular 2D photo and create a 3D version that shifts as you move the phone. We were surprised at how well this works (tested with a James Webb Space Telescope image), and the AI wallpapers look phenomenal on the either screen.
The way foldables handle the home screen is still in flux, and none of the implementations are perfect. Samsung's default is to have completely separate home screens for folded and unfolded states, but Google links the two (this is an optional setting for Samsung). So, the unfolded state shows your home screen two panels at a time. This makes customization easier, but you cannot span widgets across the full unfolded screen as they would be cut off when folded. It's an imperfect solution that's not objectively any better or worse than Samsung's version. Having used a raft of foldable phones, my current preference is separate home screens, a la Samsung.
Multitasking is king on foldables, and this is where Google's usual software dominance falls off. We like the way Google activates the foldable taskbar with the multitasking gesture, but the taskbar only shows the favorites row from your home screen unless you intentionally leave empty spaces. Digging into the full app list takes too long, and there's no way to save split-screen app pairs for quick access like you can on Samsung foldables.
When you split-screen apps, you'll find vastly fewer options on the Pixel than Samsung offers. For one, you're limited to two apps, and Samsung supports three. You can slide the divider on the Pixel Fold to change the size of the apps, and a double-tap swaps them, but that's all the control you get.
In fact, there are a lot of Android apps that don't adapt to the Pixel Fold's screen at all. You're left with black bars on the left and right sides, but you can shift the app to one side or the other with a double-tap. There is no option in the software to force apps to fill the screen, which is the default behavior on Samsung's foldables, and it works for almost all apps.
The Pixel Fold remains fast, even with two apps running on the screen. In a few weeks, we've seen only a handful of stutters, and they didn't appear related to multitasking or intense usage. In general, the Pixel Fold exhibits more bugs than we've seen on other recent Google phones. The multitasking UI has gotten hung up a few times, and the phone occasionally "wakes up" with a black screen, requiring it to be put to sleep and woken again.
Google Pixel Fold Cameras
The Pixel Fold has three rear-facing cameras, a front-facing sensor for the closed mode, and another selfie shooter in the oversized internal bezel. The main camera array is similar to the
Pixel 7 Pro
, but all three sensors are smaller and less capable than what you get in Google's best flat phone. We're used to seeing foldables compromise on cameras, and it's somewhat understandable given the space constraints, but an $1,800 phone should have the best camera hardware possible.
Even if it's not the best camera, the Pixel Fold is still a Pixel. The primary 48MP shooter has OIS, and we've been very happy with the results. It captures photos quickly thanks to the bright f/1.7 aperture, and Google's borderline magical HDR processing brings out shadow details without blowing out highlights. That said, we can tell the difference between the Pixel 7 Pro's 50MP shooter and the smaller 48MP on the Fold, particularly in low light and night mode shots.
The Pixel Fold, like other Pixel phones, is great for quick snapshots. Just take it out, open the camera, and take the picture. More often than not, the Pixel will deliver an accurate, attractive image. Other phones, even high-end devices from Samsung, are a lot more finicky. On the flip side, the Pixel Fold doesn't have a manual shooting mode. The best you'll get are the exposure sliders, which are genuinely useful. Still, it's not really a substitute for tweaking shutter speed, ISO, and so on. The Fold has a custom camera UI when the phone is half-folded, which makes the phone somewhat less ungainly for taking pictures compared to fully unfolded.
In addition to the primary camera, the Pixel Fold has a 10.8MP ultrawide and a 10.8MP telephoto with 5x zoom. Those are both lower resolution than the Pixel 7 Pro (a drop from 48MP for the telephoto), so even with Google's excellent photo processing, you should not expect these cameras to match the level of detail of the Pixel 7 Pro's cameras. As long as you don't try to crop these photos, they'll be good enough for sharing online.
There's nothing special about the selfie cameras—there's an 8MP inside the Fold and a 9.5MP above the cover display. They're fine for video chat and selfies in good light. However, if you want to take a good selfie, the Pixel Fold lets you use the main camera array. There's a button in the camera UI that turns on the cover display as a viewfinder, allowing you to turn it around to snap a photo with better detail, colors, and bokeh. Samsung has the same feature, but you can't beat that Pixel camera experience. Although, the Pixel Fold with its slightly bent hinge is more awkward to hold up for a selfie.
While the Pixel Fold's cameras aren't the best Google can muster, they're definitely "premium." Cheap phones often skimp on hardware by including near useless depth sensors and macro cameras.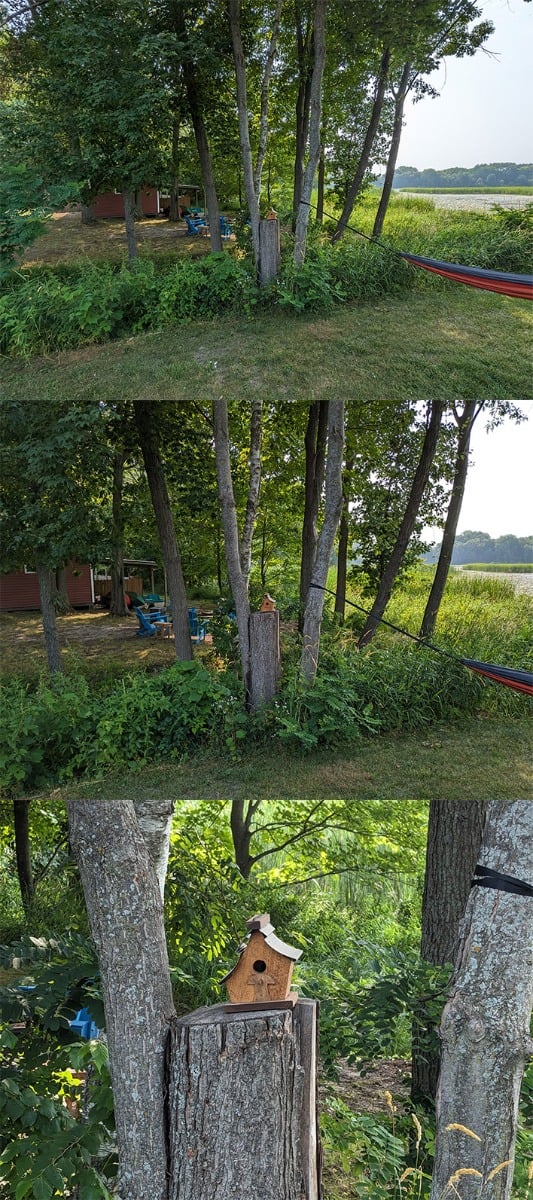 The Pixel Fold has different focal lengths for each camera, which give you good reach to frame your subject with a minimum of digital zooming. The
Galaxy S23 Ultra
has double the optical zoom, but again, the foldable form factor requires some compromises.
Related content