ASUS ROG Strix G15 Review: AMD Advantage Edition Gaming Laptop
AMD Radeon RX 6800M And ASUS ROG Strix G15: Benchmark Results
We tested the ASUS ROG Strix G15 AMD Advantage Edition as it shipped to us, but with the latest Windows updates installed, and any auto-updates that came down via ASUS' MyASUS application, to best ensure that what we present to you here is indicative of what you can expect from machines bought at retail.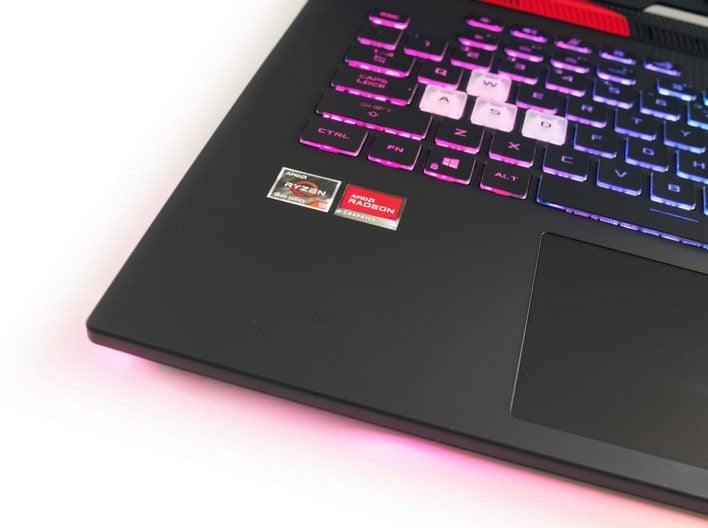 Many variables can affect laptop performance, however, so our comparisons should serve only as a reference. Our benchmarking kicks off with storage, CPU, and browser tests to get an idea as to how this AMD Ryzen 5000 and
Radeon RX 6800M
-powered machine performs in everyday computing tasks. From there, we'll move onto the graphics and gaming tests. We should note that all of our tests (unless otherwise specified), we ran with the notebook configured in it's default "Performance" profile. If you're OK with a bit more noise, a "Turbo" profile is also available.
ATTO Disk Benchmark




Peak Sequential Storage Throughput



ATTO's disk benchmark gives us an idea of how well the system's SSD performs with sequential read and write operations of differing sizes. This system has a 512GB Samsung PCIe Gen 3 NVMe solid state drive...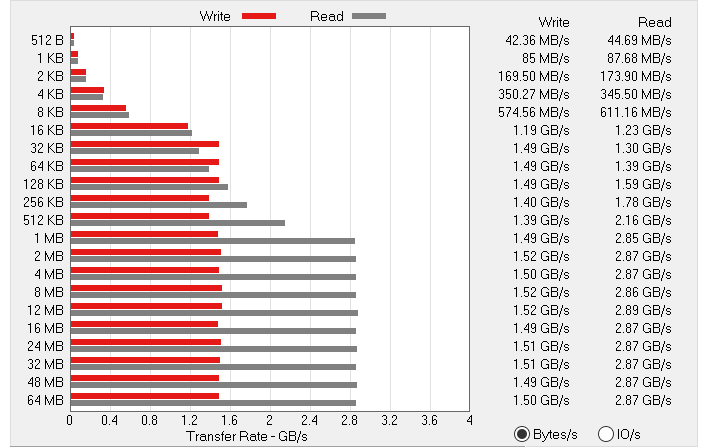 Read speeds topped out at about 2.9GB/s with 1.4 - 1.5GB/s writes. That's nothing to sneeze at, but the numbers aren't particular impressive either in this day and age with the second wave of PCIe 4 SSDs on the horizon. That said, storage performance won't hold this system back and it felt snappy and responsive throughout our testing.
Speedometer Web Application Benchmark
Browser Performance
We moved on to BrowserBench.org's
Speedometer
test, which takes a holistic look at web application performance. This test automatically loads and runs several sample webapps from ToDoMVC.com using the most popular web development frameworks around, including React, Angular, Ember.js, and even vanilla JavaScript. This test is a better example of how systems cope with real web applications, as opposed to a pure JavaScript compute test like JetStream. All tests were performed using the latest version of Chrome.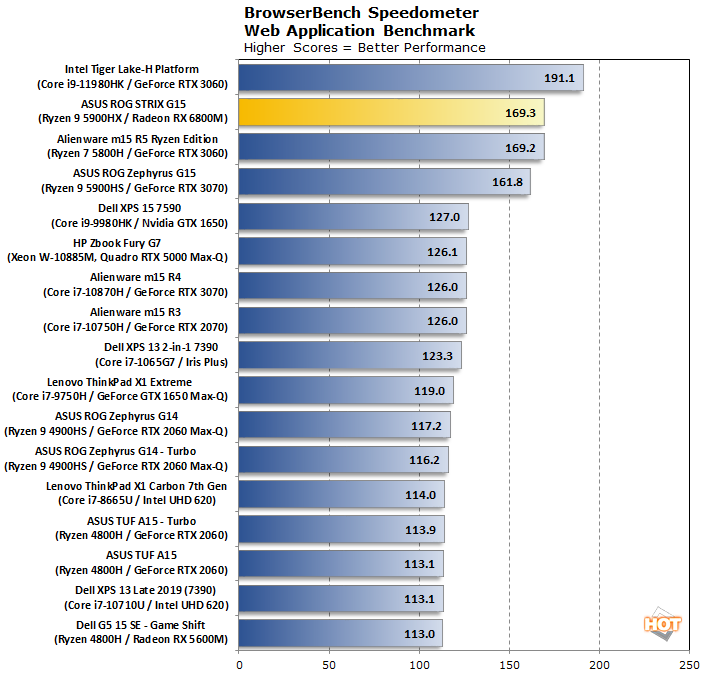 The ASUS ROG Strix G15 put up the second fastest score in our test group, trailing only the latest Intel
Tiger Lake-H45 based reference platform
that we recently previewed. For web applications and browsing, a machine this powerful will have absolutely no problem handling anything that's thrown at it.
Geekbench




Single and multi-core



Geekbench 5 is a cross-platform benchmark that simulates real world processing workloads in image processing and particle physics scenarios. We tested the ROG Strix G15 with Geekbench 5's single and multi-core test workloads.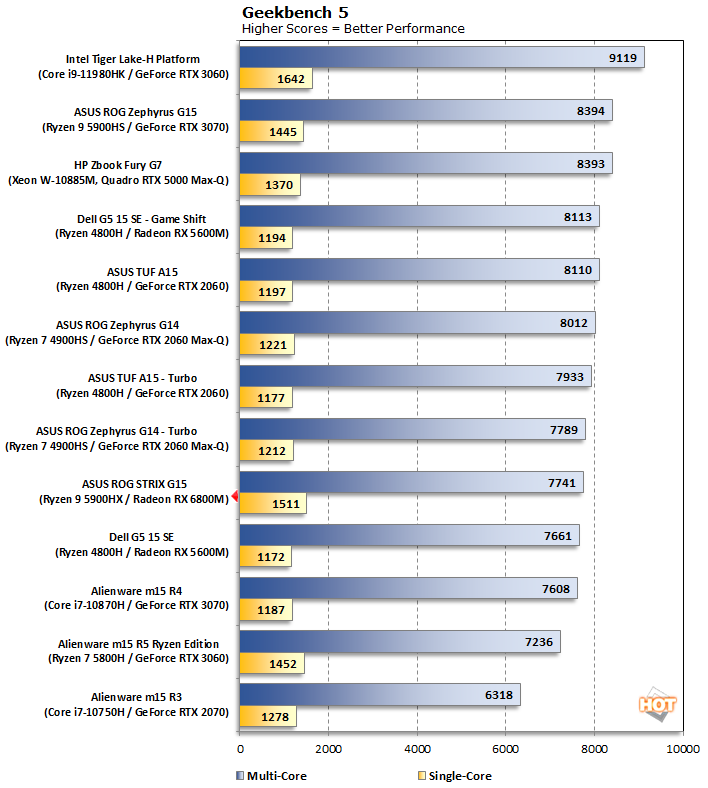 The Ryzen 9 5900HX in the ASUS ROG Strix G15 put up the best single-threaded score of the bunch, but it's multi-threaded score landed about in the middle of the pack. We expected higher numbers here, but the test was repeatable and the numbers are what they are.
PCMark 10




Productivity and System-Level Benchmarking



Futuremark benchmarks have been popular go-to system level tests since the late '90s. We ran the ROG Strix G15 through PCMark 10, which is designed to gauge the system's performance in common, everyday computing tasks with GPU acceleration-enabled, and with 3DMark tests further down the page assess graphics and gaming chops.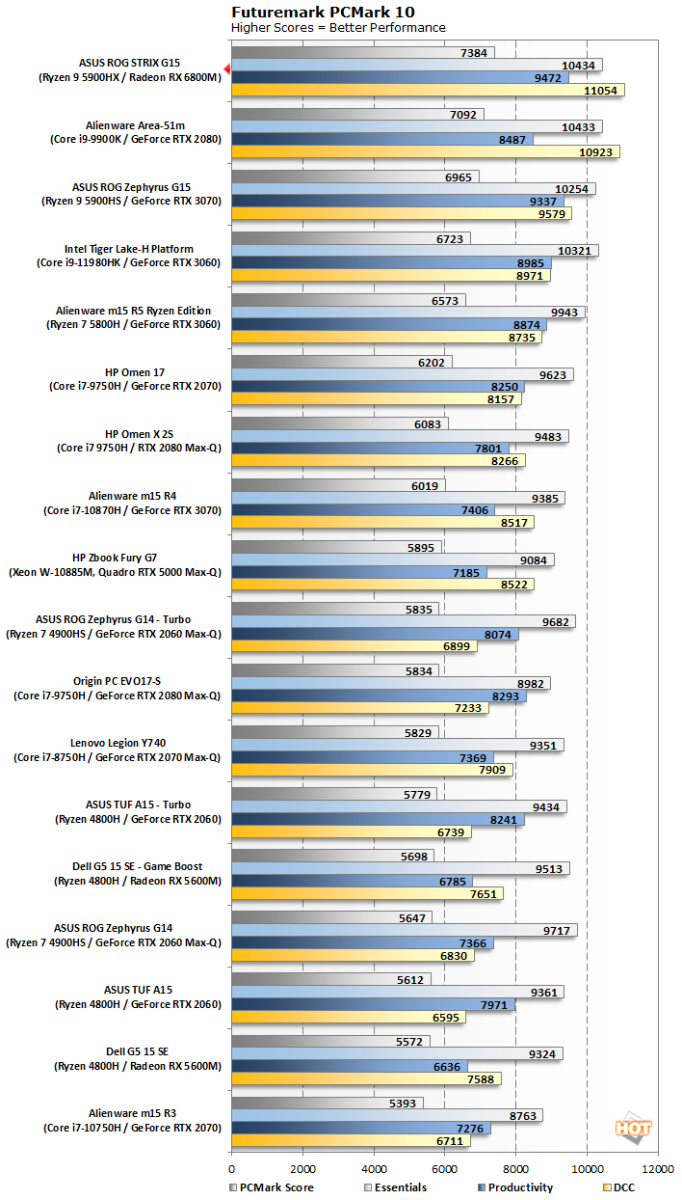 The ASUS ROG Strix G15 AMD Advantage Edition also put up the best scores we have seen in PCMark 10 to date. For any productivity or content creation tasks, this AMD-powered system is going to hang with the best laptops available.
For our first set of graphics related tests, let's start with some
3DMark
action. UL's well-known 3DMark benchmark suite features tests that target different types of computing devices. We selected the Time Spy, Fire Strike Extreme, and Port Royal tests for a glimpse at the Radeon RX 6800M GPU's potential gaming performance in DirectX 12 and DirectX 11 scenarios. We also have a fair amount of comparison data for these tests from an array of other gaming notebooks.
3DMark Benchmarks
3D Performance
3DMark has several different graphics tests which focus on different types of systems. We start with Time Spy, which is 3DMark's headline benchmark. This test presents a fairly significant challenge for the system's CPU and GPU using the DirectX 12 APIs.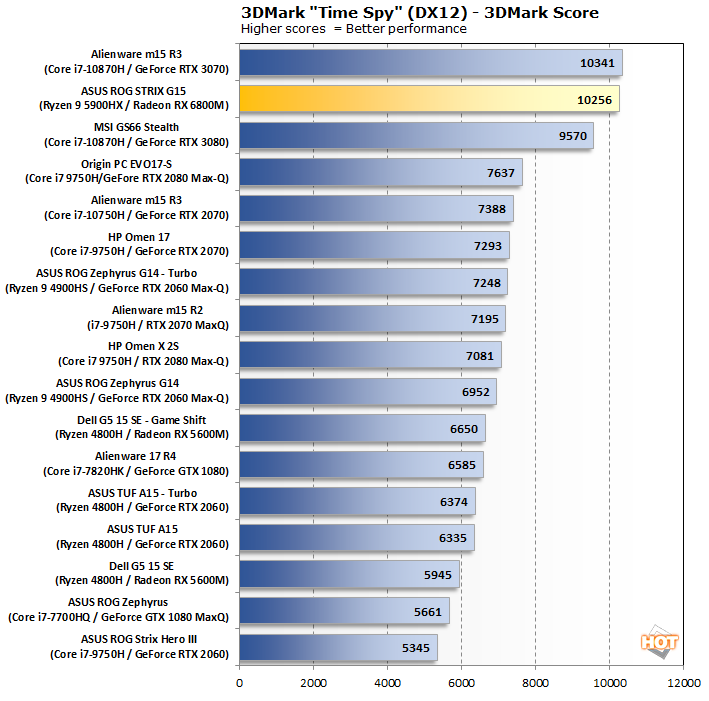 Interestingly, the GS66 Stealth with GeForce RTX 3080 combo ends up trailing the retail-ready Alienware m15 r4 with GeForce RTX 3070 (
full review of that Alienware machine
here, and a testament to the fact that Dell configures many of its laptops with RTX 30 series GPUs at full power). Regardless, the ASUS ROG Strix G15 AMD Advantage Edition with Radeon RX 6800M lands right in between them, near the top of the stack.
Next up is Fire Strike, which is a showcase of DirectX 11 effects. We ran the test on its Extreme setting on the notebooks featured here, which upscales the rendering resolution before outputting to the screen.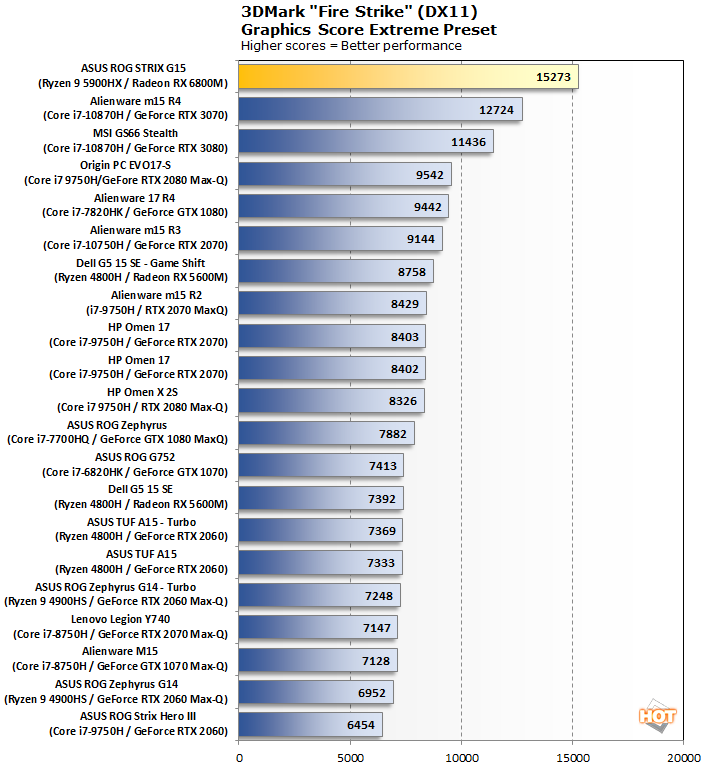 The ASUS ROG Strix G15 AMD Advantage Edition with Radeon RX 6800M absolutely crushed all of the notebooks we tested in Fire Strike, besting its nearest competitor by about 20%.
Port Royale is next, which is a DirectX Ray Tracing (
DXR
) benchmark...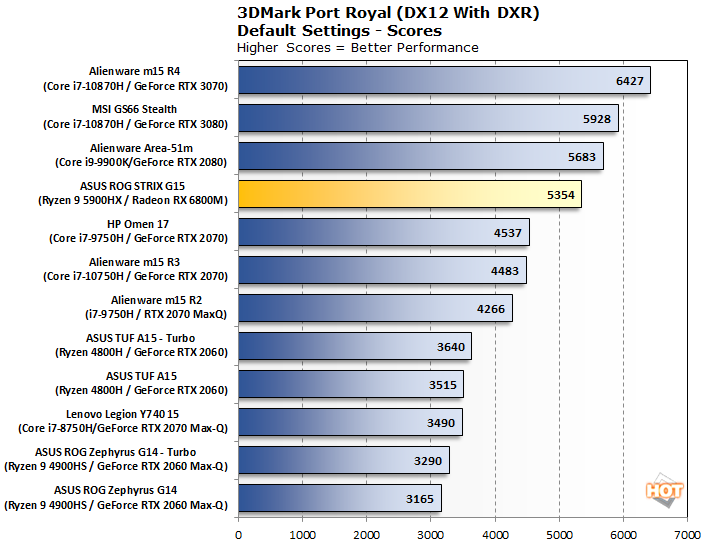 The Radeon RX 6800M powered ASUS ROG Strix G15 lands in the upper-third here, with ray tracing performance that's superior to the GeForce RTX 2070, but somewhat below the RTX 2080. The latest Ampere-based GeForces rule the roost in this test, however.
Far Cry 5
Gaming Performance
Far Cry 5 takes the franchise to Montana with lush environments and top-notch graphics fidelity. We ran the laptops here through the built-in benchmarks with Ultra Quality settings...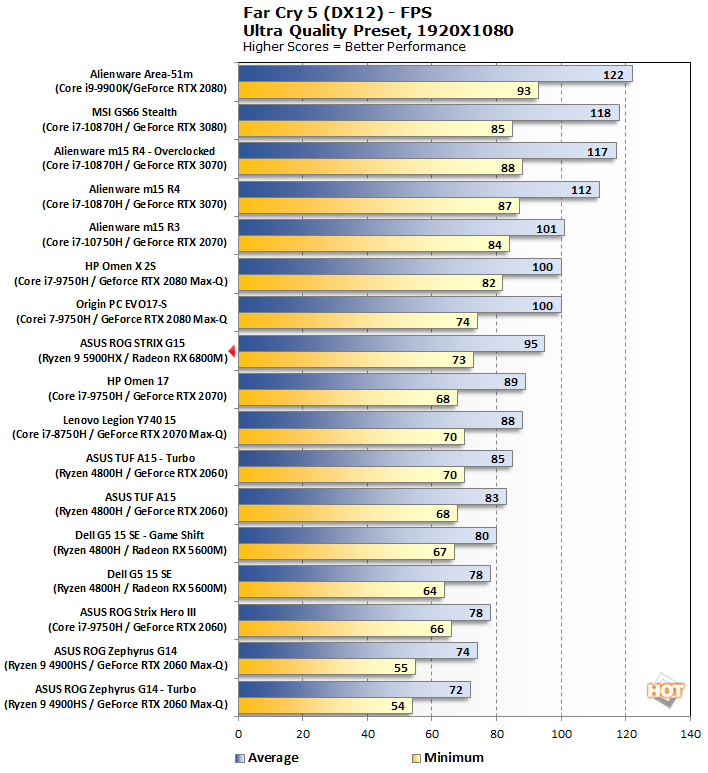 Switching gears from synthetic 3D testing to actual game benchmarks, the ASUS ROG Strix G15 AMD Advantage Edition with Radeon RX 6800M lands about in the middle of the pack, with an average framerate just shy of the 100 FPS mark. This game is heavily CPU bound at 1080p, though.
Gears 5
Gaming Performance
Gears 5
was one last year's fall blockbusters, and on top of looking great, it's a blast to play. Due to the relative newness of the game, we don't have a ton of notebooks represented, so we intermingled some desktop GPU results for reference. We used the High preset at 1920x1080, same as before, to test this game.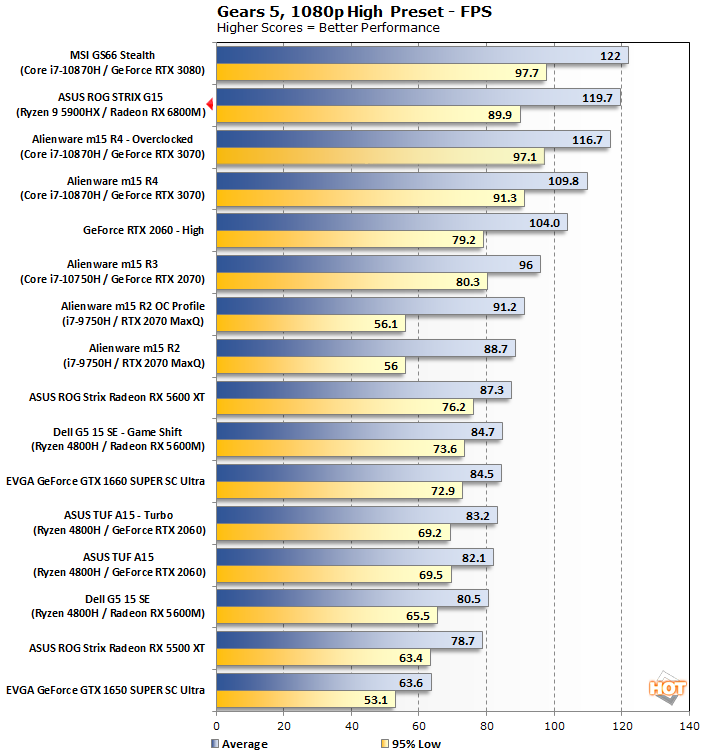 The MSI GS66 Stealth and GeForce RTX 3080 laptop GPU combo tops the charts here, but the ASUS ROG Strix G15 AMD Advantage Edition with Radeon RX 6800M is right there alongside it, finishing only 2.4% behind.
Middle Earth: Shadow of War
Gaming Performance
Middle Earth: Shadow of War
is a fun and and beautiful title set in Tolkien's Lord of the Rings universe. To test the game's performance relative to other systems, we set the resolution to 1920x1080 and turned the visuals up to the High preset. The frame rates here are the average reported by the built-in benchmark.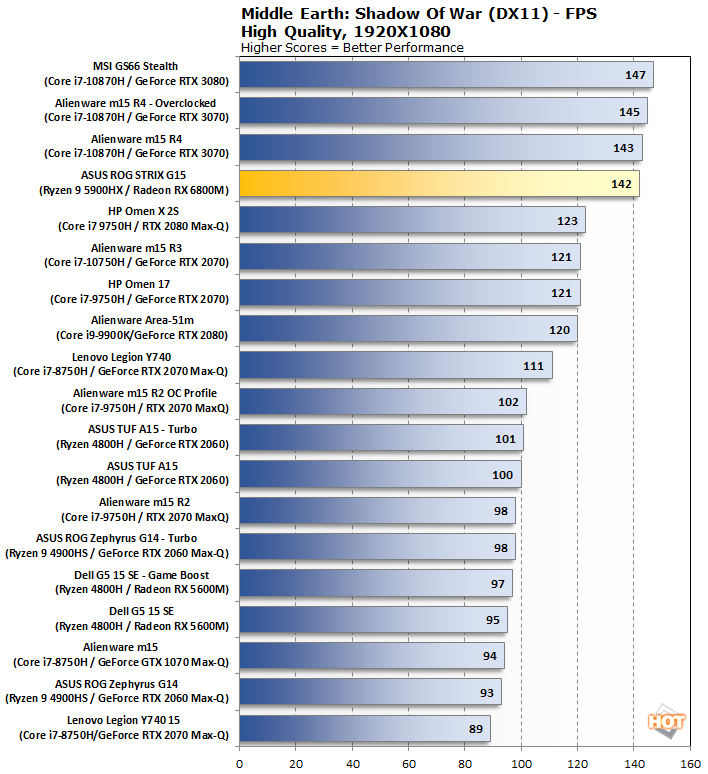 The GeForce RTX 3080 laptop GPU takes the pole position yet again, but the ASUS ROG Strix G15 AMD Advantage Edition with Radeon RX 6800M finishes right up near the top of the stack as well, with a framrate north of 140 FPS.
Shadow of the Tomb Raider
Gaming Performance
The finale in the rebooted
Tomb Raider
trilogy, Shadow of the Tomb Raider is easily the best-looking of the bunch. It's also brimming with Tobii eye-tracking hardware support, and leading edge graphics technologies. To test this game out, we again turned the visuals up to High and tested at the Full-HD resolution of 1920x1080.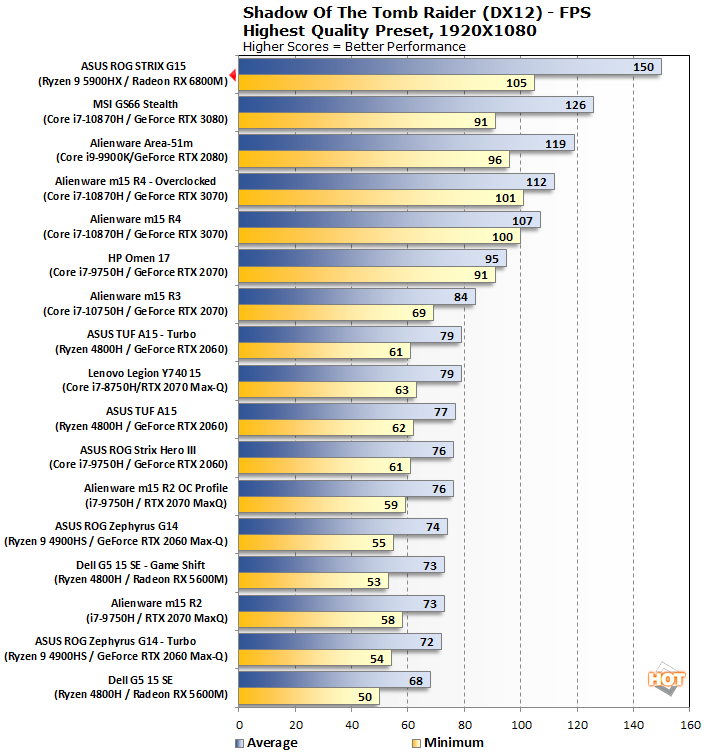 The ASUS ROG Strix G15 AMD Advantage Edition with Radeon RX 6800M scored another clear victory in the Tomb Raider benchmark, besting every other notebook we've tested by a wide margin. This game is heavily threaded (versus most other games) and graphically intensive. The combination of 8-core / 16-thread processor with a powerful GPU, pushes the ASUS ROG Strix G15 firmly into the pole position.
Untethered: Re-Testing Performance On Battery
AMD made some claims about retaining more performance while running on battery than some other platforms, so we decided to do some re-testing untethered from the AC adapter as well. We do not have a ton of data here, and learned very quickly throughout this process that there enough knobs and dials to turn to make you crazy, so we're not going to dwell to much on the results. Between Windows' various power modes and settings, Armory Crate's automatic power mode switching,
GeForce Experience
(and NVIDIA's Battery Boost options), and firmware level optimizations on various platforms, laptop behavior and performance while operating on battery power can vary greatly. But we wanted you to see the numbers nonetheless.
We should also note that we tried to re-run some numbers of the RTX 3080-powered MSI G66 Stealth, and found that its performance was unpredictable and varied widely in various tests. We killed half a work day experimenting with settings and decided to just move on with the TGL-H reference platform we had on hand.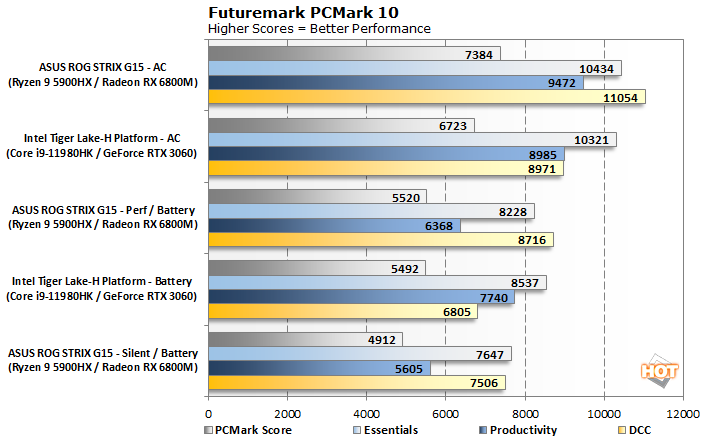 While on battery power, the ASUS ROG Strix G15 automatically switches to Silent Mode, but we tested with it manually switched back to Performance mode as well. As you can see, performance drops significantly on both platforms, though the AMD system does maintain its lead. This type of testing is something we hope to explore more deeply in the future with more retail-ready platforms, however.
Related content
Comments