ASUS ROG Strix G15 Review: AMD Advantage Edition Gaming Laptop
AMD Radeon RX 6800M And ASUS ROG Strix G15: Power, Acoustics And The Verdict
Our Battery Life testing is performed using a custom 1080p HD video loop test we developed here at HotHardware. We conduct the tests with
Windows 10
Quiet Hours / Focus Assist enabled and the display's brightness calibrated as close to 115 lux on
our meters
as possible. Brightness calibration is vital to ensure a fair comparison with other laptops in our group, since it greatly affects battery life.
However, every laptop has different brightness ranges, so it's critical to rely on a
light meter
, instead of a Windows brightness setting percentage, in order to level the playing field on brightness output.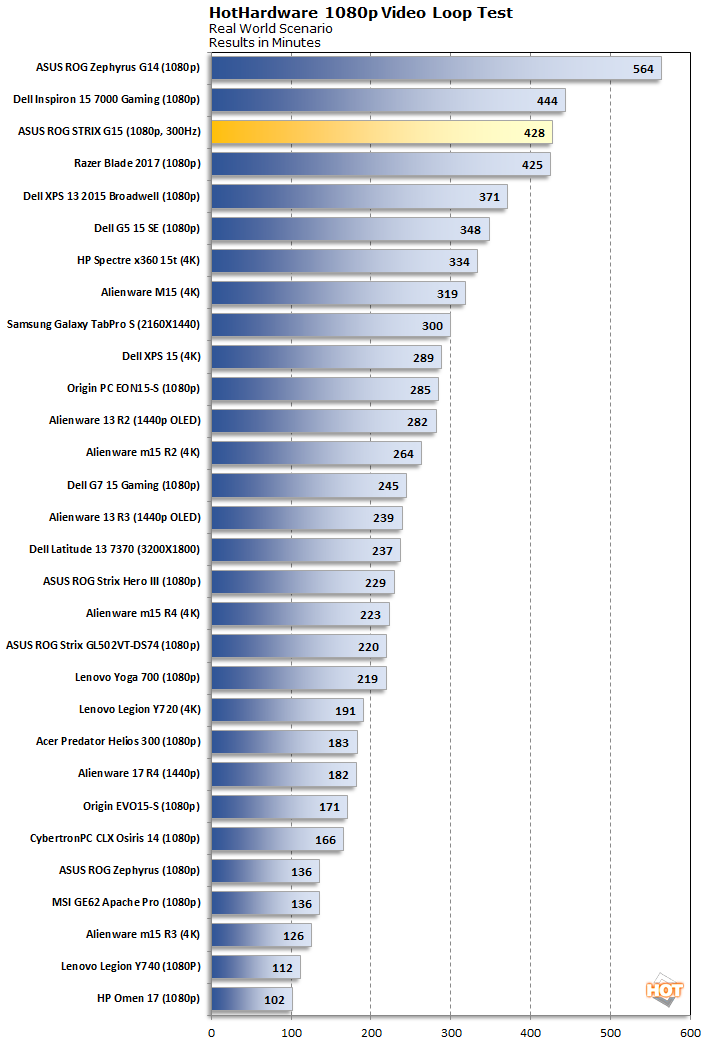 Although gaming notebooks are notorious for their poor battery life, the ASUS ROG Strix G15 AMD Advantage Edition put up a strong score here while with our continuous HD video playback workload. The Radeon RX 6800M can idle at near 0 watts and the efficiency of the rest of the platform, plus its 1080p display, results in some pretty strong battery life here. However, we also tested battery life in a more taxing gaming scenario...
PCMark 10's gaming battery life test simulates an actual game, but since the workload is identical between runs, eliminates any variability. We tested the ROG Strix G15 here with the Performance profile available in
ASUS
' Armory Crate utility when the system is running on battery power and achieved just 71 minutes. This number could absolutely be improved by lowering screen brightness, using the Silent power profile, and leveraging framerate limiters, etc. but if you don't turn any dials and just game on the machine this is where it lands.
| | |
| --- | --- |
| | Total System Power Consumption |
We'd also like to cover a couple of final data points regarding power consumption and acoustics. Throughout all of our benchmarking and testing, we monitored noise output and tracked how much power the notebook was consuming under various conditions. Note, this is not the GPU power alone, but power draw measured at the outlet, being consumed by the entire machine...
While idling, the ASUS ROG Strix G15 pulled only 11 - 13 watts from the wall (with the battery fully charged). With a fully loaded CPU, power peaked at 130 watts, but with a fully loaded GPU (using Furmark), power shoots all the way up to 243 watts. Note that in this scenario, using a "power virus" like Furmark,
AMD
SmartShift allows the GPU to boost higher and consume thermal budget that is not being consumed by the idle CPU. When both the CPU and GPU are being taxed simultaneously, power peaked at 248 watts. Interestingly, the Intel / GeForce RTX 3080 powered MSI machine behaved very differently and had significantly lower power consumption. When taxing both the CPU and GPU on the MSI machine, however, the GPU's performance throttles much more. For example, Furmark's GPU torture test framerate drops from ~71 FPS to ~41 FPS -- a decrease of over 40% -- on the MSI machine (at the panel's native 1440p resolution) when both the CPU and GPU are being loaded. The ROG Strix G15's GPU performance (at the panel's native resolution of 1080p) drops from ~160 FPS into the 115 - 137 FPS range, which is a reduction of 14 - 28%.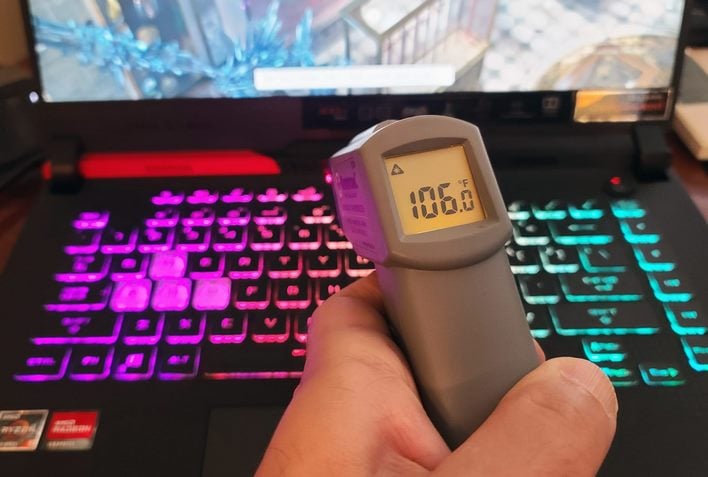 Despite all of the powerful hardware in the ASUS ROG Strix G15 AMD Advantage Edition that it's cooler has to manage, skin temperatures on the machine are actually quite tame. The hottest point we found on its typing deck was "only" 106°F, which is warm to the touch but not particularly hot by any means (and is actually cooler than many thin and light machines.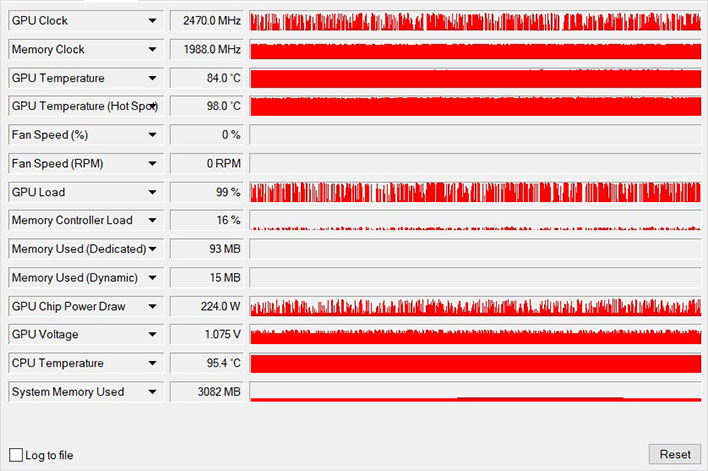 What's happening thermally inside the system when loaded up is a bit of different story. Both the CPU and GPU will hover in the high 90°C range at their hottest points, but that is within the spec limits of the chips.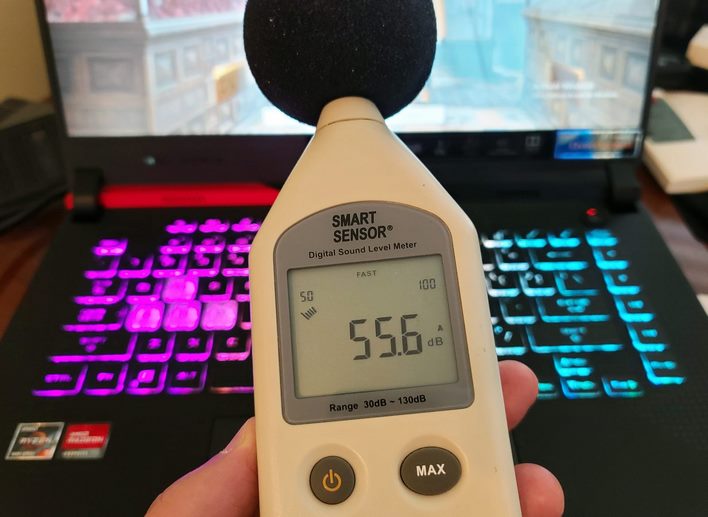 While idling, the ASUS ROG Strix G15 AMD Advantage Edition makes very little noise. Its fans don't run constantly, but at low loads they are not audible and remain very quiet. Putting the machine under a heavy load, however, results in significantly higher fan speeds. Under load, the system output over 55dBa, which is relatively loud, but in the same ballpark as many other high-end gaming notebooks. The pitch of the notebook's fans isn't particularly offensive either. If you're familiar with the noise output of a typical gaming notebook, the ASUS ROG Strix G15 AMD Advantage Edition would be nothing to be concerned about.
AMD Radeon RX 6000M For Gaming Laptops: The Verdict
The Radeon RX 6800M propels AMD back into the high-end gaming laptop market in the same way the company's Radeon RX 6000 series desktop GPUs did late last year. Throughout all of our tests, the all-AMD powered ASUS ROG Strix G15 AMD Advantage Edition performed exceptionally well. In the system level benchmarks, the Ryzen 9 5900HX and Radeon RX 6800M combo pushed the ASUS ROG Strix G15 AMD Advantage Edition to the top of charts. This machine put up the best PCMark 10 score from a laptop that we have seen to date and it's Speedometer results were among the strongest as well.
Overall, we're impressed. ASUS has done a nice job with the ASUS ROG Strix G15. Unlike some other, more understated systems, there's no mistaking the ROG Strix G15 for anything other than a gaming notebook, but it is still aesthetically appealing in our opinion and it's well behaved in most scenarios. It's only while gaming that its fans spin up and make any noise. In terms of the platform's capabilities, AMD's clearly got the goods.
AMD's Ryzen 5000 and Radeon RX 6000M series combo for laptops will offer strong performance all around. Intel's got some advantages in terms of IO and single-threaded performance with its latest Tiger Lake-based platforms, but those aren't enough to overshadow what AMD has done here for gaming machines. The Radeon RX 6800M and ASUS ROG Strix G15 AMD Advantage Edition are killer products, and perhaps best of all, they should be priced competitively. The configuration we've tested here is slated to hit BestBuy in June with an expected MSRP of $1649. That's a highly competitive, aggressive price point for a system of this caliber, especially considering its strong performance.











Strong Performance

Targeting Attractive Form Factors
Same GPU As Desktop Parts
New Platform Capabilities

High Power Consumption
Short Battery Life Running @ Top Speeds



Related content
Comments