GeForce RTX 3050 Review With EVGA: Potent, Mainstream PC Gaming
GeForce RTX 3050 Review: NVIDIA's Most Affordable Ampere GPU Yet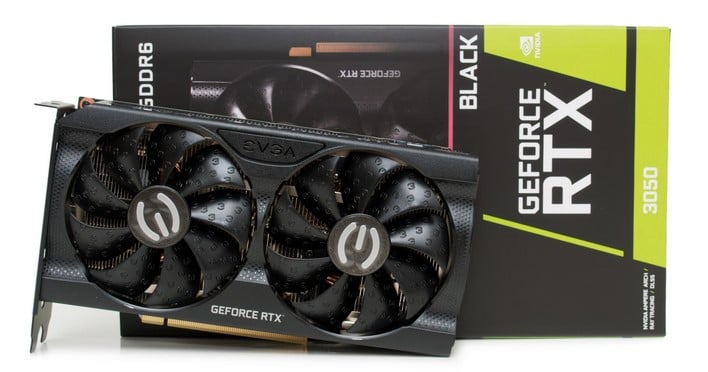 Both NVIDIA and AMD announced new mainstream GPUs during CES 2022. AMD announced the
Radeon RX 6500 XT
, which we showed you last week, and NVIDIA the
GeForce RTX 3050
. NVIDIA also quickly teased a GeForce RTX 3090 Ti during its event, but details regarding that behemoth will be coming a little later.
Today, we get to reveal the GeForce RTX 3050's inner workings and performance. To test NVIDIA's latest mainstream GPU, which also happens to be the most affordable Ampere-based GPU yet (at least in terms of MSRP), we got our hands on a card from
EVGA
. The EVGA GeForce RTX 3050 XC Black is a stout little fellow that sticks to NVIDIA's reference specifications and looks nearly identical to EVGA's similarly-branded RTX 3060. The full specification and features compared and contrasted against the previous-gen GeForce RTX 1650 are outlined below for your perusal, followed by a deeper drive into the RTX 3050. Let's get started...
GeForce RTX 3050 Features & Specifications
---
The GeForce RTX 3050 is powered by NVIDIA's Ampere GPU architecture, just like all of the other cards in the GeForce RTX 30 series. As such, we won't rehash many of the new features and capabilities inherent to
the RTX 3050
, because we've already done so on a number of occasions.
If you want some additional backstory and foundational information regarding Ampere, we'd specifically suggest checking out our
GeForce RTX 3080
Founder Edition review, our NVIDIA GeForce RTX 30-Series:
Under The Hood Of Ampere
article, and our original GeForce RTX 3090, RTX 3080 And RTX 3070
debut article
.
The NVIDIA GA106-Powered GeForce RTX 3050
If you somehow missed all of those previous articles, now's the time to give them a read. In them, we explain the enhancements NVIDIA introduced with Ampere, from its new internal data paths, enhanced CUDA, RT, and Tensor cores, and discuss many new features, like NVIDIA RTX IO, NVIDIA Broadcast, NVIDIA Reflex, Omniverse Machinima, and more.
The GeForce RTX 3050's GA106 GPU is also equipped with the same 7th Gen NVENC encoding and 5th Gen NVDEC engines as its higher-end counterparts. The new 5th Gen decoder supports hardware-accelerated decoding of the MPEG-2, VC-1, H.264 (AVCHD), H.265 (HEVC), VP8, VP9, and AV1 codecs, so the card's media and content creation capabilities are similar to top-end cards. Although it is scaled down to hit lower power envelopes and price points, the GeForce RTX 3050 has all of the same features and support for the same technologies as other Ampere-based GPUs.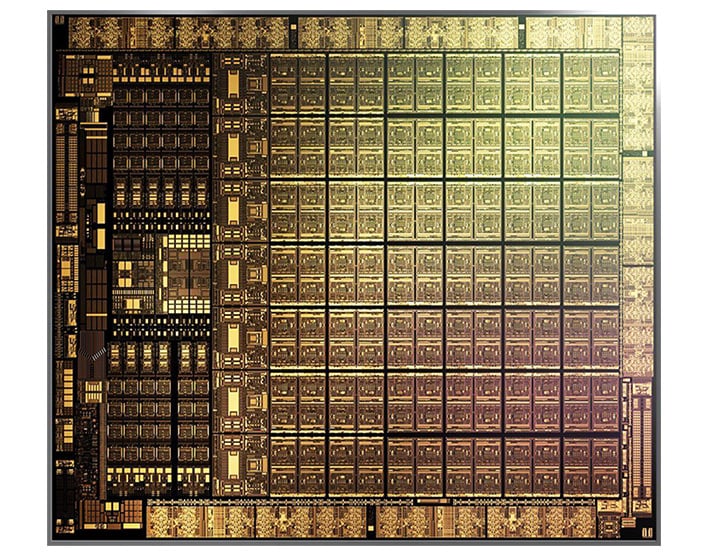 The GA106 is fabricated on Samsung's 8nm
NVIDIA
custom process and is comprised of approximately 12 billion transistors. Although the GPU in its full configuration has 30 Streaming Multiprocessors (SM), 20 are enabled on the desktop GeForce RTX 3050.
There are 128 CUDA cores per SM, for a total of 2,560, four 3rd-Gen Tensor cores per SM (80 total), and 20 2nd-Gen RT cores enabled on the RTX 3050. Complementing those cores are 32 ROPs and 80 Texture Units. The GPU has a typical Boost clock of 1,777MHz and it is linked to 8GB of standard GDDR6 memory (not the GDDR6X of the RTX 3080/3090) via a 128-bit memory interface, with an effective data rate of 14Gbps (7GHz memory clock), which results in up to 224GB/s of peak bandwidth. Efficiencies in the new
Ampere
architecture allow the GA106 GPU to make better use of that bandwidth though, versus previous-gen architectures.
At NVIDIA's rated specifications, the GeForce RTX 3050 offers up to 9 Shader TFLOPS, plus 18 RT-TFLOPS and 73 Tensor-TFLOPS of compute performance. And textured fillrate is a hair over 142GTexels/s. If you inspect the table above, you'll see that the new GeForce RTX 3050 is an across-the-board upgrade over the GeForce GTX 1650.
The EVGA GeForce RTX 3050 XC Black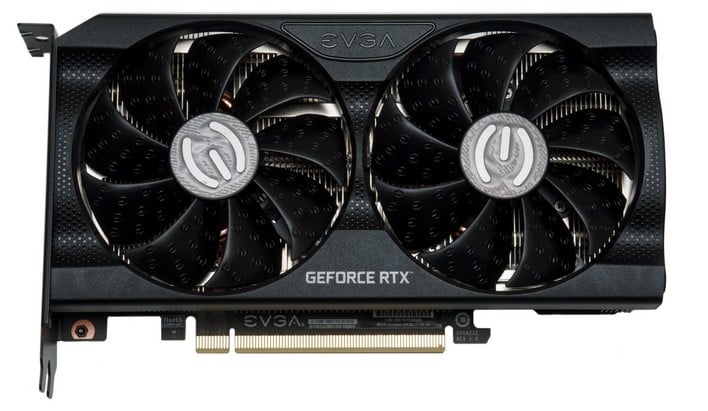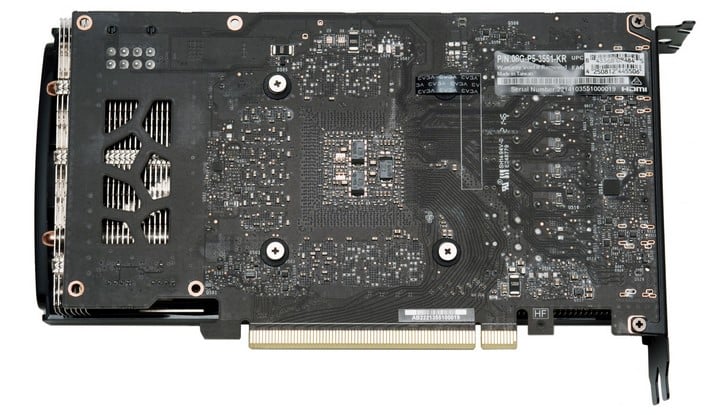 The EVGA GeForce RTX 3050 XC Black sticks to NVIDIA's reference specifications, but it has some of EVGA's distinctive design language. The card is just shy of 8" long, though the PCB is somewhat shorter overall and is only 7.5".


At first glance, the EVGA GeForce RTX 3050 XC Black resembles many of EVGA's current-generation cards. It has a similar design, with the angular front fan shroud, and dual axial-fans with "E" logos scattered all over the fan blades. This particular card is only 2 slots wide (not 2.5 slots) and features a densely-packed cooler, with an anodized aluminum heatsink assembly, and copper heat pipes that extends over the
GPU
and back around atop the VRM. The backside of the card is bare, but does have some additional stylized elements, namely the cut-outs at the rear that allow air to completely pass-through the card.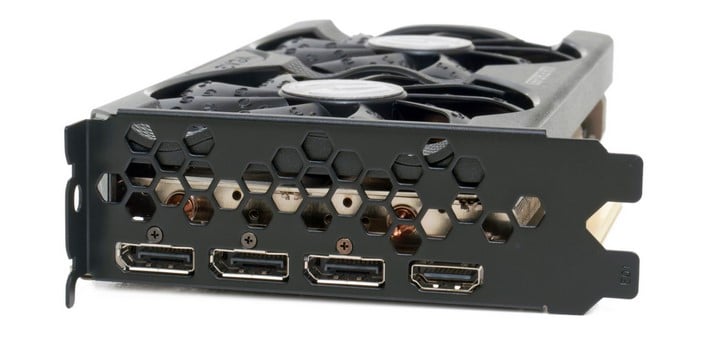 The GeForce RTX 3050 has a 130W TDP (550W PSU recommended) and a single 8-pin PCI Express power connector, though some of NVIDIA's partners that push the out-of-box overclocks may stick some additional power connectors on-board. In terms of display outputs, the GeForce RTX 3050 has triple full-sized DisplayPorts (1.4a) and a single HDMI 2.1 output.
Now, with all of that covered, let's get to some benchmarks...
Related content