AMD Radeon RX 5600 XT Review: A Top-Notch 1080p Gaming GPU
AMD Radeon RX 5600 XT - Setup, VRMark, And Unigine Superposition
How We Configured Our Test Systems: We tested the graphics cards represented in this article on a Gigabyte Aorus X299 Gaming 7 Pro motherboard powered by a 16-core Core i9-10980XE processor and 32GB of G.SKILL DDR4 RAM clocked at 2,666MHz. The first thing we did when configuring the test system was enter the UEFI and set all values to their "high performance" default settings and disabled any integrated peripherals that wouldn't be put to use. The memory's clock was manually dialed in to ensure optimal memory performance at the processor's maximum supported speed of 2,666MHz (without overclocking), and the solid state drive was then formatted and Windows 10 Professional x64 was installed and fully updated. When the Windows installation was complete, we installed all of the drivers, games, and benchmark tools necessary to complete our tests.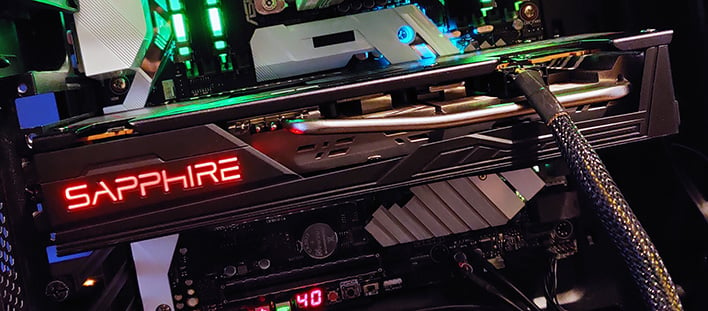 We should note that the
AMD Radeon RX Vega
card was tested in its default "Balanced" power mode throughout. Power Saver (slower) and Turbo (faster) power modes are also available with Vega, which would affect performance, noise output, and peak power consumption.
HotHardware's Test System

Intel Core i9 Powered
Hardware Used:
Intel Core i9-9980XE
(3 - 4.4GHz, 18-Core)

Gigabyte X299 Gaming Pro 7
(Intel X299 Chipset)

Radeon RX 5600 XT
Radeon RX Vega 56
Radeon RX 5500 XT (8GB)


Radeon RX 590


GeForce GTX 1060
GeForce GTX 1070
EVGA GeForce GTX 1660 Ti XC
EVGA GeForce GTX 1660 XC


Gigabyte GeForce GTX 1660 Super



32GB G.SKILL DDR4-2666
Samsung SSD 860 Pro
Integrated Audio & Network
Relevant Software:
Windows 10 Pro x64

NVIDIA Drivers: v441.07
AMD Drivers: Adrenalin v20.1.3



Benchmarks Used:


Unigine Superposition
VRMark
3DMark "Fire Strike"
3DMark "Time Spy"
Middle-Earth: Shadow Of War
Shadow Of The Tomb Raider
Strange Brigade
Final Fantasy XV
FarCry 5
Unigine Superposition

Pseudo-DirectX / OpenGL Gaming
Superposition is a relatively new
benchmark from Unigine
, powered by the UNIGINE 2 Engine. It offers an array of benchmark modes, targeting gaming workloads as well as
VR
, with both DirectX and OpenGL code paths. There is an extreme hardware stability test built-in as well. Unigine Superposition uses the developer's unique SSRTGI (Screen-Space Ray-Traced Global Illumination) dynamic lighting technology, along with high quality textures and models, to produce some stunning visuals. We ran Superposition in two modes using the DirectX code path – 1080p Extreme and VR Future -- to compare the performance of all of the graphics cards featured here.
Unigine Superposition's 1080P Extreme test has the Sapphire Pulse
Radeon
RX 5600 XT sandwiching the Radeon RX Vega 56, depending on which BIOS mode is used. Both 5600 XT configurations have no trouble dispatching the GeForce GTX 1660 Ti and Super, but they couldn't catch the GeForce RTX 2060 here.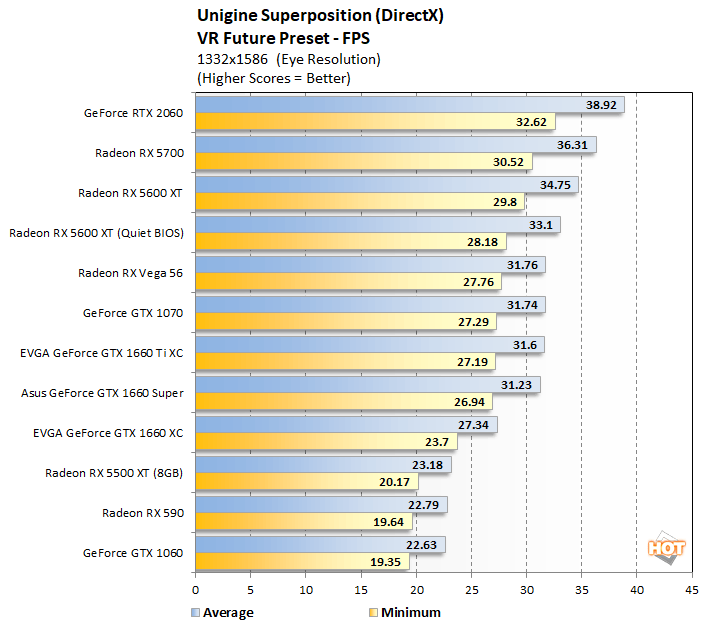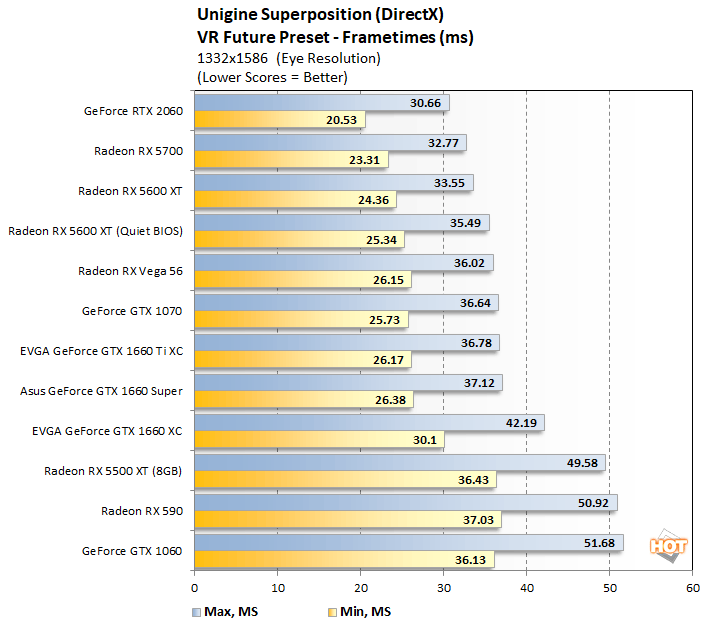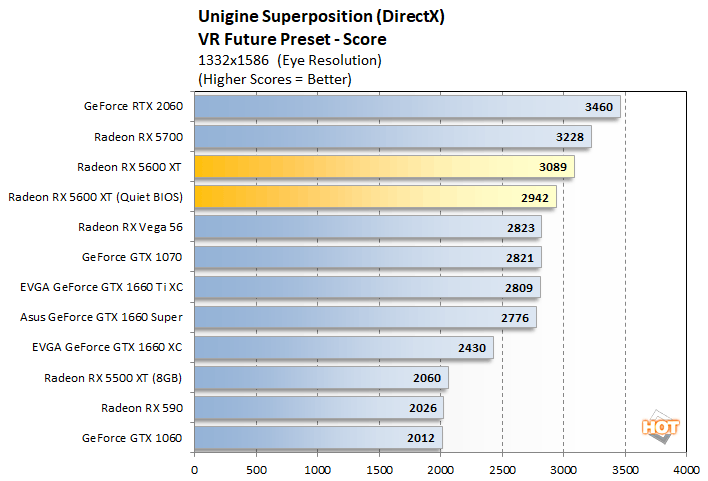 Superposition's VR Future test exhibited a similar trend, though this time around the Sapphire Pulse
Radeon RX 5600 XT
is able to outpace the Radeon RX
Vega 56
whether using the Performance or Silent BIOS modes. Once again, the various flavors of GeForce GTX 1660 cards trail the 5600 XT, but the GeForce RTX 2060 comes out on top in this test.
Futuremark VRMark

Testing Rift And Vive Readiness
Futuremark's VRMark is designed to test a PC's readiness for the
HTC Vive
and
Oculus Rift
virtual reality headsets. The benchmark does not, however, require that one of the headsets is attached to the PC to run and it uses an in-house graphics engine and content to ensure comparable results between different platforms. We ran the "Blue Room" VRMark test at defaults settings here, which is currently the most taxing test offered by the tool.
Futuremark VRMark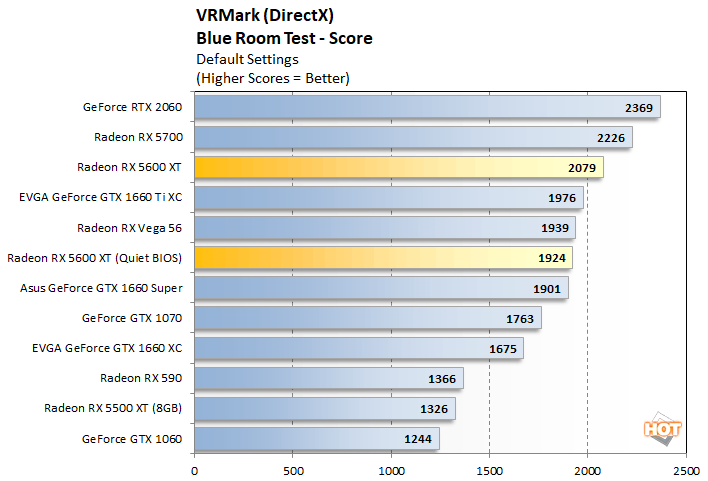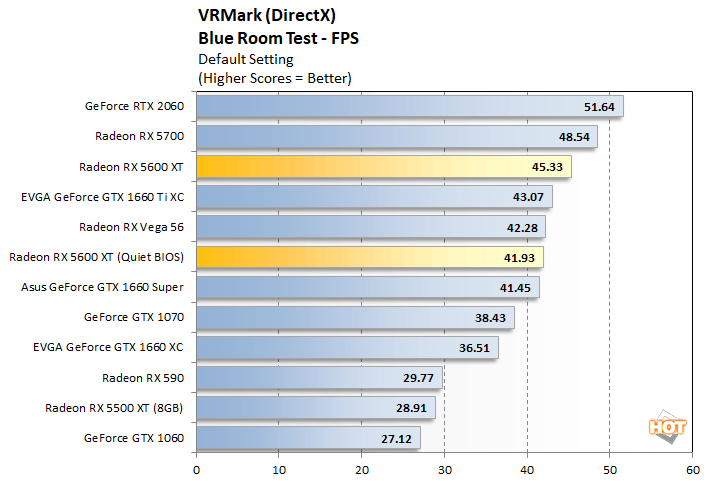 In VR Mark, the
EVGA GeForce GTX 1660 Ti XC
manages to outpace the Sapphire Pulse Radeon RX 5600 XT when it's configured in Silent mode, but the Performance mode BIOS gives the Radeon enough of a performance boost to pull ahead. The GeForce RTX 2060 finishes over 20% ahead of the Sapphire Pulse Radeon RX 5600 XT here, however.
Related content