AMD Radeon RX 5600 XT Review: A Top-Notch 1080p Gaming GPU
AMD Radeon RX 5600 XT - The Final Verdict
Performance Summary: The new Sapphire Pulse Radeon RX 5600 XT with updated vBIOS is a strong performer in its price segment. Throughout our testing, save for a one VR-related workload, the Sapphire Pulse Radeon RX 5600 XT outpaced all of the GeForce GTX 1660 variants we tested. In the majority of benchmarks or games we tested, the Sapphire Pulse Radeon RX 5600 XT also managed to outrun the GeForce RTX 2060, though that is a much fiercer fight. The GeForce RTX 2060 was faster in the VR-related workloads, Shadow Of War, and the Final Fantasy benchmark (which favors NVIDIA GPUs), but Sapphire's version of this new Radeon was faster everywhere else. The Sapphire Pulse Radeon RX 5600 XT also consumed less power under load than the RTX 2060, so each card has its merits in this $300-ish price segment.
As it stands today, the AMD Radeon RX 5600 XT carries an MSRP of $279. Partner cards like the Sapphire Pulse we tested, which feature higher-than-reference specifications, lighting, and more elaborate coolers will arrive at prices somewhat higher, however. The
Sapphire Pulse Radeon RX 5600 XT
we featured here is priced at $289. Looking around on-line, that price point is somewhat lower than the current crop of GeForce RTX 2060 cards (many of which can be found in the $300 - $330 price range), but higher than most GeForce GTX 1660 Ti / Super cards (which fall in the $229 - $280 range). Looking back through the numbers, AMD's pricing appears to be in-line with the
Radeon
RX 5600 XT's expected, post-BIOS update performance characteristics.
The Sapphire Pulse Radeon RX 5600 XT is a strong performer for the money and a killer solution for 1080P gamers. It's even a decent candidate for 1440P, though its 6GB of memory will be better suited to 1080P moving forward, as games get more complex. Unfortunately, some 5600 XT cards will arrive in the channel without the updated BIOS, and will need to be updated by end users to achieve the performance levels you see in our charts. And it's likely some cards have shipped that are unable to hit the 14Gbps memory speed of the Sapphire Pulse card, as evidenced by
this news out of MSI
. Hopefully this issue shakes out quickly with minimal pain to consumers, because at its newly-defined speeds, the Radeon RX 5600 XT is a strong product. If AMD and its partners can not reliably deliver what's been promised post-BIOS update, however, that's the kind of thing gamers aren't quick to forget.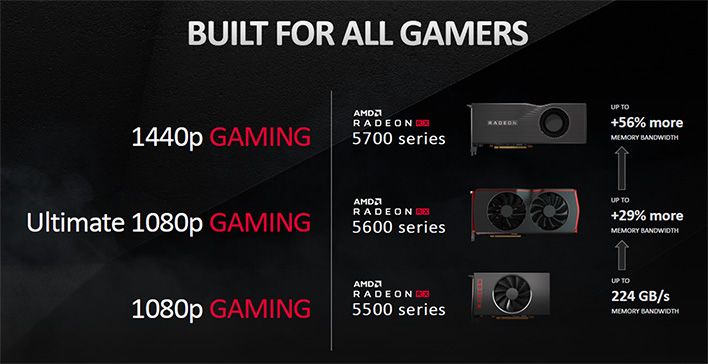 The Sapphire Pulse Radeon RX 5600 XT is essentially a Radeon RX 5700 with a couple of memory channels disabled to reduced memory capacity and bring the interface down to 192-bits. As such, its performance profile is very similar and makes the Sapphire Pulse Radeon RX 5600 XT particularly enticing at its sub-$300 price point. AMD informs us the
Radeon RX 5700
will remain in its line-up to target 1440P gamers, but if you're looking to save a few bucks on a new build or upgrade, the Sapphire Pulse Radeon RX 5600 XT offers some really nice bang for the buck.
Smooth, High-Quality 1080P Gaming

Runs Cool and Quiet
Relatively Low Power
Good Value Proposition

Trails In VR-Related Testing

6GB Frame Buffer May Limit Future Potential vs 8GB cards

BIOS Update Muddies The Water
Related content
Comments