Acer Predator CG437K Monitor Review: 43" Of Big Beast Gaming
Acer Predator CG437K 43: A Powerful, Productive Gaming Monitor
Acer put together a compelling package for those looking for a large, single-monitor experience that excels at productivity and gaming with the
Predator
CG437K 43-inch gaming monitor. The panel is incredibly bright with its HDR 1000 rating and accurate color reproduction, making it excellent for productivity and content creation tasks, whether you're looking at Office documents, image processing or video editing.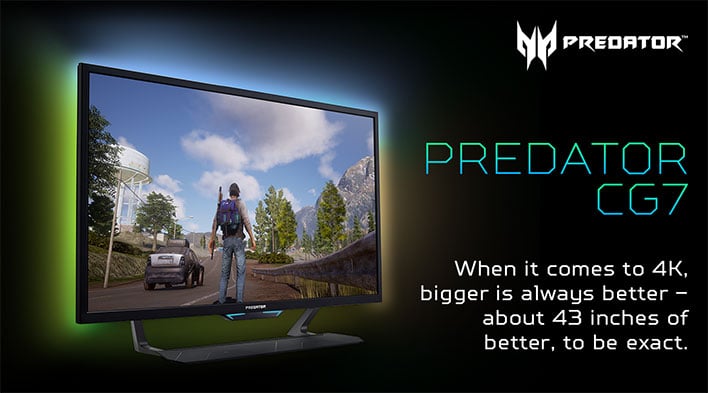 But when its time to clock out for rest and relaxation time, this big, beautiful monitor really shines. While 4K gaming requires a lot of power to drive with decent performance, staying above the 48Hz lower variable refresh rate range is within reason for the type of higher end enthusiast system that would be paired with the Predator CG437K. We enjoyed every minute of gaming on it – 4K, HDR 1000 and G-Sync/VRR compatibility come together to deliver beautiful eye-candy and fluid gaming.
The pricing of the Acer CG437K, however, leaves us conflicted, especially with the $1,499 MSRP. We find Acer's new big display lacks refinement in certain areas, for something at this price point. The LED lighting feels like a total after thought and should've been integrated on the back panel, instead of the four standard LED strips stuck on with adhesive and no cable management. There's also the placement of the front USB ports and two USB 2.0 ports, too. It's a big display and side USB ports are more ideal for a TV, but are not as handy for a monitor use case. The USB hub should've included four USB 3.0 ports at $1,499 as well, perhaps.
However, the Acer Predator CG437K is also currently available on sale for $1,199 and we're more forgiving of its random refinement shortcomings at that price. There is no available competition for the Acer Predator CG437K yet either. ASUS showed off the PG43UQ at
CES 2020
, but you can't buy it yet, and the lesser XG438Q is only VESA-certified for HDR600, leaving Acer as the only HDR1000-certified 43-inch monitor available right now.
Overall, if you want a single
very large
monitor that excels at gaming and productivity with all the bells and whistles,
the Acer Predator CG437K is worth a look
. It's a gorgeous display and its 43-inch size still fits most desks without being overwhelmingly huge. It also supports the features most enthusiasts are looking for – HDR1000, G-Sync/VRR, 4K 120Hz and RGB lighting. Supporting standard VRR makes it GPU-agnostic, too, so you can theoretically switch between NVIDIA, ATI or even Intel to your heart's content.
With the Predator CG437K, Acer is saying go big or go home. And generally speaking, we'd tend to agree.





Gorgeous image quality
HDR1000-certified
4K 120Hz support
G-Sync & VRR compatible
4K 144Hz capable
Available HDMI & DP inputs

RGB lighting system is unrefined
USB-C input doesn't support Nintendo Switch
2 USB 2.0 instead of 4 USB 3.0 ports
Related content
Comments