Your Geriatric Gaming PC Can Run Armored Core 6, But You Should Upgrade Anyway
The next couple months are absolutely jam-packed with big game releases. On September 26th,
Cyberpunk 2077
will get
its Phantom Liberty expansion
, which is not only CD Projekt Red's biggest expansion ever, but also overhauls most of the base game, too. Twenty days earlier, on September 6th, is Bethesda's hotly-awaited space-sim
Starfield
—don't miss out on the
Ryzen and Radeon giveaways for that
, by the way. Before either of those, though, there's the release your author has been waiting on for a decade:
Armored Core 6: Fires of Rubicon
, launching in just ten days on August 24th at 10 PM UTC for PC.
If you weren't a very particular sort of hard-core gamer before or during the Xbox 360 and PS3 era, you might not be familiar with
Armored Core
. That's okay; all you really need to know to get an idea if you'll be interested are these two things: one, that it's a mech simulator, specifically of the anime-style "mecha" sub-type—and two, that it's made by FromSoftware, the
developers of the Dark Souls
,
Bloodborne
, and
Elden Ring
games. It features lightning-quick mecha action and deep customization of your loadout and "core."
Armored Core 6
is an interesting release for a number of reasons. For one, it has literally been ten years since the last
Armored Core
game,
Armored Core: Verdict Day
back in 2013. The franchise was once one of FromSoftware's mainstays, and largely carried the company through some lean times in the PlayStation 2 era when
its open-world RPGs
like
Evergrace
and
Forever Kingdom
were too weird and experimental to find broad acclaim. After
Dark Souls
exploded in popularity, the company focused on iterating that formula, and fans were afraid we'd never see another
Armored Core
title.
The other really interesting thing about
Armored Core 6
is that it's actually targeting the
last-generation PlayStation 4 hardware
. This certainly allows the game to reach the widest audience, but it does mean that PlayStation 5 and PC gamers might be a little underwhelmed by the game's technical qualities. Of course,
Armored Core
, with its gritty, realistic presentation has never been the most beautiful series around, anyway.
Given that, it's no surprise at all that the system requirements, revealed today, are pretty meager. FromSoftware provides two sets of recommendations, depending on whether you want to use ray-tracing in the game's garage—the only place where it is supported. We've edited the images to combine the two Graphics rows, as the only difference is what kind of graphics card you'll need. However, we also think that the individual who prepared these images made a mistake.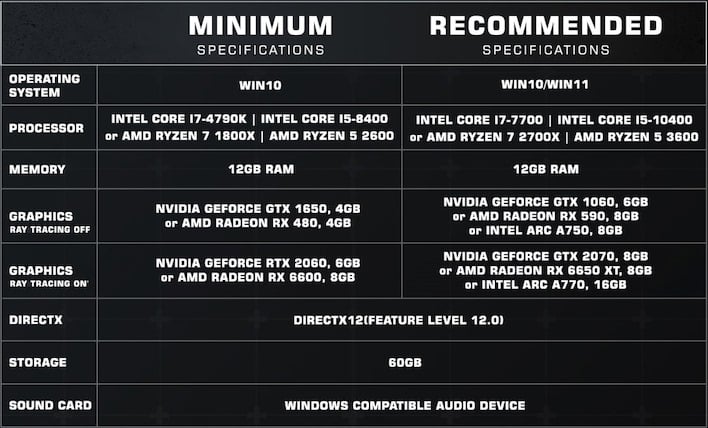 As you can see, the "Processor" row lists four separate processors for each category, and was identical on both original slides. The "Minimum" category lists a Core i9-4790K and also
a Core i5-8400
, while the recommended spec includes
a Core i7-7700
—a significantly slower processor than the 8th-gen Core listed under minimum. We think that what happened is that the latter CPU in each block was probably only meant for RT ON, while the former CPU is for RT OFF mode. Ray-tracing is heavy on GPUs, but it also has a significant impact on CPU usage.
Even if we proceed with that assumption, the minimum requirements don't change: the Core i7-4790K CPU
came out just nine months after
the last
Armored Core
game, making it nearly ten years old. Meanwhile, the Ryzen 7 1800X offers
similar single-threaded speed
and came out three years later. Ultimately it looks like you'll probably want a six-core CPU for best performance, but the single-threaded requirements are not high, so even older Zen and Core processors are fine.
Similarly, almost anything will do for a graphics card. Actually, we suspect integrated graphics will run this game playably on low settings, although FromSoftware does seem to recommend at least 4GB of video RAM. The absolute minimum seems to be
a GeForce GTX 1650
, although if you want to use ray tracing in the garage, you'll need a GPU capable of it. The cards listed are some of the
smallest
and
oldest
that support RT acceleration, so we suspect the RT effects in this game are quite modest indeed.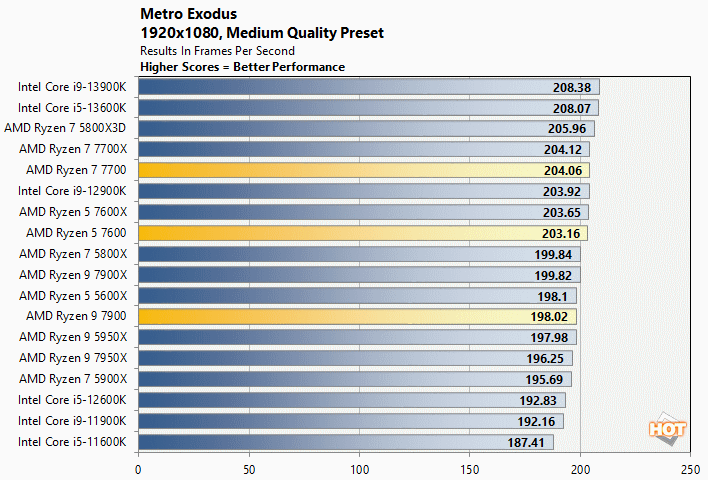 Despite that the system requirements are so low, if you're running a machine like this, it's well past time for an upgrade, friend. You don't have to spend thousands to get a gigantic performance boost, either. We've picked out some parts for a fantastic mid-range gaming system that will offer killer performance in
Armored Core 6
as well as more demanding games, like
Hogwarts Legacy
,
Baldur's Gate 3
, and
yes, Cyberpunk 2077
.
All told, this build comes out just under a thousand US dollars by our reckoning, and it's a gaming PC that'll outstrip the current-generation consoles thanks to its fast Zen 4-based CPU. The Radeon RX 6700 XT is an insane value right now, offering
real 1440p and even some 4K
gaming performance for $330, while we found the Solidigm P41 Plus to likewise offer excellent value
in our full review
, and the price has only dropped since then.
This preview video is meant for Souls fans unfamiliar with Armored Core.

This year has already seen quite a few incredible game releases.
Hogwarts Legacy, Atomic Heart
, the
RE4 Remake
,
Ghostwire: Tokyo
, the
System Shock
remake,
Street Fighter 6
,
Zelda: Tears of the Kingdom
,
Diablo IV
, and
most recently, Baldur's Gate 3
—just to name a few. Despite that,
Armored Core 6
is likely to be this author's "Game of the Year" unless FromSoftware has severely screwed it up, but pre-release previews are not painting that picture. If you polish off
Baldur's Gate 3
and are looking for something to play before
Starfield
comes out,
snap up Armored Core 6 and give it a shot
.