Radeon RX 6600 XT Review: AMD RDNA 2 For Mainstream Gamers
AMD Radeon RX 6600 XT: RDNA 2 For Optimal 1080p PC Gaming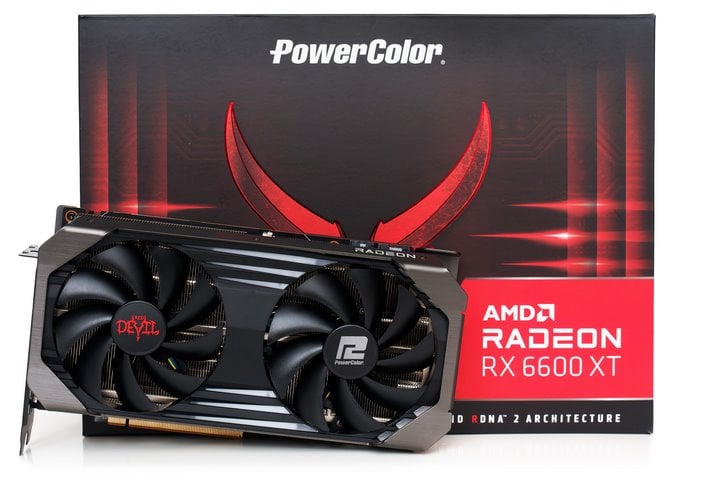 AMD officially unveiled the
Radeon RX 6600 XT
in late July, and just last week we were able to give you a first-hand sneak peek and tour of one of the higher-end partner boards, the PowerColor Radeon RX 6600 XT Red Devil. Today though, embargos lift on performance and power data, and we're able to provide some additional pieces to the puzzle. Incidentally, there's an additional embargo lifting tomorrow for other partner boards, so stop on by in the morning if you'd like some additional Radeon RX 6600 XT flavor. But we digress.
On tap for you here today we have two Radeon RX 6600 XTs, the aforementioned PowerColor
Radeon RX 6600 XT Red Devil
and its somewhat more mainstream 'Fighter' branded counterpart. The PowerColor Radeon RX 6600 XT Fighter still has some distinct elements and styling, reminiscent of some of the company's other cards. However, what's perhaps most interesting in today's GPU landscape is that PowerColor expects the Radeon RX 6600 XT Fighter to sell at MSRP almost immediately.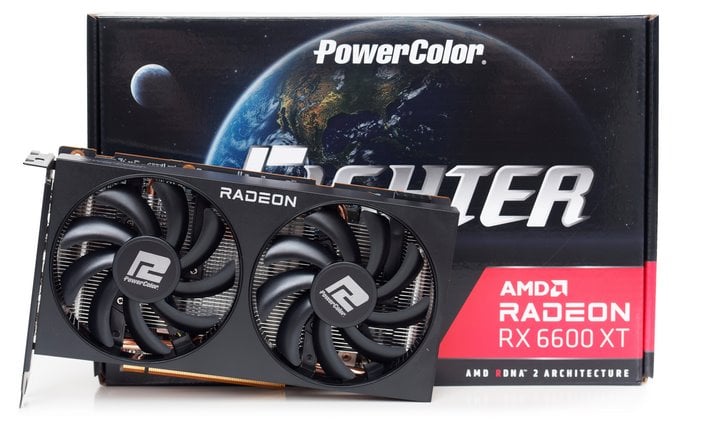 PowerColor has even gone so far as to say "we will have plenty of cards on day one in the channel". Of course, there's no accounting for unscrupulous retailers that may want to gouge consumers, but initial indicators are that at least
some Radeon RX 6600 XT
cards will be obtainable, at or near MSRP, in the coming days.
Whether or not they are worth obtaining is the bigger question though, so let's dig in and see what these cards are all about...

AMD Radeon RX 6600 XT Specifications & Features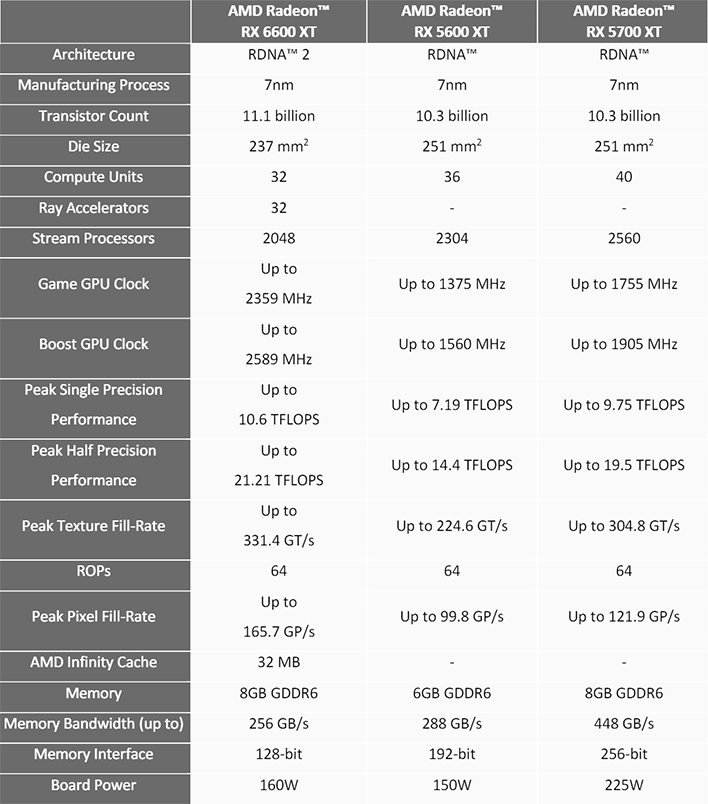 ---
AMD's reference Radeon RX 6600 XT specifications, compared and contrasted to two previous-gen cards, are detailed in the table above. Despite being manufactured using a similar 7nm processors and being comprised of more transistors than the Radeon RX 5600 / 5700 XT GPU, the Navi 23 chip powering the Radeon RX 6600 XT actually has a somewhat smaller die size. It also has fewer compute units (and fewer stream processors as a result), but incorporates 32 Ray Accelerators and 32MB of Infinity Cache. Due to enhancements with the
RDNA 2
architecture, and this GPU's much higher core clock speed, however, the Radeon RX 6600 XT offers higher compute performance and fillrate than its 5000-series predecessors. Memory bandwidth is significantly reduced too, thanks to the narrower 128-bit memory bus, but again, that Infinity Cache and RDNA 2's architectural enhancements can somewhat negate this perceived deficiency in real-world gaming scenarios. We'll see for ourselves shortly, once we get to the benchmarks. All told, the Radeon RX 6600 XT's board power lands somewhere in between the older
Radeon RX 5600 XT
and 5700 XT, at a manageable 160W.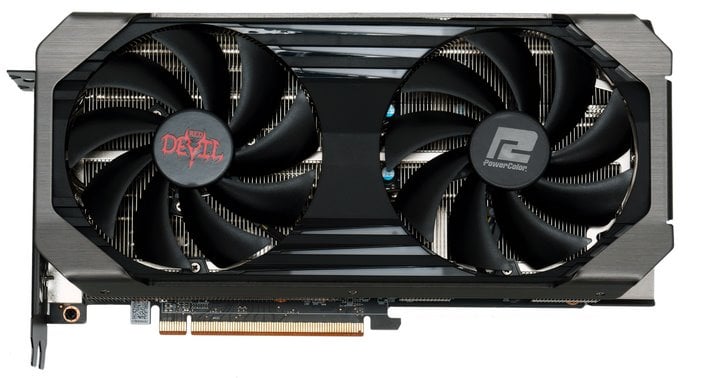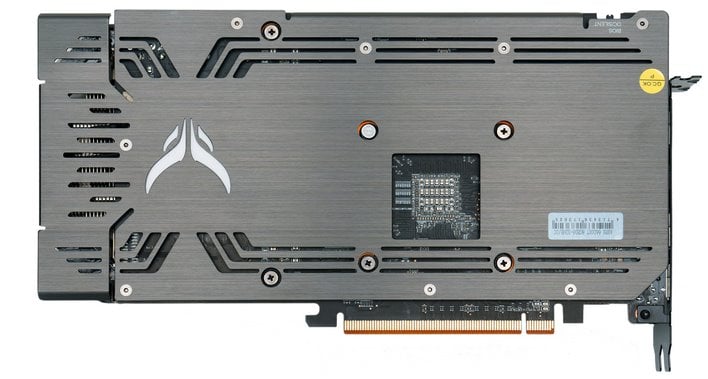 Shifting focus to the boards we have on hand, the PowerColor Radeon RX 6600 XT Red Devil's main features and specifications don't seem to differ all that much from AMD's reference design, save for some higher Game and Boost clocks. Whereas AMD's reference
Radeon RX 6600 XT
offers a Game clock up to 2359MHz and a Boost clock of 25895MHz, the PowerColor Red Devil peaks at 2428MHz (Game) and 2607MHz (Boost). Those higher GPU clocks result in higher compute performance and fillrate, etc., but the memory configuration and frequency are the same – so in memory bandwidth constrained situations, performance won't be all that much different.
The stream processor, texture, ROP, and display output configurations are also the same as AMD's reference card, but PowerColor did outfit the Red Devil with one 8-pin and one additional 6-pin PCIe power connector to ensure it has plenty of power at its disposal. AMD's reference design calls for only a single8-pin power connector.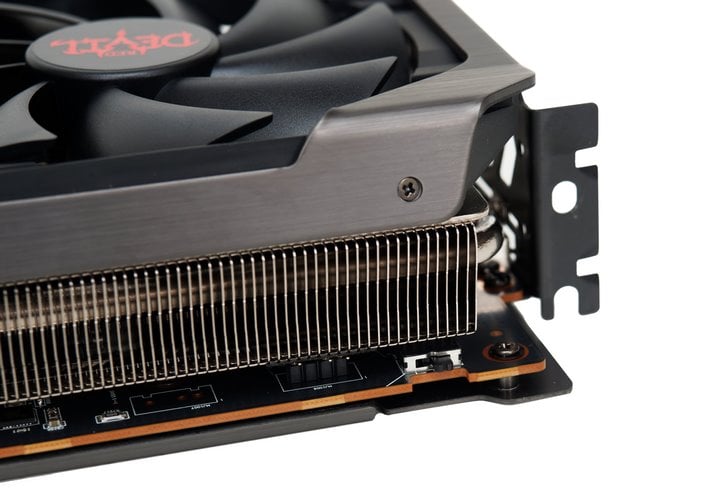 PowerColor also equips the Radeon RX 6600 XT Red Devil with a BIOS switch that toggles between OC and Silent modes. In OC mode the card has a 145W power target and in Silent mode it has a 135W power target. As you'll see a little later, for the most part, the effective, real-world differences in performance, power, and acoustics are minimal, so leaving the Red Devil in OC mode and having some additional power at the card's disposal will probably serve everyone well – the card is quiet no matter what mode you use. On the other hand, if you want to minimize power and keep things as quiet as possible, you won't sacrifice much in terms of performance by using Silent mode.
Underneath its oversized cooler, the PowerColor Radeon RX 6600 XT Red Devil also packs quality DrMos high-polymer caps and a 10-phase VRM design, versus the 6+2 phases on standard designs. Those high-end caps and additional phases help spread the load and smooth power delivery, which should help with overclocking and ensure the long-term reliability of the card. Obviously, the cooler on this beast is a significant upgrade over more mainstream cards as well.


The PowerColor Radeon RX 6600 XT Red Devil features 2 x 100mm dual-bearing fans with four nickel-plated copper heat pipes snaking through a dense array of heatsink fins. The heatsink also extends out past the PCB to keep air moving all around the card and minimize the possibility of any hot spots where air could get trapped between the fans, heatsink, PCB, and shroud.
The cooler's design also seems a bit more subdued versus previous Red Devil's, at least when it's not lit up. In lieu of the flashy red accents of previous cards, the
PowerColor
Radeon RX 6600 XT Red Devil's shroud now features addressable RGB lighting configurable via the new "DevilZone" utility.
The translucent plastic design elements along the top edge of the card and the devil horns on the back are now illuminated. The ports on the case bracket are also illuminated, so connecting cables in less-than-optimal lighting conditions won't be an issue. Those ports consist of a trio of full-sized DisplayPorts and a single HDMI port.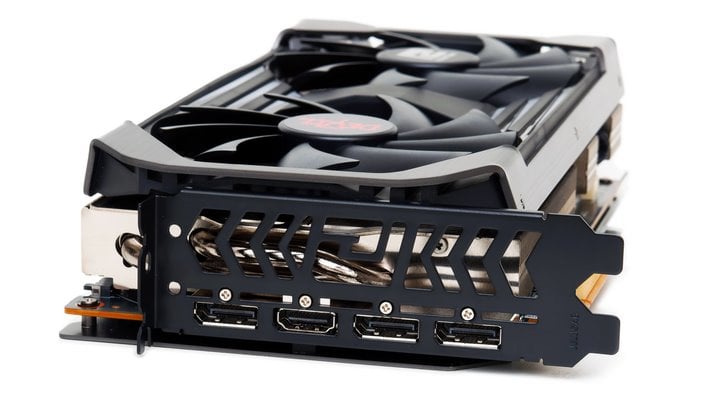 The Radeon RX 6600 XT Red Devil comes with few accessories, save for a cable to sync the RGB lighting to your motherboard. Along with that sole cable, users will also find a Red Devil decal and a few cards, pointing users to join the Red Devil Club, share pics of their rig on Instagram, or access a digital Quick Installation Guide.
The more mainstream PowerColor Radeon RX 6600 XT Fighter also features a dual fan cooler, with multiple heatsinks and copper heatpipes -- like the Red Devil -- but everything else is scaled back a bit.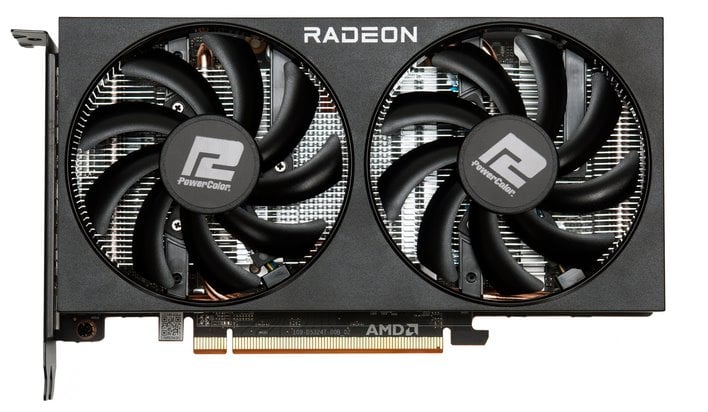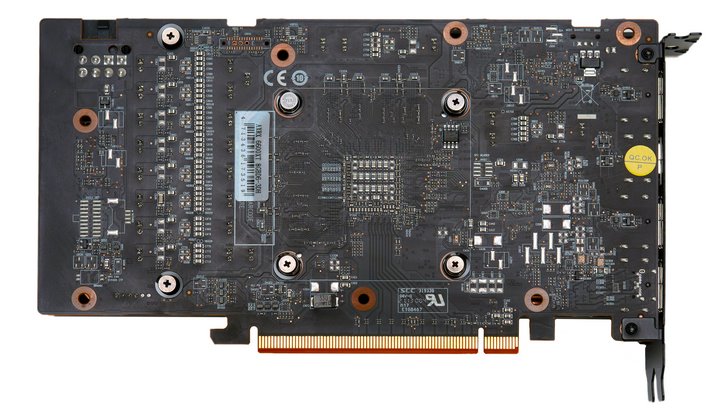 The PowerColor Radeon RX 6600 XT Fighter's clock speeds are in-line with AMD's reference specifications and all of the lighting and addressable RGB accents have been removed. The PCB also lacks a metal backplate, the card requires only a single PCIe power connector, and all of the design elements are more subdued. The overall design is also somewhat thinner; this card is only two slots wide, versus the 2.7 slot width of the beefier Red Devil.


That said, the PowerColor Radeon RX 6600 XT Fighter packs the same memory and GPU, so as far as your games will be concerned, all you're giving up is a bit of frequency.
What does that mean in terms of real-world frame rates? Let's find out...
Related content