MSI GeForce RTX 4060 Ti Gaming X Trio Review: Burly And Brisk
MSI GeForce RTX 4060 Ti Gaming X Trio: Big, Cool And Quiet NVIDIA AD106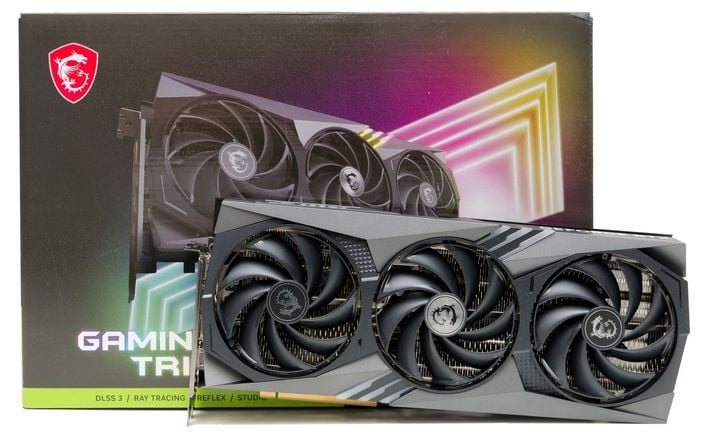 MSI Gaming X Trio GeForce RTX 4060 Ti 8GB: Starting At $449


MSI's outsized take on the GeForce RTX 4060 Ti offers extra flashy style and a huge cooler versus NVIDIA's Founders Edition card but it comes at a $50 price premium.








Low Power
Quiet Operation
Super-Lower Temps
Competitive Performance

Minimal Overclocking
Unnecessarily Large Form Factor



---
By now, you've hopefully had a chance to check out our review of NVIDIA's Geforce RTX 4060 Ti Founders Edition card. In short, it's more of an evolution than a revolution over previous products, but it's still arguably the fastest, most advanced GPU in its price class, with solid performance, excellent power efficiency, and a great feature set. If you're considering NVIDIA's Founders Edition card and thought that you might like a
GeForce RTX 4060 Ti
, but also that the FE card seems a little bland, boy, do we have a GPU for you.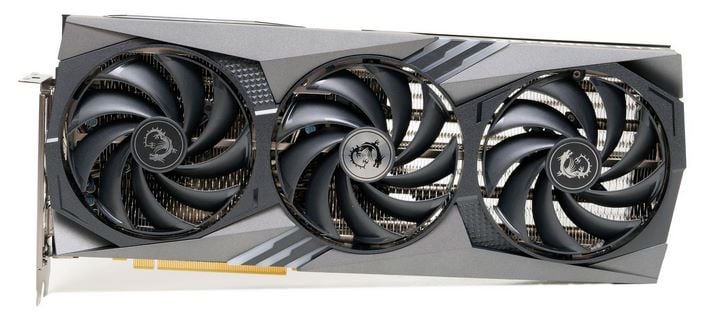 There she is: the MSI Gaming X Trio GeForce RTX 4060 Ti. The cooler design will be familiar to anyone who has seen one of MSI's other Gaming X Trio cards, like the GeForce RTX 4070. Just like on those cards, the cooler is very large—it sticks up nearly an inch over the I/O bracket, and has three gigantic fans to keep the GPU cool, despite that the graphics card's PCB itself is barely half as long as the cooler.
GeForce RTX 4060 Ti Features & Specifications
| | |
| --- | --- |
| Graphics Card | GeForce RTX 4060 Ti |
| Graphics Processing Clusters | 3 |
| Texture Processing Clusters | 17 |
| Streaming Multiprocessors | 34 |
| CUDA Cores (single precision) | 4352 |
| Shader FLOPS | 22 |
| Tensor Cores | 136 (4th Generation) |
| Tensor FP8/INT8 TFLOPS/TOPS w/ Sparsity | 353 |
| RT Cores | 34 (3rd Generation) |
| RT FLOPS | 51 |
| Texture Units | 136 |
| ROP Units | 48 |
| Base Clock | 2310 MHz |
| Boost Clock | 2535 MHz |
| Memory Clock | 9000 MHz |
| Memory Data Rate | 18 Gbps |
| L1 Data Cache/Shared Memory | 4352 K |
| L2 Cache Size | 32768 K |
| Total Video Memory | 8 GB GDDR6 |
| Memory Interface | 128-bit |
| Total Memory Bandwidth | 288 GB/s (554 GB/s effective)* |
| Texture Rate (Bilinear) | 345 GigaTexels/second |
| Max Display Resolution | 4K at 240Hz or 8K at 60Hz with DSC |
| Fabrication Process | 4N NVIDIA Custom Process |
| Transistor Count | 22.9 Billion |
| Connectors | 3 x DisplayPort 1 x HDMI |
| Form Factor | Dual-Slot |
| Power Connectors | 2x PCIe 8-pin cables (adapter in box) OR 300 W or greater PCIe Gen 5 cable |
| Required System Power Supply | 550 Watts |
| Video Engines | 1xNVENC (8th Gen), 1xNVDEC (5th Gen) |
| Power | 7 W Idle, 13 W AV1 Video Playback, 140 W Average Gaming Power (AGP), 160 W Total Graphics Power (TGP) |
| Max GPU Temperature | 90° C |
---
We have full coverage and a performance deep-dive on NVIDIA's new GeForce RTX 4060 Ti and its AD106 processor, in our review of the Founders Edition card yesterday (5/23). If you're curious about that, you can
head over there
to digest those juicy details. This review, instead, is going to be focused on how this MSI card is differentiated from the Founders Edition model and the possible benefits it brings.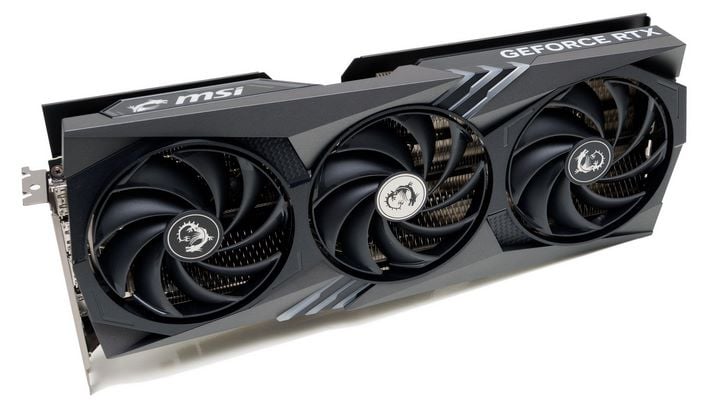 The biggest difference is immediately obvious from the size of the box—it's the fact that this is certainly the biggest "x60"-tier graphics card we've ever handled. It's absolutely enormous; not far off of the size of some GeForce RTX 4080 cards. This cooler would probably be overkill on a GeForce RTX 4080, in fact.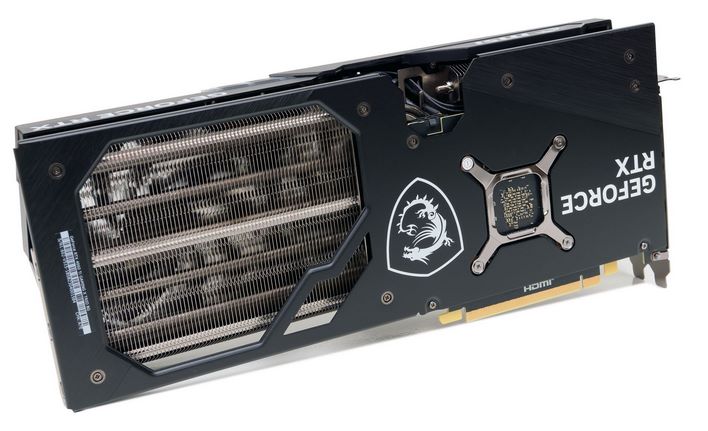 Much like with the Founders Edition cards, the GPU board itself only extends a short distance across the cooler. The rest of that space is open on the backplate to allow air to flow directly through the GPU and into the airflow path of your CPU cooler. Fortunately, the AD106 GPU generates much less heat to begin with versus NVIDIA's high-end GPUs, so it shouldn't be a problem, regardless.


Unlike the Founders Edition card, MSI's Gaming X Trio utilizes a regular old eight-pin power connector, and just the one, at that. No need for expensive new power supplies that sport the 12VHRPWR connector, or adapters of questionable safety. Just click in your old 8-pin connector and you're good to go.
Down on the bottom of the card, it's hard to see in this photo, but only half of the gold board edge connectors are actually wired up to anything. The GeForce RTX 4060 Ti is only a PCIe x8 card, which is completely fine if you're installing it in a modern PCIe 4.0 or 5.0 system, but for older PCs which could really benefit from an upgrade like this (overcoming CPU limitations with
DLSS 3
), it could hamper performance. That's inherent to NVIDIA's design though, and not something MSI has control over.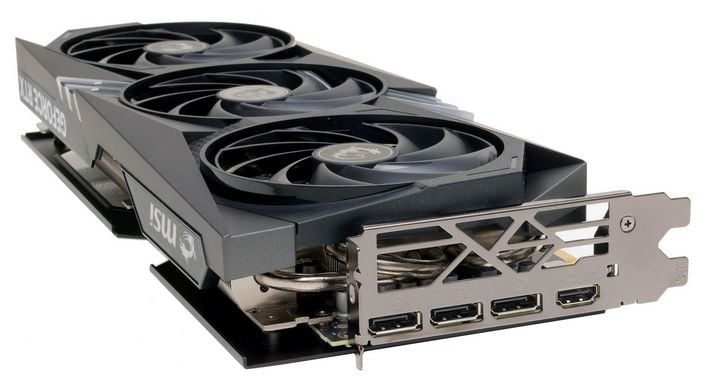 Around the back of the card, we have a mostly-skeletonized second slot cover as well as the usual allotment of three DisplayPort connections and a single HDMI port. Just like with the Founders Edition card, the HDMI port here is HDMI 2.1-capable, while the four DisplayPort connections are version 1.4.
As pretty as she is, let's quit gawking at the card and see what she can do.

Related content