AMD Radeon RX 7600 Review: Affordable RDNA3 For 1080p Gamers
AMD & Sapphire Radeon RX 7600: Low-Power, Affordable RDNA3 For Gamers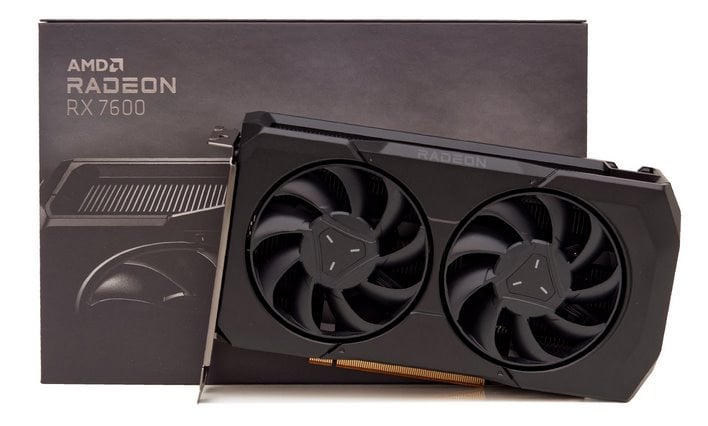 AMD Radeon RX 7600: Starting At $269


The Navi 33-based AMD Radeon RX 7600 targets 1080p gamers and brings RDNA3 to a highly competitive, relatively low price point.







Competitive Pricing
Compact Form Factor
Modern Feature Set (AV1, DP2.1)

Relatively High Temps
Minor Performance Bump Vs. Previous Gen



---
Hot on the heels of NVIDIA's
GeForce RTX 4060 Ti
launch, AMD is at the ready with a freshly-minted mainstream graphics card of its own, the new Radeon RX 7600. Unlike NVIDIA's latest offering, the Radeon RX 7600 targets a much lower price point (sub-$300), but both companies are going after mainstream market segments with this week's launches – just at different price points and performance levels.
Before we get too far ahead of ourselves though, take a gander at the new Radeon RX 7600's main features and specifications below. Then we'll cover some of the particulars regarding the Navi 33 GPU powering the card and inspect a pair of 7600s, one from
AMD
and another from longtime partner Sapphire. After that, we'll get to the benchmarks and see how the cards stack up versus an array of alternatives...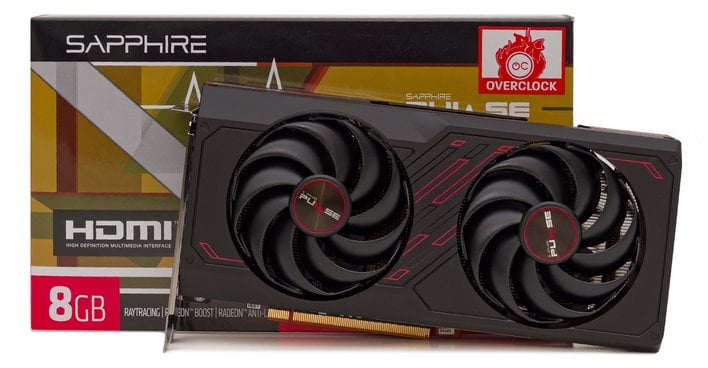 AMD Radeon RX 7600 Features & Specifications
Find AMD Radeon RX 7600 Cards @ Amazon
---
Like the Radeon RX 7900 series, the new RX 7600 is based on AMD's RDNA 3 graphics architecture; the Navi 33 GPU powering the card is simply scaled back to address a different market segment and performance target.
The Radeon RX 7600 features 32 of the same unified compute units as the Radeon RX 7900 series, including the same AI and 2nd-generation ray tracing accelerators. It's also got an updated media engine with support for hardware AV1 encoding, and the Radiance Display Engine with support for DisplayPort 2.1.
Unlike the big Navi 31 used on the Radeon RX 7900 series, however, the scaled down Navi 33 doesn't leverage chiplets – it's a monolithic die like every other consumer GPU currently out there. Because of its relatively-small (for a GPU) 204mm² die, it wouldn't make much sense to use multiple chiplets.
In comparison to the previous-gen Radeon RX 6600, the Radeon RX 7600 is upgraded in many ways. The Radeon RX 7600 has more stream processors (2048 vs. 1792), and the GPU and memory operate at higher frequencies. The GPU on the Radeon RX 7600 offers boost clocks up to 2.66GHz with typical game clocks of 2.25GHz. Both AMD's own card and the Sapphire Pulse operated at similar real-world clocks in our tests.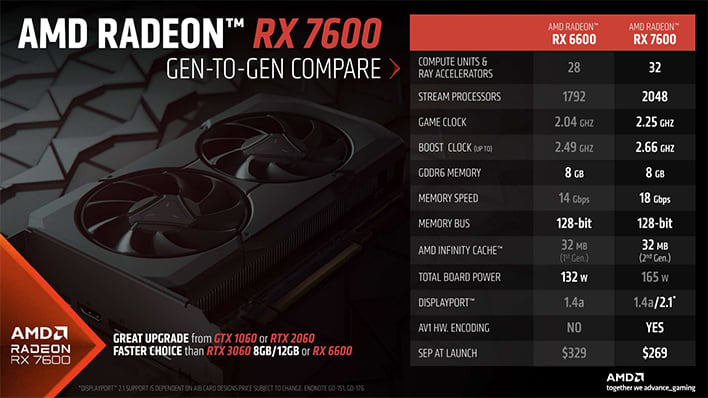 The newer architecture, additional cores, and higher clocks culminate in much higher compute performance and somewhat higher fillrates versus the previous-gen. The Radeon RX 7600's also got 32MB of second-gen Infinity Cache; the RX 6600 has 32MB of first-gen Infinity Cache. Both GPUs, however, share the same 128-bit memory interface, but the faster 18Gbps GDDR6 memory on the Radeon RX 7600 results in more memory bandwidth (288GB/s vs. 224GB/s). Effective bandwidth vs. older architectures is higher though, thanks to that Infinity Cache. Board power increases to 165w with the Radeon RX 7600 as well, versus 132w with the RX 6600. Not a massive increase, but an increase nonetheless.
For more details on AMD's RDNA 3 architecture, we suggest checking out some of our previous coverage...
Those three articles will lay all of the foundation necessary to digest everything that makes the Radeon RX 7600 tick.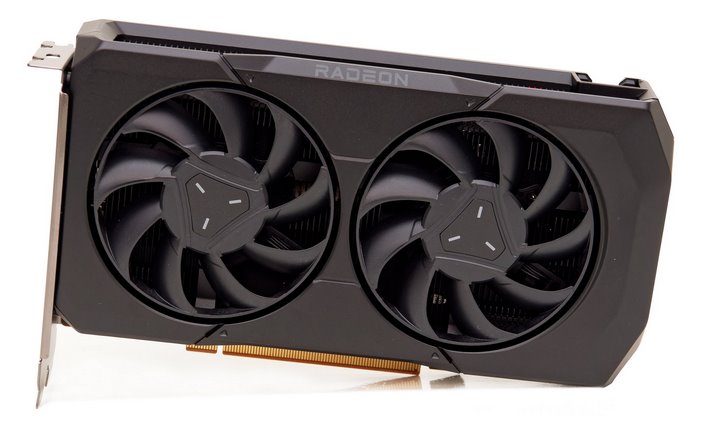 The AMD Radeon RX 7600
AMD's own Radeon RX 7600 is a densely-packed, compact card that has a surprising bit of heft to it. That's not to say it is particularly heavy – it's only 8" long and less than 4" high (not including the card edge) – but it's definitely heavier and more rigid than the
Sapphire
card we'll be showing you shortly (and a PowerColor card we'll show you tomorrow).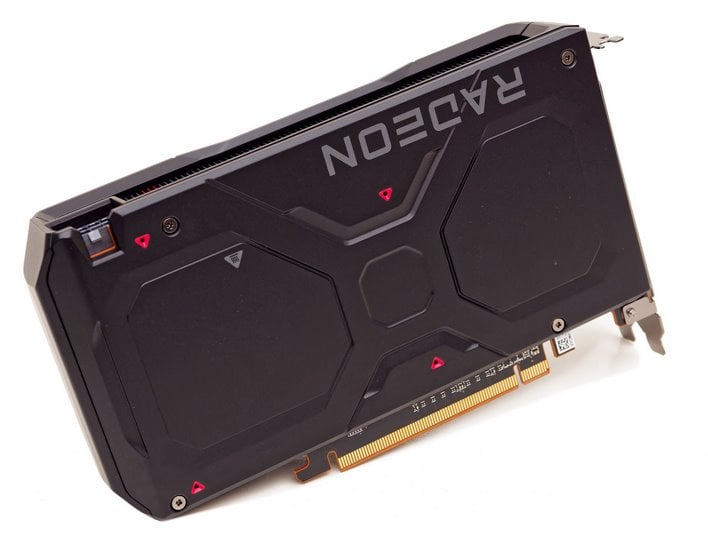 The AMD Radeon RX 7600 has similar design language to all of the other members of the Radeon 7000 family, it's just smaller. A pair of axial fans adorn the front, which rest atop a dense heatsink that covers the entire front of the PCB. Other than the black, grey, and red accents, there's nothing particularly extraordinary about the design. It just seems like a well-built piece of kit that resembles a tiny Radeon RX 7900.


The display outputs on the Radeon RX 7600 consist of triple full-sized DisplayPorts (DP 2.1) and a full-sized HDMI port (2.1a). Support for DP 2.1 means the cards are capable of supporting 4K resolutions at up to 480Hz and 8K resolutions up to 165Hz. While the maximum DP data rate tops out at 54Gbps, which doesn't match the standard's maximum 77.3Gbps, it's still plenty fast to support next-gen displays due to arrive over the next few years. This is one area where AMD has a clear advantage over NVIDIA's RTX 40 series GPUs, which only support DP 1.4a and top out at 4K 240Hz and 8K 60Hz.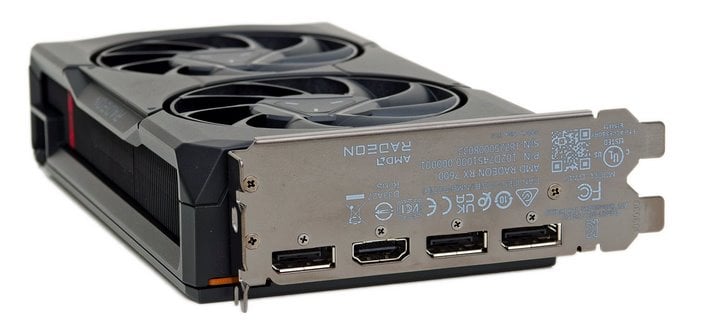 The Sapphire Pulse Radeon RX 7600
Next up we have the Sapphire Pulse Radeon RX 7600. The cooler on the Sapphire Pulse
Radeon
RX 7600 features two 95-mm axial fans that sit atop a large array of heatsink fins covering about 70% of the PCB and further extending off the back by a couple of inches. A couple of heat-pipes snake through the heatsink fins and converge directly above the GPU. An additional heat-plate makes contact with some components on the backside of the card as well to both further aid in cooling and also add some rigidity and style.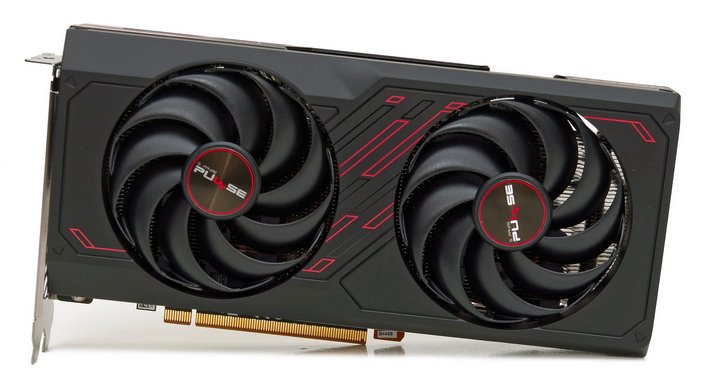 As you'll see later, its dual-axial fan cooler did an adequate job keeping temperatures in check without making much noise at all. After hours of benchmarking, GPU temperatures remained in the low-80°C range, at least according to the health monitoring data available in AMD's latest drivers. Not low relative to a number of GeForces we've looked at recently, but not too high for such a compact, quiet card either.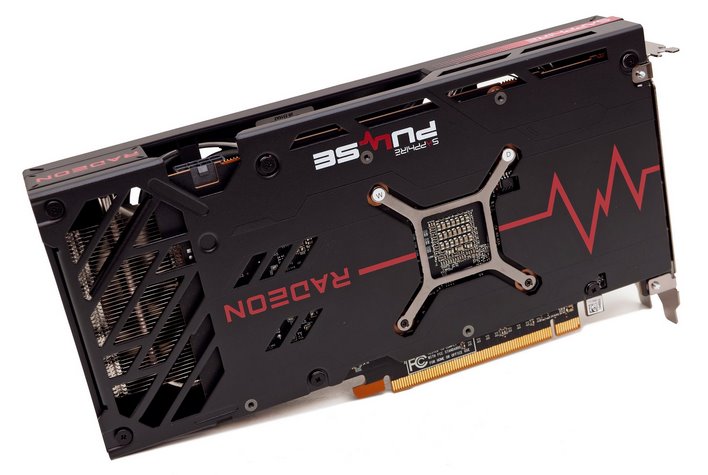 Like AMD's own card, there is a single, 8-pin power connector facing upward at the tail-end of the PCB. Note, that the PCB is a couple of inches shorter than the heatsink and fan shroud, and the connector is somewhat recessed.

Like AMD's own card, outputs on the Sapphire Pulse Radeon RX 7600 consist of a trio of full-sized DisplayPorts and a single HDMI port. The rest of the case bracket is essentially just a large vent with some funky geometric designs.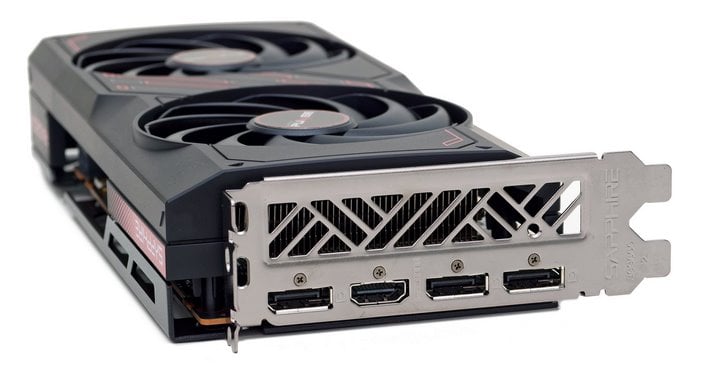 And with all of that taken care of, let's get to some benchmarks...
Related content