Hellhound Radeon RX 7600 Review: PowerColor Tricks-Out Navi 33
PowerColor Hellhound Radeon RX 7600: Hot-Clocked And Some Extra Bling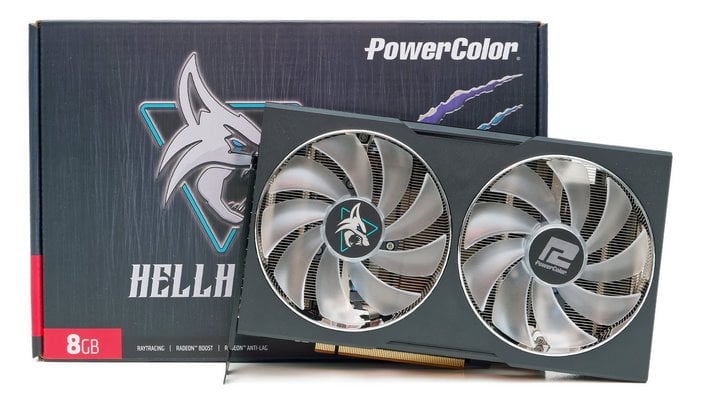 PowerColor Hellhound Radeon RX 7600: Starting At $289


The PowerColor Hellhound Radeon RX 7600 offers a mild factory overclock, LED lighting, and a couple of additional tricks over AMD's reference card.







Dual-BIOS Setup
Built-In LED Switch
Attractive Design
Factory Overclocked

OC Offers Minor Performance Boost
Priced Above MSRP



---
AMD launched its
Radeon RX 7600
mainstream graphics card earlier this week, targeting 1080p gamers on a budget. On the day of launch, we were able to show you two cards, AMD's own reference offerings and the Sapphire Pulse Radeon RX 7600. Both of those cards performed and are priced similarly, but have different overall design aesthetics and somewhat different form factors. Today we're going to look at another Radeon RX 7600 from PowerColor, which cranks things up a few notches. The PowerColor Hellhound Radeon RX 7600 we'll be showing you here is factory overclocked, and features a somewhat larger cooler, LED lighting, and a couple of other additional tweaks. Check it out...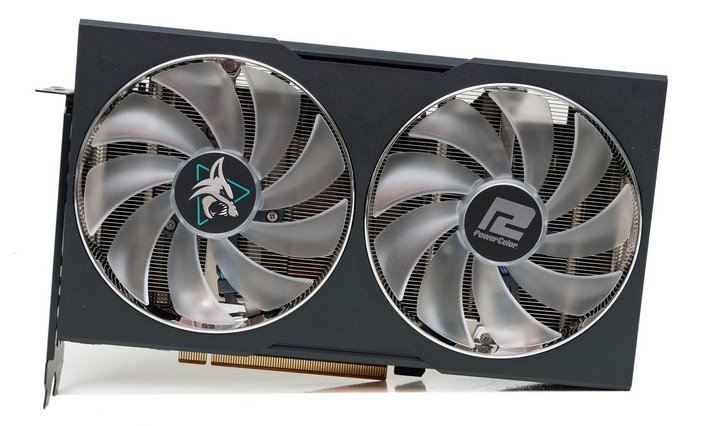 AMD Radeon RX 7600 Features & Specifications
Find AMD Radeon RX 7600 Cards @ Amazon
---
Before continuing, do go ahead and take a look at our launch-day
coverage of the Radeon RX 7600
. In that article, we cover more of the particulars regarding the Navi 33 GPU powering the Radeon RX 7600, over and above just listing the specs. To quickly recap, Navi 33 is a scaled-down RDNA3-based GPU, with a similar feature set to the flagship Radeon RX 7900 series. Navi 33 is simply pared-down with fewer resources to address a different market segment, with different price and performance targets.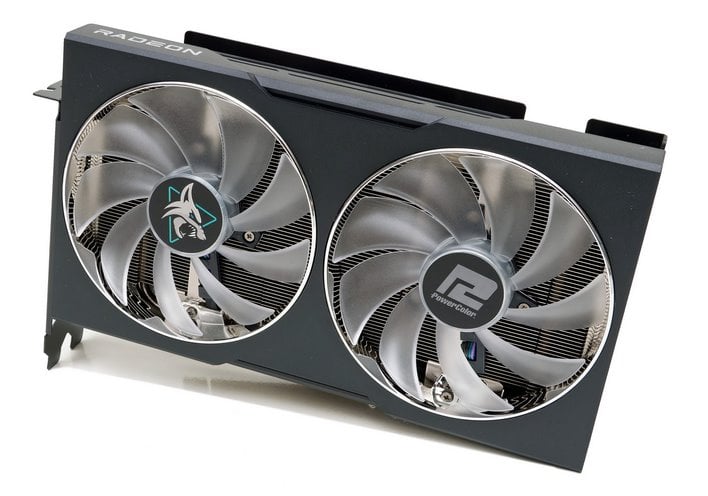 This brings us to the PowerColor Hellhound Radeon RX 7600. Fundamentally, this card is obviously similar to any other Radeon RX 7600, but PowerColor does differentiate it in a few ways. This card has a BIOS switch on-board that toggles between "overclocked" and "silent" modes. In overclocked mode, the card has a higher power target, a base clock of 2,280MHz, and a boost of 2,695MHz. In silent mode, things are a bit tamer. Silent mode has 2,250MHz / 2,255MHz base and boost clocks, respectively. In both mode, the 8GB of GDDR6 memory on board runs at an effective data rate of 18Gbps.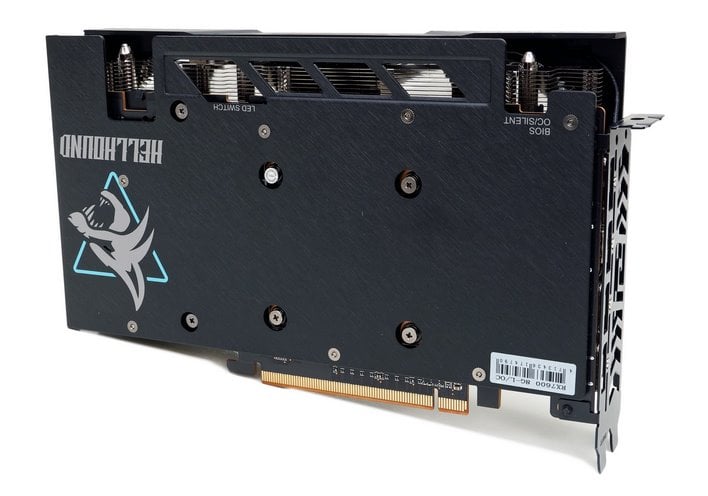 During our testing, we typically saw real-world game clocks hovering north of 2,600MHz with our
PowerColor Hellhound
Radeon RX 7600. Its cooler with dual-axial fans also did a good job of keeping temperatures in check, without making much noise at all. As you'll see a little later, after hours of benchmarking, GPU junction temperatures remained in the low-80°C range, at least according to the health monitoring data available in AMD's latest drivers.

The cooler on the PowerColor Hellhound Radeon RX 7600 features two 100mm axial, double-ball bearing fans, that sit atop a large array of heatsink fins that run the entire length of the PCB. Three 6mm heat-pipes snake through the heatsink fins and converge directly above the GPU. An additional heat-plate makes contact with some components on the back-side of the card as well to further aid in cooling, while also adding some rigidity.

The PowerColor Hellhound Radeon RX 7600 features the aforementioned dual-BIOS setup, with a simple switch to toggle between the two, and there is a single, 8-pin power connector facing upward at the tail-end of the PCB. Note, that the PCB is about 3/4 of an inch shorter than the heatsink and fan shroud. The card also features lighted fans, with another on-board switch to toggle between three modes of operation. In one position, the fans light up with an "ice blue" hue. In another position, they light up in an "amethyst purple". And in the third position the lighting is disabled.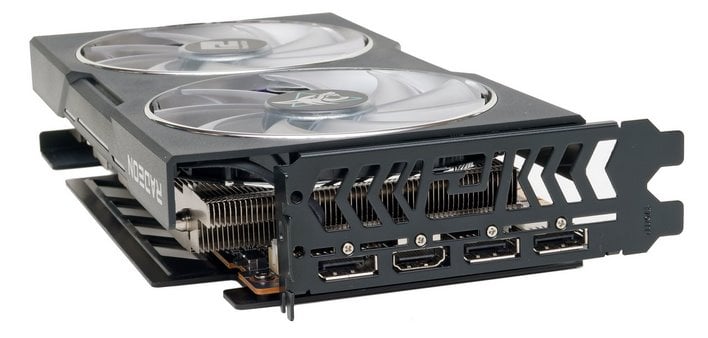 Like the Radeon RX 7600 series cards, outputs on the PowerColor Hellhound Radeon RX 7600 consist of a trio of full-sized DisplayPorts (2.1) and a single HDMI port (2.1). The rest of the case bracket is essentially just a large vent, to allow air to escape from the chassis.
And with all of that out of way, let's fire the Hellhound up, and see if she's got any bite...
Related content