Intel Launches Mainstream 13th Gen Core Raptor Lake Desktop And N-Series CPUs At CES 2023
As enthusiasts, it's easy to forget that Intel only launched the "K" series Raptor Lake CPUs when it
released its 13th-Gen Core
processors late last year. In case you weren't aware, Intel actually sells a whole range of desktop CPUs, not just massive, 200+ Watt beast chips. So here we are: 13th-Gen Intel Core desktop CPUs in 65W and 35W flavors. There's also an interesting quartet of "N-Series" processors that we'll examine after we look at the desktop chips.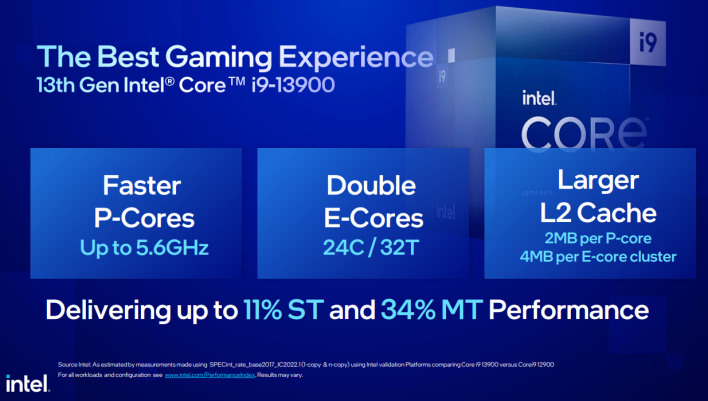 These socketed desktop processors are fundamentally the same as other 13th-Gen Core CPUs that Intel launched back in October, just with lower power limits. At least, that's the case for the Core i7 and Core i9 processors, but we'll get into that in detail after a bit. Intel curiously describes the Core i9-13900 as offering "the best gaming experience" in the slide above, but we can presume it's talking about Raptor Lake in general and not that specific CPU.
Meet The Rest Of Intel's 13th Gen Core Series Desktop Processor Family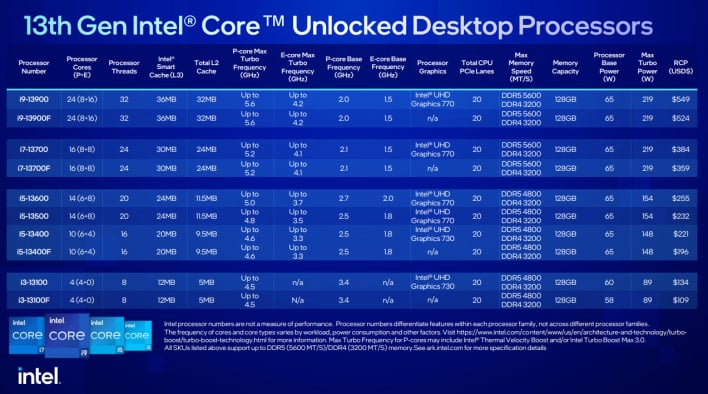 Intel's 65-watt 13th-Gen Core desktop CPU lineup.

So, without further ado, let's dive into the processors. There really aren't many surprises here if you paid attention to our coverage and review of the Core i9-13900K and Core i5-13600K, as well as to pre-release leaks and rumors. As it turns out, the rumor that Intel would be refreshing Alder Lake silicon for lower-end models in its desktop CPUs appears to have been correct. Intel helpfully lists the L2 cache in each CPU, and that immediately outs the Core i5-13600 and every lower CPU on the list as being based on Alder Lake chips.
What does that mean, in practice? Well, it means those CPUs miss out on the benefits of the
Raptor Lake silicon
, those primarily being a bump from 1.25MB to 2MB of L2 cache per P-core, as well as doubled L2 cache (from 2MB to 4MB) on each 4-core cluster of E-cores. They also are limited to just eight E-cores in total, as Alder Lake never had more than that.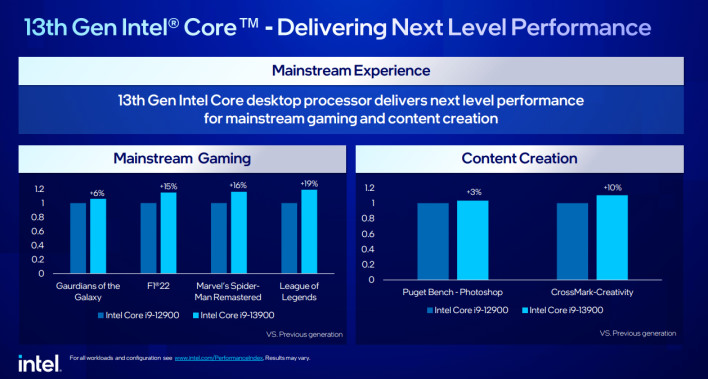 That doesn't mean that these new CPUs are the same as the previous generation by any means, though. Compare the Core i5-13600 to its previous-generation predecessor, the Core i5-12600. In the transition, it gains fully eight E-cores, 200 MHz of P-core boost, and an extra 6MB of L3 cache. It also picks up a higher turbo power limit of 154W vs. the 117W of the last-gen part.
Those gains are pretty consistent across the product line, even for the Core i7 and Core i9 chips using new silicon: each CPU gains either four or eight more E-cores than the last-gen model (along with 3MB of L3 cache per E-core cluster), plus a requisite bump to their max turbo power. The chips based on Raptor Lake silicon also get DDR5-5600 support, like the K-series models.
Unfortunately, the Core i3-13100 and its IGP-less "F" version miss out on the E-core bonanza and have to make due with just a 200 MHz bump to their turbo clock. They're otherwise identical to the 12th-gen versions.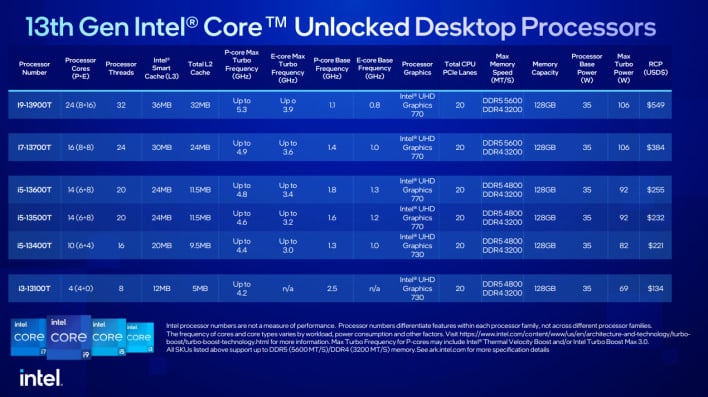 Intel's 35W 13th-Gen Core desktop CPU line-up.

In addition to the 65W CPUs, we also have some lower-power desktop chips. The chart above outlines Intel's "T" models. As is tradition, they trade some clock speed (particularly on the base clock) for lower power draw. All six of these SKUs feature a base 35W TDP, while maximum power draws range from 69W to 106W at the very top.
Whereas only two of the previous models went the hybrid route, all of the 13th-Gen T-series processors have both P-cores and E-cores save for the one 4C/8T Core i3 CPU. Just like the 65W chips, the Core i7 and Core i9 models are built on new Raptor Lake silicon with increased cache capacity, while the rest of the CPUs are using the original Alder Lake design.

As usual, the base frequencies on these chips are pretty darn modest, with E-core base clocks on the Core i9-13900T dipping as low as 800 MHz. When's the last time you saw a mainstream desktop CPU ship with a clock spec under 1 GHz? That's the reality of trying to fit 24 CPU cores into a 35W power budget, of course.

Intel Alder Lake-N Series Debuts For Lower Cost, Low Power Machines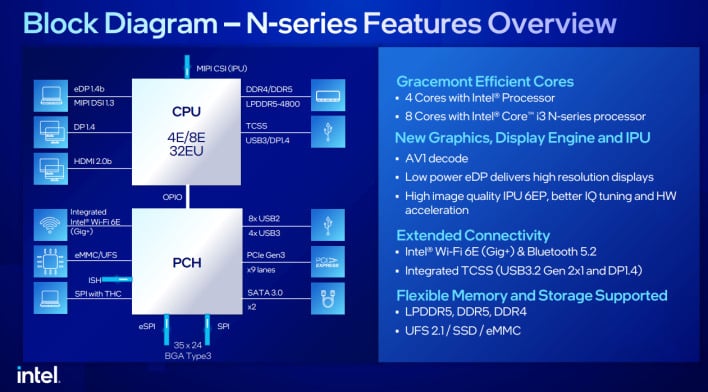 The last set of CPUs that Intel is announcing today are the N-series. More accurately, they're called the "Intel Processor and Intel Core i3 N-Series Processors." This, folks, is the fabled Alder Lake-N. In case you don't follow rumors and leaks like a starving buzzard, Alder Lake-N is a processor die with two clusters of Gracemont E-cores and a 32-EU Iris Xe GPU.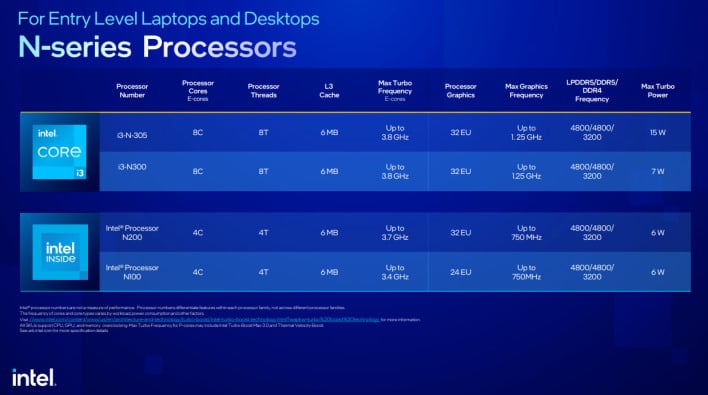 There are four N-series processors being announced today. Two of them are being branded "Core i3", the Core i3-N305 and Core i3-N300; these models have eight cores, 6MB of L3 cache, and a max turbo frequency of up to 3.8 GHz within their 15W max turbo power budget.
Meanwhile, the "Intel Processor N200" and "Intel Processor N100" have just four cores, although curiously they retain the full 6MB of L3 cache. These chips both have a max turbo power budget of just 6 watts, with the main difference between them being that the N100 loses a quarter of its GPU horsepower.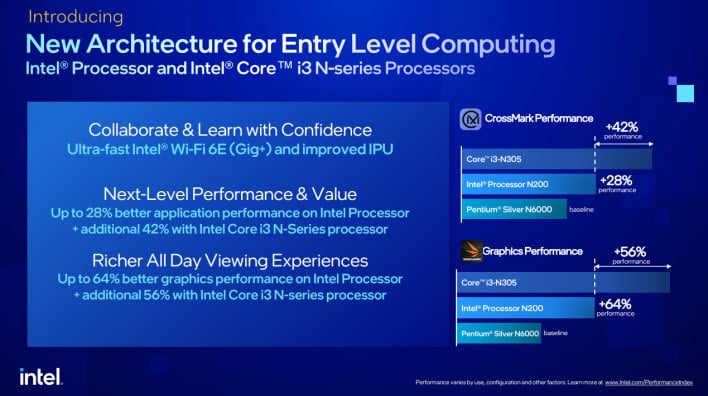 Obviously, with only Gracemont-based E-cores, these CPUs are targeted at entry-level, educational, and other low-cost platforms. While the N-series processors smack of Atoms of yore, these aren't like the old Bonnell chips. The single-core performance of Gracemont isn't too far off from a 6th-generation Skylake core. Likewise, the 32-EU Xe GPU could be reasonably impressive for casual gaming, although these chips are limited to a 64-bit memory bus.
Intel says all of this silicon is launching today, which to us implies that you should be able to find it on store shelves very soon in the days ahead. If you've been looking for a low-power 24-core CPU powered machine, go
have a look around
. Intel N-series processors won't come in socketed form, but Intel says there are "more than 50 designs" using these efficient CPUs which are expected to release throughout this year.