Qualcomm Snapdragon X Elite Benchmarks: A Potential Game-Changer [Updated]
Snapdragon X Elite Performance: Benchmarking Qualcomm's New Disruptive PC Platform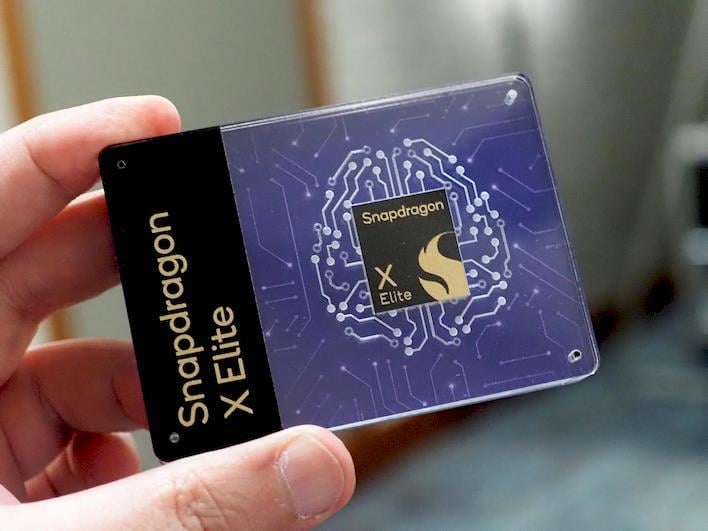 Last week at its Snapdragon Summit, Qualcomm revealed two new mobile platforms, the Snapdragon 8 Gen 3 and Snapdragon X Elite, amidst a myriad of additional
XR and Audio
related announcements. Like its namesake, the Snapdragon 8 Gen 3 is designed for smartphones and tablets (that typically run Android), and this latest iteration is updated, more efficient, and more powerful, especially in terms of its AI capabilities. If you'd like to learn more about the
Snapdragon 8 Gen 3,
we've got details and
benchmarks available
in a couple of articles already. For Windows PCs, Snapdragon X Elite is a totally new processing platform, however. The Snapdragon X Elite leverages CPU core technologies that stem from the acquisition of NUVIA, melded with an array of Qualcomm's core graphics, AI, interface, and wireless technologies.
At Snapdragon Summit 2023, Qualcomm showed an assortment of benchmark results with the
Snapdragon X Elite
that had it outperforming virtually all of today's current PC platforms, from Intel, AMD and Apple. And where Qualcomm disclosed the data, Snapdragon X Elite reportedly outperformed those competing platforms with better power efficiency as well. Put simply, should all of Qualcomm's claims play out in the real-world, with retail-ready devices, Snapdragon X Elite could be a wildly disruptive PC platform that offers class-leading performance and battery life.
Update 11/8/2023 - Additional performance data from a Snapdragon 8cx Gen and Intel 13th Gen U-series mobile processor added, and commentary updated.
What Is Qualcomm's Snapdragon X Elite?
The Snapdragon X Elite is Qualcomm's upcoming platform for PC's running the Arm-native version of Windows 11 (and presumably newer versions of Windows). The first wave of Snapdragon X Elite processors will feature 12 high-performance "Oryon" CPU cores, built using an advanced 4-nanometer process, running at up to 3.8 GHz in multi-threaded situations. In situations that call for more single-threaded performance, however, two of those cores can boost up to 4.3GHz.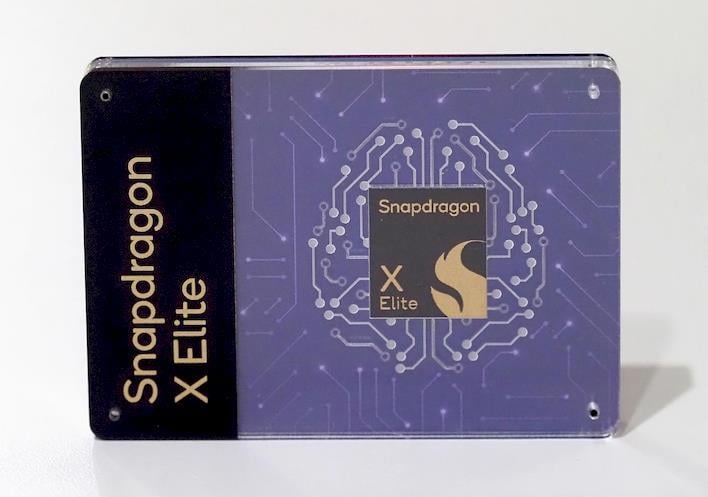 The Snapdragon X Elite's Oryon CPU cores are arranged in three clusters, consisting of four CPU cores each. All of the cores have the same features and capabilities – the 12 total CPU cores do not consist of a mix of big and little cores like other Snapdragon processors that target mobile platforms. There is a total of 42MB of L2 + shared L3 cache on-board, with each quad-core CPU cluster outfitted with 12MB of L2, and the remaining 6MB shared amongst all of the CPU cores. The Snapdragon X Elite Compute Platform also has
support for LPDDR5x memory
running at up to 8,533 MT/s for a total aggregate bandwidth of 136GB per second, along with support for PCIe Gen 4 storage.
Graphics duties on the platform are handled by a new, bespoke Adreno GPU, which is Qualcomm's most powerful yet. The Adreno graphics engine on-board Snapdragon X Elite is rated for up 4.6 TFLOPS of compute performance and it can drive 4K displays at 120Hz with full HDR10 support, too. We should note, there are additional PCIe Gen 4 lanes available as well, which technically could be used for discrete graphics. However, the discrete GPU manufacturers would have to provide software support for that to become a reality.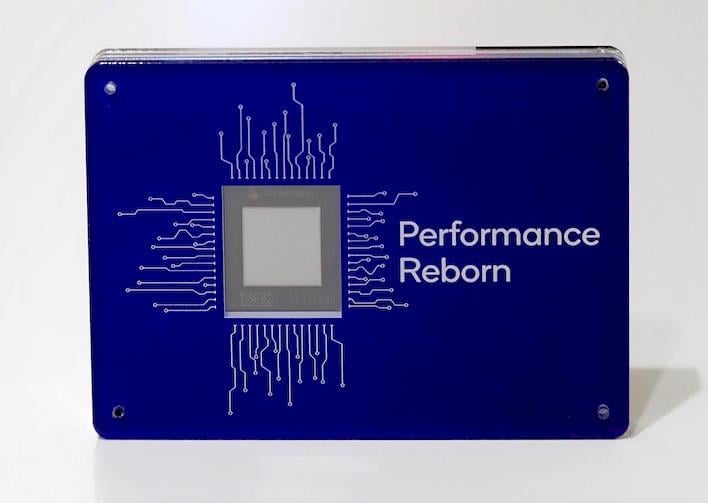 AI performance was also a huge part of Qualcomm's goals with this new PC platform. Its Hexagon Neural Processing Unit (NPU) on-board Snapdragon X Elite offloads machine learning tasks, that might otherwise run on the CPU, onto a dedicated accelerator for a massive performance uplift. The Hexagon NPU is capable of running machine learning models with over 13 billion parameters directly on the device and Qualcomm claims that the NPU alone offers up to 45 TOPS (Int4) of compute performance. That works out to roughly 4.5x the performance of current CPUs found in today's laptops, and a 100-fold increase over laptop CPUs introduced since 2017. The total Snapdragon X Elite platform – including the CPU, GPU, and NPU – will offer up to 70 TOPS of performance for AI workloads.
Snapdragon X Elite Benchmarks And Level-Setting The Playing Field
While attending Snapdragon Summit last week, we were given the opportunity to witness benchmarks running live on a pair of Snapdragon X Elite systems. Both were early, pre-production, reference laptops, with one featuring a thermal envelope of up to 23 watts and the other device power of up to 80 watts. There is some nuance to those numbers, however.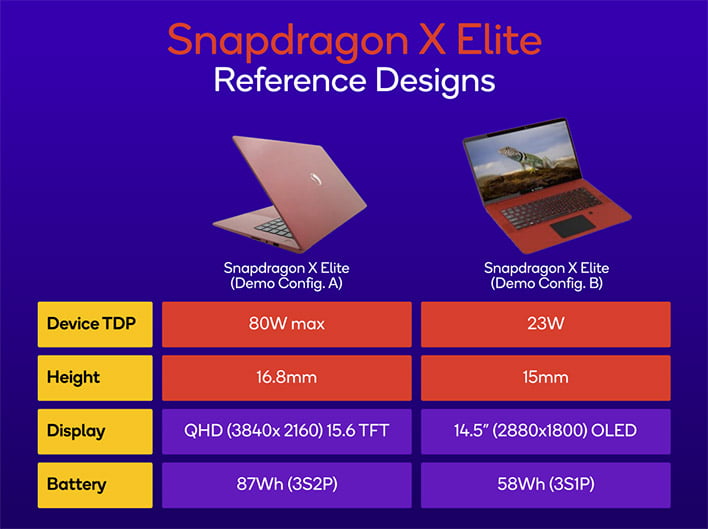 First, the 80 watt configuration won't be arriving in the first wave of Snapdragon X Elite devices; the higher TDP will be coming at some point further down the road.
In addition, these 23W and 80W numbers also represent the reference design device thermal envelopes, not the SoCs alone. Actual SoC TDPs were not disclosed.
We must also mention that we were not able to inspect the software setup on the Snapdragon X Elite systems, or even touch the keyboards or mice to actually invoke a test. We were simply able to witness reps from Qualcomm run the tests live. That's not to say that we think there was any funny business was going on, but we want to be clear that technically we didn't actually run the numbers. We did, however, run all of the reference data represented in our charts.
(Additional pictures of the demo systems with results on-screen are available in the image gallery of this article)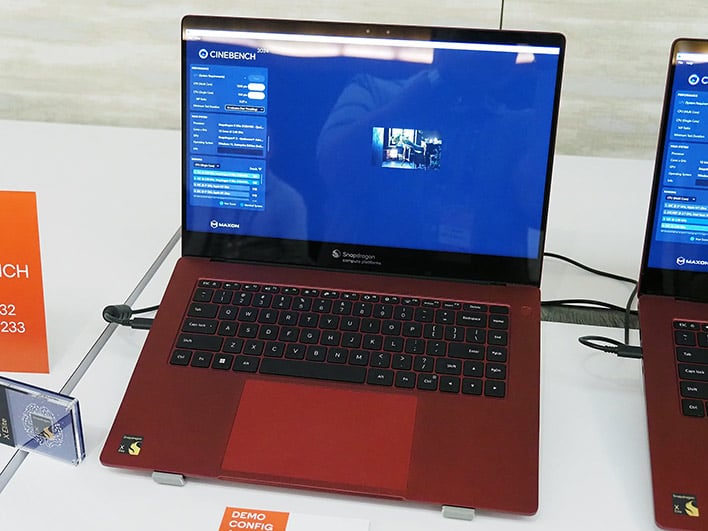 Snapdragon X Elite Demo Configuration A: 80 Watt TDP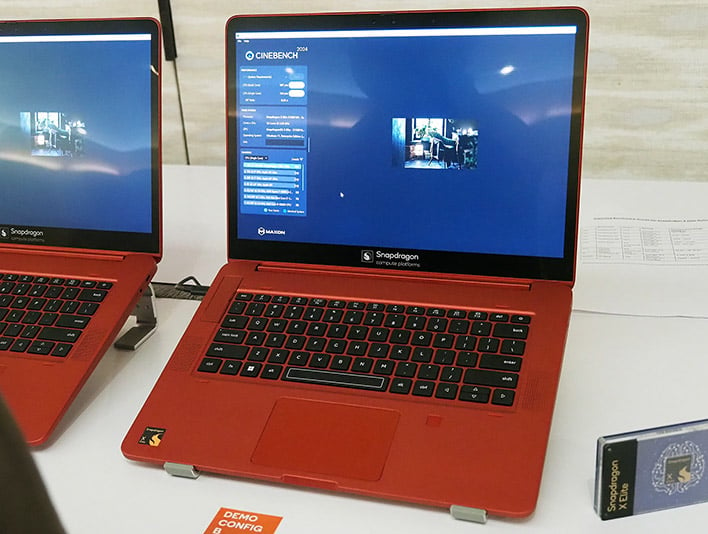 Snapdragon X Elite Demo Configuration B: 23 Watt TDP
In addition to the Snapdragon X Elite, the reference laptops were outfitted with NVMe M.2 PCIe Gen 4 storage and 64GB of RAM. With all of that said, let's see how the Snapdragon X Elite systems stack up versus an array of Windows laptops and
Macbook Pro 14
...
Geekbench v6.2 CPU Benchmark
The Geekbench CPU benchmark stresses only the CPU cores in a system (not the GPU or other accelerators), with both single and multi-threaded workloads. The tests are comprised of a wide array of workloads including encryption processing, image compression, HTML5 parsing, physics calculations and other general purpose compute processing tasks.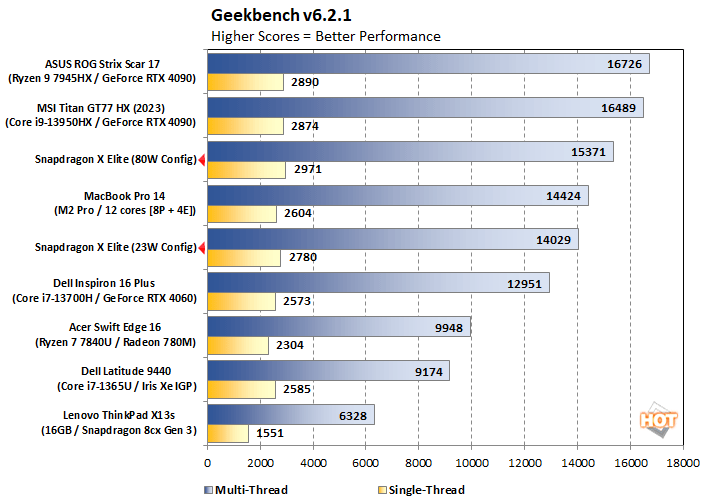 We've got an array of systems featured here, with wildly different TDPs and form factors. We're presenting all of this data in an attempt to illustrate where the performance of the two Snapdragon X Elite demos system configurations falls, relative to currently shipping laptops. As you can see, the two Snapdragon X Elite systems sandwich the M2 Pro-based (12 core) MacBook Pro 14, and outperform the mainstream Intel and AMD laptop platforms. The high-end, higher-power Intel and AMD premium gaming notebook platforms, however, offered the best multi-threaded performance overall. The best single-threaded score belongs to the Snapdragon X Elite 80 watt demo system, though.
Versus the Snapdragon 8cx Gen 3, the Snapdragon X Elite dominates. Qualcomm's upcoming platform offers significantly better single-thread performance and over double the multi-threaded performance.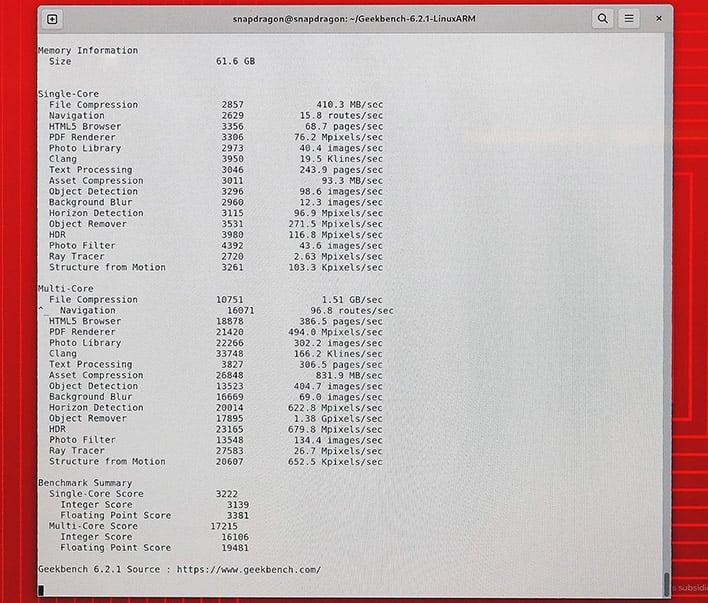 Qualcomm also showed Geekbench running on Linux, to illustrate the Snapdragon X Elite platform's high performance isn't necessarily relegated to Windows alone. With this Linux test run, the Snapdragon X Elite 80 watt configuration put up even better single and multi-threaded scores (3222 ST / 17215 MT) and the rest of the sub-test scores are visible as well.
PCMark 10 Applications: Whole System Benchmark
The PCMark 10 Applications test uses a mix of real-world Microsoft Office applications and simulated workloads to establish how well a given system performs with various productivity tasks, including web browsing and document editing, using Word, Excel, Powerpoint, and Edge. The results here represent the overall score.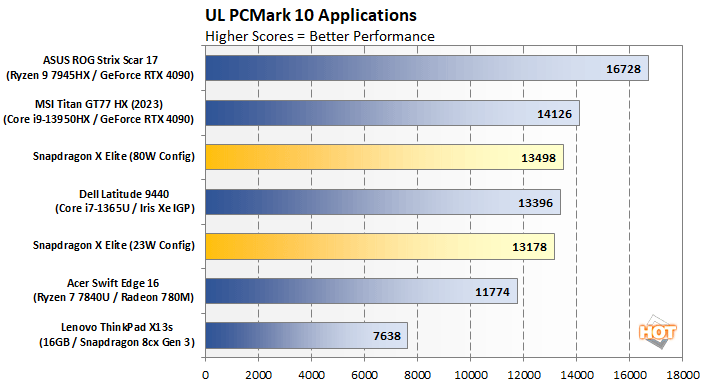 The Snapdragon X Elite systems performed extremely well in the PCMark 10 Applications benchmark
(note, this isn't the standard PCMark 10 test that uses open-source applications, but rather the Applications test the uses actual Microsoft Office applications)
. Here, the high-end gaming notebooks jump out to clear lead, but those systems are significantly larger, louder, use more power and feature discrete GPUs. Versus the mainstream Acer Swift Edge 16 (review forthcoming), with a Ryzen 7 7840U and Radeon iGPU, the Snapdragon X Elite systems finished well out in front and, once again, they nearly double the performance of the Snapdragon 8cx Gen 3.
Cinebench 2024 3D Rendering Benchmark
The recently-released Cinebench 2024 benchmark tests GPU and CPU performance using Maxon's Redshift rendering engine. The application supports AMD and Intel x86/64 CPUs, Apple M1 and M2 SoCs, as well as Qualcomm's Snapdragon compute platform natively. Cinebench is based on the latest Cinema 4D 2024 and Redshift code using updated compilers (Clang) and has a minimum runtime activated by default. We focused solely on the single and multi-threaded CPU tests here.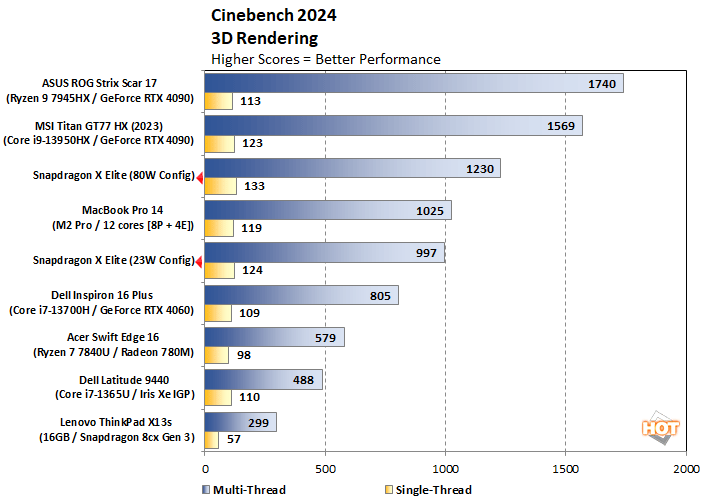 Cinebench 2024 tells a similar story to Geekbench. In this rendering benchmark, the Snapdragon X Elite systems offered the best single-threaded performance, bar none, with multi-threaded scores that sandwiched the 12-core M2 Pro-based Macbook Pro 14. The high-end gaming notebooks took the lead in the multi-threaded test, but the more mainstream Intel and AMD systems trailed overall, and the Snapdragon 8cx brought up the rear. We must point out again, the massive generation leap the Snapdragon X Elite offers versus the 8cx Gen 3. The Snapdragon X Elite offers more than double the single-thread performance here and approximately 3x - 4x the multi-threaded performance.
3DMark Wild Life Extreme
3DMark Wild Life is the latest cross-platform graphics test from UL. Its primary purpose is to measure GPU performance across platforms, and two distinct tests are available. The standard Wild Life test is designed to give feedback on how a game performs over a short period of time. With mobile games, people typically play in brief spurts when they find some free time; be it on the bus, on the subway, or a quick battle royale session over lunch break. The 3DMark Wild Life Stress Test, on the other hand, shows how a device performs over a longer stretch of time, and tracks performance degradation that might crop up due to increased heat levels and throttling. These results represent a single run of the Wildlife Extreme preset.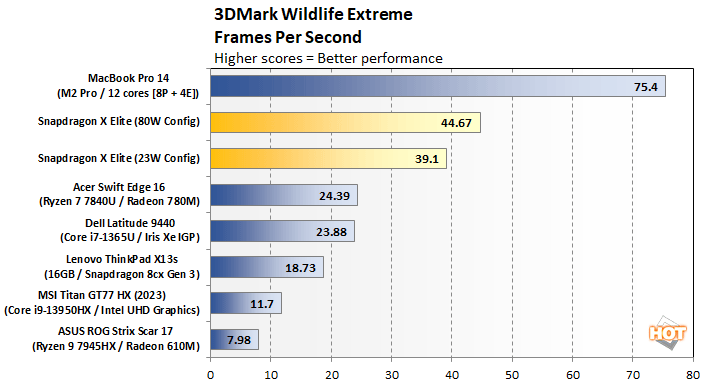 The Adreno GPU in the Snapdragon X Elite platform offered significantly higher performance than any of the Intel and AMD discrete graphics engines here and more than doubled the performance of the 8cx Gen 3. The 19-core GPU in the Apple M2 Pro, however, was the clear leader in this test.
GFXBench Aztec Ruins
GFXBench 5.0's Aztec Ruins benchmark is a cross-platform graphics test, which offers a variety of versions and code paths, including DirectX, OpenGL, Vulkan or Metal depending on the platform being tested and its capabilities. The scores represented here are the highest for each platform and configuration, and consist of a mix of DirectX and Metal results.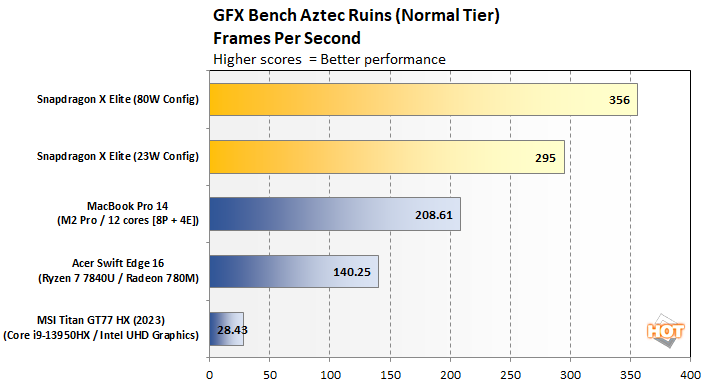 the GFXBench Aztec Ruins benchmark paints the Snapdragon X Elite in a very flattering light. Here, Qualcomm's Adreno GPU leads the pack by a wide margin.
UL Procyon AI Inference Benchmark
The UL Procyon AI Inference Benchmark determines AI inference engine performance in a Windows environment. The benchmark leverages several AI inference engines from different vendors, and generates scores that reflect the performance of on-device inferencing operations. During the benchmark, machine-vision tasks are executed using a range of popular neural networks, and processing can be focused on a particular processor or accelerator within a system. We ran the Procyon AI Inference Benchmark on the CPU cores using the native x86/x64 version on the Intel and AMD-powered system, while the Snapdragon X Elite systems used the Qualcomm SNPE native version. All systems were tested with integer precision.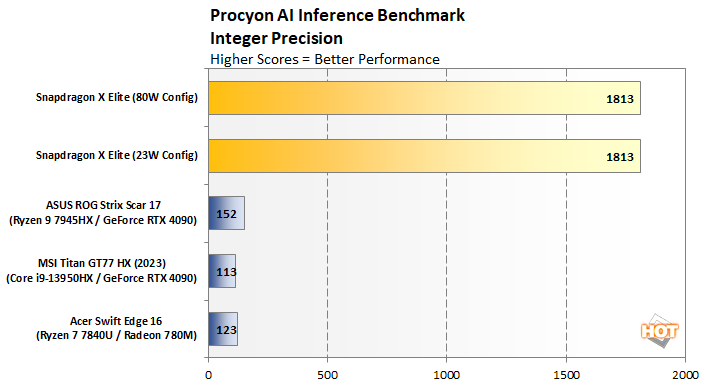 The Hexagon NPU in the Snapdragon X Elite runs at similar frequency regardless of the TDP of the systems (we don't know what that frequency is), hance both demo configurations offer identical performance in the Procyon AI Inference benchmark. Versus the CPU cores in today's AMD and Intel-powered laptops, there's simply no comparison here. For AI Inference workloads, a purpose-built NPU will offer significantly higher performance at lower power.
Snapdragon X Elite Opinions And Preliminary Take-Aways
At this particular moment in time, Qualcomm's
Snapdragon X Elite
platform seems to be a potentially disruptive PC platform, with excellent performance in a wide variety of CPU, GPU, and NPU intensive workloads, and best-in-class power efficiency as well. Considering the total platform as whole, it seems Qualcomm can't lose. Assuming all of the company's claims play out in the real world when devices ship, the Snapdragon X Elite will offer class-leading performance and battery life, in thin and light form factors, with the added benefit of Qualcomm's diverse wireless connectivity options.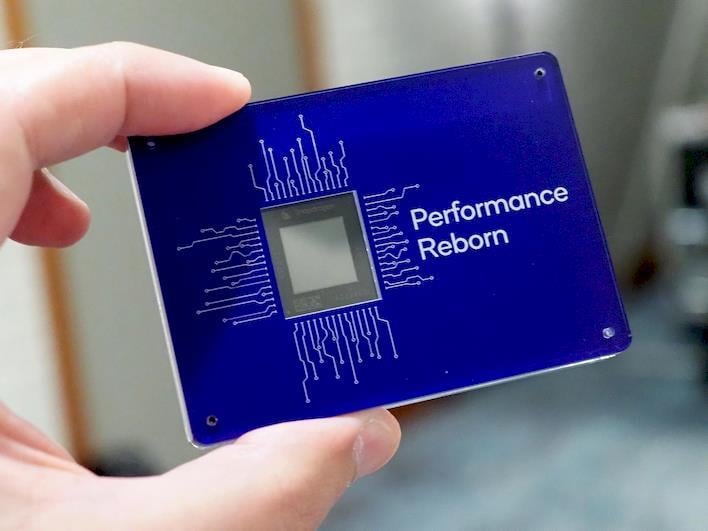 The PC landscape will be significantly different when the Snapdragon X Elite is actually shipping, however. Apple will reportedly be announcing its M3 chips later today. Intel has Meteor Lake, with updated CPU cores, more powerful GPU, and an NPU, coming down the pipeline, and AMD typically announces its newest mobile platforms at CES.
We don't know how everything will ultimately shake out in terms of price, performance, and efficiency, until we have actual devices based for all of these platforms in hand, so we can't draw and concrete conclusion just yet. It is clear, however, that Qualcomm has made a monumental leap forward with the
Snapdragon X Elite
and it will be a competitive force to be reckoned when it arrives next year.
Related content