Qualcomm Unveils Snapdragon 8 Gen 3 With Big Performance Gains And AI Mastery
It's that time of year again—the leaves and temperatures are falling, and Qualcomm is announcing a new flagship mobile processor platform at its Snapdragon Summit event in Maui today. As expected, the new Qualcomm Snapdragon 8 Gen 3 is now official, packing a faster CPU core configuration, an updated Adreno GPU, and AI engines galore.
Qualcomm
says this is its first mobile platform that was designed from the ground up with generative AI in mind, and you won't have to wait long to take it for a spin.
Snapdragon 8 Gen 3 CPU - Enter The Cortex X4 And A Performance Core Quintet
The 4nm Snapdragon 8 Gen 3 will power most of the high-end flagship mobile devices that launch over the next year, starting in just a few weeks. Qualcomm isn't saying who's getting the new chip first, but its partners include Asus, Honor, OnePlus, Oppo, Sony, and ZTE. You might notice Samsung is missing from the list. The Korean tech giant usually has its own chipset announcement, and last year that included a
customized version
of the Snapdragon 8 Gen 2. We don't know yet if Samsung will get an overclocked Snapdragon chip again, but it could possible, though not confirmed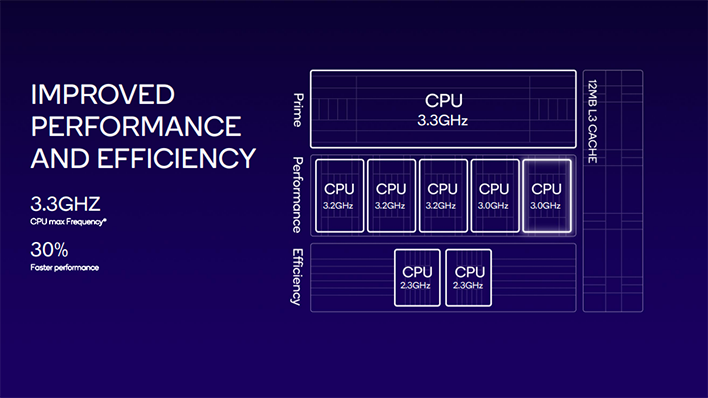 In years past, almost all mobile systems-on-a-chip (SoCs) had eight CPU cores split into two islands, but manufacturers have been playing with that formula more recently. For example, Google's
Tensor G3
chips have two high-power Prime Cores and a total of nine cores on board. The Snapdragon 8 Gen 3 still has eight CPU cores, but the split is different. At the forefront is the new Cortex X4 Prime Core, clocked at 3.3GHz. Qualcomm has upped the performance core count to five (Cortex A720) with a maximum clock speed of 3.2GHz. That leaves just two efficiency cores (Cortex A520) to handle low-intensity background tasks. These CPUs are clocked at 2.3GHz. Overall, Qualcomm says the CPU is 30% faster and 20% more efficient than the previous-gen Snapdragon 8 Gen 2.
A More Powerful Adreno Graphics Engine
Snapdragon 8 Gen 3's updated Adreno GPU supports a raft of new graphical technologies as well, like higher performance hardware-accelerated ray tracing, and new Global Illumination support in Unreal Engine 5. It also supports displays with up to 240Hz refresh rates, which hypothetically means a game could render at 240 fps for enhanced smoothness and response time.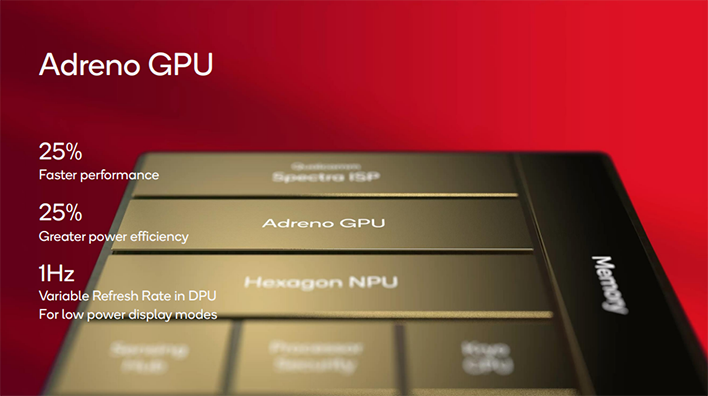 The chip can also upscale content to an 8K external display (assuming hardware support) and generate game engine frames for smoother, faster rendering with Adreno Frame Motion Engine 2.0. Ray Tracing support on board Snapdragon 8 Gen 3 is allegedly 1.5 times faster than the
Snapdragon 8 Gen 2
, and overall GPU performance is up 25%. Adreno Frame Motion Engine 2.0 will reportedly bring big performance gains and is similar to NVIDIA's frame gen technology on board its RTX 40 series GPUs.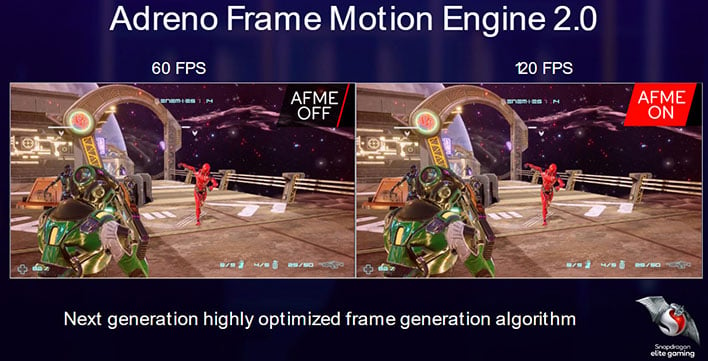 These above features will affect the things you already do with a smartphone or tablet, but Qualcomm is also hoping to foster the development of new generative AI features with the Snapdragon 8 Gen 3. The SoC's Hexagon NPU has been upgraded to be 98% faster than the last version, and the Qualcomm sensing hub will secure your personal data on the device. That's important because the new Snapdragon can do a lot of AI processing without relying on cloud processing support. Qualcomm says the Snapdragon 8 Gen 3 is its first chip capable of running large language models (LLMs) and other transformer-based networks on-device, with support for up to 10 billion parameters. It can also process stable diffusion to generate images in an instant, again, without reaching out to the cloud.
New Powerful Camera Features, A New 5G Modem And Snapdragon Seamless
Cameras in upcoming devices will also have access to new AI-powered features from the Snapdragon chip. The 8 Gen 3 enables image expansion, adding new content with generative AI similar to tools like
OpenAI's Dall-e
. There's support for video object eraser, which can remove people or objects from videos after you capture them. Qualcomm also has a feature called Zoom Anyplace that is optimized for
Samsung's 200MP image sensor
. It lets you capture multiple simultaneous videos at 2x and 4x zoom with object tracking and 4K resolution. So, perhaps that's a preview of what we can expect from the Galaxy S24's camera in early 2024.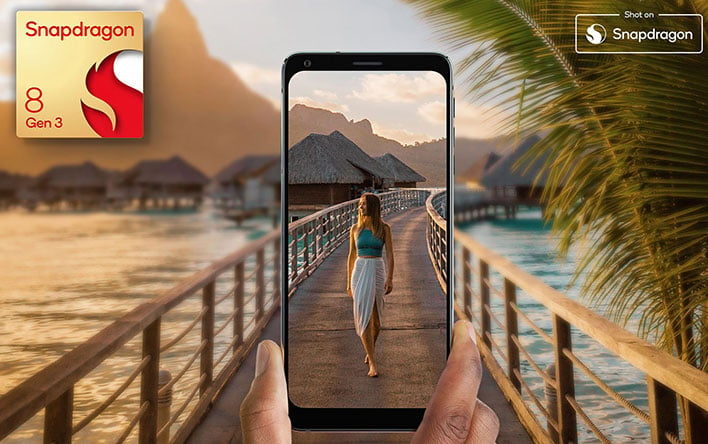 It wouldn't be a Snapdragon flagship announcement without a new 5G cellular modem, and of course the new X75 modem has been enhanced with machine learning. Qualcomm says the X75 is the world's first modem with dedicated tensor AI hardware, which helps improve speeds and efficiency. It supports sub-6 and millimeter wave 5G networks in non-standalone and standalone modes. Under ideal conditions, the X75 can reach 10Gbps download and 3.5Gbps upload.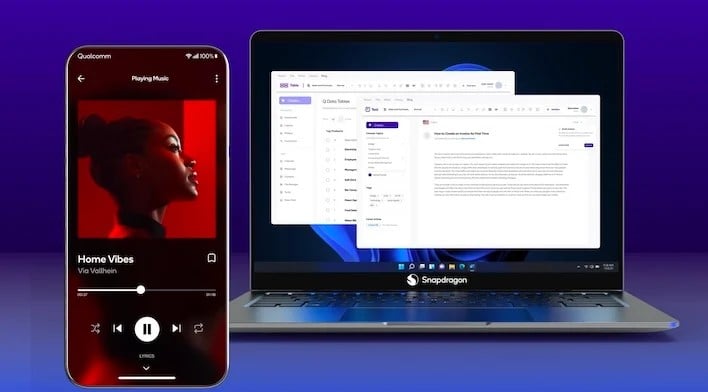 There's also a new communication feature to link your devices known as
Snapdragon Seamless
. With this cross-platform technology, you'll be able to move data, experiences, and peripherals between Snapdragon-powered devices. For example, you can share files or mirror your phone display on a PC. If you've got a mouse plugged into that PC, it'll be a snap to use it with your phone or tablet. It'll be up to OEMs to enable Snapdragon Seamless, but Qualcomm says Microsoft, Google, Oppo, Lenovo, and others are already on board.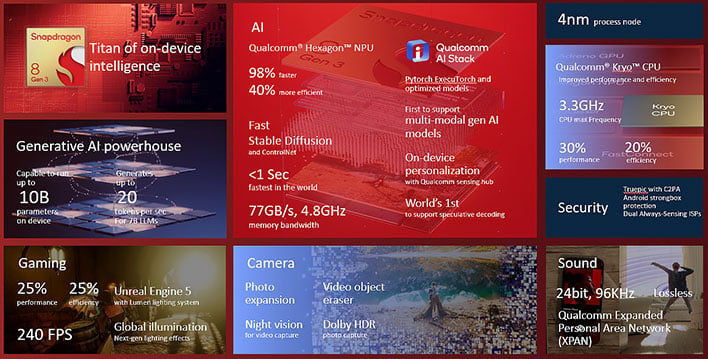 Qualcomm is only providing basic details on the new Snapdragon 8 Gen 3 platform today. Stay tuned for more on this latest mobile SoC in the coming days, and hopefully some benchmark numbers to boot.