AMD Threadripper Pro 7000 Debut: 96-Core Zen 4 CPU Benchmarked
AMD Threadripper Pro 7000WX & 7000 Debut: A Monumental Leap For Workstations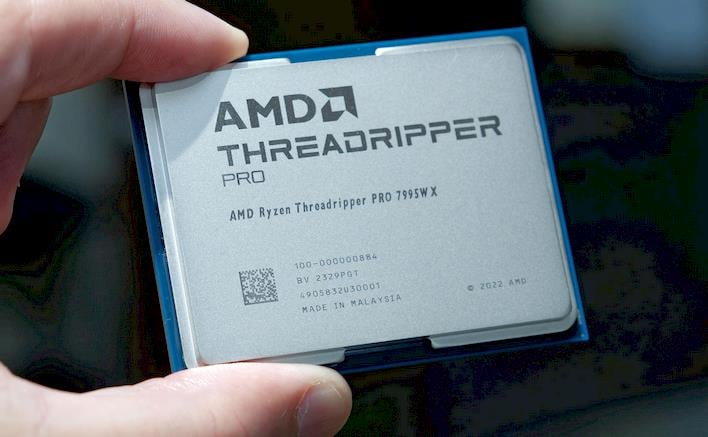 AMD Threadripper Pro 7000WX and Threadripper 7000 Series Processors: Starting At $1,499 ($9,999 For 7995WX)


Two new Threadripper product families arrives featuring AMD's Zen 4 architecture, with up to 96 cores and 384MB of cache, the Threadripper Pro 7000WX and Threadripper 7000.




More Cores
More Cache
Higher-Clocks
Monstrous Performance
HEDT Returns!

Higher TDPs
Ultra Premium Pricing






---
AMD made some bold moves yesterday and announced to two new product families targeting the ultra high-end of the computing market. First is the Threadripper Pro 7000WX family of processors, which are the logical many-core successors to
last year's 5000WX series
. The second is the HEDT-targeted Threadripper 7000 series. The "standard" Threadripper 7000s are a welcome development for enthusiasts like us, because the company had stated a couple of years back that it would solely focus on Threadripper Pro workstation processors moving forwards. Lot of things have changes since that statement, however. The COVID pandemic subsided and many supply chain issues have been resolved, and now AMD is ready to not only inject the professional workstation market with a dose of excitement, but resurrect its HEDT program with its most powerful processors yet.
Zen 4 Is At The Heart Of Threadripper Pro 7000WX & Threadripper 7000
AMD's current Ryzen 7000-series of processors top out at 16 cores (32 threads), target mainstream computing applications, and address the widest swath of the market. The last generation of Zen 3-based Threadripper Pro processors cranked things up to a maximum of 64 cores, with support for four or eight channels of memory, and targeted High-End Desktops (or HEDT) and professional workstations. These latest Threadripper 7000 and Threadripper Pro 7000WX target the same markets, but are infused with the newer Zen 4 architecture, feature a myriad of platform updates, and in the case of the Threadripper Pro 7000WX, increase core counts to a whopping 96 cores (192 threads).
We'll get to the specifics of each family shortly, but first a quick
refresher on Zen 4
is in order...
AMD's Zen 4 Architecture Recap
In comparison to the older Zen 3, AMD's Zen 4 architecture features an updated cache configuration that doubles the size of the L2, along with an enhanced front-end design, new ISA extensions for AI acceleration and AVX-512 support, and native support for PCI Express 5 and DDR5 memory.
Zen 4 is also a power-optimized architecture that the company designed to improve both single- and multi-threaded performance while also boosting efficiency. Single-thread speed will come by way of an approximate 13% IPC uplift, achieved through an array of improvements over Zen 3 that include more advanced branch prediction, an approximately 68% larger micro-op cache (in addition to the larger L2), a larger L2 translation lookaside buffer (TLB), 25% larger Instruction Retire Queue, deeper integer and floating point registers, and 50% larger L1 and L2 branch target buffers (BTB).
In addition to the IPC enhancements offered by Zen 4, the latest processors featuring the architecture are also manufactured on a more advanced process node allowing them to boost to higher frequencies, so cumulative single-thread improvements are in the neighborhood of 29% versus Zen 3-based processors. Those single-thread improvements are compounded in many-core processors like the Threadripper and
Threadripper Pro
.
Threadripper Pro 7000 WX And Threadripper 7000 Series Details
Although both obviously borrow heavily from
AMD's EPYC server processors
, there are some fundamental differences. Physically all of the processors are similar, and have similar dimensions and pad configurations. There are electrical differences, however, and they are not socket-compatible. Threadripper and Threadripper Pros cannot be used interchangeably in EPYC platforms, and HEDT Threadripper 7000s can't be used in Threadripper Pro 7000WX motherboards, but Threadripper Pro 7000WX processors CAN be used in Threadripper motherboards – you'll just sacrifice some IO and four memory channels.
The Threadripper Pro 7000WX series will arrive alongside the new WRX90 platform, which features the new sTR5 socket. Threadripper 7000s are treated to the new TRX50 platform, which also features the sTR5 socket.
When used in WRX90 motherboards, Threadripper Pro 7000WX processors can be configured with up to 8-channel memory and 148 total PCIe lanes, 144 of which are usable, and 128 of which are PCIe Gen 5. The TRX50 HEDT platform will max out with 4-channel memory and a total of 92 PCIe lanes (88 usable, 48 PCIe 5). Both platforms will require DDR5 RDIMMs this generation, which is a departure from previous Threadrippers that worked with common unbuffered DDR4 DIMMs.
In terms of their memory capabilities, Threadripper Pro 7000WX processors will support up to 8 channels at speeds up to DDR5-5200 (though higher speeds are available through overclocking). AMD limits the platform to 1 DIMM per channel to ensure maximum frequencies. Even at the stock 5200 MT/s, theoretical peak memory bandwidth in an 8-channel config tops out at a massive 325 GB/s, with support for up to 2TB of memory. For non-Pro Threadripper 7000s, bandwidth is halved due to its maximum of 4 memory channels.
The Threadripper Pro 7000WX series also differs from its "standard"
HEDT
counterparts in that it will offer AMD's "Pro" security and manageability technologies.
The Threadripper Pro 7000WX series mirrors the previous 5000WX series for the most part. It features 12, 16, 24, 32, and 64 core processors with a similar model numbering scheme, save for the top end part. The Threadripper Pro 7000WX series, however, adds an additional 96-core SKU – the Threadripper Pro 7995WX -- that sits unparalleled at the top of the stack.
In addition to featuring a newer architecture that clocks higher (as previously discussed), Threadripper Pro 7000WX series processors will also pack in more L3 cache—up to 384MB—and their TDP increases from 280W to a beefy 350W. The Threadripper Pro 7000WX topology features 12 compute dies surrounding the I/O die, each with up to 8 cores, similar to EPYC server processors.
The HEDT-focused Threadripper 7000 series will consist of three processors. The 24-core 7960X, a 32-core 7970X, and the top-end 64-core Threadripper 7980X. These processors also feature 350W TDPs, higher clocks, and more cache than their predecessors. Threadripper 7000 series processors, however, will "only" get up to eight 8-core compute dies, but with the same IO—it's just wired differently than the Pros.
This overview of the Pro workstation and HEDT platforms explains how things are linked and highlights the differences between the platforms. Ultimately, though the same IO die is used, only 4 memory channels and 48 PCIe Gen 5 lanes are wired on the HEDT "non-Pro" platform. We expect that this gives AMD the opportunity to salvage some partially-functional cIODs intended for EPYC or Threadripper Pro processors.
Threadripper Pro 7000WX and Threadripper 7000 Expected Performance
As we saw with the Ryzen 7000 series launch, AMD's Zen 4 architecture offers significant performance gains over Zen 3. Couple Zen 4's IPC gains with higher clocks, more cores, more cache, and faster memory, and AMD is claiming huge performance uplifts for the Threadripper Pro 7000WX and Threadripper 7000 series versus both the previous-gen and Intel's
Xeon W workstation processors
.
AMD provided a host of numbers to whet your appetite, which you can see above. We were also able to take a Threadripper Pro 7995WX for a spin, however, and have an array of benchmark results to share with you on the pages ahead.
Hint: When an application can whack all 96 of those cores, performance is incredible.
AMD Threadripper Pro 7995WX CPU-Z Details
Taking a quick glance at the Threadripper Pro 7995WX with CPU-Z, you can see there is 64K of L1 per core (32K D-Cache + 32K I-Cache), 1MB of L2 cache per core (both 8-way set associative), and 32MB of L3 cache per compute die, for 384MB total on the top end 7995WX. The rest of the details show the memory and motherboard configuration for the Dell Precision 7875 test vehicle we used to run our benchmarks. Note that the system featured DDR5-4800 memory, not the faster DDR5-5200 that is officially supported.
Related content