Intel 14th Gen Core Raptor Lake Refresh Benchmarks: MOAR Power
Intel 14th Gen Core Processors: Raptor Lake Refresh Boosts Clocks And Power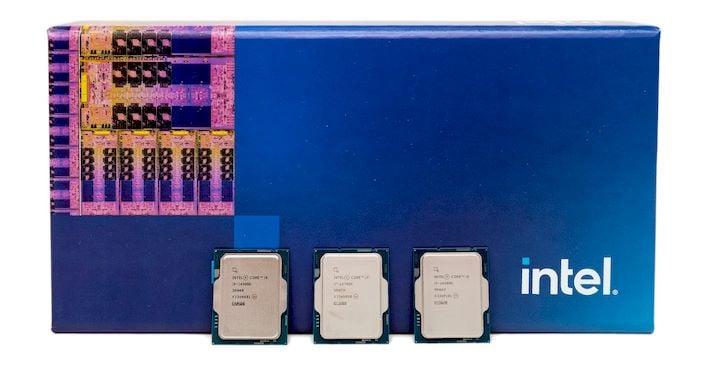 Intel Core i9-14900K - $589, Intel i7-14700K- $409, Intel Core i5-14600K - $319


Intel's 14th Gen Core "Raptor Lake Refresh" processors fit in the same socket as 13th Gen CPUs, but crank up the clocks, in some cases cores, and power.




High Performance
Single Thread Leadership
More Cores, Higher Clocks
Socket Compatibility
Competitive Pricing

High Power
Temps Ramp Quickly






---
After months of leaks and rumors, Intel officially took the wraps off of its
14th Gen Core
desktop processors yesterday. If you're a regular around here, you probably know that Intel's 14th Gen Core desktop processors are a refresh of the existing Raptor Lake architecture that debuted with last year's 13th Gen parts. With these new processors, however, Intel has tweaked and tuned the manufacturing process to boost clock speeds and has also increased the core count on Core i7 variants, to crank-up multi-threaded performance.
There are a total of six new processors in the Intel 14th Gen Core desktop processor line-up, and we've got three of them on hand for testing – the flagship Core i9-14900K, the enthusiast-class Core i7-14700K, and more mainstream Core i5-14600K. The remaining three processors are all "KF" versions, which are fundamentally similar to the trio we'll be showing you here, sans integrated graphics. Before we spill all of the beans in the intro though, let's move on to some specs and platform updates, then we'll check out the actual chips, and – of course – take them for a spin in some benchmarks...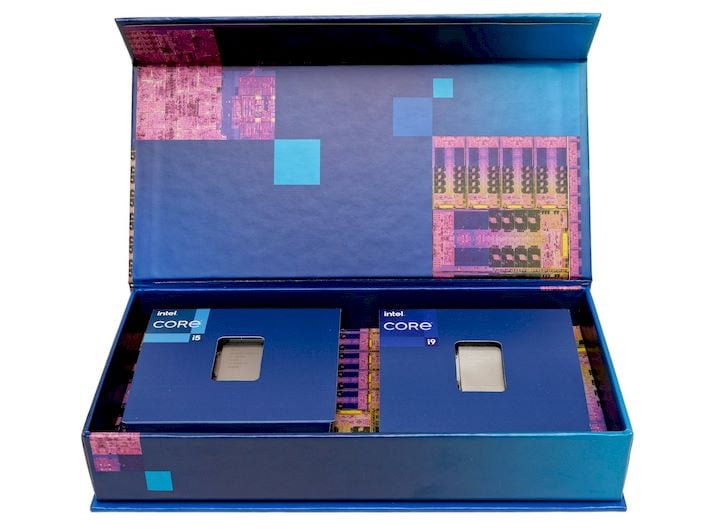 Intel 14th Gen Core -- What's Changed?
Intel 14th Gen Core "Raptor Lake Refresh" processors share the same hybrid architecture with
Intel's 13th Gen parts
. These new processors feature P-cores (Performance) and E-cores (Efficiency) and fit into the exact same socket as 12th and 13th Gen Core processors.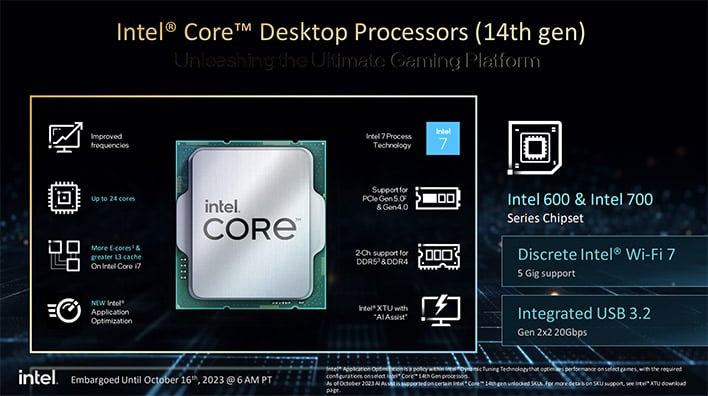 They're compatible with motherboards featuring 600 and 700 series chipsets, with either DDR4 or DDR5 memory too, provided the motherboard manufacturer has released an updated BIOS with the necessary microcode. In terms of platform features and IO, there's nothing really new to report – PCIe 4 and 5, WiFi 7 support, USB 3.2 gen 2x2, etc. is all there, just like the 13th Gen.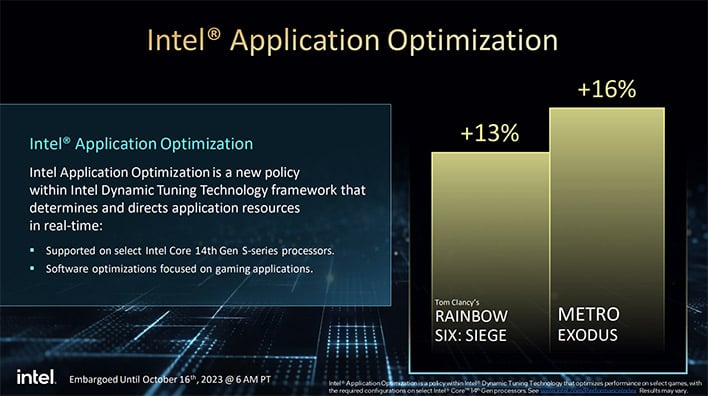 New Performance Optimization Modes For Gamers
Intel, however, has made some platform updates to optimize 14th Gen Core processors. Intel Application Optimization, or APO, for example, will initially be supported on the 14th Gen Core i9 and Core i7 processors and is a new policy within the Intel Dynamic Tuning framework that will dynamically tweak applications resources to maximize performance. APO targets games specifically, and will modify thread count and direct workloads to the best performing cores, to ensure optimal performance. Out of the gate Rainbow Six: Siege and Metro Exodus are supported, but more titles will be added over time, as will support for additional processors.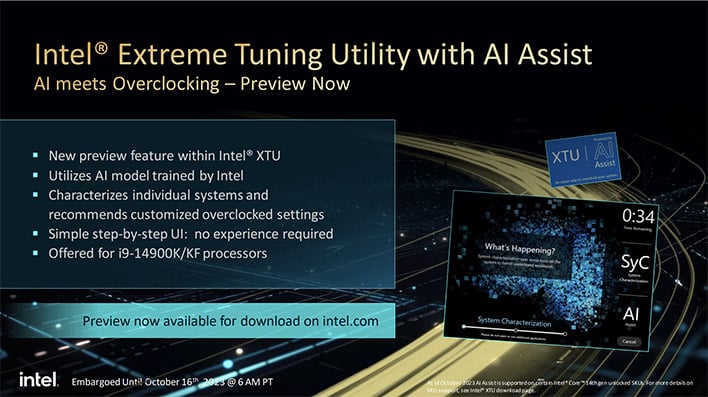 There's also a new AI-assisted overclocking tool built into Intel's Xtreme Tuning Utility (XTU) to boost performance on the Core i9-14900K or KF with a single click. The tool uses an AI model trained by Intel, and tunes performance based on the configuration and characteristics of the individual system. While we're on the subject of overclocking, we should also mention that Intel's expects to see 14th Gen Core processors to overclock somewhat better than
13th Gen processors
, especially in terms of memory speed.
Intel 14th Gen Core Series Lineup
As mentiond, the initial line-up of 14th Gen Core processors will technically consist of six processors, but it's only their iGPU configurations that separate the "K" and "KF" models…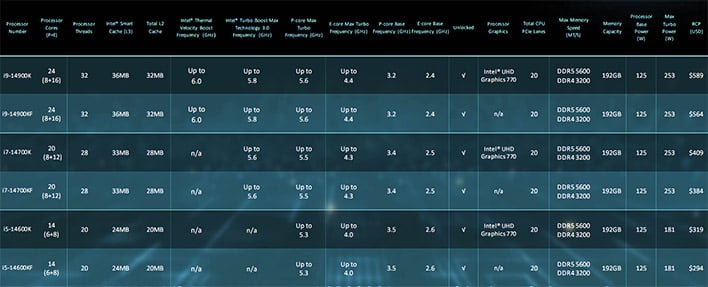 At the top of the stack is the 24-core / 32-thread Core i9-14900K and 14900KF, followed by the 20-core / 28-thread Core i7-14700K and 14700KF, and finally the 14-core / 20-thread Core i5-14600K and 14600KF.
Like previous-gen Intel Core processors, all "K" and "KF" models are unlocked for more flexible overclocking and the "KF" chips are somewhat more affordable because they lack any on-board graphics. Otherwise, K and KF chips are similar. All of the processors in the stack have similar core counts versus their 13th Gen counterparts, save for the Core i7s which gain a quartet of additional E-cores, which should increase multi-threaded performance with some applications. All of the processors also feature higher frequencies. Introductory prices are similar, however. The Core i5-14600KF entry point will arrive with an MSRP of $294, while the top-end Core i9-14900K for hardcore enthusiasts will be priced at $589.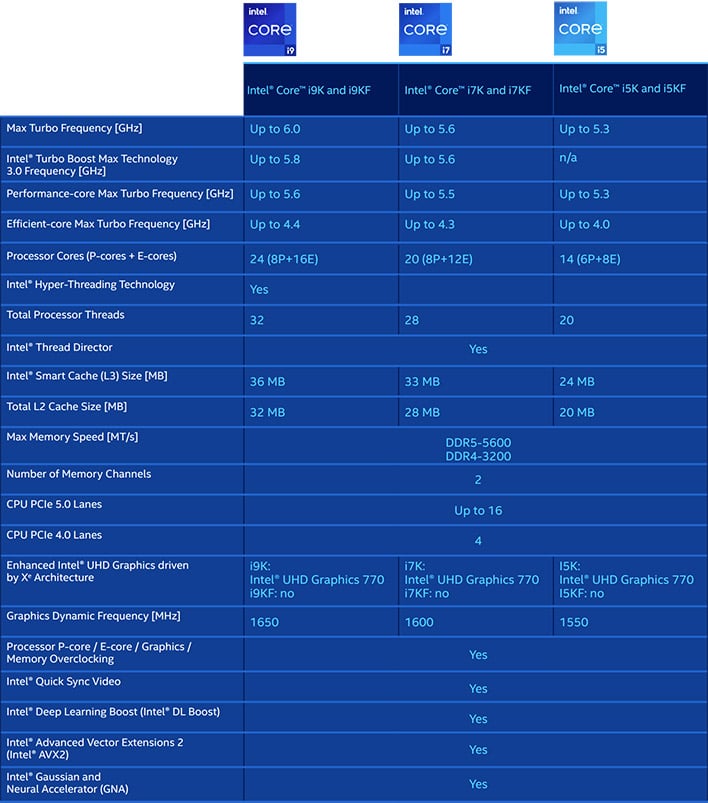 The full breakdown of cores, clocks, and features for the entire Intel 14th Gen Core processors is broken down in the table table. The Core i9-14900K boosts up to 6GHz, but if you compare and contrast the remaining base, turbo, and boost clocks for these 14th Gen CPUs versus their 13th Gen counterparts, you'll find that they're all 100MHz - 200MHz higher. Intel has also tuned the voltage and frequency curves to optimize performance and power.
Examining Intel's 14th Gen Core Processors
The new 14th Gen Core processors look identical to last year's 13th Gen products. They use the same socket, and 14th Gen Core processors will work with the same motherboards, provided the motherboard manufacturer has updated the board's BIOS to support the new chips. The only real physical differences are the actual model numbers and branding, and the layout of the surface mounted components on the underside of the chips.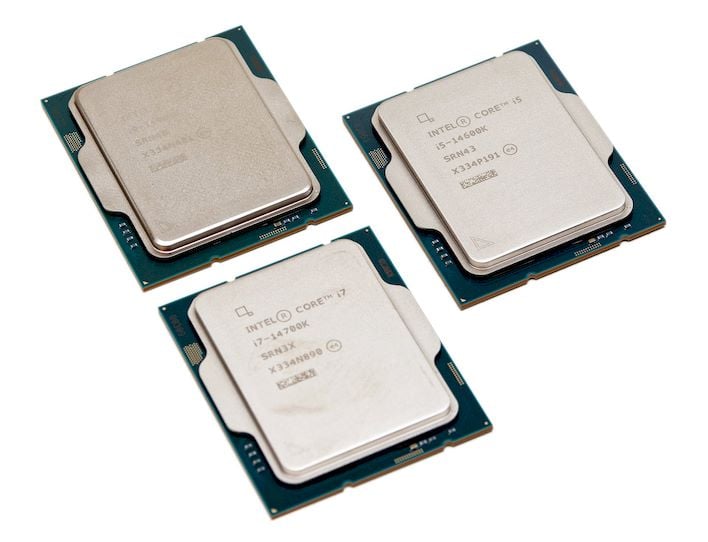 Intel's Core i9-14900K features a monolithic, 24-core (32-thread) die, outfitted with 8 Performance cores and 16 Efficiency cores. The Core i7-14700K features 20-cores (28-threads) with a mix of 8 P-cores and 12 E-cores, and the Core i5-14600K has 14 total cores (20-threads), comprised of 6 P-cores and 8 E-cores. Like 13th Gen processors, these new 14th Gen Core CPUs are based on Raptor Lake-S and have asymmetric thread counts because the E-cores do not support HyperThreading. P-cores can process two threads simultaneously, while E-cores can handle only one.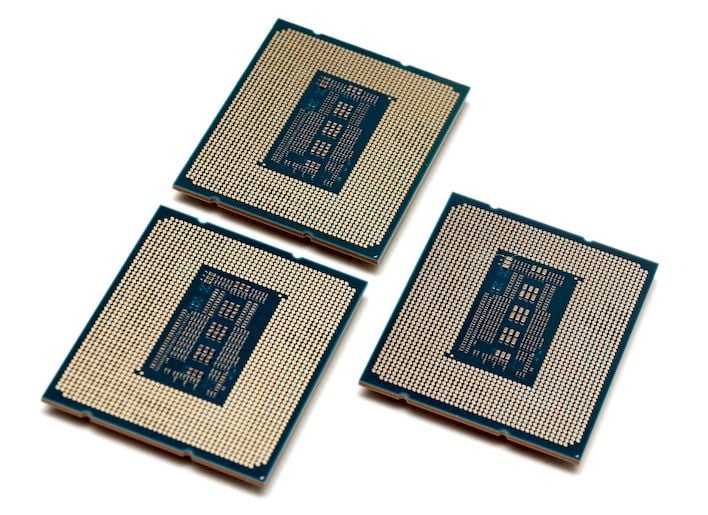 The Core i9-14900K has a base clock of 2.4GHz on its E-cores and 3.2GHz on its P-cores, with a P-Core max Turbo frequency of up to 6GHz. The 14900K's E-cores will boost up to 4.4GHz. The Core i7-14700K has base clocks of 2.5GHz on its E-cores and 3.4GHz on its P-cores, with a P-core Turbo of 5.6GHz and all E-core Turbo frequency of 4.3GHz. The Core i5-14600K has slightly higher base clocks of 2.6GHz on its E-cores and 3.5GHz on its P-cores, with a P-core Turbo clock of 5.3GHz and all E-core Turbo frequency of 4GHz. Save for a couple of base clocks, the rest of the turbo frequencies have all been increased versus Intel 13th Gen Core.
Intel Core i9-14900K, i7-14700K, And i5-14600K CPU-Z Details
Core i5-14600K (Top), Core i7-14700K (Middle), Core i9-14900K (Bottom)
All of the CPU-Z details for the trio of 14th Gen Core processors we'll be testing are outlined in the images above. All three of the processors are based on the same stepping / revision (which also matches the 13th Gen in case you were wondering), and have the same 125W base TDP rating. Although at PL2, power can peak up to 253W on the 14900K and 14700K or 181W on the 14600K, or even higher, depending on the motherboard and cooler being used.
The chips differ in terms of their clocks and core counts (and cache) but are based on the same die. There's 176K (48K + 32K / 32K + 64K) of total L1 cache per core, 2MB of total L2 cache per P-core, 4MB of L2 cache per 4-core E-core complex, and up to 36MB of L3 shared across all of the cores in a Core i9 (the Core i7s have 33MB, while the Core i5s have 24MB of L3).
And with all of that out of the way, let's see how Intel's new
14th Gen Core processors
perform...
Related content