Early Qualcomm Snapdragon 8 Gen 3 Benchmarks Show A Sizeable Performance Lift
Update, 10/30/23: We had a chance to go hands-on with a Snapdragon 8 Gen 3 prototype phone to confirm Qualcomm's numbers and run a few additional tests.

Qualcomm
revealed the Snapdragon 8 Gen 3
at long last this week, at its Snapdragon Summit in scenic Hawaii. We expect to see this chip powering most of the high-end
Android
phones and tablets that launch over the coming year, beginning in just a few weeks with an unnamed Qualcomm partner. Naturally, Qualcomm and its Senior VP of Mobile, Compute and Infrastructure, Alex Katouzian (above) say this SoC reaches new heights of performance and efficiency, and folks should look forward to the prospect of buying a new phone powered by the Snapdragon 8 Gen 3 Mobile Platform. To illustrate that point, we have early benchmarks for Snapdragon 8 Gen 3, and some of them do show an impressive leap forward. Salivate away...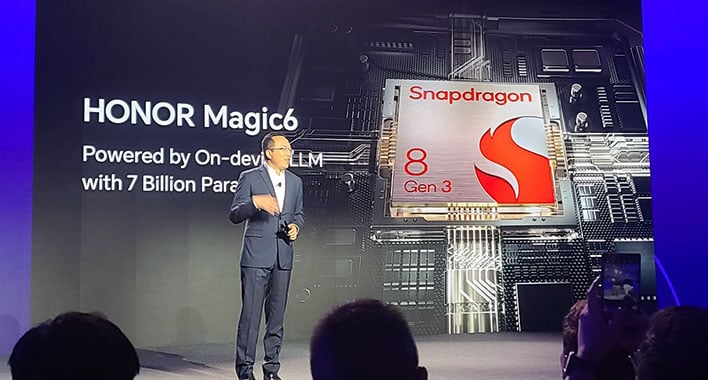 Snapdragon 8 Gen 3 Geekbench 6 Performance (Provided By Qualcomm)
Geekbench is not always a particularly informative benchmark, as it's completely synthetic, and OEMs are known to optimize for it. Regardless, Geekbench can be a good starting point for comparison. The Geekbench test has recently been upgraded to version 6, which has new ways of testing multicore configurations and uses higher-resolution diagnostic assets.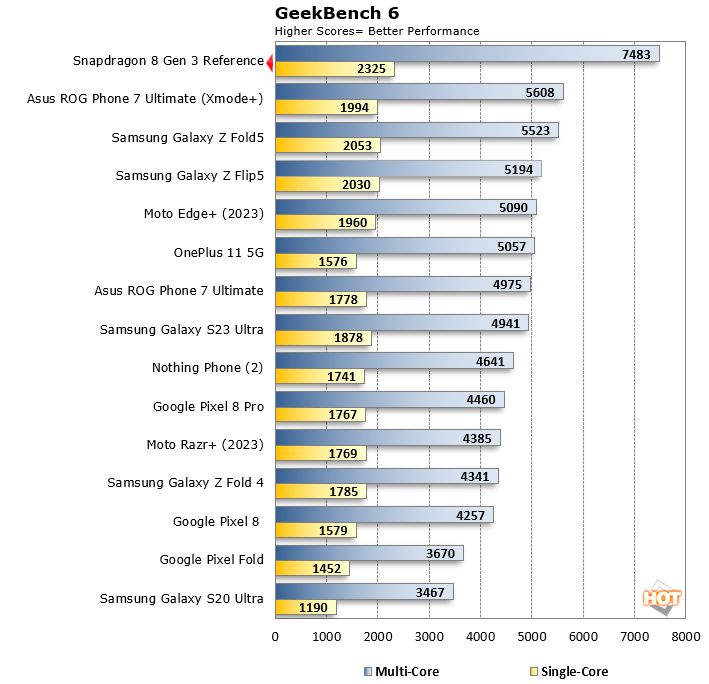 The Snapdragon 8 Gen 3 reference device tops the charts in this test, edging out even the
Asus ROG Phone 7
and
Galaxy Z Fold 5
in single-core. The multi-core test shows a possible effect of the Gen 3's more numerous performance cores. It's way, way out in the lead by this metric, about one-third more powerful than Gen 2 phones. That doesn't mean it's going to be that much faster at everything, but the CPUs can crunch numbers 30% faster in this test.
PCMark Work 3.0 Snapdragon 8 Gen 3 Performance
UL's PCMark for Android is an excellent suite of tests if you want to benchmark a wide range of tasks on a handset -- things like image and video editing, as well as lighter-duty, everyday workloads such as email and web browsing. When you see the test running live, it's clear the scripted application tests are carefully selected and tuned to make use of the mobile platform in a very controlled way. Take a look at the Snapdragon 8 Gen 3's score.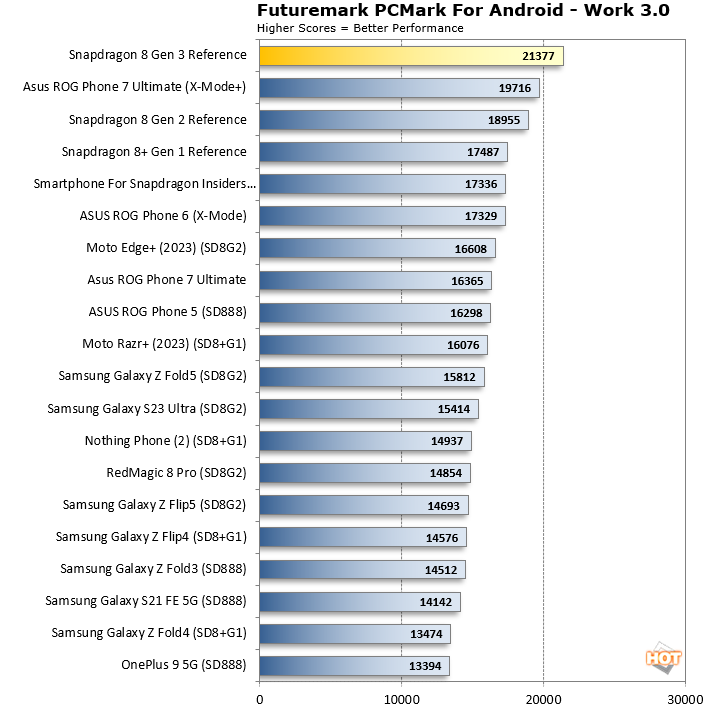 We rarely see big jumps is overall system tests like PCMark, but the Snapdragon 8 Gen 3 does manage to put a healthy margin between it and the class-leading Asus ROG Phone 7. Still, you'd probably have to go back a couple of generations before lower PCMark scores equaled a perceptibly slower phone.
Snapdragon 8 Gen 3 AnTuTu Benchmarks
AnTuTu is another system-ranking benchmark, taking measurements of work-oriented tasks, gaming, and raw hardware speed. It returns four top level performance results: CPU, RAM, 3D, UX (or User Experience), and then mashes them all together into a nebulous total score. That's the number we're focusing on here.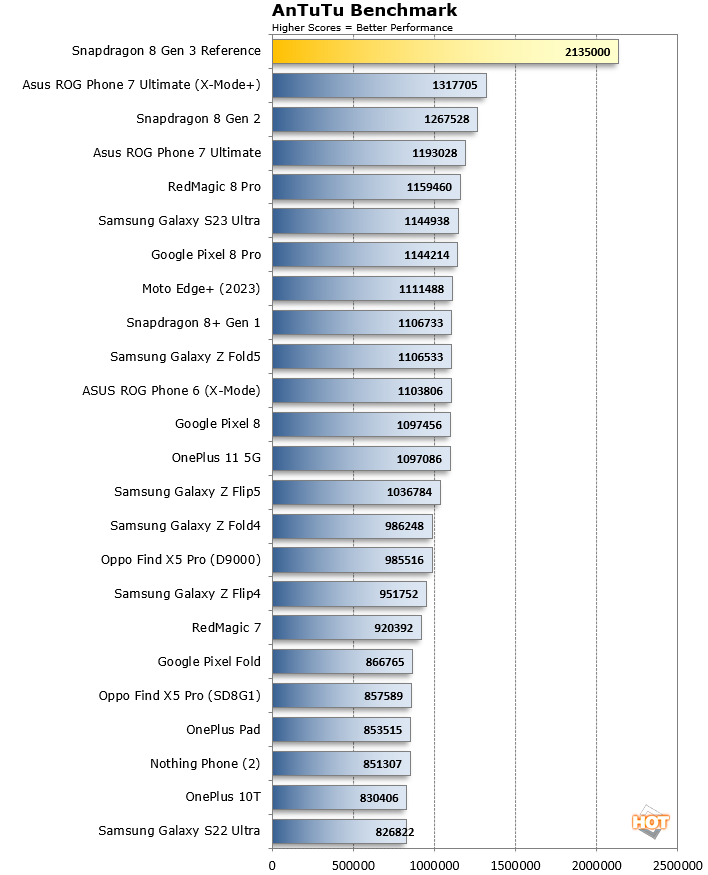 These early benchmarks show the Snapdragon 8 Gen 3 clobbering the competition in AnTuTu. The new chip outscores the ROG Phone 7 by about 40%—a generational leap. It will be interesting to see if production devices maintain this level of performance.
GFXBench Benchmarks: A New Adreno GPU Impresses
We also have some pure gaming benchmarks to put that new Adreno GPU through its paces. GFXBench's Aztec test is a Vulkan-based demo that allows the more powerful devices to shine. The Snapdragon 8 Gen 3 shines just a little brighter than the rest, though.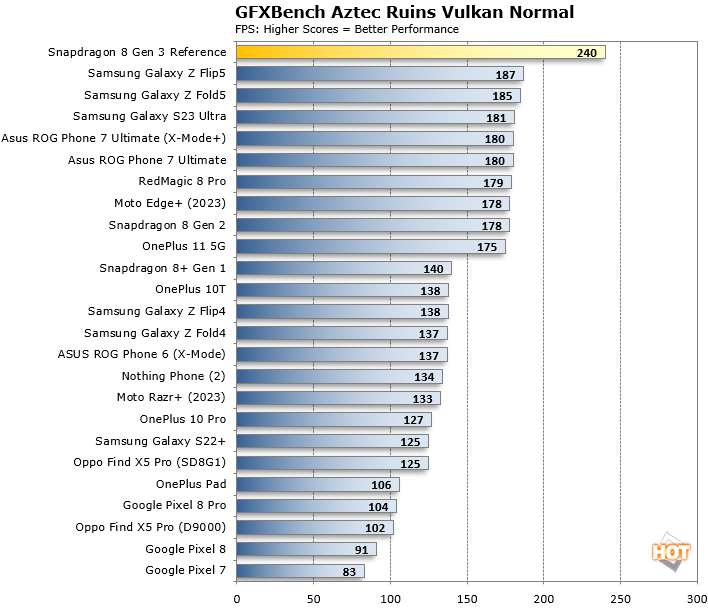 We're used to seeing new chip generations leaping ahead in graphical tests. In the chart above, you can see where Gen 1 phones jump ahead of everything else, and then where the Gen 2 devices add another performance plateau. However, the Snapdragon 8 Gen 3's score is still unexpectedly good—particularly in the Aztec Vulkan test. It has improved on the best Snapdragon 8 Gen 2 scores by more than a quarter, reaching a whopping 240 fps.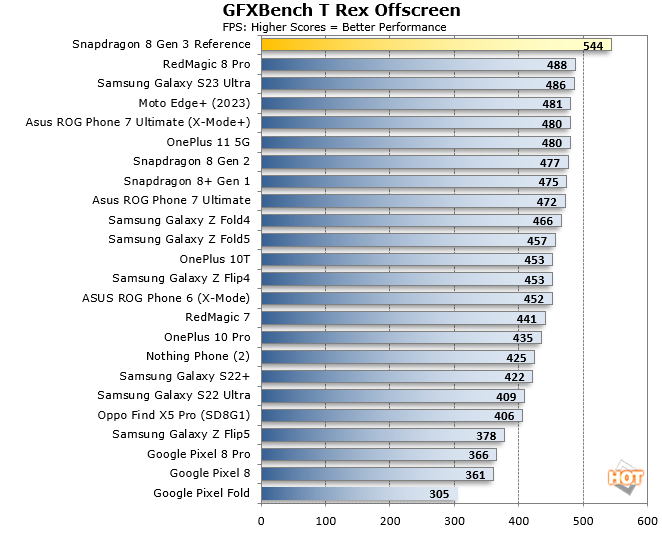 The increase for the older GFXBench tests is smaller but still impressive, showing more improvement than we typically see in new Snapdragon generations. Qualcomm's reference devices are usually a bit faster the retail hardware, but the Snapdragon 8 Gen 3 has some headroom to spare.
3DMark Wild Life Benchmarks
3DMark Wild Life is another graphical test that clearly shows the debut of new SoC generations. So, we expected the Snapdragon 8 Gen 3 to put up a big number, which it did.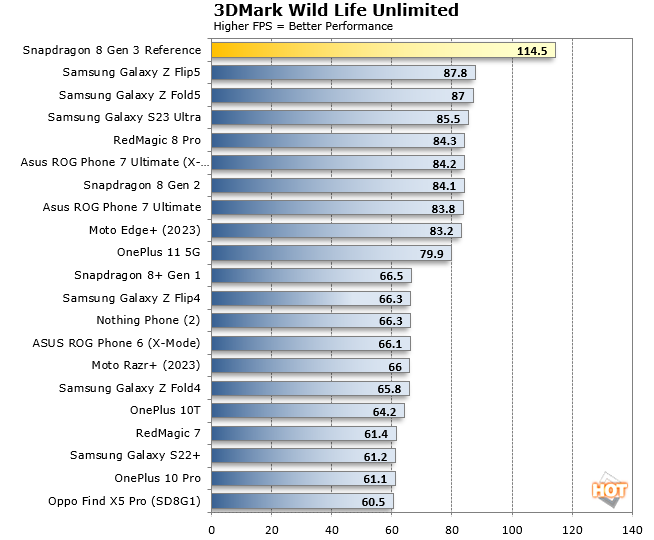 Qualcomm's latest chip managed 114.5 fps in the Aztec test, putting it way out in front of the Gen 2 cluster. It improves on the Gen 2 scores by roughly 30%, which is in line with the gaming performance boost claimed by Qualcomm.
Performance Summary And The Road Ahead: A Good Start
These numbers give us a foundation upon which we can start speculating about what to expect from Qualcomm's new Snapdragon 8 Gen 3 platform, but we won't have a good handle on how fast this chip is until we see it in a retail phone for testing and review ourselves. Plenty of chips are fast on paper or run up great benchmark scores in one test or another, but they might use too much power or overheat during everyday use, so retail-ready devices from Qualcomm OEM partners will be the key to ascertaining real world performance.
benchmark poorly in generic AI tests
. Qualcomm's chips always seem to perform much better in that regard, but does that mean they're better for AI on your phone? Qualcomm says it's working hard with Microsoft, Meta, and others to ensure users see the
true
benefit of AI in their phones. However, we'll withhold judgement until we see what OEMs can do with the Snapdragon 8 Gen 3, and it should be fun to watch as things unfold. Stick with us.
Note: These benchmark scores were provided by Qualcomm and confirmed through additional hands-on testing courtesy of Myriam Joire.