OnePlus 11 5G Review: Premium Experience, Standout Value
OnePlus 11 5G Review: Voice, Data, And Benchmark Performance
We applaud OnePlus' decision to get its newest phone certified for 5G on all major US carriers. Unfortunately, there are too many unlocked phones in 2023 that won't work on one or more of the new 5G networks rolling out across the country, even though the hardware supports the necessary bands. OnePlus is doing the legwork so you can get sub6 5G no matter your choice of carrier. There's no millimeter wave (mmWave) support, however, which isn't a major concern in our opinion. With mmWave, you can get multi-gigabit speeds, but the signals only travel a short distance, and the antennas add to the cost. Again, OnePlus wanted to keep this phone's pricing competitive, and mmWave is an unnecessary add-on even in 2023.
If you're missing mmWave, maybe the
inclusion of Wi-Fi 7
will make you feel better. This new standard can theoretically support speeds as high as 40Gbps, but it's only available in a handful of routers. Still, you're almost as likely to find Wi-Fi 7 as mmWave, but unlike mmWave, Wi-Fi 7 will eventually proliferate around the world. This new wireless standard is supported by the latest Snapdragon chips, but not all devices will implement it. OnePlus did, and while it won't do you much good now, you're all set for the future.
OnePlus 11: Voice and Data
We tested the OnePlus 11 5G on
T-Mobile's 5G network
in areas that use the older frequency bands as well as TMo's newer "Ultra Capacity" network. Download speeds consistently hit several hundred megabits, and uploads are much lower, which we blame entirely on T-Mobile—the OnePlus 11 is as fast as any device we've tested. In fact, it managed consistently high speeds even in areas known to have poor coverage.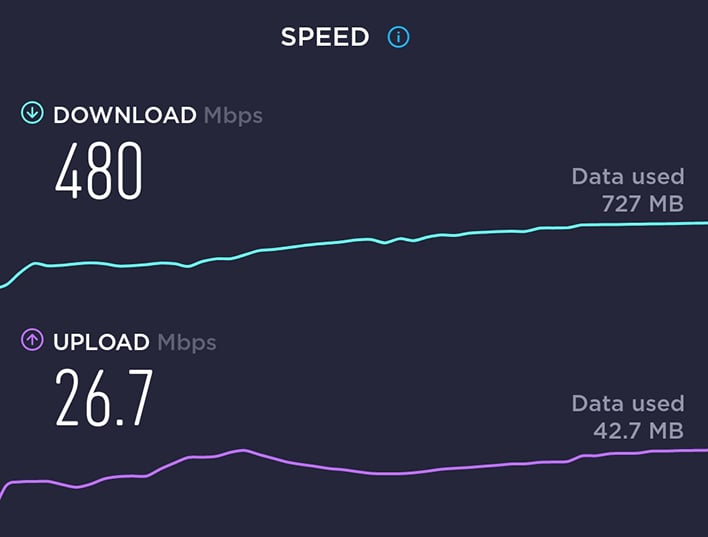 As it's officially supported on all major carriers, you should have access to services
like VoLTE
and voice over Wi-Fi now matter what SIM you plug in. It supports dual SIM cards, and both can be active on 5G at the same time. We noted no issues with call clarity, over cellular or Wi-Fi connections, and the other parties had no trouble hearing us. OnePlus says the dual "reality" speakers in this phone are Atmos-certified. Whether or not the Atmos tuning makes any difference, we like the volume and clarity of the speakerphone.
OnePlus 11 Performance
This is the first retail phone we've been able to test with a Snapdragon 8 Gen 2 SoC. This latest release from Qualcomm will appear in a lot of high-end phones in 2023, and if the OP11 benchmarks are anything to go by, it's going to be a good year. This octa-core chip shows a small but meaningful improvement in CPU speeds, but the GPU is better still.
OnePlus 11 5G Geekbench Results
Geekbench is a cross-platform benchmark that simulates real world processing workloads in image processing and particle physics calculation scenarios. We tested all of the smartphones featured here with Geekbench's single and multi-core workloads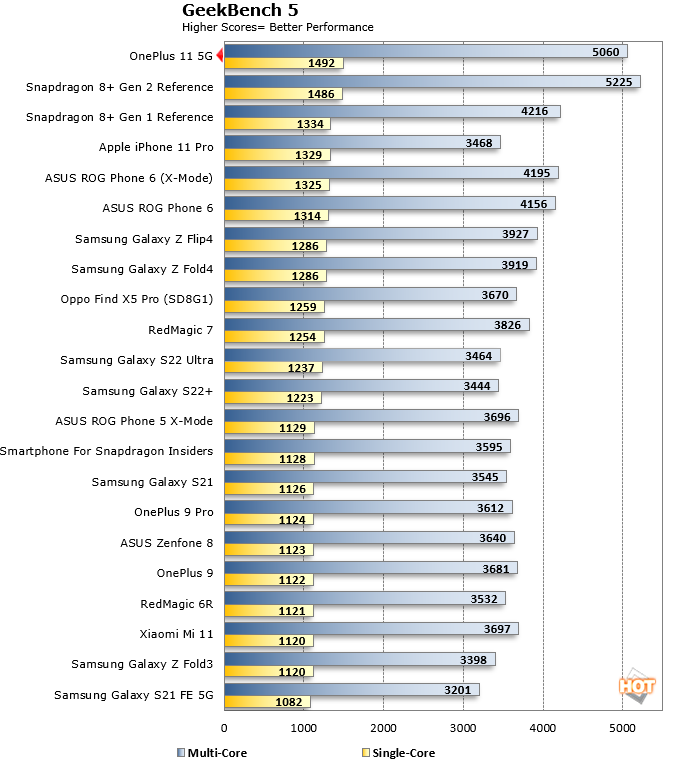 Geekbench is not always a particularly informative benchmark, as it's completely synthetic and OEMs are known to optimize for it. Regardless, Geekbench can be useful as a relative data point. The OnePlus 11 5G takes the top spot here, depending on how you measure. It has the fastest single-core score by a hair, beating the Snapdragon 8 Gen 2 reference device, but the multi-core number is a little lower the the reference hardware. In either case, OP's phone crushed it.
OnePlus 12 5G PCMark For Android Results
UL's PCMark for Android is an excellent suite of tests if you want to benchmark a wide range of tasks on a handset -- things like image and video editing, as well as lighter-duty, everyday workloads such as email and web browsing. When you see the test running live, it's clear the scripted application tests are carefully selected and tuned to make use of the each mobile platform in a very controlled way.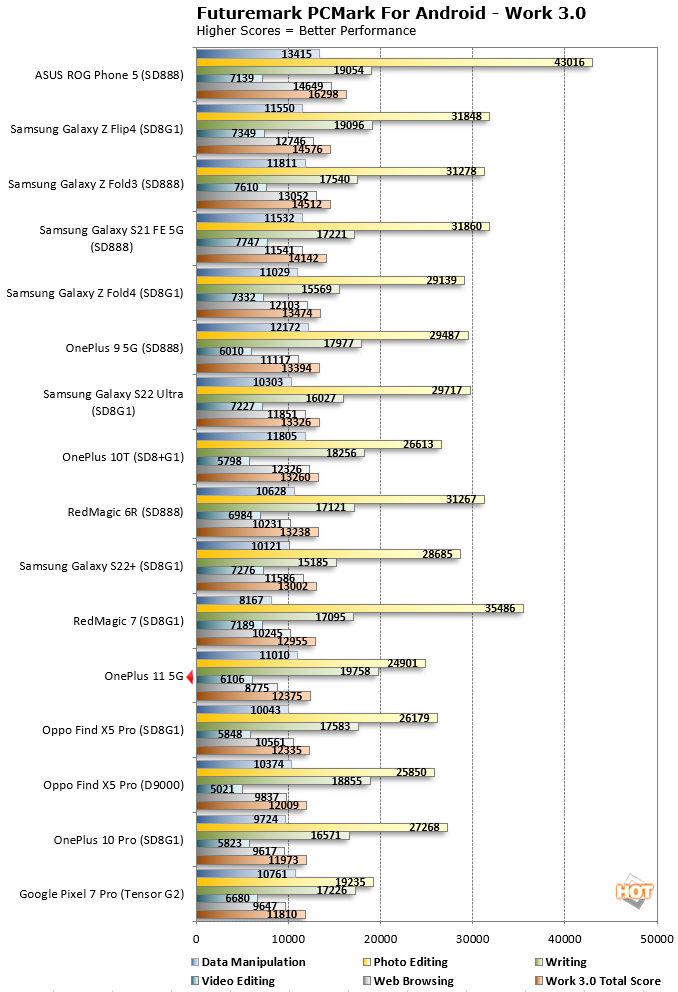 The OnePlus 11 5G didn't do stellar here, but it is the only benchmark it didn't put up impressive numbers for. It's running about even with devices running Qualcomm's last-gen chips. However, Qualcomm's
reference hardware
is putting up much higher numbers. We're not sure what the issue is with this test, but the numbers are consistent across multiple tests.
OnePlus 11 5G AnTuTu 8 Benchmarks
AnTuTu's latest benchmark returns a number of metrics ranked with somewhat nebulous scores, rather than frame rates or time to complete. Here we're running the latest version of AnTuTu across multiple Android devices. AnTuTu returns four top level performance results which are all included here: CPU, RAM, 3D, UX (or User Experience), along with a total score.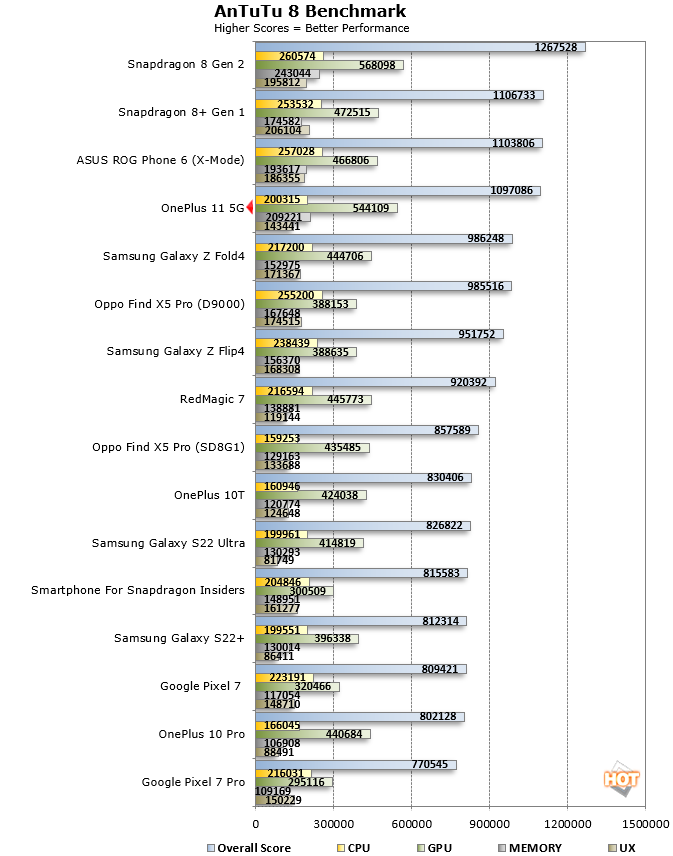 The OnePlus 11 puts up some impressive numbers in AnTuTu, but not enough to best Qualcomm's reference hardware, or the venerable
Asus ROG Phone 6
in high-performance mode.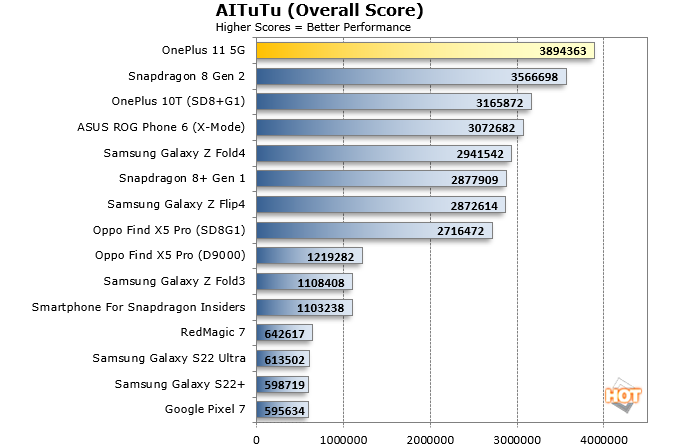 Device makers only started emphasizing AI performance a few years ago, but already we're seeing substantial year-over-year improvements. The OnePlus 11 5G takes the top spot, even outclassing the latest Snapdragon reference device.
OnePlus 11 5G Graphics And Gaming Benchmarks Results
Now, let's take a look at how the OP11 stacks up in GFXBench, which has been one of the standard mobile graphics/gaming performance benchmarks for years. To ensure that display refresh (v-sync) and resolution aren't limiting factors, we're comparing off-screen test results here. GFXBench tests OpenGL ES graphics workloads and we're specifically testing OpenGL ES 2.0 and 3.0, as well as Vulkan in the latest iterations.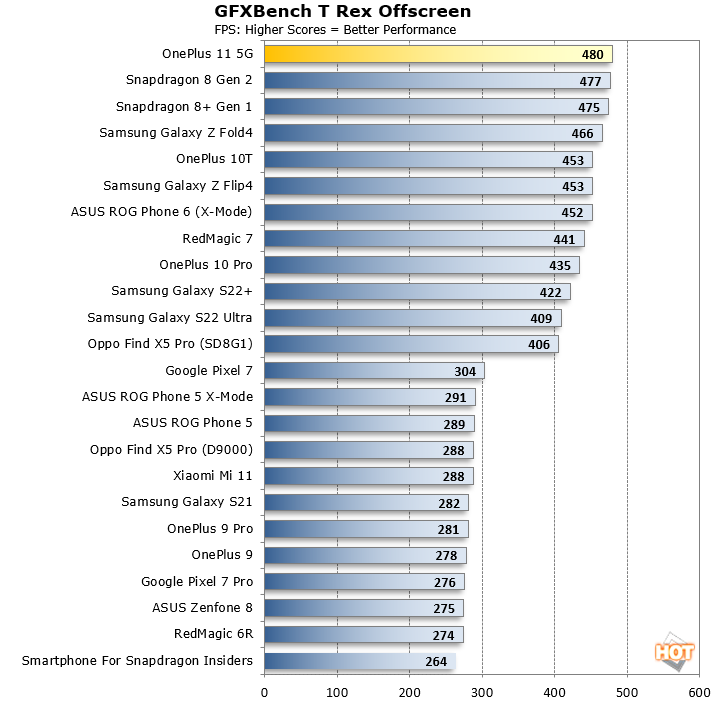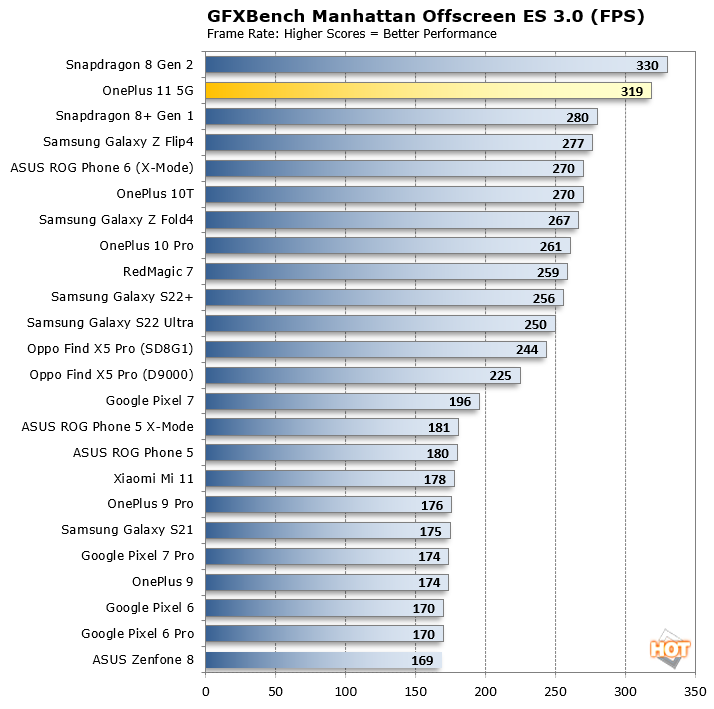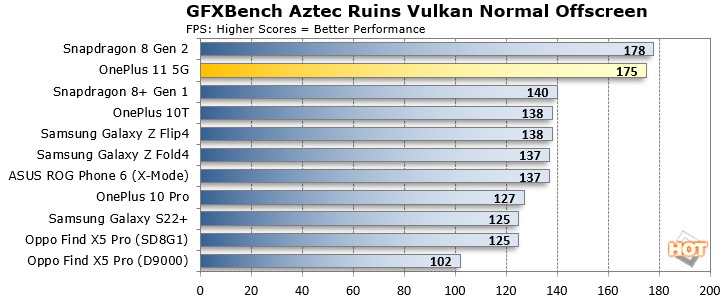 If some of the CPU benchmarks have you feeling uncertain about the OnePlus 11, the graphics numbers should put you at ease. The Snapdragon 8 Gen 2 has a killer GPU, and the OnePlus 11 runs about even with the reference device in these tests. The Snapdragon 8 Gen 2's improved Vulkan support is particularly evident here.
OnePlus 11 5G 3DMark Slingshot Tests
UL's 3DMark Sling Shot is one of several modules in the 3DMark mobile suite. Unlike previous gen 3DMark mobile tests, Sling Shot is a much more advanced OpenGL ES 3.1 and Metal API-based benchmark that employs more advanced rendering techniques, like volumetric lighting, particle illumination, multiple render targets, instanced rendering, uniform buffers and transform feedback. We're running this test in off-screen mode once again to remove display resolution differences from the equation. This allows us to compare cross-platform results more reliably.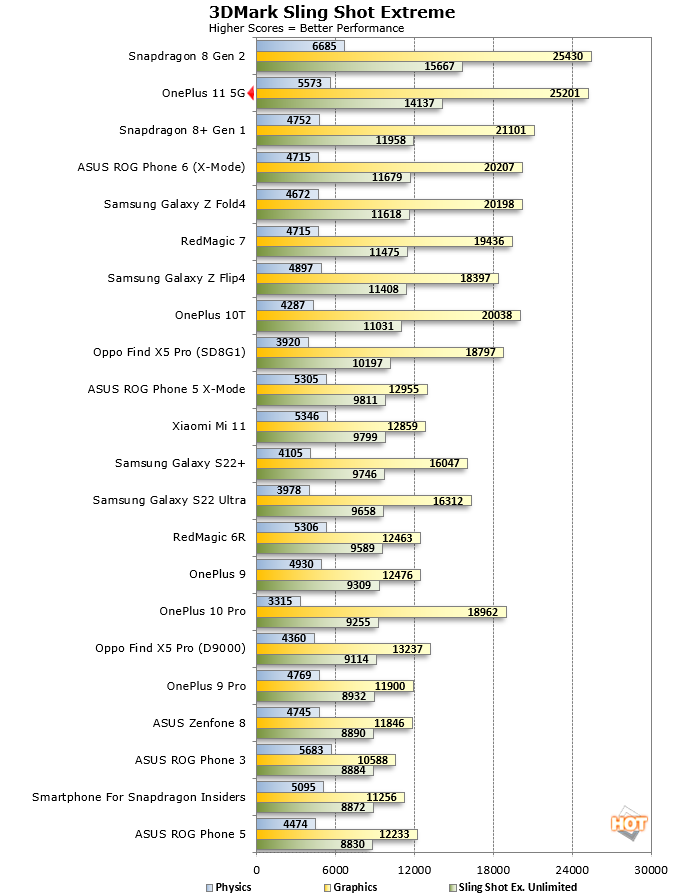 Again, the OnePlus 11 and its shiny new Snapdragon chip knock it out of the park. It shows a noticeable improvement over older chips, and second only to the Snapdragon 8 Gen 2 reference hardware.
OnePlus 3DMark Wild Life Benchmark Tests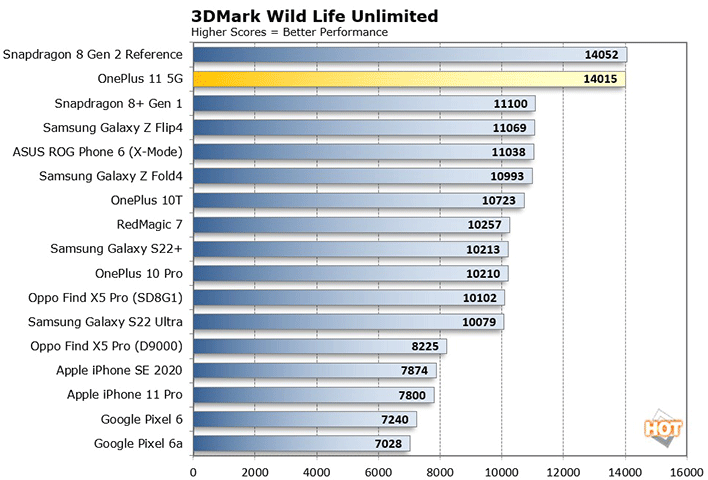 3DMark's Wild Life benchmark is newer and more demanding than Slingshot, and it allows powerful devices to shine. The OnePlus 11 puts up impressive numbers, second only to the latest Qualcomm reference hardware. Are you detecting a theme? Benchmarks only last a few minutes, though. What happens when you put the OnePlus 11 under load for longer?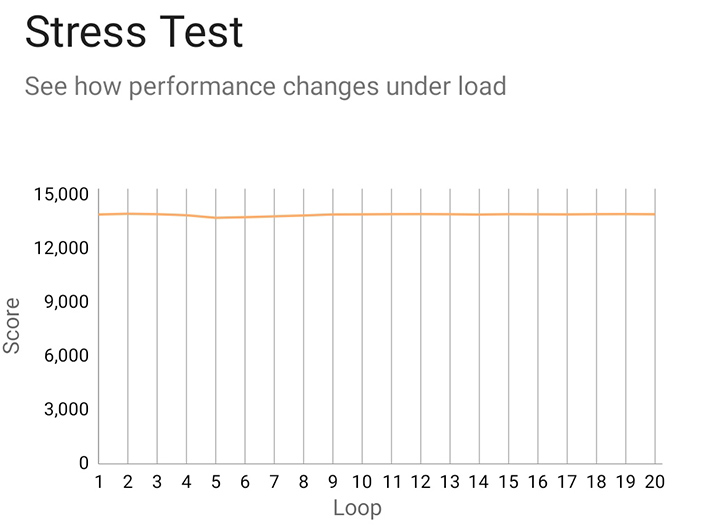 We've seen a lot of phones perform well in benchmarks then heat up and lose their edge when stressed. Thankfully, the OnePlus 11 5G is not one of them. Across multiple benchmark runs in the Wild Life Stress Test, the OP11 loses virtually no performance. Compare that to
most Samsung phones
, which can plummet 20% after a few minutes. OnePlus talks up its "Cryo-velocity" cooling system a lot, but regardless of the marketing bunk, the large cooling surface area in this phone keeps the Snapdragon chip running at peak efficiency.
Related content