OnePlus 11 5G Review: Premium Experience, Standout Value
The OnePlus 11 5G Gets Almost Everything Right


OnePlus 11 5G - Starting at $699


The OnePlus 11 5G offers Snapdragon 8 Gen 2 performance for a reasonable price.






Sharp, bright display with 120Hz refresh
Fast 80W charging and included plug
Excellent performance with SD 8 Gen 2
Alert slider is back

Some software issues
No wireless charging
Faster storage only in flagship model
Only IP64 splash-resistant






---
Every time
OnePlus
releases a new phone, we wonder what version of the company is making the announcement. Is it the scrappy upstart with brash marketing and great value? The carrier-friendly firm with a focus on 5G? Or is it the straightforward Chinese megafirm dabbling with unlocked phones in the US market? With the new OnePlus 11 5G, it's mostly the last one. The company's latest flagship device has all the hallmarks of an Oppo experience, but at the same time, OnePlus has managed to borrow from its past in the best ways.
The OnePlus 11 5G is reasonably priced starting at $699, putting it $100 below its predecessor, the OnePlus 10 Pro. And yes, this is a "pro" phone according to OnePlus - it's just not going to use the "pro" branding anymore. The OnePlus 11 5G will only be available unlocked, so there won't be any carrier deals—or carrier lock-in. However, the phone will be certified for 5G on all three major US networks, which goes a long way toward making it a viable option for premium phone buyers. The slick, super-fast hardware helps, too.
OnePlus 11 Features and Specs
| | |
| --- | --- |
| SoC | Snapdragon 8 Gen 2 |
| Display | 6.7-inch 1440 x 3216 OLED @120Hz |
| Memory | 8, 16 GB |
| Storage | 128, 256GB |
| Rear-Facing Cameras | 50 MP f/1.9 primary w/ OIS, 12 MP f/2.2 ultrawide (114 degrees), 48 MP f/3.5 5x telephoto w/ OIS (Pro only) |
| Front-Facing Cameras | 10.8 MP f/2.2 |
| Video Recording | 8k24 |
| Battery | 5000mAh, 80W charging |
| Authentication | Under-display optical fingerprint sensor |
| OS | Android 13 |
| Dimensions | 163.1 x 74.1 x 8.53mm |
| Weight | 205g |
| Dust/Water Resistance | IP64 |
| Connectivity | Wi-Fi 7, sub6 5G, Bluetooth 5.3, NFC |
| Colors | Titan Black, Eternal Green |
| Pricing | $699 (128GB), $799 (256GB) |
OnePlus calls its latest phone "unapologetically shiny," and boy, they aren't kidding. The back of the OnePlus 11 5G is the polar opposite of the matte, heavily textured
OnePlus 10T
. The Gorilla Glass 5 panel is glossy, available in a muted black or a much more stylish green (like our review unit). The camera bump has gotten a visual overhaul, doing away with the stovetop look of the OP 10 Pro and 10T. The module is now rounded, with a circular inlay featuring three camera modules and a flash. It's definitely an improvement. Ignoring camera performance for the moment, the design makes the phone look high-end.
The camera surround is stainless steel, which adds a bit to the typical top-heavy feel of most modern smartphones. Admittedly, it looks nice, but it's probably good that the rest of the chassis is lighter-weight aluminum. The frame is color-matched to the green back on our review unit, which makes for a sleek, unified appearance. Naturally, there's no headphone jack, but the power and volume buttons are sturdy and tactile. Above the power button on the right side, you'll fine something we sorely missed on the 10T: OnePlus' trademark alert slider.
I could write an entire treatise on how much I love the alert slider—I genuinely don't understand why no other Android OEM has implemented something similar. The sliding action has just the right resistance, allowing you to flick it to any of the three positions by feel. At the top, it silences everything; in the middle, it's vibrate-only; at the bottom is standard ring mode.
OnePlus has come a long way in its overall design language. Despite being slippery and a little top-heavy, the OnePlus 11 is comfortable in the hand. The aluminum side rails meet up cleanly with the front and back glass panels with almost Samsung-like precision. The device is also IP64 rated, so it will keep out dust and particulates, but it's only guaranteed to survive splashing with water, not complete immersion. It would have been nice to see IP67 or 68, which some past OP phones (mostly carrier models) have offered.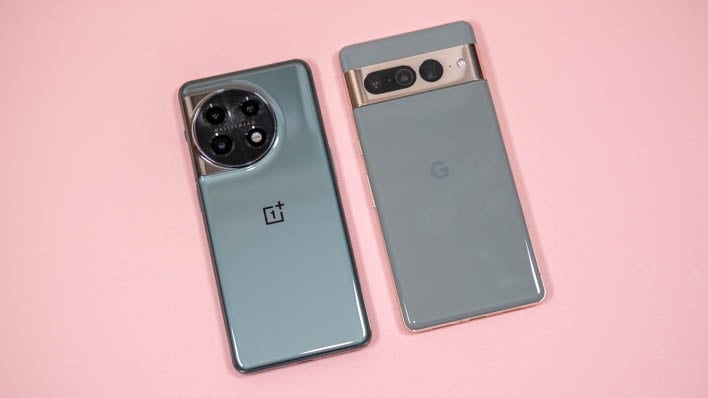 The display has all the bells and whistles you'd expect from a modern flagship. It's a 6.7-inch 3216 x 1440
OLED
panel with third-gen LTPO technology. That means the screen can adjust its refresh rate dynamically between 1Hz and 120Hz. This allows it to save power on static screens while still offering smooth animations when necessary. At 120Hz, the screen looks buttery smooth, and it's equally visible indoors or out with its impressive 1,300 nits peak brightness. That's not quite as luminous as Samsung's best OLEDs, but it trounces the OLED on the Pixel 7, and it's not far off from the 1,500 nits peak brightness on the more expensive Pixel 7 Pro.
Under the display is OnePlus' customary optical fingerprint reader. It was one of the first OEMs to embrace this technology, and its implementation has been consistently excellent after the first shaky release. The sensor on the OP11 is quick and accurate. The only issue is how bright it gets when reading. If you're in a dark room, it's very noticeable that you just unlocked your phone, but that's just a consequence of how the technology works. Samsung uses ultrasonic fingerprint sensors that don't do this, but that would unnecessarily add to the hardware cost, and the reasonable price is one of this phone's main selling points.
There is one notable display issue that has nothing to do with the quality of the panel, which is basically unimpeachable. Like many large phones, OnePlus chose to curve the left and right edges of the screen down toward the frame, which makes it easier to hold in one hand. However, OnePlus needs to work on its edge detection algorithms. Too often, my palm brushing the very edge of the screen was detected as a touch, whereas the high-end phones from Samsung and
Google
are much less prone to pick up these accidental touches.
We'll get into the benchmarks later, but suffice it to say the OnePlus 11 5G looks great on paper. This is one of the first phones with Qualcomm's latest
Snapdragon 8 Gen 2 chip
, sporting one Cortex X3 prime core, two Cortex-A710s, two Cortex-A715s, and three Cortex-A510 cores. This 1+2+2+3 arrangement offers increased performance versus the Gen 1 while maintaining strong support for older 32-bit apps.
The OnePlus 11 5G comes with either 8GB or 16GB of RAM, which is a wide spread for a smartphone. We've been testing the 16GB version, and it does a very good job of keeping apps in memory; OnePlus claims it can keep 44 apps alive in the background. The 8GB phone, presumably, won't do that as well, but OP's RAM management (branded as RAM-Vita) doesn't seem as stingy as some phones. Too often, Samsung's phones will clear out apps that are still in use, even though its phones have plenty of RAM. The 16GB version of the phone comes with 256GB of storage versus 128GB in the base model. There's another possible reason to go for the upgrade, too. While the 128GB model uses totally acceptable UFS 3.1 NAND, the 16/256GB variant has faster UFS 4.0 storage.
OnePlus 11 5G Software: Oppo By Another Name
Given the impressive specs and lower price, the OnePlus is shaping up to be the best phone from the company in years. However, the software experience could still use some refinement. OnePlus gets a lot right here—the phone ships with Android 13, and OP promises four years of OS and five years of security updates. And yet, the company's new Oppo-ified Android build is still a far cry from the OxygenOS of old in our opinion.
OxygenOS 13 is essentially a tweaked theme for Oppo's Color OS. The OnePlus team restrained the worst excesses of Color OS, but it retains its fair share of questionable UX decisions. There's no single dealbreaker issue—it's just a plethora of little things acting like speedbumps in the experience.
Case in point, you can swipe up on the home screen to open the app drawer, but you can only swipe down to close it if you haven't scrolled at all. If so, that gesture just doesn't work, and you have to use the home button/gesture. The same action on the same UI element should
always
do the same thing. It also takes one long-press and two taps just to remove an icon from the home screen, and you have to long-press a second time after adding a widget to resize it. And then there's the Shelf UI for widgets, which is of questionable value.
If you're a fan of Material You, you may want to look elsewhere for your next phone. OnePlus has only the barest hint of support for Google's new theming engine. You can activate icon theming if you dig around in the home screen settings, but there's no option to select or customize color palettes, and the theme colors don't extend to other parts of the OS. The default screen scaling also made several third-party widgets render incorrectly on the home screen.
Keeping in mind we tested this phone on pre-release software, the phone has also suffered some crashes and system hangs. In one case, the system UI crashed in a way that we couldn't even access the power menu to restart it. The stability issues were concerning, but in all fairness OnePlus has been good about rolling out updates to its newer devices.
OnePlus 11 5G: Cameras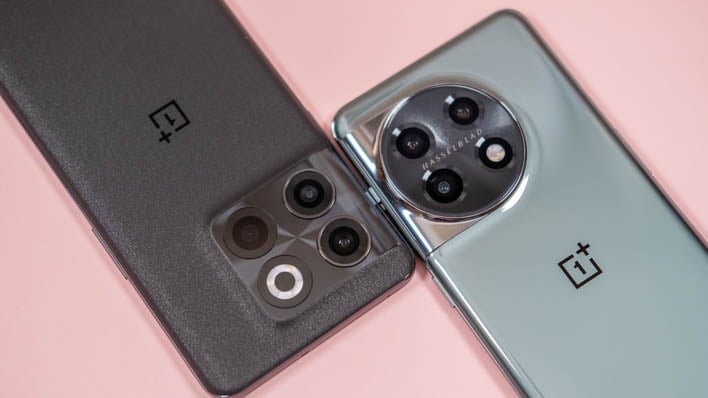 The Hasselblad branding is back on this phone after being absent on the 10T. I can't tell you how much (if at all) OnePlus benefits from advantage Hasselblad's involvement, but I am pretty impressed with the results I'm seeing from the OnePlus 11.
One of the core parts of the Hasselblad experience OnePlus touts is the 2x "Portrait Tele Lens." This 32MP camera does offer 2x zoom shots, which is better than nothing, but won't get you very much closer to your subject. The intended use case is to replicate the effect of Hasselblad's 30mm and 65mm XCD camera lenses in portrait mode. The phone defaults to this sensor when you flip over to portrait mode. These images look good, but I wouldn't say it's objectively better than the main sensor. The one you use really just depends on how you want to frame the shot.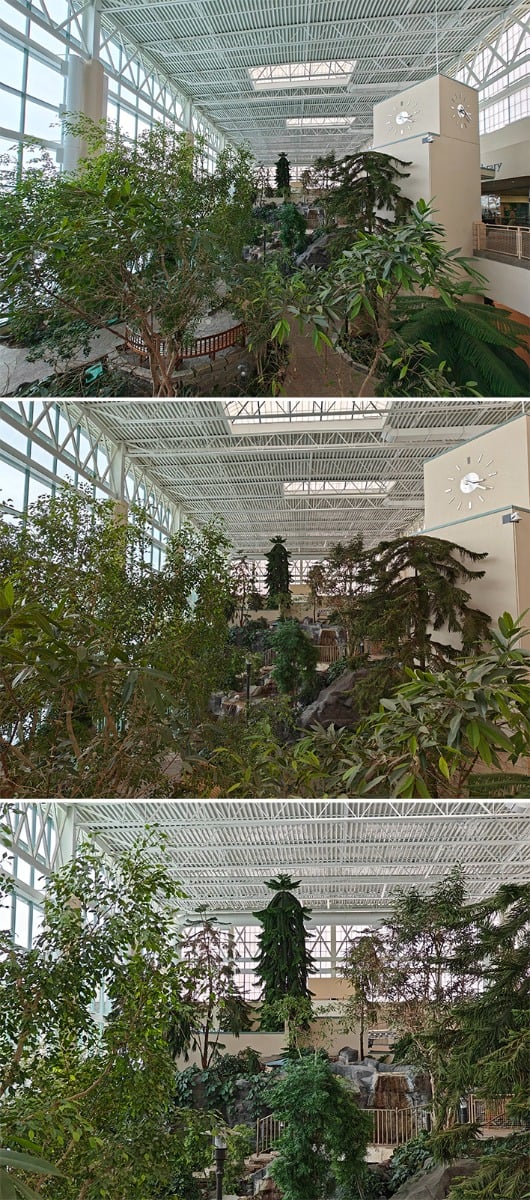 The main camera features a 50MP IMX890, a beefy 1/1.56-inch sensor with an f/1.8 aperture and optical stabilization. You'll notice that the primary shooter has a narrow depth of field, which can make for a nice bokeh effect, but can also cause parts of your subject to be fuzzy if you're not careful. That's not usually a major concern, and most of our test photos have looked better than we'd expect from OnePlus. That's not to say OP phones have taken bad photos in the past, but this camera does step it up with better detail, more accurate colors, and good brightness indoors.
The time it takes to capture images is an underappreciated aspect of smartphone cameras. Past OnePlus phones have bumped up the brightness by leaning toward longer exposures. Thus, it can be hard to photograph hyper kids or pets without getting a blurry image. In our testing, the OnePlus 11 produces bright images with about half the exposure time of other recent OnePlus phones. The HDR processing also seems improved, retaining details in both light and dark areas of the frame.
You might miss having a longer telephoto lens, but a lot of OP's phones have completely eschewed zoom cameras. We should be thankful we got the 2x telephoto, even if it's mostly tuned for portraits and lacks optical stabilization. The wide-angle camera is larger than the one used in the
OnePlus 10 Pro
, but the field of view is also narrower—115 degrees versus 150 degrees.
In fairness, the OP10 Pro ultrawide was unusually wide, and the ultrawide photos we're getting from the OnePlus 11 look nice.
Related content