Samsung Galaxy S23 Series Hands-On: Familiar Phones, Custom Snapdragon Superpowers
Samsung Galaxy S23 Series: Evolutionary But With Solid Spec Upgrades All Around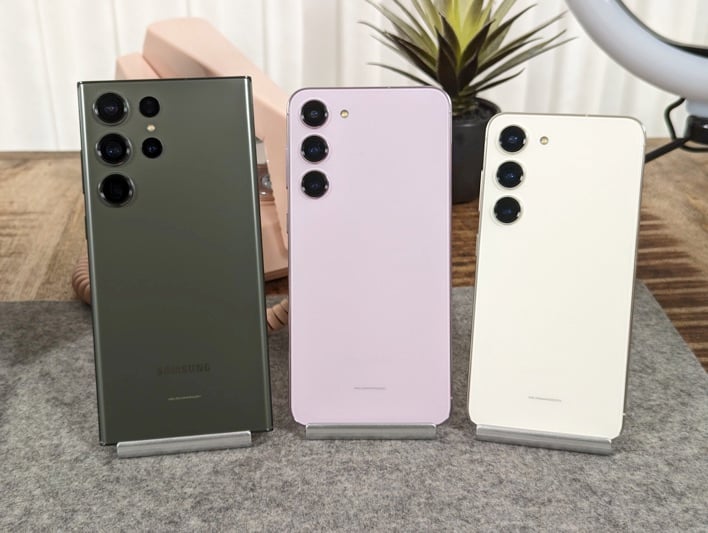 Yes, it's that time of year again. Today at its Galaxy Unveiled event in San Francisco, Samsung launched its newest flagships – the Galaxy S23 Ultra, S23+, and S23 – and I was able to briefly spend time with each phone. Here's the TL;DR: the S23 series is an evolution of
the S22 series
, packing a special version of Qualcomm's
Snapdragon 8 Gen 2
, new 12MP selfie cameras, mildly refreshed designs, and a 200MP main shooter on the S23 Ultra.
Still reading? Let's dive into the details, starting with the S23 Ultra. At first glance, it looks identical to last year's S22 Ultra. The only way you can tell them apart is that there's now a flat spot on the curved sides of the S23 Ultra, making the left and right edges less U-shaped. Otherwise, it's business as usual. You get the same gorgeous 6.8-inch QuadHD+ 120Hz LTPO AMOLED display, large 5000mAh battery, and S Pen.
The similarities continue on the memory front, with the same 8/12GB of RAM (LPDDR5) and 256/512/1024GB of storage (now UFS 4.0, apparently). Ditto, the twin 10MP telephoto shooters (10x f/4.9 and 3x f/2.4 with PDAF and OIS) and the 12MP f/2.2 120-degree ultrawide camera (with PDAF), which carry over from the S22 Ultra. The big update here is with the main shooter, which now features Samsung's 200MP
ISOCELL HP2 sensor
.
It's paired with a faster f/1.7 lens (with laser AF, PDAF and 2x better OIS). This, together with 16-to-1 pixel binning (4x4 0.6-micron pixels combined into massive 2.4-micron pixels), results in 12.5MP photos with improved low-light performance. In addition, this new sensor enables 50MP photos and 2x lossless zoom using 4-to-1 pixel binning (combining 2x2 0.6-micron pixels into large 1.2-micron pixels). Finally, it also supports 8k 30fps video.
Before I jump into what's new (and identical) across all three phones, let's discuss the S23 and S23+. Once again, these handsets are twins, and retain the same beautiful 6.1 and 6.6-inch FHD+ 120Hz AMOLED screens as their predecessors. Memory configurations are similar too, with 8GB of RAM (LPDDR5) on both, 128/256GB of storage for the S23, and a bump up to 256/512GB of storage for the S23+ (with UFS 4.0).
While the rear cameras are identical to last year's – with a 50MP f/1.8 main shooter (with PDAF and OIS), 12MP f/2.2 120-degree ultrawide (with PDAF), and a 10MP f/2.4 3x telephoto (with PDAF and OIS) – the camera pod is noticeably different. Samsung has dropped the signature contour metal housing in favor of three individual shooters protruding from the rear glass, matching the design of the S22/S23 Ultra.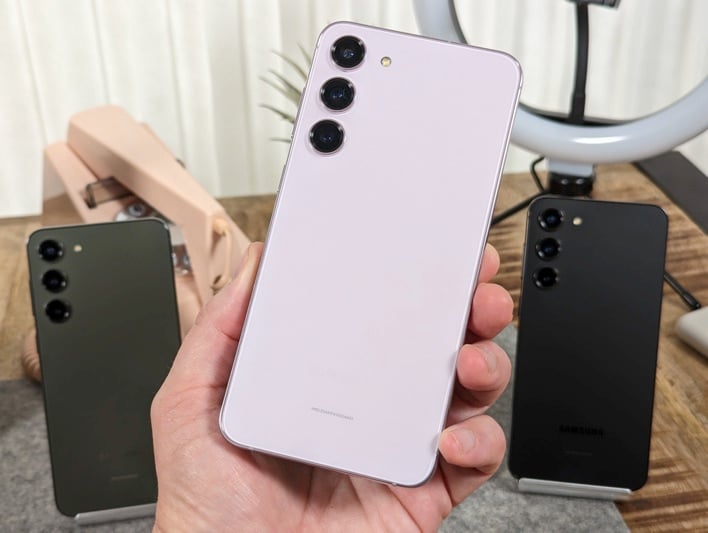 The S23 and S23+ both get 200mAh larger batteries, growing to 3900 and 4700mAh, respectively, which is great. All three phones retain last year's ultrasonic in-display fingerprint sensor, stereo speakers tuned by AKG, IP68 water and dust rating, and 15W wireless (Qi) charging (with 4.5W reverse wireless charging). Ditto wired charging, which remains 45W for the S23 Ultra and S23+, and 25W for the S23.
Now onto the most important update, Qualcomm's Snapdragon 8 Gen 2 for Galaxy (a mouthful, I know). This binned 4nm chip, manufactured by TSMC, is capable of 3.36GHz peak clock speeds, and is the default for all three S23 flagships (and in all markets, apparently). It supports sub-6GHz and mmWave 5G, WiFi 6e, and Bluetooth 5.3 LE, and provides higher performance and better efficiency than last year's Snapdragon 8 Gen 1.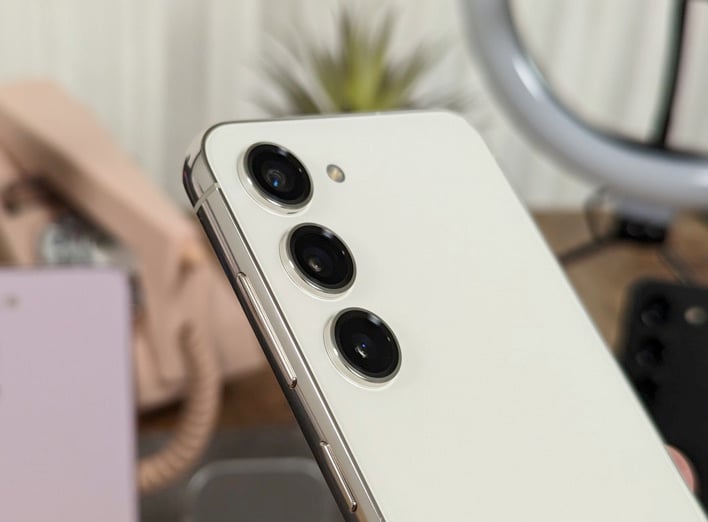 Another improvement across the entire S23 series lineup, is a new 12MP f/2.2 selfie camera (with PDAF) which delivers better low-light performance and enables 4k 60fps selfie video. In addition to last year's armor aluminum, Gorilla Glass Victus 2 is now standard across the board, and all three phones are available in the same choice of muted colors: Phantom Black, Cream, Green, and Lavender. Werner Herzog would feel
right at home
.
Overall, It's clear that Samsung's new S23 flagships are iterative. And while these handsets deliver solid specs and features, the design language here is very familiar. Still, the Snapdragon 8 Gen 2 is a welcome update – especially for those who have endured Samsung's
Exynos chips
– and the S23 Ultra's 200MP main shooter is rather promising. Stay tuned, though – I'll have more to share in my full review soon.
Related content