ASUS Zenbook 17 Fold OLED Review: Premium, Feature-Rich Foldable
ASUS' Zenbook 17 Fold OLED Laptop Unfolds New Ways To Work And Create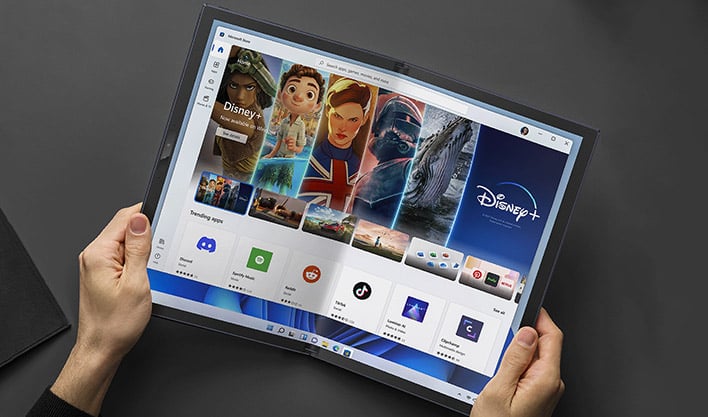 ASUS Zenbook 17 Fold OLED - Starting MSRP: $3499.00


ASUS' latest entry into the Zenbook family brings excellent flexibility for the user, thanks to a large, innovative 17-inch foldable design, but it comes at a considerable cost.







Excellent Build Quality
Competent Folding Mechanism
Comfortable Bluetooth Keyboard
Bright, Beautiful OLED Screen
Excellent Battery Life
Quiet Operation Even Under Heavy Load

Can Be Cumbersome To Reorient
Expensive
Limited USB Ports and No SD-Card Slot






The ASUS Zenbook 17 Fold breaks almost every mold imaginable when it comes to portable computing, by unfolding something unique. The Zenbook 17 Fold is aimed towards professionals with its unique flexibility for those who need the most they can get out of their system in a variety of working conditions. Powered by a 12th Gen Intel Core i7 processor, there should be more than ample performance to keep up with workflow demands, and this machine is also an official
Intel Evo certified
system as well, to ensure a certain level of premium user experience and functionality.
Let's run-down the specs quickly and then take you on a quick guided video tour...
The ASUS Zenbook 17 Fold aims to address an angle in the mobile computing space that many professionals find themselves in, the need for a machine that's portable but also big enough with good screen real estate to really get some work done. As such, just like folding mobile phones have provided new expandability in a user's pocket, ASUS has set out to do the same for the laptop market. The
Asus Zenbook 17 Fold
not only has a generous 2560x1920 17-inch OLED display, but it also can be rotated, folded and halved in a variety of ways that allow the end user to really get the most out of the system. Equipped with a 12th Gen Intel Core i7-1250U CPU and integrated Intel Xe Graphics, along with 16GB of LPDDR5, there should be enough grunt folded up in this laptop to get the job done on the road and in the office. We'll be testing the usability of the Zenbook 17 Fold and also in a number of benchmarks on the pages ahead, but we'll also check in on its 75Whr battery and how that holds up when away from the wall outlet.
Zenbook 17 Fold Usage Modes, Keyboard Options And IO
Technically, the Zenbook 17 Fold comes with two keyboards, the virtual keyboard and the removable Bluetooth keyboard with a trackpad. The machine's virtual keyboard, as you might expect, is not the preferred input method but it's usable if the user doesn't want to carry the Bluetooth keyboard around with them. The removable Bluetooth keyboard is where the rubber meets the road when interfacing with the Zenbook 17 Fold. It is well-built and has a decent battery life of up to 24 hours of use, provided you remember to turn it off when not in use.
The keyboard can be used sitting on a desk, allowing for full use of the machine's spacious display, but it's also magnetized and can be placed on the bottom portion of the folded tablet, turning it into a 12.5-inch traditional laptop. This is an excellent way to use it on the move, as the Zenbook 17 Fold still closes fully with the keyboard in place like any clam shell design. Typing on this detachable feels comfortable, with 1.4mm key travel that actually feels better than some traditional laptops, with slightly contoured, shaped key caps. One side note is that with the detachable Bluetooth keyboard heat isn't conducted through it like a traditional integrated design, so you don't have to worry about hotspots. Unfortunately, the keyboard isn't backlit, which may prove to be an issue for some in low light settings.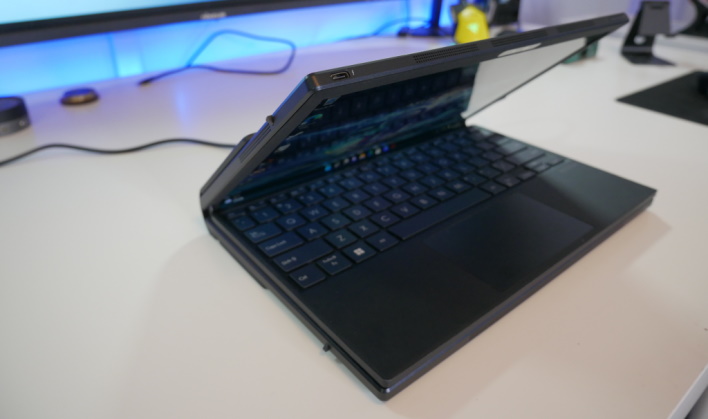 On the left side of the Zenbook 17 Fold you won't find much in the way of inputs, just the rubber knubs for it to stand on and a speaker output. On the top left, when in laptop orientation anyway, there is a single Thunderbolt 4 USB-C IO port that can also be used for charging.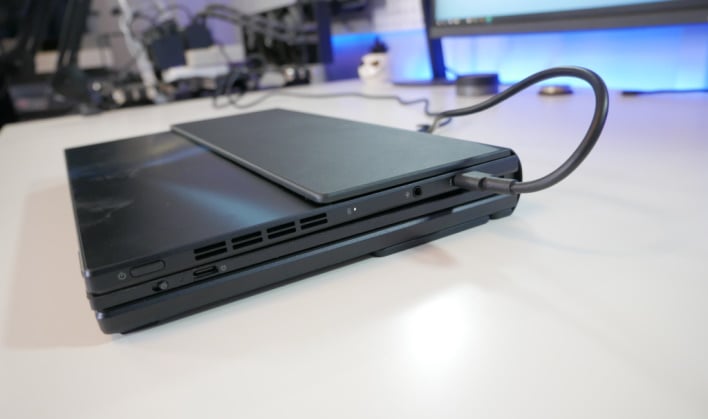 On the right side, again in laptop mode, is where you'll find the power button, combination headphone/microphone jack and the only other input, a Thunderbolt 4 USB-C port. Just like the other Thunderbolt 4 port, this one too can be used for charging, which is convenient for cable management, no matter what side you'd like to plug in on. While these limited IO options might be a shortfall for some, with high bandwidth Thunderbolt 4 connectivity, there are a multitude of docking and peripheral options available at least, including external storage, displays, etc.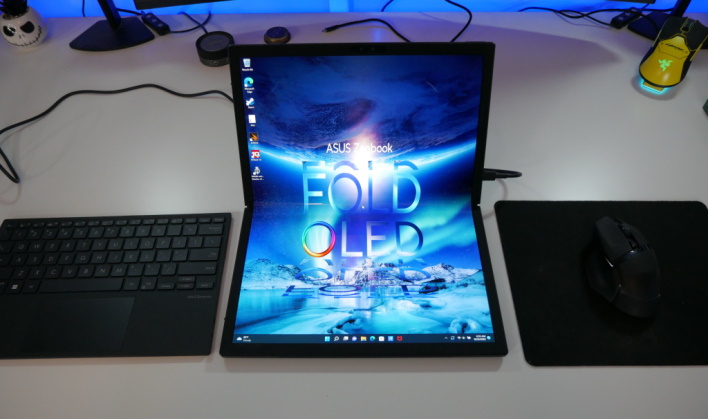 The Zen Of A Big Beautiful OLED Display
The biggest draw of the ASUS Zenbook 17 Fold is the display above all else. We're talking up to 17" of usable display that features a resolution of 2560x1920 backed by the inky saturation and contrast of OLED technology with 500 nits of brightness. In fact,
our lux meter
measured a peak 600 lux, so this screen is far from lacking in terms of output brightness. As with any OLED display, whites were bright and the blacks are deep, which will spoil you if you need to go back to a standard IPS or VA laptop panel.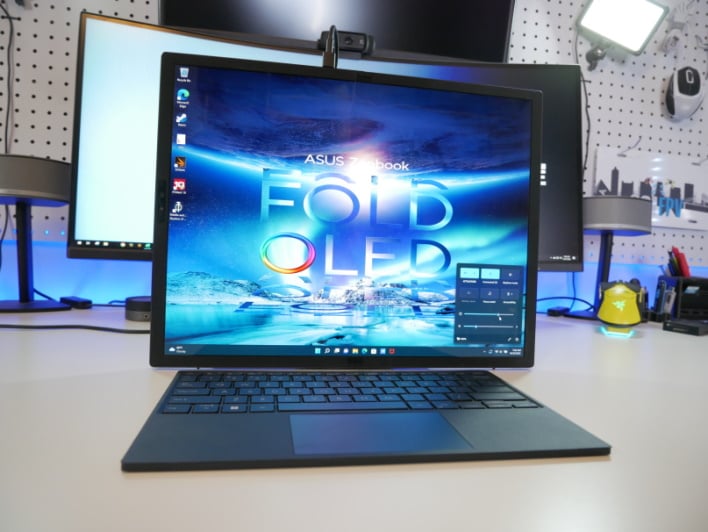 In laptop mode, it's a little tight being a 12.5" laptop with 1920x1280 resolution here, though that's still a bit more vertical screen real estate than a traditional 1080p screen in this small of a form factor.

Zenbook 17 Fold Webcam And Sound System
Resting above the screen in laptop mode is the expected webcam. And while no one will be shooting the
next viral TikTok
with this built-in 5MP 1080p camera, it is higher than expected quality, so conference calls and remote meetings will look great. It also has IR support for
Windows Hello
functionality, and a four-microphone array will make sure that the user's voice comes through crisp and clear, thanks to solid background noise suppression. The Zenbook 17 Fold's built-in quad speakers from Harman/Kardon actually impressed us, though we did not expect a robust sound signature from such a thin device. Lows are still a bit thin, but all told the audio solution is pretty serviceable.


Finally, we must discuss the elephant in the room, the actual fold of this machine. The Zenbook 17 Fold feels well-made, dense and solid. None of these were expected when we were unboxing the system, which was a pleasant surprise to say the least. ASUS didn't just design the Zenbook 17 Fold to be a basic foldable, they made it a whole platform. This is a laptop system that is usable based on the needs of the moment, with six different configurations, and all of them have legitimate functionality advantages. We found the Laptop mode (where the keyboard is secured to the bottom half like a traditional keyboard) and the Desktop mode to be our most used variations. The virtual keyboard, Extended mode, Reader mode, and Tablet mode can all be useful in the right situation, but we honestly didn't find ourselves needing them for our particular use case. Others, however, might find these modes very advantageous.

Now that we've seen what ASUS has delivered when it comes to quality, build, and features that professionals might find compelling, we need to see how Intel's 12th Gen Core i7-1250U platform holds up to the high bar set by the Zenbook 17 Fold's quality, features and premium product design. Benchmarks are next...
Related content