Motorola Edge+ (2023) Review: Moto Got Its Mojo Back
Moto Edge+ (2023) Audio Quality, Performance, And Battery Life
Moto Edge+ (2023) Audio, Data, and Call Reception
For this review, we used the 2023 Moto Edge+ on Telus' sub-6GHz
5G
and 4G LTE networks – primarily in Vancouver (Canada) – without any issues. Calls sounded loud and clear, and data speeds matched expectations. This handset is unlocked, supports dual SIMs (nano SIM + eSIM), and is certified for all major carriers in North America. It lacks mmWave 5G, but that's not really a deal breaker.
Moto Edge+ (2023) Performance
The Moto Edge+ (2023) packs Qualcomm's speedy
Snapdragon 8 Gen 2
flagship SoC, and delivers blazing performance to match. It comes with 8GB of LPDDR5x RAM and 512GB UFS 4.0 storage but there's no microSD support. As you'd expect, it juggled my usual collection of communication, productivity, and entertainment apps without breaking a sweat, but it's also ideal for gaming – especially with its 165Hz screen.
Subjectively, the Moto Edge+ feels extremely responsive. Our impressions were confirmed by our benchmarks, which consistently ranked this handset among our top six Android devices. Even sustained performance was pretty solid, considering this isn't a gaming phone. It only started throttling slowly after 8 minutes, dropping to 86.9% after 20 minutes – though it got quite warm in the process.
Moto Edge+ (2023) Geekbench Results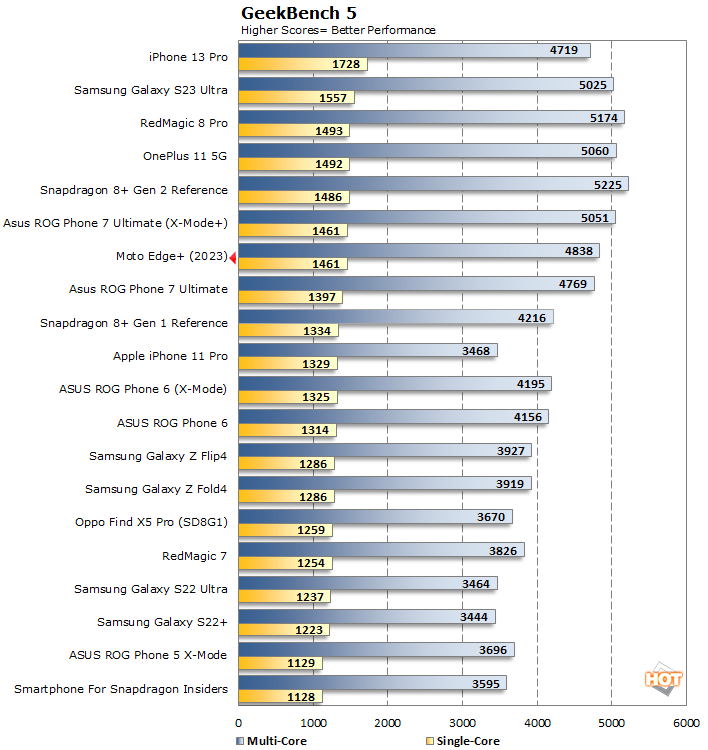 GeekBench is a purely synthetic benchmark and can be heavily targeted for optimization. Regardless, the Snapdragon 8 Gen 2 processor delivers a notable improvement in single and multi-threaded performance over previous generation
Snapdragon 8 Gen 1
-equipped Android flagships.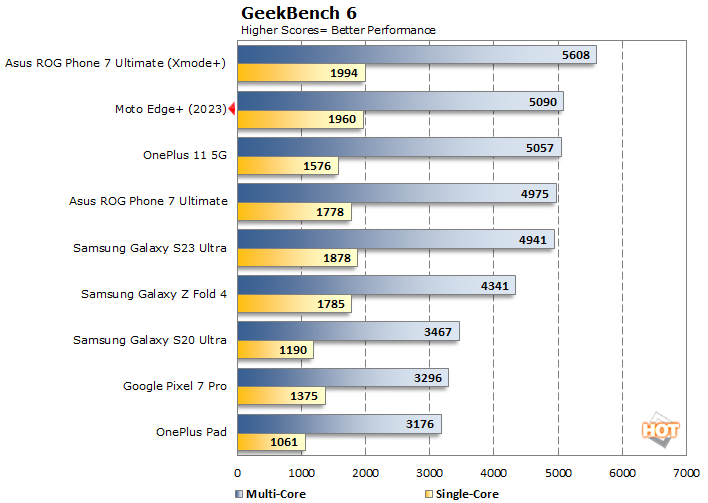 Recently, Geekbench was upgraded to version 6, which includes new ways of testing multicore configurations and uses higher-resolution assets. Since this benchmark is brand new, we don't have as many data points, but as you can see, the Moto Edge+ (2023) performed quite well in this test.
Moto Edge+ (2023) PCMark For Android Benchmarks
Futuremark's PCMark for Android is an excellent suite of tests if you want to benchmark a wide range of tasks on any handset -- things like image and video editing, as well as lighter-duty, everyday workloads such as email and web browsing. When you see the test running live, it's clear the scripted application tests are carefully selected and tuned to make use of the each mobile platform in a very controlled way...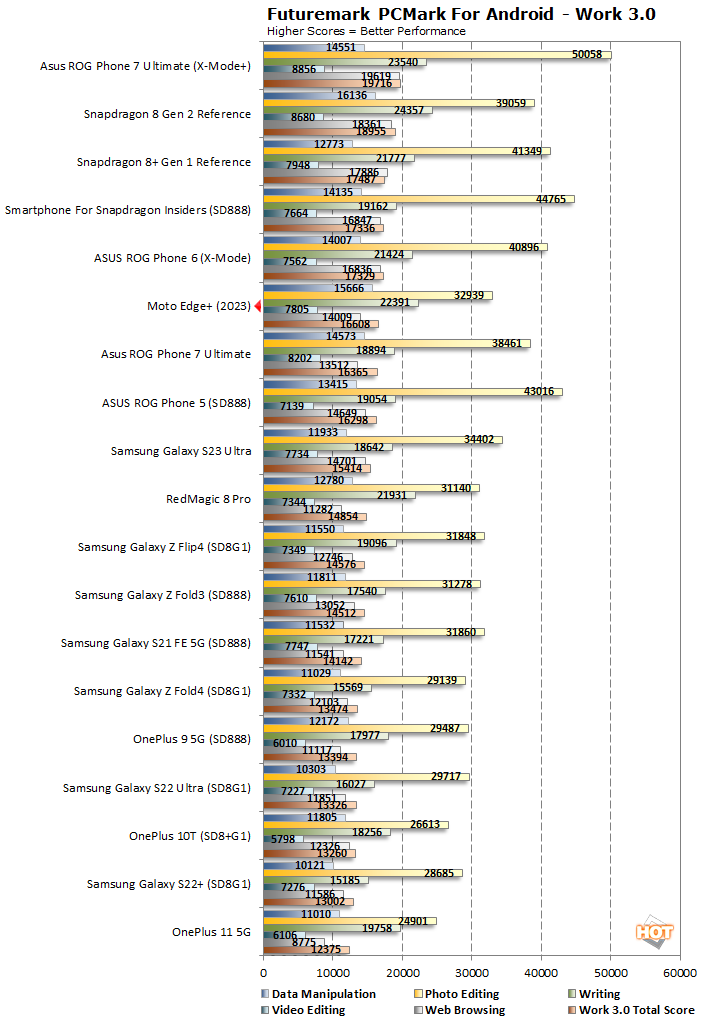 Here the Moto Edge+ (2023) shows similar performance to previous generation models, slotting just above the
Asus ROG Phone 7 Ultimate
.
Moto Edge+ (2023) AnTuTu 8 Benchmark Results
AnTuTu's latest benchmark returns a number of metrics ranked with somewhat nebulous scores, rather than frame rates or time to complete. Here we're running the latest version of AnTuTu across multiple Android devices. AnTuTu returns four top level performance results which are all included here: CPU, RAM, 3D, UX (or User Experience), along with a total score...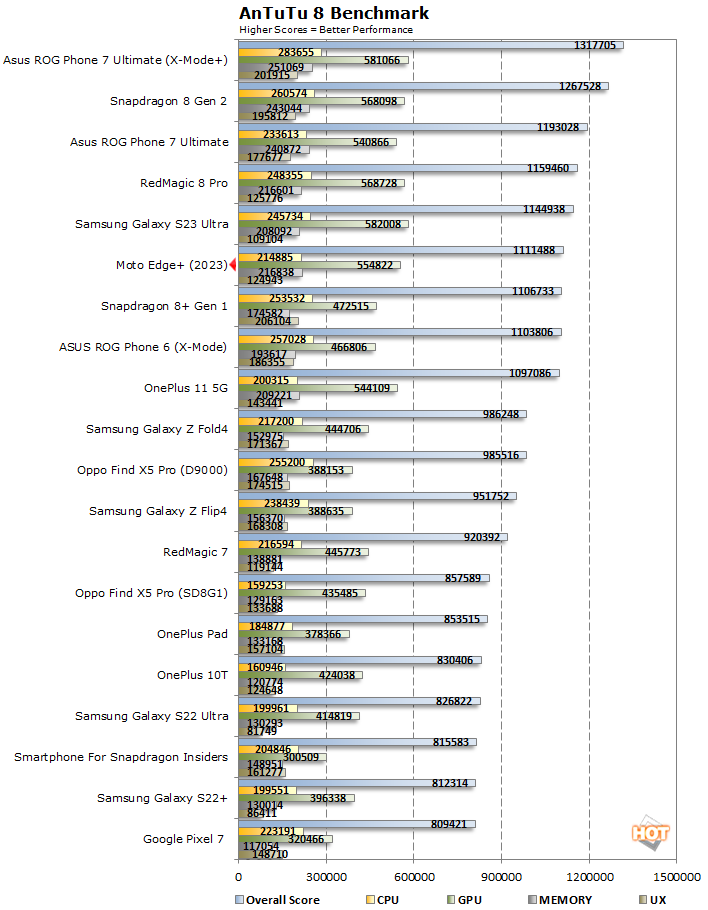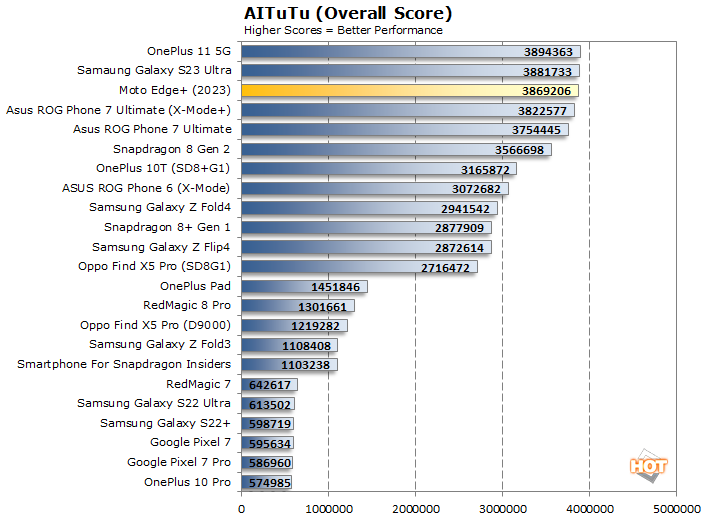 According to AnTuTu, the Moto Edge+ (2023) offers a slight increase in performance vs. previous generation Android handsets, coming close to matching the
Samsung's Galaxy S23 Ultra
in terms of its overall score.
However, in AITuTu, which is specifically an image recognition and classification benchmark for
AI
and machine learning workloads, we see a different picture. Here there are big gains for Snapdragon 8 Gen 2 powered devices like the Moto Edge+ (2023), putting it right alongside the Samsung's Galaxy S23 Ultra.
3D Graphics And Gaming Benchmarks With The Moto Edge+ (2023)
Next we're checking how the Moto Edge+ (2023) compares in GFXBench, which has been one of the standard mobile graphics/gaming performance benchmarks for years. To ensure that display refresh (v-sync) and resolution aren't limiting factors, we're comparing off-screen test results here. GFXBench tests OpenGL ES graphics workloads and we're specifically testing OpenGL ES 2.0 and 3.0.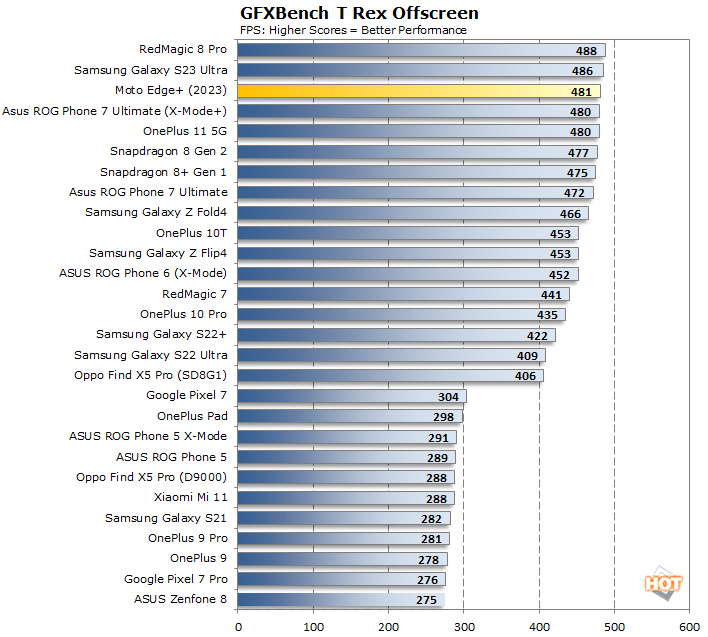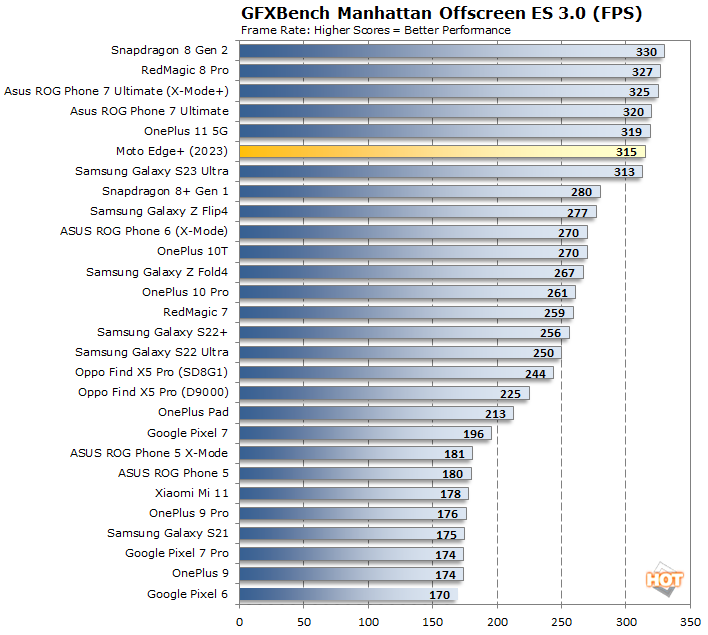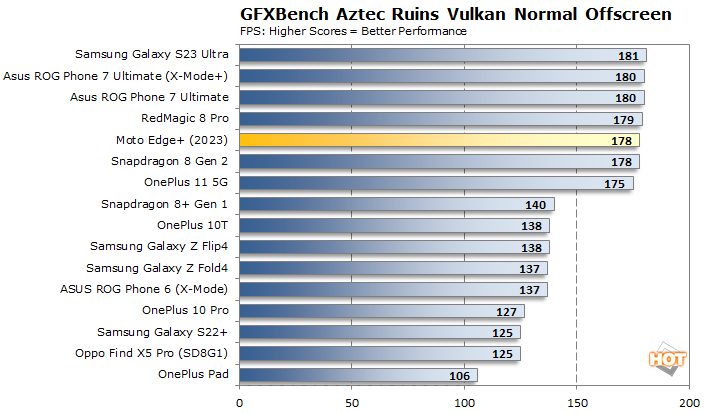 Now we're seeing the kind of performance improvement we expected from Snapdragon 8 Gen 2-equipped devices like the Moto Edge+ (2023). This phone clearly beats Snapdragon 8 Gen 1-powered devices like the
Asus ROG Phone 6
in these graphically rich benchmarks.
Futuremark's 3DMark Sling Shot is a newer benchmark module that's been added to the 3DMark mobile suite. Unlike previous gen 3DMark mobile tests, Sling Shot is a much more advanced OpenGL ES 3.1 and Metal API-based benchmark that employs more advanced rendering techniques, like volumetric lighting, particle illumination, multiple render targets, instanced rendering, uniform buffers and transform feedback.
3DMark Sling Shot Extreme Benchmark
We're running this test in off-screen mode once again to remove display resolution differences from the equation. This lets us compare cross-platform results more reliably...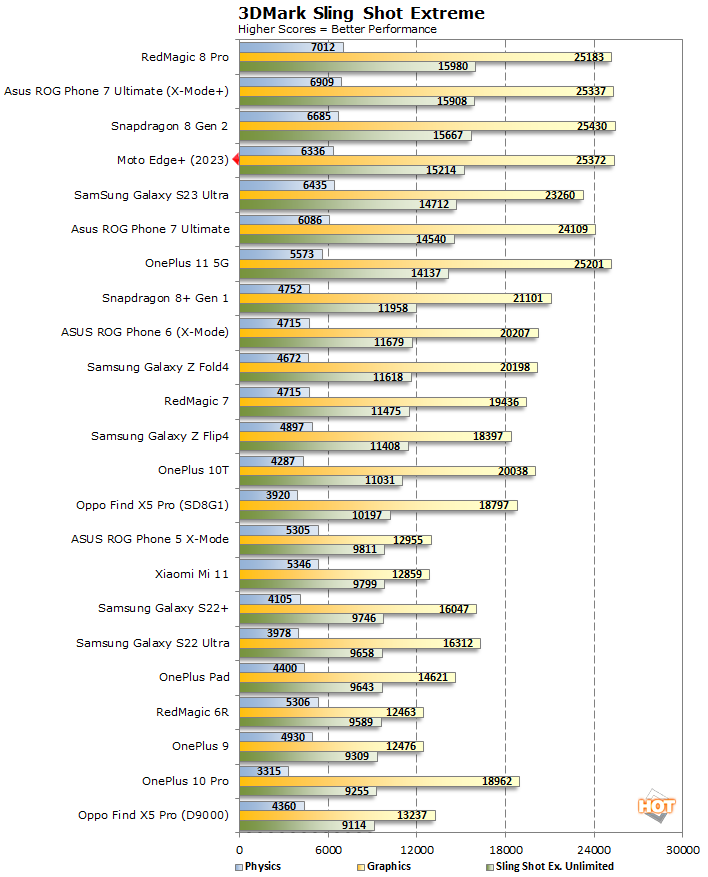 Here we only see a slight improvement to the overall score over Snapdragon 8 Gen-1-equipped flagships. Still, the Moto Edge+ (2023) performed extremely well in this test, beating Samsung's Galaxy S23 Ultra.

Moto Edge+ (2023) 3DMark Wild Life Benchmark Tests
3DMark Wild Life is the latest cross-platform test from UL. Its primary purpose is to measure GPU performance across platforms, and two distinct tests are available. The standard Wild Life test is designed to give feedback on how a game performs over a short period of time. With mobile games, people typically play in brief spurts when they find some free time; be it on the bus, on the subway, or a quick battle royale session over lunch break. The 3DMark Wild Life Stress Test, on the other hand, shows how a device performs over a longer stretch of time, and takes note of performance degradation that might crop up due to increased heat levels and throttling.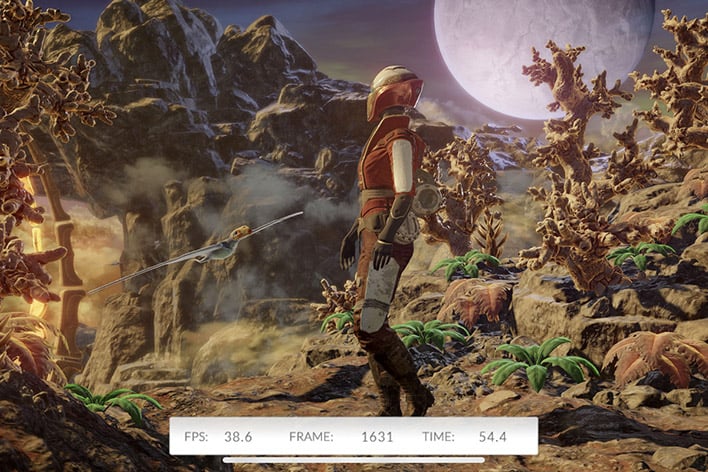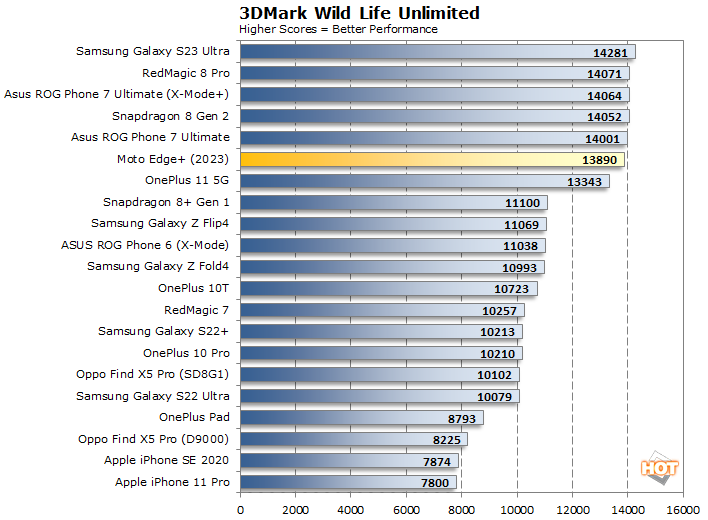 3DMark Wild Life is a significantly more taxing graphics benchmark that employs cutting-edge mobile game engine technologies to deliver impressive visuals -- as you can see in the screen shot above. Here the Snapdragon 8 Gen 2-powered Moto Edge+ (2023) delivers a massive improvement in performance versus the fastest Snapdragon 8 Gen 1-equipped devices, and comes out right on the heels of the Asus ROG Phone 7 Ultimate, a gaming phone that's also powered by the Snapdragon 8 Gen 2.
Fortunately, the Moto Edge+ (2023) does not exhibit the kind of excessive throttling we experienced with Snapdragon 8 Gen 1-equipped flagship in the Wild Life Stress test, managing a stability score of 86.9%, and beating Samsung's Galaxy S23 Ultra.
Moto Edge+ (2023) Other Features and Battery Life
Other specs are pretty standard for a modern flagship. You'll find sub-6GHz on board, plus CAT 22 LTE, WiFi 7 (802.11be), Bluetooth 5.3 (LE), NFC, and A-GPS/ GLONASS / GALILEO / LTEPP / SUPL positioning – not to mention the usual suite of sensors. The optical in-display fingerprint sensor is quick and accurate, and so is face unlock. As a bonus, haptics feel great thanks to a linear vibration motor.
In terms of battery life, the Moto Edge+ shines. That's mainly the result of combining a large 5100mAh cell with an efficient chip and clean software. We're still running battery life tests, but fully expect this handset to keep on ticking for almost two days on a full charge. When it's time for a refill, it supports 68W wired fast charging (brick included) and 15W Qi-compatible wireless charging – plus 5W reverse wireless charging.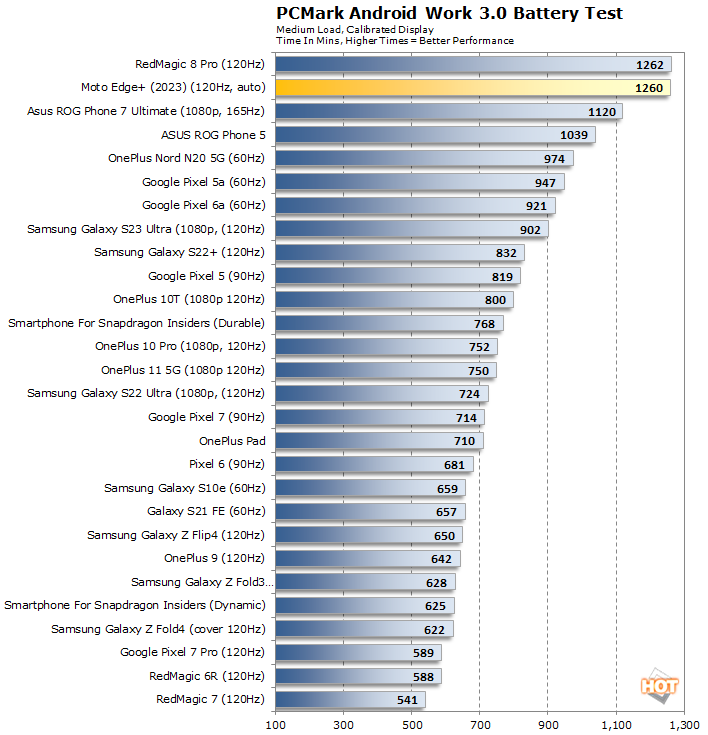 Update: in our PCMark Work 3.0 battery test, the Moto Edge+ managed to run for a whopping 21 hours. That's just phenomenal!

Next up: the software, pricing, and the review verdict...
Related content