Maingear MG-1 Review: A Mighty, Beautiful Boutique Gaming PC
Maingear MG-1: Intel 13th Gen Raptor Lake And RTX 4080 Muscle Dressed To Kill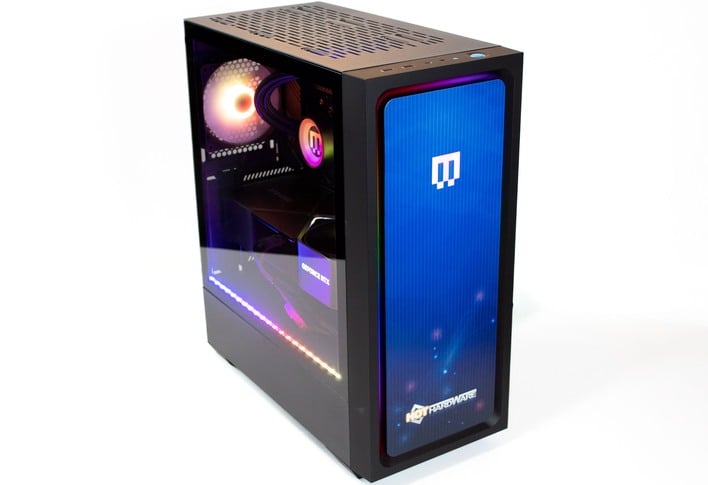 MAINGEAR MG-1 Gaming Desktop: Starting At $1499


The Maingear MG-1 is the fastest pre-built gaming PC we've ever tested. It also makes for a solid workstation, and it's not hard to look at, either.







Excellent Performance
Massive Room For Expansion
Attractive And Customizable
Impressive Build Quality
High-Quality Components
Excellent Warranty Support

CPU Runs Hot In Threaded Workloads
1TB Storage Option Is A Little Tight
Windows 11 Home Isn't Optimal



---
The latest round of gaming PC hardware is a big step up from the previous generation, both in terms of CPUs and GPUs. AMD and Intel are both clocking their processors higher than ever, while also making significant architectural improvements. Meanwhile, in graphics, we've seen the
debut of bigger
and
badder GPUs
than ever before. If you're a PC gamer perusing parts and pondering the idea of a full system upgrade, there's plenty of reason to check out boutique shops like OriginPC, Falcon Northwest, and of course,
Maingear
, whose new MG-1 system will be our focus here. You can pick up a pre-built PC from one of these shops for a little more than parting one out and putting it together yourself, and you get all the benefits of a DIY build with professional construction, post-sale service, and optionally, the peace of mind of a multi-year warranty.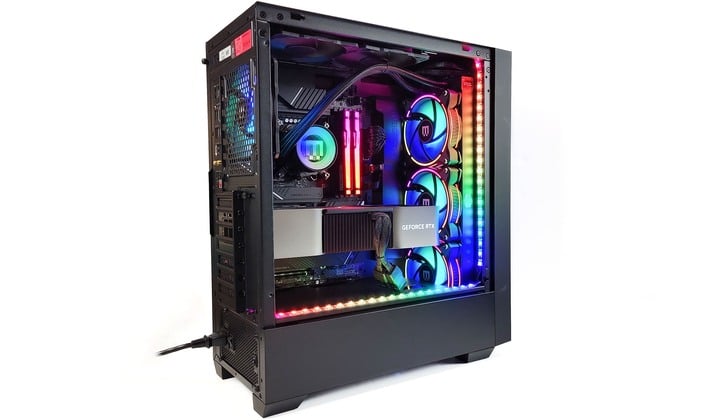 We wrote about Maingear's new MG-1 system
late last year
, when professional
Valorant
and
CS:GO
player Michael "shroud" Grzesiek joined the company as co-owner. Along with the new system, Maingear has undergone a bit of re-branding, with a new logo and a new look to its marketing materials. The MG-1 is the company's newest flagship PC, and to prove that it deserves such a title, Maingear sent one over for us to beat on.
Let's have a look at the full specifications of this mighty machine before we dig in:
Maingear MG-1 Features & Specifications
We'd like to come up with some pithy pun about how this machine is "fast as a raptor," but really, the specifications of this system don't warrant any jokes. Every part on this computer is top-notch, and the core components—that
Raptor Lake Core i9 CPU
and Ada Lovelace GeForce GPU—are already well-known to crank out blistering performance in all kinds of tasks.
That's going to be kind of a running theme in this review, actually. After all, we're well-acquainted with the Core i9-13900K and the
GeForce RTX 4080
, and while we haven't actually tested the combination of the two before, the way they perform in tandem is absolutely not surprising. That's kind of a spoiler, but hardware enthusiasts will have an inkling of our benchmark results by just glancing at the specifications above.
Of course, as a finished product, there's a lot more to a computer than its components. Indeed, one of the main reasons to buy a pre-built PC from a boutique shop like Maingear is because of the professional build quality. How did Maingear do in that regard? Well, let's have a look around the exterior and interior of the system to find out.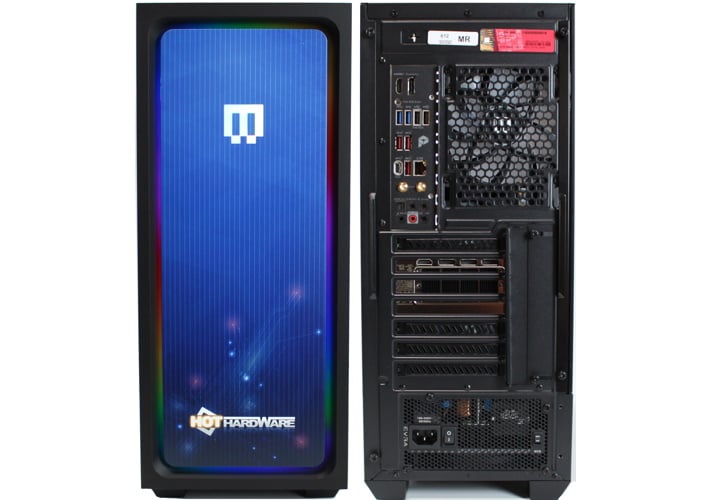 This picture shows the front and back of the MG-1. Around the back, there's nothing surprising for a PC enthusiast, but there is a ton of connectivity. Chalk that up to the nice MSI mainboard that Maingear chose. The CPU is a fully-enabled "K" model, so you can use the integrated graphics if you want to hook up a couple of extra displays. Sadly there's no Thunderbolt ports, but that's common on a desktop gaming machine, really.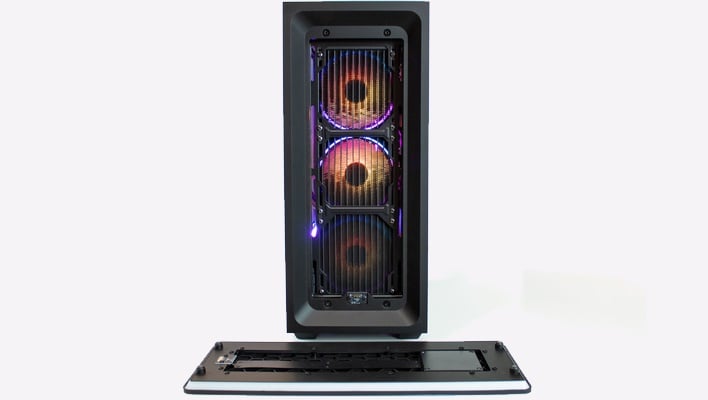 Much more notable is the front panel of the machine; it's magnetically-attached, and pops right off if you want to drastically improve your cooling. That spiffy blue custom HotHardware plate could have run us $100 if we had purchased the machine. You can put whatever colors or design you want on the front panel, and there's a tool on the Maingear website to customize your own. If you don't like it, you can simply stick with the default, which is a rubberized black plate with an RGB LED Maingear logo toward the top, like our HotHardware one.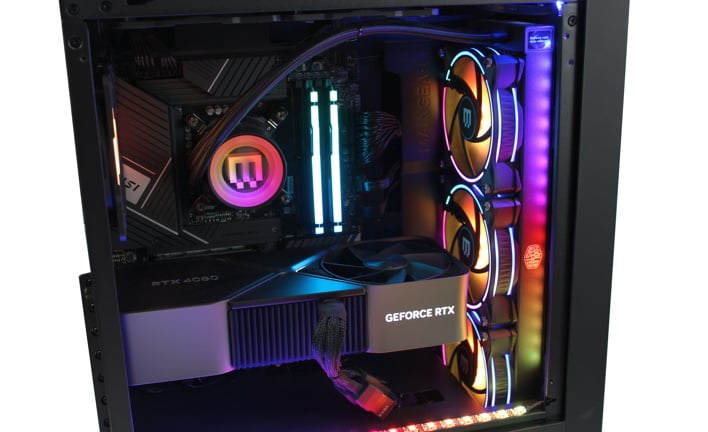 Peering into the interior of the machine—always visible thanks to the crystal-clear tempered glass window on the side—we can see a ludicrously-clean build, with almost no wires to be visible. The few cables that are present are tightly bound, and tucked behind the motherboard. Don't be too alarmed about the GeForce RTX 4080's power adapter bunched up against the window the way it is; that actually helps ensure that the connector is fully-seated and can't jostle loose.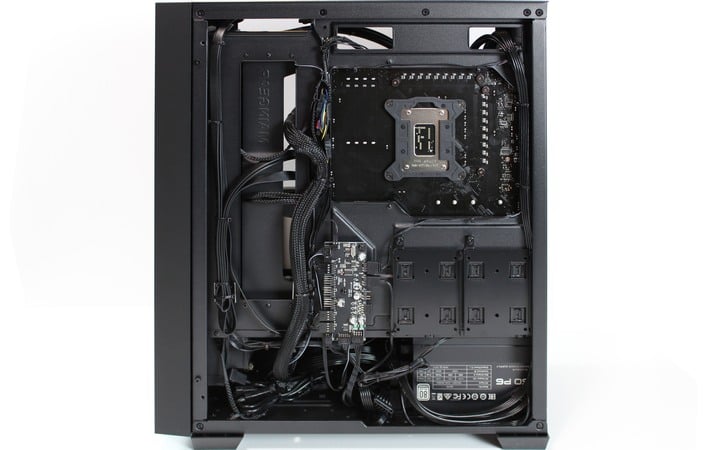 With the right-side case panel off, we can investigate Maingear's cable routing. For custom builders, there's usually little point in making this part of the system absolutely flawless when the majority of the time it will be buried away from the light behind the motherboard. Nevertheless, Maingear painstakingly routed the cables for maximum efficiency, then bundled up the extra wire so they weren't dangling around back here.
If we have one singular complaint about the build, it's that the company didn't pre-route SATA cables for the dual 2.5" drive bays behind the motherboard. Those could provide a lot of extra solid-state storage for very little money, and as it stands, getting them hooked up will be a bit of a pain. Maingear doesn't warranty third-party components, though, so we understand why the cable routing wasn't done. It's a nearly-trivial complaint, but a complaint nonetheless.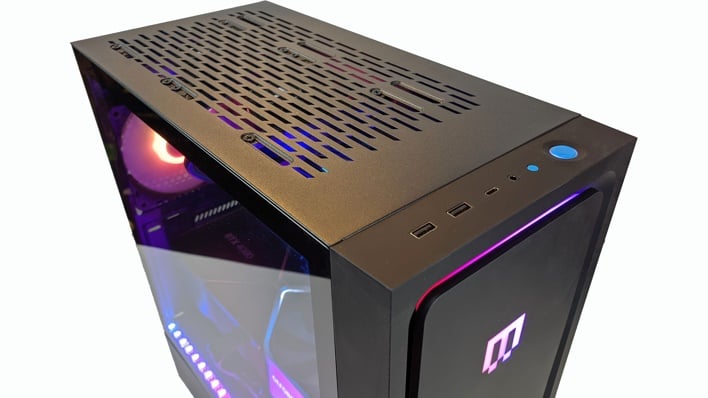 You can also see the standard black front panel here.

Finally, on the top front of the case, you can see the dual USB Type-A ports, the USB Type-C port, the audio combo jack, the reset button, and the power button. We would have liked to see some filtering or even the option of a solid cover for the top of the case; the open grille there is fantastic for ventilation, but it does very little to protect the system from dust, spilled drinks, or mischievous pets. Another minor complaint, but it could be a consideration.
As pretty as it is, that's probably enough gawking at the MG-1. Let's get her booted up and see how she performs...

Related content