Intel Core i9-13900KS Review: First To 6GHz, Fastest CPU Yet
Intel Core i9-13900KS: Raptor Lakes Does 6GHz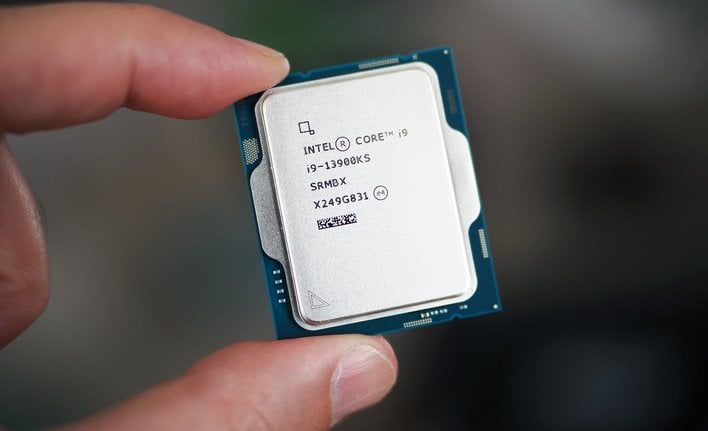 Intel Core i9-13900KS - $699 MSRP (Currently $769)


A higher maximum turbo frequency of 6GHz makes Intel's special edition Core i9-13900KS the fastest desktop processor to date, but with some caveats.




Blazing Performance
Single-Thread Leader
Aggressive Pricing
Fast DDR5 Memory Support

High Power Consumption
Need Extreme Cooler To Overclock






---
When Intel initially unveiled its Raptor Lake-S series processors, a special edition model was teased that would feature a blazing-fast 6GHz boost clock, right out of the box. Like a few previous-gen special edition processors, the chip bears "KS" branding and will be sold in limited quantities. More specifically, the new Core i9-13900KS launched last week, in what Intel is calling a "milestone moment for the PC industry." Foundationally, the
Core i9-13900KS
is similar to the Core i9-13900K – the two processors share the exact same core and cache configuration. The Core i9-13900KS, however, is binned more aggressively and can achieve that 6GHz max turbo frequency on one or two of its P-cores, depending on the workload and thermal conditions at the time. Hitting 6GHz with a mainstream desktop CPU is indeed a first for the industry.
We got our hands on a Core i9-13900KS recently, and slammed it into our test rig right away to run some tests. Before we get to the numbers though, check out the video below for an overview of Raptor Lake-S with Intel's Marcus Kennedy, and check out our coverage of the
initial 13th Gen Core line-up
launch. The video and previous coverage explain the architecture and what makes the Raptor Lake-S based Intel 13th Gen Core processors tick...
Introducing The 6GHz Core i9-13900KS
The Core i9-13900KS ships in a "Special Edition" box, similar to the previous-gen
Core i9-12900KS
– it's just been slimmed down a bit and the wafer-inspired enclosure is chrome instead of gold. Slice the security label, unfold the box, pop open the "wafer" and the Core i9-13900KS is revealed.
Like the Core i9-13900K, the Core i9-13900KS features a monolithic, 24-core (32-thread) die, outfitted with 8 Performance cores and 16 Efficiency cores. The processor also features 36MB of Intel Smart Cache (LLC), 32MB of L2 cache, and it has a Processor Base Power rating of 150W, with a Maximum Turbo Power rating of 253W. When the chip's max power level is "unlocked" when using an enthusiast class motherboard and cooler, however, its actual peak power consumption can be higher.
Like
12th Gen processors
based on Alder Lake, 13th Gen Core processors based on Raptor Lake-S have asymmetric thread counts because the E-cores do not support HyperThreading. P-cores can process two threads simultaneously, while E-cores can handle only one.
Core i9-13900KS CPU-Z Details
The Core i9-13900KS is based on the same stepping / revision as the already-launched 13th Gen Core line-up, at least according to CPU-Z.
As previously mentioned, the Core i9-13900KS simply differs in terms of its clocks. There's 176K (48K + 32K / 32K + 64K) of total L1 cache per core, 2MB of total L2 cache per P-core, 4MB of L2 cache per 4-core E-core complex, and up to 36MB of L3 shared across all of the cores. You'll note that on our particular sample, it is only P-cores 4 and 5 that offer the 60x multiplier necessary to hit that lofty 6GHz turbo target.
Now let's find out how this tweaked, special edition processor performs in the real world. Benchmarks coming up next...
Related content