Lenovo ThinkPad X1 Yoga Gen 5 Review: A 14-Inch 4K Convertible
ThinkPad X1 Yoga Teardown, Thermals And Review Conclusions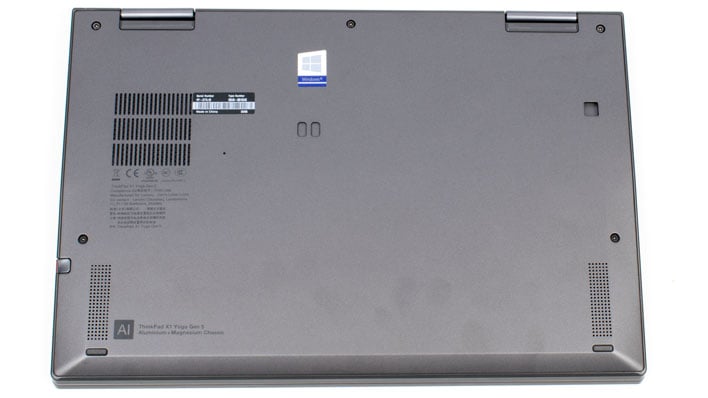 It is time to pop this puppy open and see what makes it tick. The
ThinkPad X1 Yoga
has an aluminum and magnesium body and getting inside is just a matter of removing the stylus and loosening five screws. Something we really like about the disassembly process is that those screws are captive in the shell, so it's not possible to lose them. Once they're loosened, just pull up gently on the edge with the 360-degree hinge, and it pops right out of place. There are a pair of speaker grills at the front, and a square vent at the top where we will find the cooling fan.
Once we're inside, we can get a gander at the system's cooling capabilities. We can identify the CPU is right under the center of the keyboard by its silver four-screw bracket. It has a single, wide copper heat pipe that transports heat to a fin array on the right side of the unit (left side in the photo). A single blower-style fan pulls cool air in through that bottom vent pushes hot air out the side.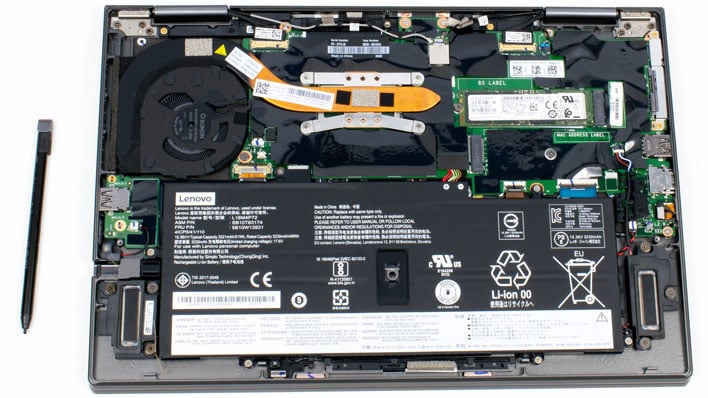 The ThinkPad X1 Yoga is somewhat user-serviceable. The LPDDR3-2133 memory is soldered to the motherboard, which is not a great loss since there is no such thing as LPDDR3 SO-DIMMs currently. However, be sure to order sufficient memory for your needs over the long haul. The SSD is a standard M.2 2280
SSD
which means that it's replaceable with a wide variety of drives should the need arise. There's a second empty M.2 slot reserved for a WWAN card, should the system be equipped with 4G LTE connectivity.
Below the motherboard is the system's three-cell 51 Watt-hour battery. Each side is flanked by the speakers which fire downwards in clamshell laptop mode or right into the lid when folded back into tablet mode. Either way, they put out plenty of volume, though perhaps their location is not ideal. Reassembly is as simple as re-aligning the tabs and tightening the captive screws back down into the body.
ThinkPad X1 Yoga Thermal Performance And Noise
The
ThinkPad X1 Yoga
has a decently large cooling system with a single vent that pushes air out the right-hand side. At idle, the fan doesn't spin up much at all, and even most web browsing tasks were accompanied by glorious silence. To put the cooler to the test, we fired up Cinebench R20 and ran it repeatedly until we were satisfied that the machine was thermally saturated. Over the course of several runs, the Yoga went from scoring 1670 in Cinebench down to 1380 and finally 1270 over a couple of consecutive runs. After a cool down period, it did pick performance up again, so the cooler does its job though there is some bleed-off under continuous load. According to HWMonitor, the CPU did touch 97 and 98 degrees Celsius under heavy duress.
As we said, the CPU approached its thermal limits but never quite hit 100 degrees Celsius. The surface of the laptop certainly warmed up over time, though. Overall temperatures weren't out of control, but having a vent on the right-hand side of this laptop makes for warm air on a righty-hander's mouse hand. That's not ideal, but there's really nowhere else to vent the heat on a system this small. In tablet mode, the vent is on the bottom of the device in portrait orientation when holding it in our left hand, unless we wrap our arm around the back. That'll make your lap a little toasty as 120-degree Fahrenheit air gets a bit uncomfortable after a while.
All of this stress testing is nice, but the fact remains that most of these lightweight notebooks don't typically face sustained, max loads like this. Very few users want to build rendering farms or run intensive compute models on a 15 Watt CPU. This is a stress test that stretches the limits of the system's cooling implementation, but overall the ThinkPad X1 Yoga performed like a champ. Performing in lighter-duty workloads typical of 13" 2-in-1 notebooks, like web browsing, email and other productivity tasks, proved to not be a strain on the cooling system, so we had to jack it up a notch or two to make it sweat, and this machine's thermal solution responded confidently.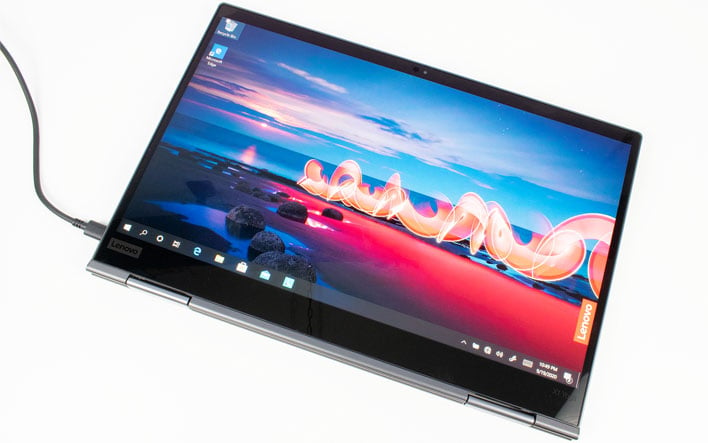 ThinkPad X1 Yoga Review Conclusions
Think ThinkPad X1 Yoga is a handsome, modern-looking system with a beautiful high-resolution display, lots of ports, and all of the ThinkPad features we've come to love, like its outstanding keyboard. Two forms of biometric authentication, a comfortable active stylus that charges in the built-in cradle, as well as its lighter weight in tablet mode, really make this Yoga a pleasure use. It's battery life, for a 4K display-equipped model, is certainly acceptable, too.
Unfortunately there's an elephant in the room (or should we say Tiger?), and it's
Tiger Lake
. This Spring, the ThinkPad X1 Yoga as we reviewed it today would be a great buy. However, as summer progressed, and Intel announced its second family based on its 10-nm process, Tiger Lake. This ThinkPad's aging CPU is a bit dated at this point, though it offers solid performance overall. The Core i7-10610U is fast at CPU-centric tasks today, but Tiger Lake promises to rewrite the single-threaded performance scale, as well as graphics.
That brings us to its also aging UHD Graphics engine, which can't hold a candle to the
Ice Lake
Iris Plus graphics in the 2020 XPS 13, and will trail an 11th Gen Core i7-1165G7 Tiger Lake chip even farther with its
Iris Xe
graphics. This Coffee Lake CPU also has a negative impact on the memory subsystem, too, since the ThinkPad X1 Yoga is saddled with 2133 MHz memory. Tiger Lake systems, by contrast, get far more bandwidth from LPDDR4X memory with twice the transfer rate, which itself has a positive effect on graphics performance.
Pricing on the ThinkPad X1 Yoga Gen 5 starts at around $1,350 for a config that includes a Core i5-10210U quad-core processor, 8 GB of soldered memory, and a 256 GB SSD. This does forego the infrared camera for facial recognition, but still includes the built-in fingerprint sensor. The 14" screen's resolution drops down to a standard 1920x1080, but it's still an IPS touch-enabled display with Windows Ink capabilities. For our review unit, which has 16 GB of memory, a 1 TB SSD, and a gorgeous 4K display, the
ThinkPad X1 Yoga's price point
increases to a $2000 - $2,300 depending on CPU options. That's a steep premium indeed and merits more careful consideration.
We really like the look and form factor of the ThinkPad X1 Yoga. The 2-in-1 form factor is useful for artists, note takers, and anybody who wants to hang out away from the TV and privately binge the latest Amazon Prime Video craze. The thing that stops us from fully embracing it is that the machine's mobile platform simply needs an update. Granted,
Tiger Lake
was just announced and we've only had a small taste of what it can do. Waiting for systems with those 11th-gen CPUs to show up could be very tempting, though, especially for those who hold onto notebooks for a long time to come. However, if you need a 2-in-1 notebook with a gorgeous 4K 14-inch display today, the ThinkPad X1 Yoga could could a good fit and will serve most mainstream consumers well.





Lightweight for its size due to premium materials

2-in-1 form factor is nice in non-traditional situations

Beautiful 4K touch-enabled IPS display

Wonderful ThinkPad keyboard and Track Point
Included stylus that docks right inside the notebook

Stuck on a Skylake-based CPU with aging UHD Graphics
Kind of expensive
Battery life is only average due to 4K display
Related content
Comments