Lenovo ThinkPad X1 Yoga Gen 5 Review: A 14-Inch 4K Convertible
ThinkPad X1 Yoga Gen 5: The Benchmarks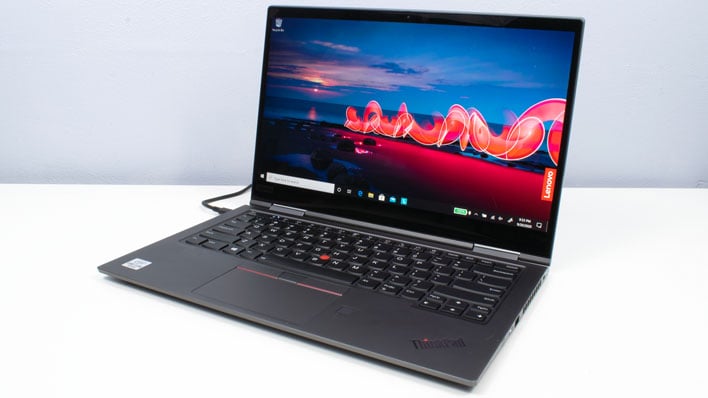 The Core i7-10610U in the ThinkPad X1 Yoga has four Comet Lake cores, which trace their lineage to 2015's Skylake CPU architecture. As a result, we figure this CPU should score right on par with 8th generation Core i7-8665U, which does not perform as well as other 10th-generation CPUs like the Ice Lake-based Core i7-1065G7. Still, it should be more than fast enough for typical web and office productivity tests. Saying that isn't really good enough, though; we need to prove it out in a battery of tests. That's up next.
ATTO Disk Benchmark
Peak Sequential Storage Throughput
The
ATTO disk benchmark
is a fairly quick and simple test which measures read/write bandwidth and IOPS across a range of different data sizes. We get a pair of results at each data point: bandwidth measured on MB per second (or GB per second if the result is that high), and input/output operations per second (IOPS).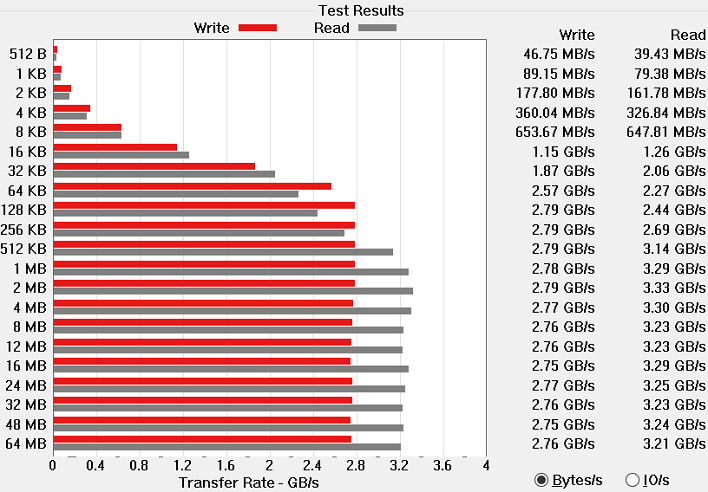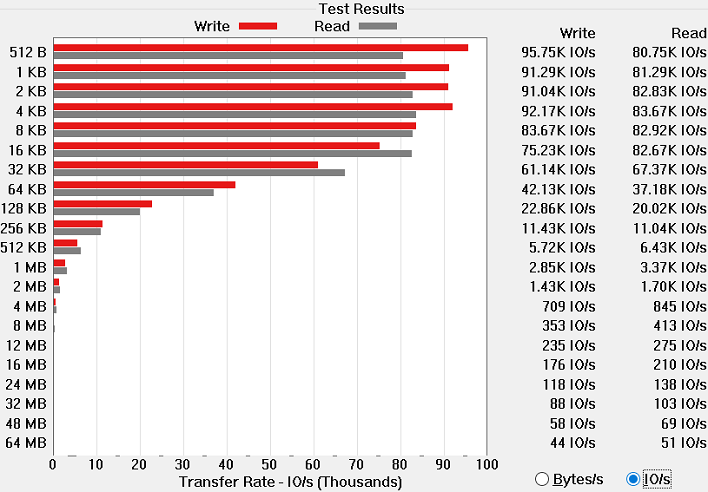 The drive in the ThinkPad X1 Yoga is a pretty common and really fast Samsung PM981a drive. That's an OEM-only drive that seems to track its performance alongside the likes of the company's
970 EVO series
. Read and write performance is outstanding, besting 3 GB per second on sequential reads and 2.75 GB per second on sequential writes. IOPS performance is pretty solid for this test, which emphasizes a queue depth of 1 at various sizes. The raw IOPS drops as sizes increase, since each operation has more data to read or write.
Speedometer Web Application Benchmark
Browser Performance
We recently moved on to BrowserBench.org's
Speedometer
test, which takes a holistic look at web application performance. This test automatically loads and runs several sample webapps from ToDoMVC.com using the most popular web development frameworks around, including React, Angular, Ember.js, and even vanilla JavaScript. This test is a better example of how systems cope with real web applications, as opposed to a pure JavaScript compute test like JetStream. All tests were performed using the latest version of Chrome.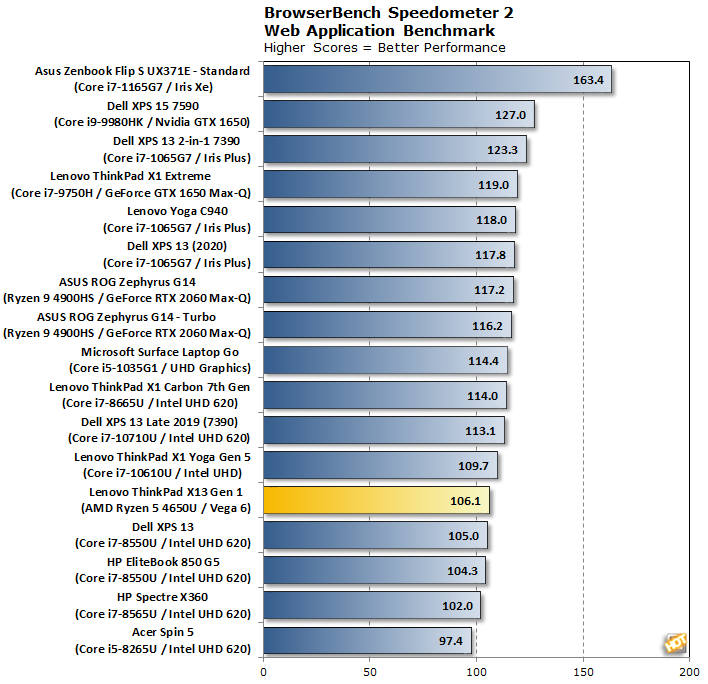 The Core i7-10610U in the ThinkPad X1 Yoga performs on par with the older Core i7-8665U. Both are based on the Intel's 14-nanometer fabrication process and even share a common ancestry all the way back to 2015's Skylake architecture. As a result, the ThinkPad X1 Yoga can only hope to beat its 8th gen-based predecessors. Meanwhile, the system looks wistfully up at the Core i7-1065G7 found in many present-day models like the
Dell XPS 13
. Meanwhile, Intel's Tiger Lake reference platform rewrote the book on lightly-threaded performance in this benchmark.
Cinebench R15 and R20

3D Rendering Performance
Cinebench R15 is a 3D rendering benchmark that tests both the CPU and GPU engines in the processor. Cinebench is developed by Maxon, which is better known for its Cinema 4D software employed in professional 3D rendering and animation studios. We use both of Cinebench's integrated tests for CPU and GPU.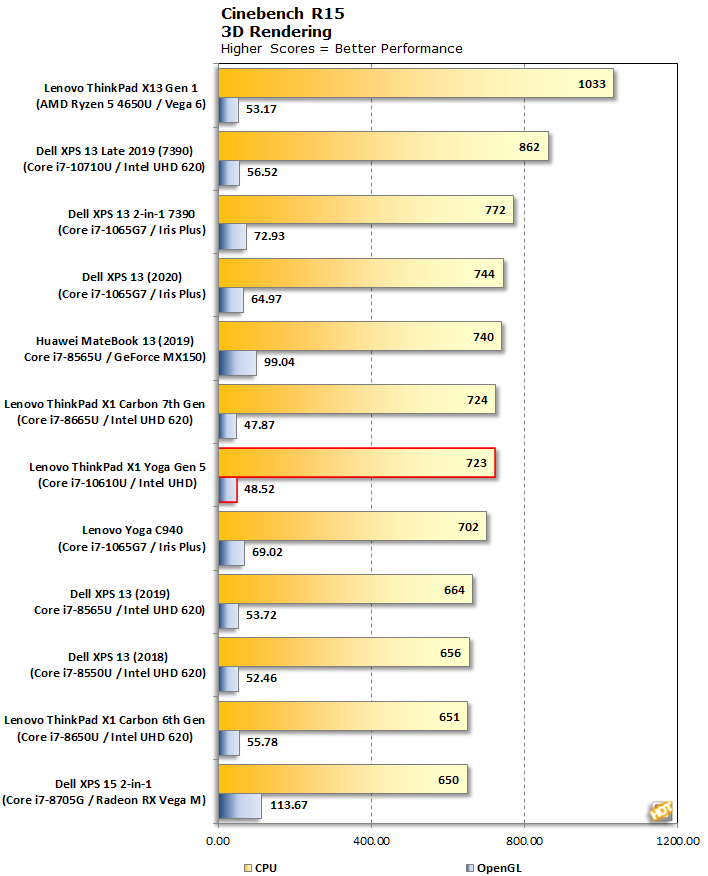 As expected based on the CPU's specifications, the ThinkPad X1 Yoga performs in the middle of the pack. It's right in line with the other systems with similar CPUs while trailing the 10-nm CPUs and of course AMD's Ryzen 5 PRO 4650 in the
ThinkPad X13
. There just aren't enough cores to take on AMD, but that's not really what this notebook is designed to do. Most users who rely on rendering applications of any stripe will likely want a beefier system with a bigger cooler and potentially a discrete GPU. The Yoga performed well, given the task at hand. OpenGL performance is also right about where we expected it.
The latest version of Maxon's rendering benchmark,
Cinebench R20
, takes longer to complete, so this is a better test of the machine's cooling system. This release also drops the OpenGL test, making Cinebench a pure CPU benchmark this time. We tested both single-threaded and multi-threaded performance here.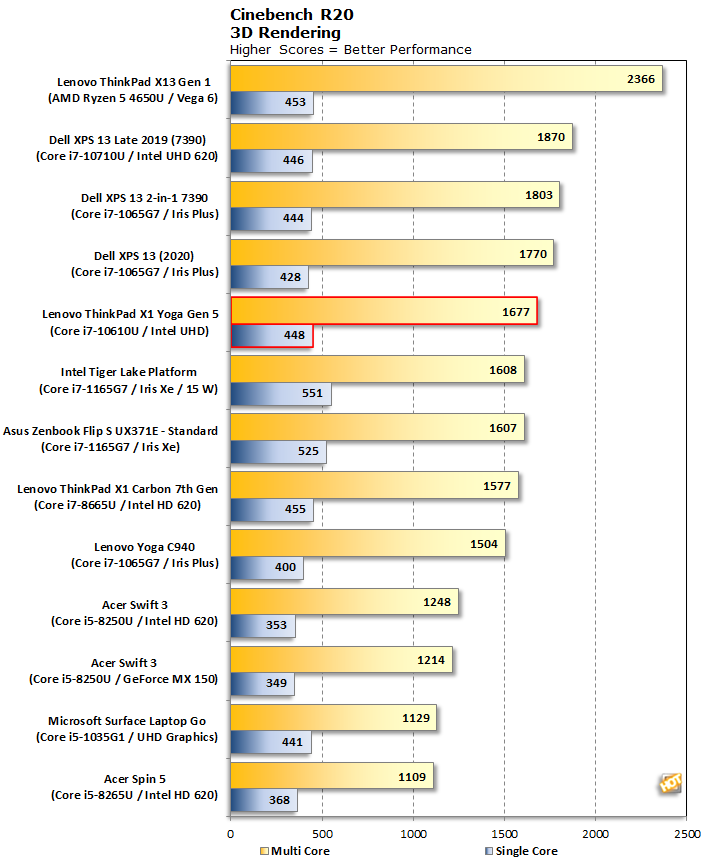 Interestingly, the ThinkPad X1 Yoga tied up with the Tiger Lake reference platform. This test takes longer to complete and stresses the cooling system a bit, so that's actually quite good news for the Lenovo. That Intel machine was built to handle different PL configurations up to 28 W, and the low-power 15 W Core i7 here kept up. Even the hexacore late 2019 XPS 13 with the Core i7-10710U only just barely wins.
Geekbench 5

Single and Multi-Core Performance
Geekbench
is a cross-platform benchmark that simulates real world processing workloads in image processing and particle physics scenarios. We tested the notebooks featured here in Geekbench's single and multi-core workloads.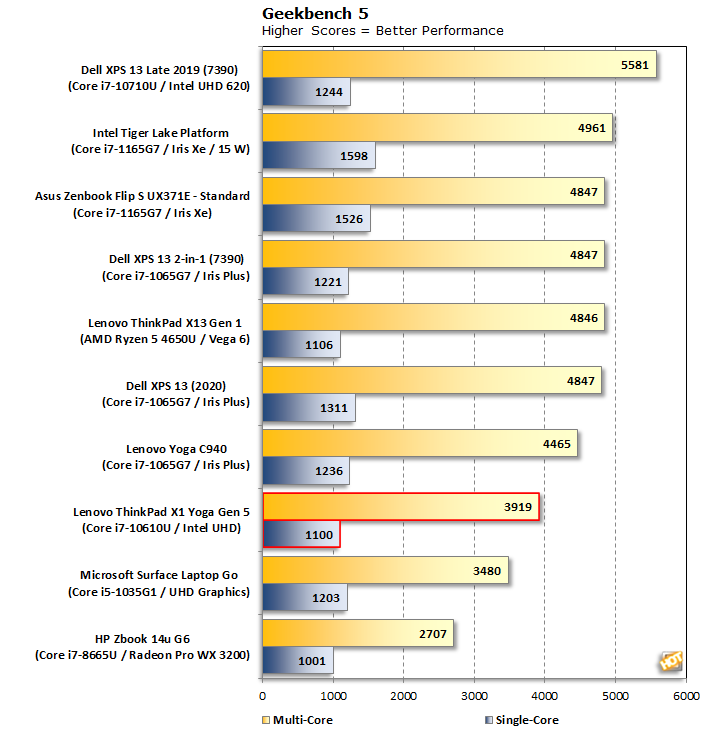 Since we got a later start on Geekbench 5, we don't have as many notebooks in our test, and only a single 14-nanometer Core i7. As a result, the ThinkPad is towards the bottom of the list. The good news is that it outran the
HP Zbook 14u G6
by a huge margin on the multi-threaded test. It's a bit behind the CPUs with newer architectures, though.
PCMark 10

Productivity and System-level Benchmarking
PCMark 10
uses a mix of real-world applications and simulated workloads to establish how well a given system performs productivity tasks, including image and video editing, web browsing, and OpenOffice document editing. While these scores appear to be all over the place, the systems are sorted by their overall PCMark score, which is the third (gray) bar in each cluster.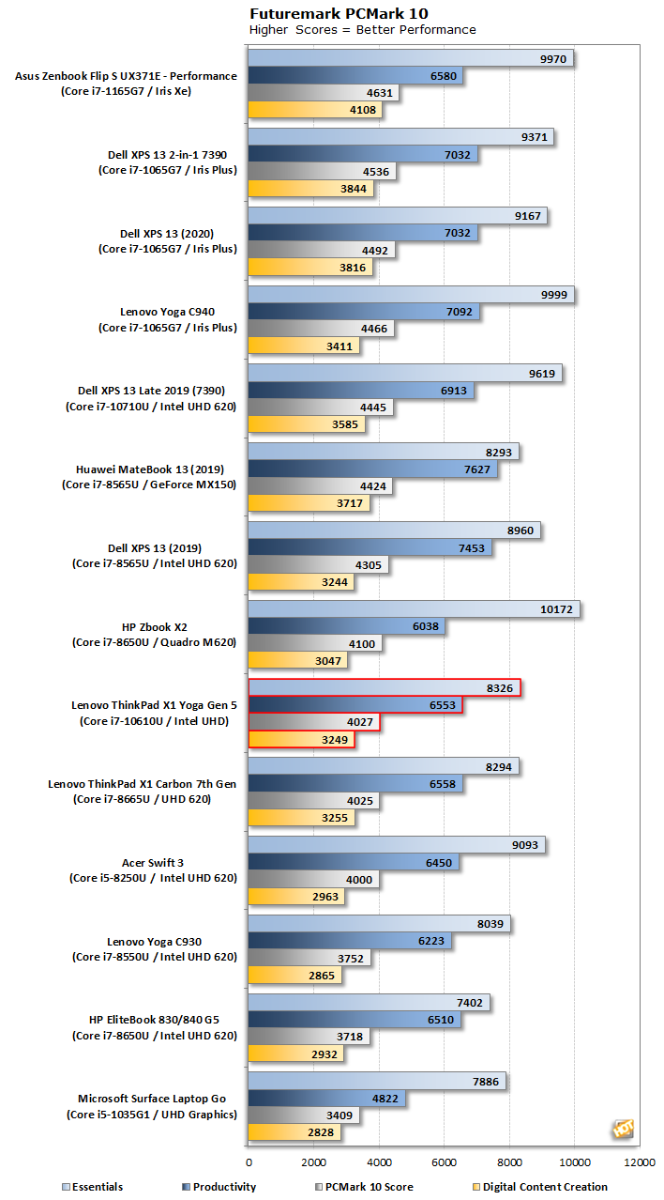 PCMark 10 most closely resembles the type of use case for a system like the ThinkPad X1 Yoga. These are business laptops mean to do office productivity tasks. Unfortunately, the Yoga trails a good number of its contemporaries, including Lenovo's own
Yoga C940 14
2-in-1, and essentially ties systems based on the previous-gen Core i7-8665U. Digital Content Creation is hurt by the older UHD Graphics integrated GPU, while the Essentials and Productivity tests suffer due to other systems having better lightly-threaded performance. We'd have really liked to see a Core i7-1065G7 in this system.
3DMark Benchmarks
3D Performance
3DMark
has several different graphics tests which focus on different types of systems. UL seems to have discontinued support for Cloud Gate, but fortunately there are a couple of tests remaining that run well on integrated graphics. First up is Sky Diver, which uses the DirectX 11 graphics API.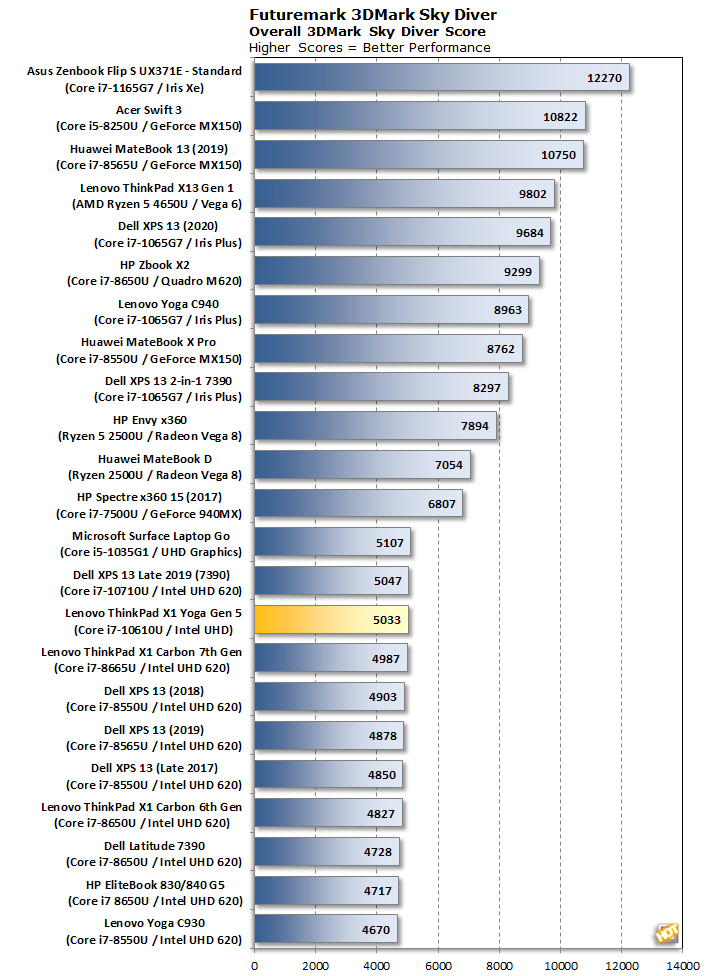 The Intel UHD graphics processor will hold this system back in every 3D test we perform. Intel didn't give it a model number, instead opting to call it "UHD Graphics for 10th Generation", but the integrated GPU here places it roughly in the ballpark of UHD 620 in the Core i7-8665U and similar. AMD's integrated GPU and Intel's own Iris Plus graphics are miles faster than the UHD on display here.
Next up is the DirectX 12 test for "basic" PCs, Night Raid.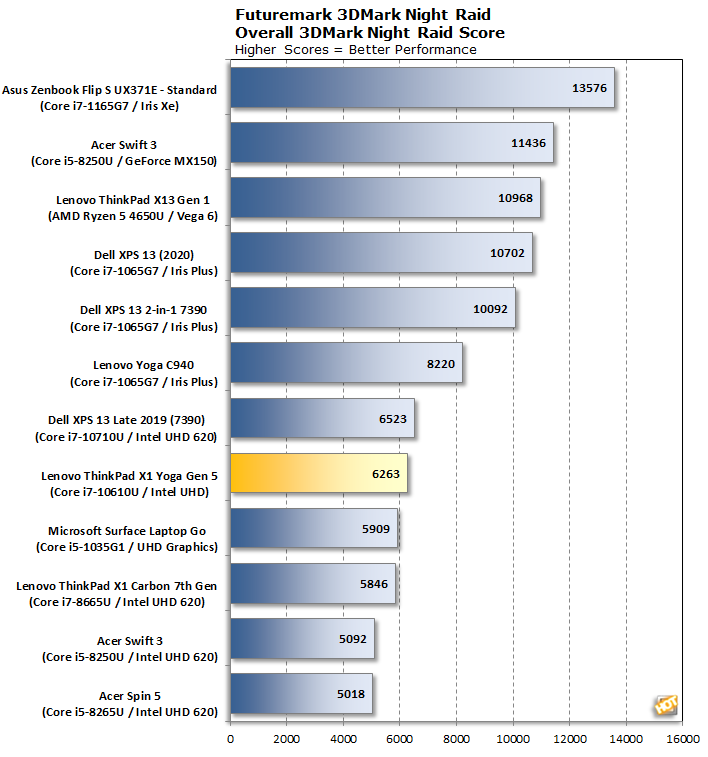 The Yoga also struggled a bit on Night Raid, but there's more separation here. This notebook is a hair faster than all of the 8th generation systems, but it trails the six-core XPS 13. The laptops with Iris Plus graphics are nearly a full 1/3 faster than this one. And then just like before, the Iris Plus systems are so much faster that they might as well be running a harder test.
GRID Autosport
Gaming Performance
GRID Autosport
is a cross-platform racing simulation developed by Codemasters. The developer wanted to make up for GRID 2, which released to mediocre reviews from critics and gamerse alike. Codemasters set out to improve
GRID Autosport
's handling and environment rendering to make it a true racing simulator. The third GRID game is built on Codemasters' EGO engine that boasts more realistic physics and damage systems to add a bit of danger and some extra realism to the racing. Codemasters also tuned its graphics engine to perform well over a wide variety of mainstream systems, which makes it a great test for systems with integrated graphics. Codemasters also promotes that
GRID Autosport
is "optimized for integrated Intel HD Graphics", which is certainly something. We tested at 1080p with the High image quality preset.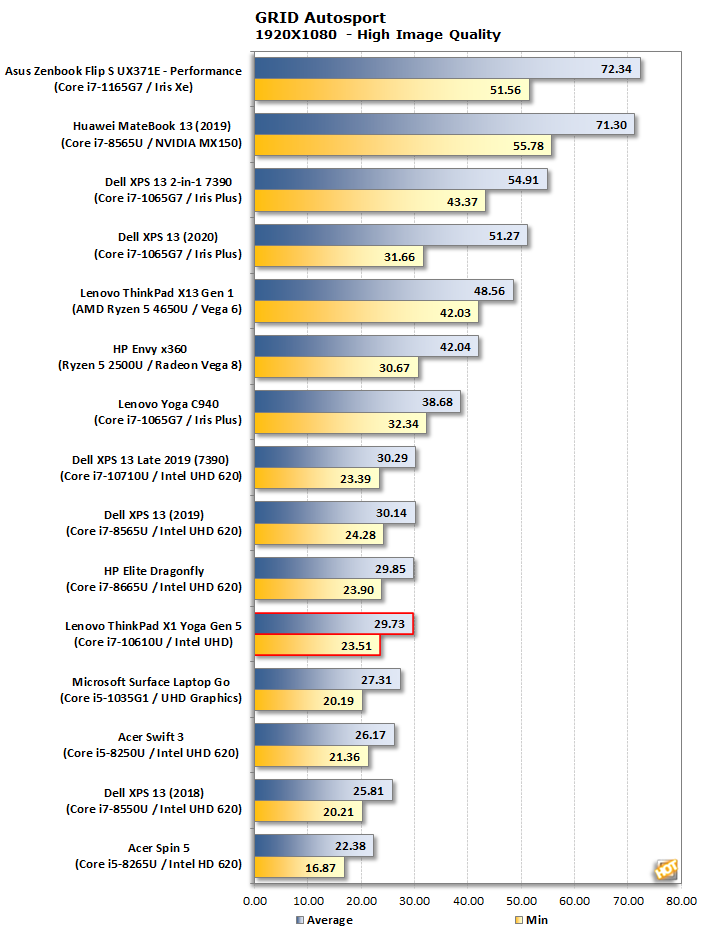 Just like with 3DMark, the UHD graphics performance isn't great. It's in the same ballpark as other UHD systems, but it's barely fast enough to play at our chosen 1080p High settings. Radeon integrated graphics and Iris Plus are pushing 50% more frames per second on average, and the minimum fps difference is even wider. Dial the settings back and you could play a few games on the road, though. We're not expecting gaming PC graphics performance here, but there are better integrated solutions on the market.
HotHardware Custom Video Loop

Battery Life Performance
We run a custom 1080p HD video loop test developed in-house, to prove out battery life with our test group of machines. In all tests, Windows 10 Quiet Hours has been enabled and the displays are calibrated with lux meters on pure white screens to as close to 115 lux as possible. For the average laptop this is somewhere between a 40-60 percent brightness setting. In the case of the ThinkPad X13, this required lowering the brightness to 18 on the slider in the Windows 10 sidebar.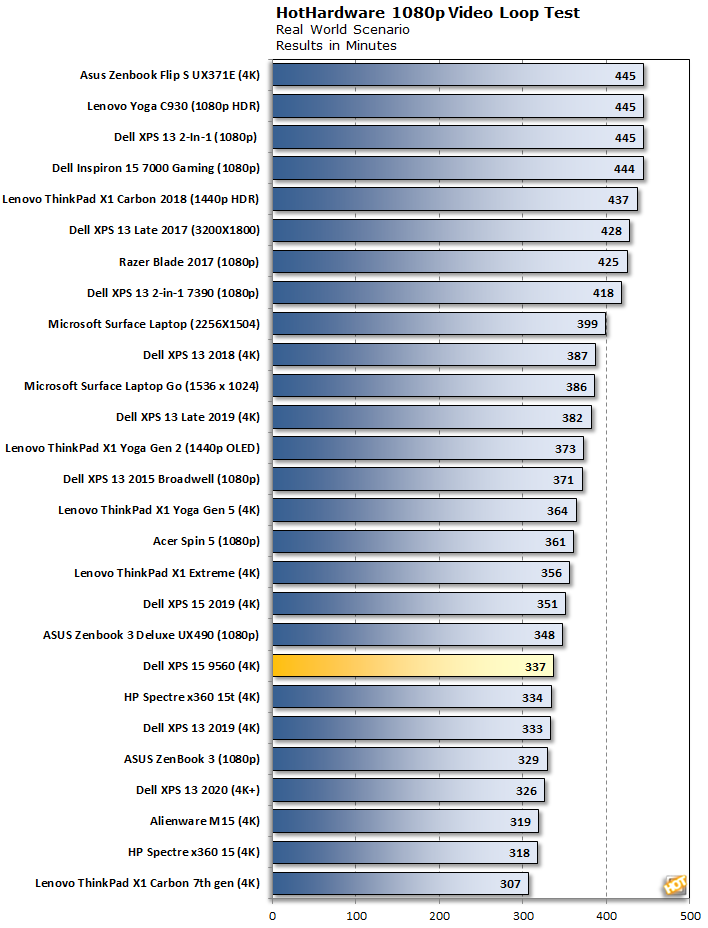 Measuring battery life has so many variables, but the most consistent one of them all is the screen resolution. High-density 4K panels just don't last as long as their 1080p siblings. That's true here, as the ThinkPad X1 Yoga gave out in just over six hours. That's towards the high end for 4K, but many others last much longer. The lesson here is that if you want the best battery life, you might be better off opting for a lower resolution screen. 1080p is still pretty sharp, although 4K is next-level crisp. As always it's a trade-off, and buyers should just make the decision based on what's most important to them.
Next up we'll take a look under the ThinkPad X1 Yoga's hood and check out cooling performance before we wrap it up with our final thoughts.
Related content