Lenovo Yoga C940 Review: A Great Ice Lake 2-In-1 Laptop
Lenovo Yoga C940: System and Application Performance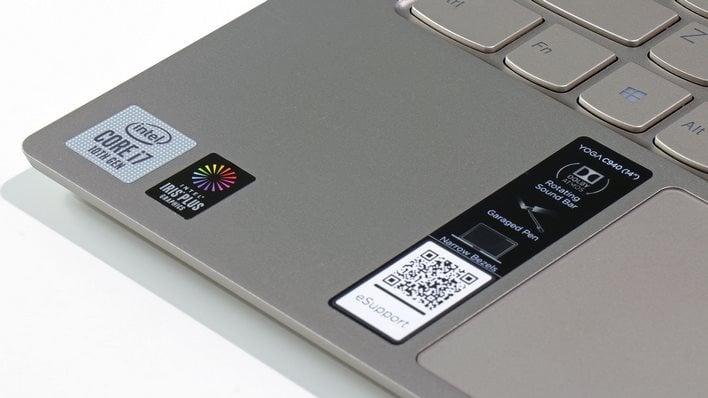 Intel's Ice Lake processors are starting to find their way into more and more systems, so the Yoga C940 has some direct competition today in the form of Dell's XPS 13 premium clamshell notebook and XPS 13 2-in-1 convertible laptop. And of course there's always the specter of AMD's
Ryzen 4000
series, which still isn't down into ultrabook territory yet, but the Asus Zephyrus G14 is roughly the same size as the Yoga, minus tablet mode.
ATTO Disk Benchmark
Peak Sequential Storage Throughput
The
ATTO disk benchmark
is a fairly quick and simple test which measures read/write bandwidth and IOPS across a range of different data sizes. While we don't typically compare these results across multiple machines, it's useful to gauge whether a particular notebook's storage subsystem can handle being put under pressure.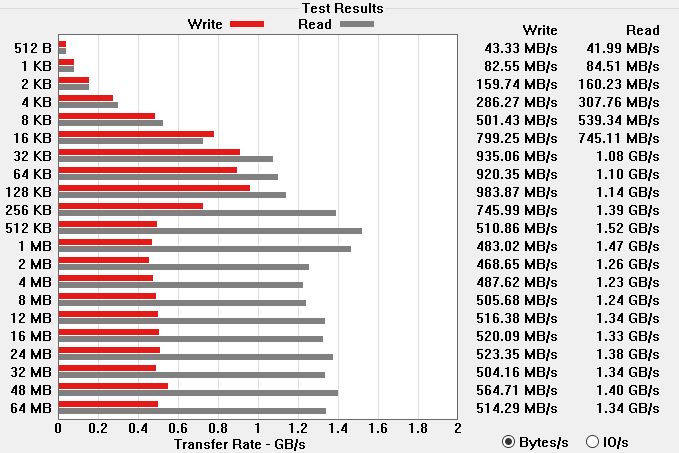 The Yoga C940 uses the same unusual combination of 32GB of Optane cache on a 500GB SSD. A little investigation in the Optane driver's control panel indicates that this drive is an
Intel Optane H10
SSD. The NAND portion of this drive uses Intel's own 3D QLC NAND, which explains in part the slower write performance. Once the Optane gets filled, write performance necessarily tails off. Incidentally, this is the same drive found in the HP Elite Dragonfly, and we saw similar performance on that system's SSD. Read speeds aren't much to write home about, either, but over 1 GB per second is usually plenty fast for most workloads.
Speedometer Web Application Benchmark
Browser Performance
We recently moved on to BrowserBench.org's
Speedometer
test, which takes a holistic look at web application performance. This test automatically loads and runs several sample webapps from ToDoMVC.com using the most popular web development frameworks around, including React, Angular, Ember.js, and even vanilla JavaScript. This test is a better example of how systems cope with real web applications, as opposed to a pure JavaScript compute test like JetStream. All tests were performed using the latest version of Chrome.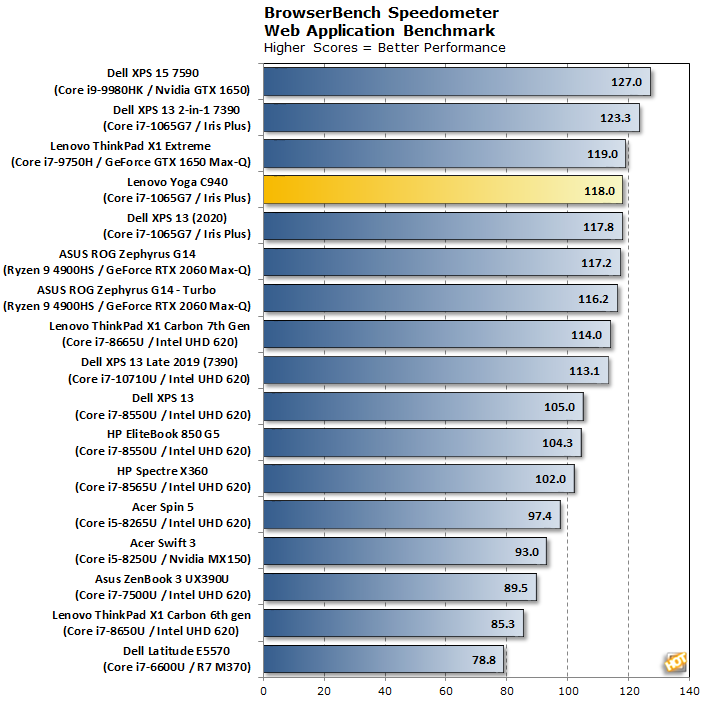 Our first CPU-bound performance test puts the Core i7-1065G7 on display. As you can see, the machine finishes near the top of the charts, but ultimately trails the similarly configured Dell system.
Cinebench R15 and R20

3D Rendering Performance
Cinebench R15 is a 3D rendering benchmark that tests both the CPU and GPU engines in the processor. Cinebench is developed by
Maxon
, which is better known for its Cinema 4D software employed in professional 3D rendering and animation studios. We use both of Cinebench's integrated tests for CPU and GPU.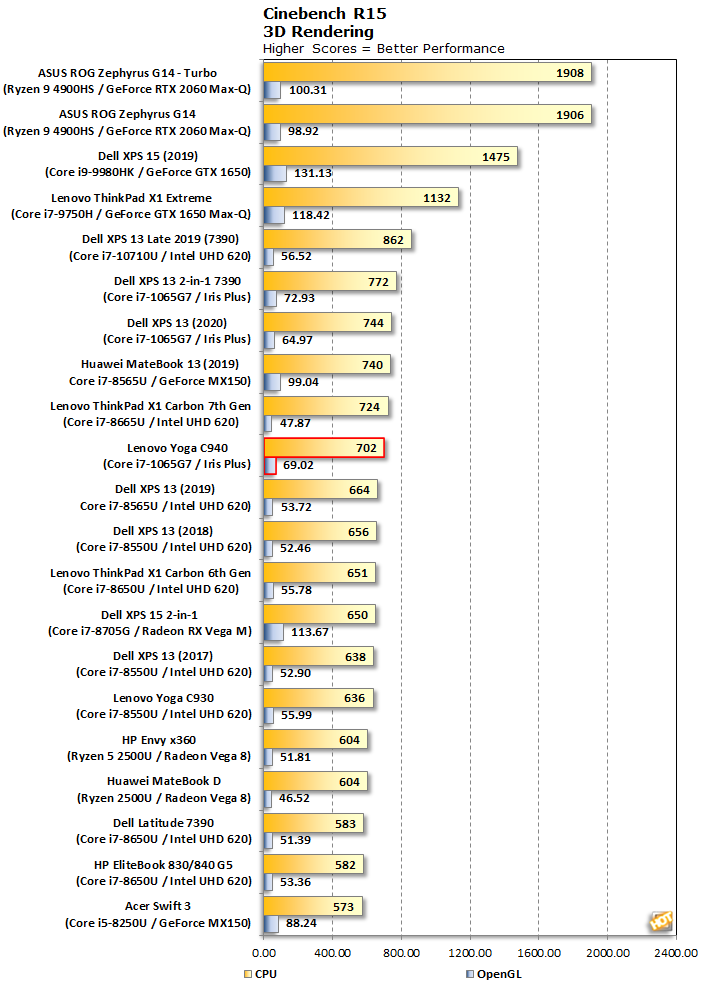 One interesting thing here is that the Yoga C940 trails both Dell systems by around 6% in the CPU test. This score of right around 700 persisted throughout multiple runs, so we don't think this is a fluke, but we don't want to make too much of it yet, either. We're going to keep an eye on this particular match-up throughout our suite of tests, so we'll see if a pattern starts to develop.

On the OpenGL side, Iris Plus is still pretty potent. Lenovo's tablet falls right in between the other two Ice Lake systems, and all three performed in roughly the same range. Iris Plus is a strong integrated GPU for the time being, for sure.
The latest version of Maxon's rendering benchmark,
Cinebench R20
, takes longer to complete, so this is a better test of the Yoga C940's cooling system. This release also drops the OpenGL test, making Cinebench a pure CPU benchmark this time. We tested both single-threaded and multi-threaded performance here.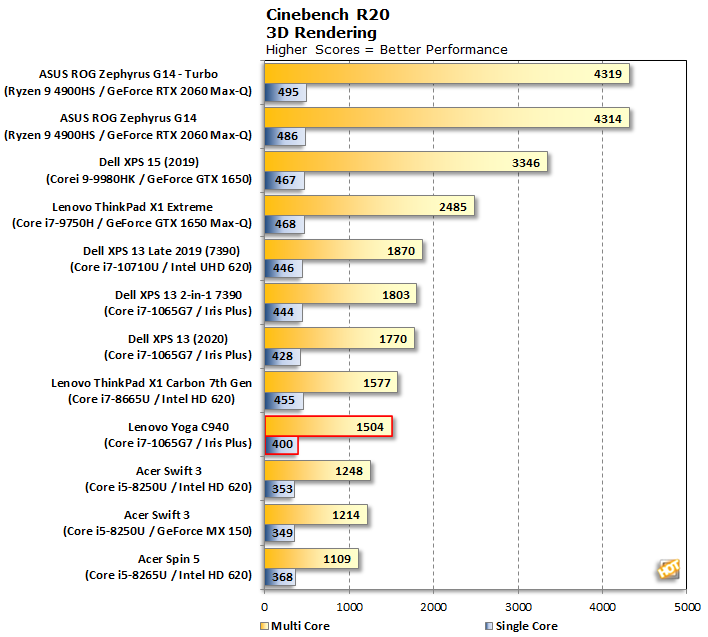 This time around, the C940 fell behind in the single-threaded test by around 10%, but in the multi-threaded tests the Dell systems have a 20% advantage over the Yoga. We'll investigate this in more depth later on, but the Yoga C940 seems to be tuned for quieter operation rather than all-out performance. On the other hand, the potent portable G14 absolutely stomped the entire range of competition.
Geekbench 5

Single and Multi-Core Performance
Geekbench
is a cross-platform benchmark that simulates real world processing workloads in image processing and particle physics scenarios. We tested the notebooks featured here in Geekbench's single and multi-core workloads. We've retired Geekbench 4 because version 5 performs many of the same tests, which have been updated with the latest CPU architectures and features in mind.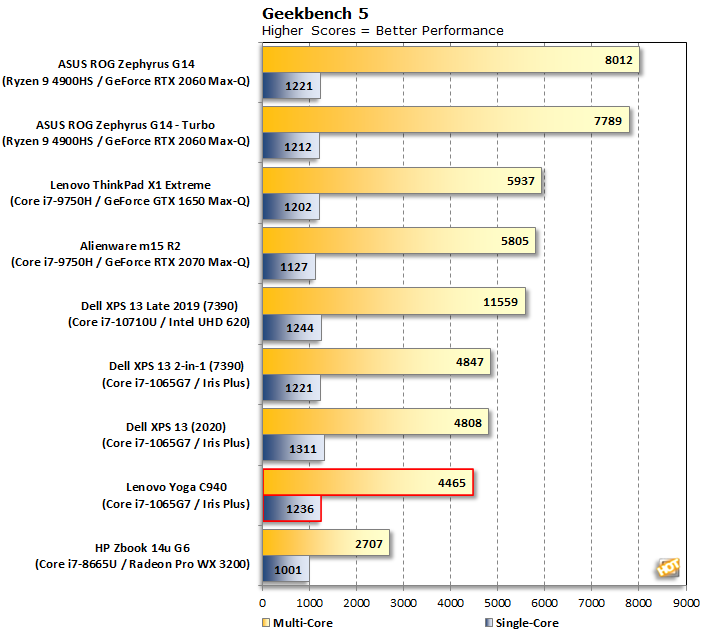 It was at this point in our testing that we thought maybe there was a configuration issue with the C940. Again it loses to the other Core i7-1065G7 systems by a considerable margin. However a quick check of the power settings showed that all three systems were configured identically, using the middle setting on the battery/performance slider, which Windows 10 helpfully calls "Better performance".
PCMark 10

Productivity and System-level Benchmarking
PCMark 10
uses a mix of real-world applications and simulated workloads to establish how well a given system performs productivity tasks, including image and video editing, web browsing, and OpenOffice document editing. While these scores appear to be all over the place, the systems are sorted by their overall PCMark score, which is the third (gray) bar in each cluster.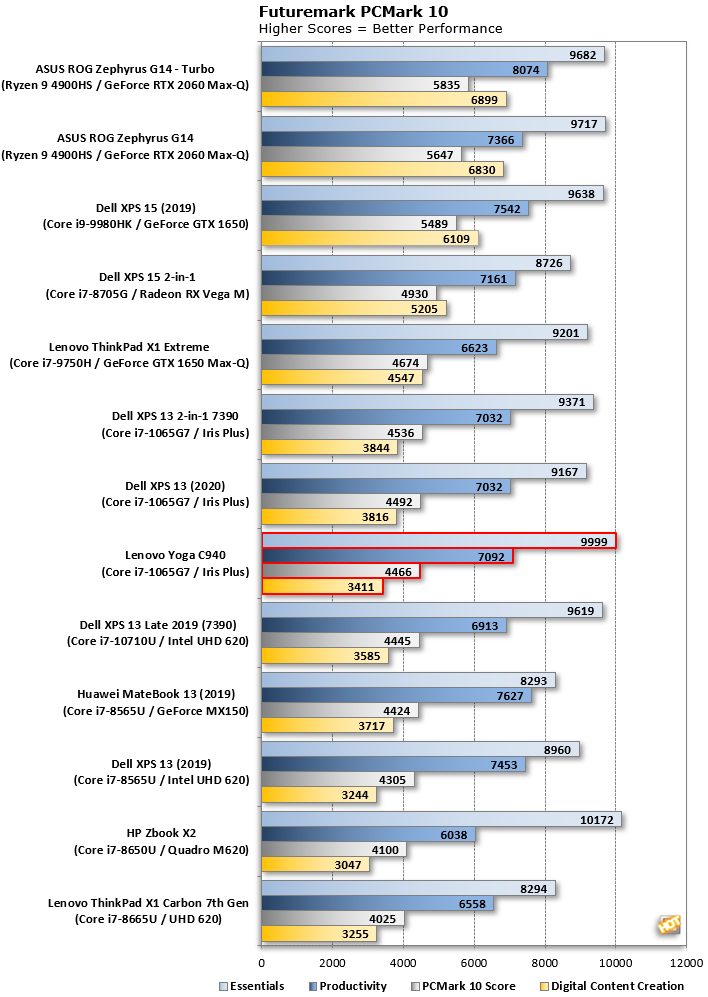 This time around, the Yoga C940 performs right in line with other Ice Lake systems. In fact, Lenovo's tablet put up the second-best Essentials score of the whole test field, bested by only an HP system with a dedicated graphics card. Once again, however, the G14 thumped all challengers.
3DMark Benchmarks
3D Performance
3DMark
has several different graphics tests which focus on different types of systems. UL seems to have discontinued support for Cloud Gate, but fortunately there are a couple of tests remaining that run well on integrated graphics. First up is Sky Diver, which uses the DirectX 11 graphics API.
Iris Plus
graphics lead the way for integrated graphics, but once again the Yoga C940 fell behind the other Ice Lake systems by around 10%. However, it's still a whole lot faster than the previous generation of Intel integrated graphics. Once a system has a discrete graphics solution, however, Iris Plus gets left behind.
Next up is the DirectX 12 test for "basic" PCs, Night Raid.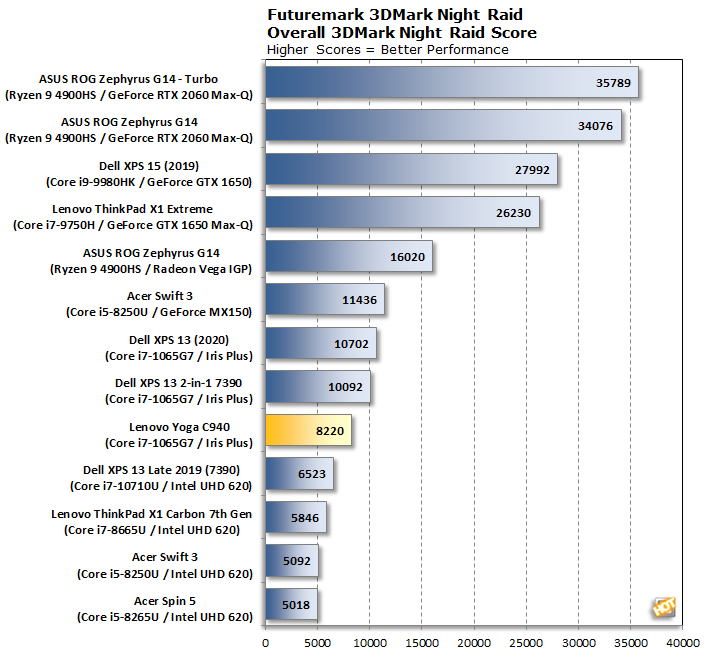 This test is a fair bit newer than Sky Diver, so we don't have quite as many results. However, there's enough here to draw the conclusion that Iris Plus is still twice as fast as UHD 620, and still within spitting distance of the MX150. But once again, the C940 is the slowest example of the Core i7-1065G7 here. We hate to keep pointing it out, but the numbers are what they are.
GRID Autosport
Gaming Performance
GRID Autosport
is a cross-platform racing simulation developed by Codemasters. The developer wanted to make up for GRID 2, which released to mediocre reviews from critics and gamerse alike. Codemasters set out to improve
GRID Autosport
's handling and environment rendering to make it a true racing simulator. The third GRID game is built on Codemasters' EGO engine that boasts more realistic physics and damage systems to add a bit of danger and some extra realism to the racing. Codemasters also tuned its graphics engine to perform well over a wide variety of mainstream systems, which makes it a great test for systems with integrated graphics. Codemasters also promotes that
GRID Autosport
is "optimized for integrated Intel HD Graphics", which is certainly something. We tested at 1080p with the High image quality preset.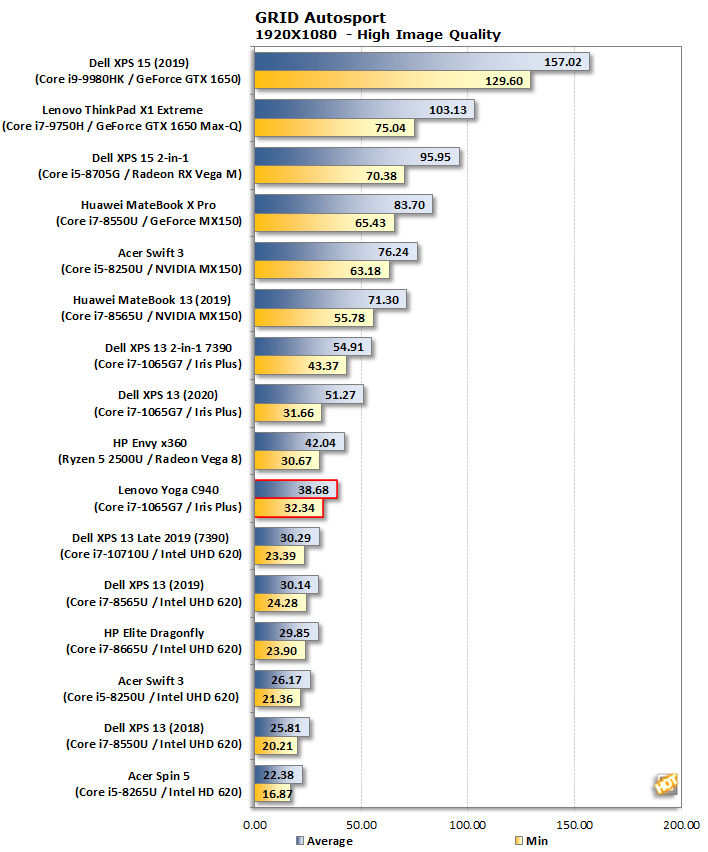 GRID Autosport
is pretty darn playable at 1920x1080 and high settings, with a low frame rate still above 30 fps. Unfortunately, the average frame rate isn't much faster, falling short of 40 fps. That's a performance deficit of around 25% compared to the XPS 13 twins. It's still much faster than
UHD 620
, but this pattern of falling behind its contemporaries is worth noting for users who need the most out of their portable computers.
Next up we'll take a look at thermal and acoustic performance. This system is a fair amount larger than the 13" notebooks on display. Does the
Yoga
C940 make the most of its extra space for cooling? Or could temperatures potentially explain our consistent performance shortfall? We'll find out next...
Related content
Comments