Lenovo Flex 5G Review: Incredible Battery Life With Caveats
Lenovo Flex 5G: Cellular Connectivity, Arm 64 Ecosystem And Performance
Verizon's mmWave (millimeter wave) 5G network promises some pretty ludicrous speeds, but with some notable drawbacks. Because of the signal's incredibly high frequency (in
Verizon
's case, between 27 GHz and 39 GHz) and resulting short wavelength, 5G signals just can't penetrate buildings and don't carry over a long range.
The only problem with Verizon's 5G is that it's nowhere near folks in Farm Country or even random suburbia, USA. On the other hand, our friend and yours,
HotHardware
Editor-in-Chief Dave Altavilla lives in the heart of
5G
territory in the Boston metro area. He took the Flex 5G for a spin at the home of World Champion New England Patriots, Gillette Stadium.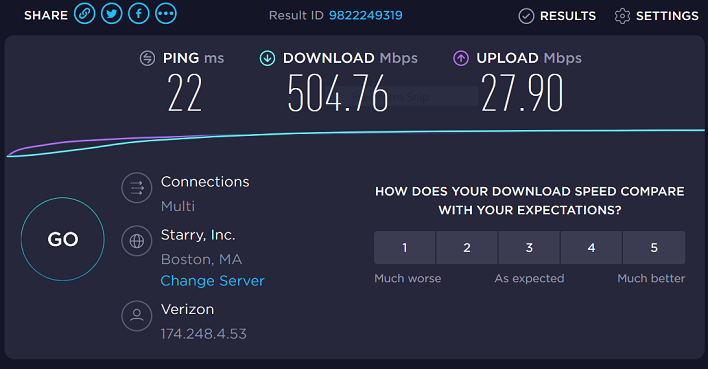 The Lenovo Flex 5G can pull the most out of Verizon's mmWave 5G network
Just like the Patriots, Verizon's network sped along like a champ. We averaged better than 500 megabits per second in download speeds and a perfectly adequate 20-30 megabits per second in uploads. Not only were the average speeds quite high, there was very little variance from run to run, or even during an instance of the Ookla SpeedTest.net bandwidth benchmark. As long as we're in range of a 5G signal, download speeds are faster than many home internet connections.
However, once I got my grubby mitts on the Flex 5G, we could test it with a boring old 4G LTE signal. The results were obviously lower, but still quite impressive for the technology. The
Lenovo
Flex 5G and my iPhone 11 Pro (also on Verizon) ran neck and neck on downloads, with both devices registering an average of around 70 megabits per second. The iPhone had better upload rates, by a tally of 10 mbps to 8 mbps. These scores seem to be pretty typical for available bandwidth in this neighborhood. Don't let the 5G branding scare you off if you're not in a 5G area, since the Flex 5G has no problems with 4G LTE signals, either.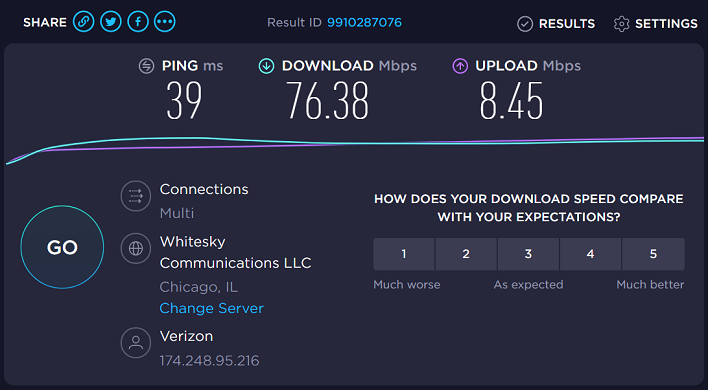 At home, we're not limited to cellular data speeds. The Flex 5G has a 2x2 antenna configuration attached to an 802.11ac Wi-Fi chip. This radio can handle 2.4 GHz and 5 GHz wireless networks. On our home fiber connection, which maxes out at 400 mbps download and 100 mbps upload, the Flex 5G performed quite well. The router is an older TP-Link Archer C7 running the latest stable release of
DD-WRT custom firmware
. On the 5 GHz network around 2 meters (6.5 feet) from the router, the Flex 5G averaged 120 mbps downloads and could saturate the 100 mbps upload. With a newer or nicer router, it might achieve better results, but this is plenty for streaming and working alike.
Windows On Arm App Ecosystem
There hasn't been the tectonic shift in the Windows on Arm app ecosystem since we reviewed the
Galaxy Book S
. Adobe still hasn't produced the Arm version of the Creative Cloud suite, and Google is still dragging its feet on getting an Arm-native version of Chrome out the door. However, the Arm based version of Edge is production-ready and a really solid browser.
That said, we wanted to revisit a couple of browser-based benchmarks. The
Chromium-based Edge browser
has certainly had an opportunity to mature, and to give Arm-based PCs a fair shake it's only logical that we would re-run BrowserBench.org's Speedometer and Jetstream tests. On the Microsoft SQ1 running the Edge Developer branch back in January, we got some baseline performance.
BrowserBench.org Web Application Tests

Web Application Performance
BrowserBench.org's
Speedometer 2.0
focuses on how quickly it can create and complete a To-do list in a bunch of different JavaScript frameworks from Angular to Vue to React and more. As a result, this test is more about how quickly a system can create the document object model (DOM) and fill it with objects and views, and less on JavaScript performance. This test is all about rendering web pages quickly.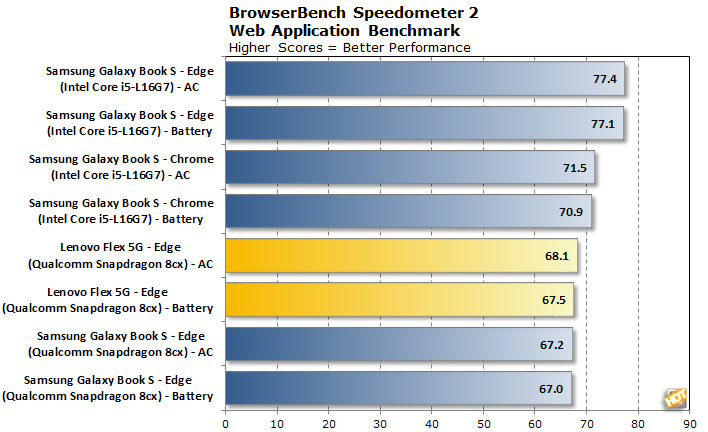 The Lenovo Flex 5G performs roughly on par with the Snapdragon 8cx version of the Galaxy Book S but takes the slightest of leads both on power and off. Better yet, the system performs just as well either way, so there's no need to sacrifice performance just because the Flex 5G is away from wall power. Edge is still the only Arm-native browser on Windows 10, but as we saw with the Galaxy Book S, it's not a big deal to miss out on Chrome.
Next up is
JetStream 2
, a pure JavaScript and WebAssembly compute benchmark. It runs a battery of tests to do things like audio and image manipulation, TypeScript compilation performance (usually performed by Node.js which itself uses JavaScript), and startup performance. This test doesn't measure anything in the UI, making it a great companion to the front-end focused Speedometer.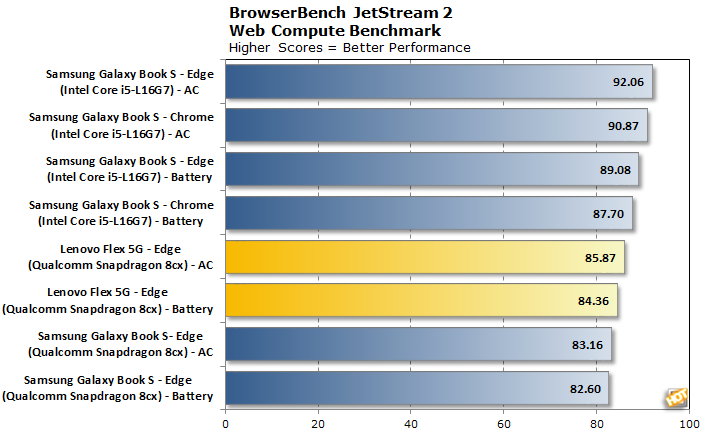 Once again the Flex 5G enjoys the slimmest of leads over its Galaxy Book S counterpart. It's not quite enough to catch the Intel platform here, but still solid performance for the super-thin, low-power sector. If this continues to be a pattern, we'll have to consider whether the cooling system in the Galaxy Book S is sufficient for
either
platform, since the Flex 5G is a bit heavier. Regardless, performance for the Lenovo is solid.
Geekbench 5

Synthetic Compute Performance
Geekbench 5
needs no introduction. This benchmark runs its own battery of synthetic compute tests on both a single thread and all available hardware threads, and reports separate scores for each scenario. We've sorted our results by multi-threaded performance, but the single-threaded performance is also important for lightly-threaded loads.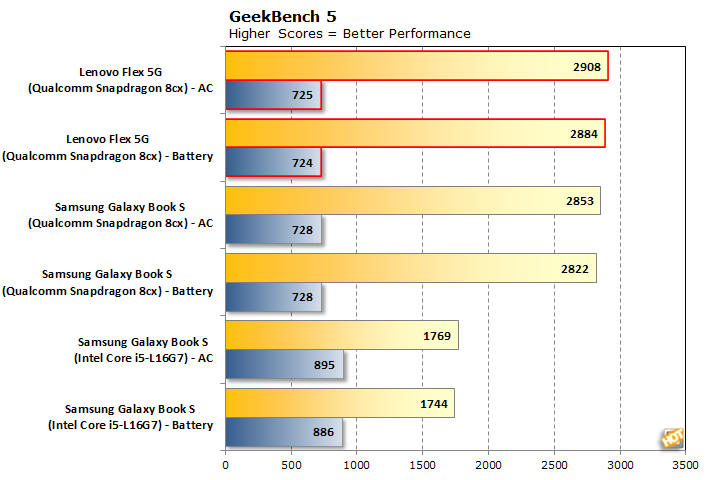 The Qualcomm platform was already out-performing Intel in the multi-threaded tests. The Flex 5G isn't a whole lot faster than the Galaxy Book S in that regard, but there's further improvement. On the single-threaded test, however, nobody has yet held a candle to Intel.
UL PCMark

Real-World Office App Performance
Normally we would run the standard PCMark test suite, but the only version of PCMark that runs on the Arm platform is the Applications Suite. This is still a very worthwhile benchmark, as it tests the performance of Microsoft Office apps and Edge across a wide variety of scenarios. The standard PCMark suite relies on Libre Office, so it's nice that this time around that we're looking at performance of the genuine article (
Microsoft Office
) and the most popular suite of mainstream productivity apps on the market currently.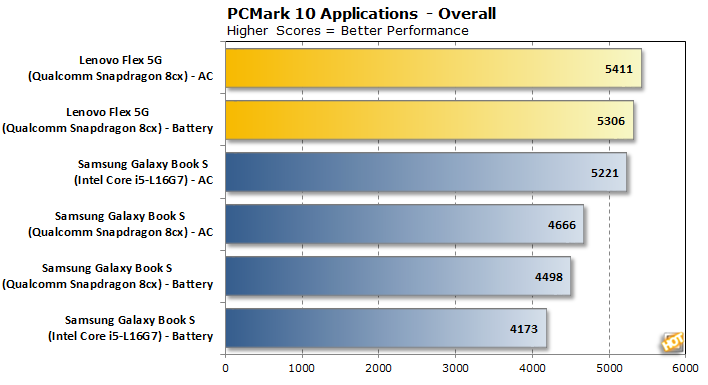 There's a huge shift on the Arm front in these scores. The Lenovo Flex 5G upended the Snapdragon version of the Galaxy Book S by around 22% both on the battery and off, which was good enough to win out in these tests. Its edge over the Intel version is slim while using AC power, but that lead is an enormous 30% away from the wall. So what's going on here? Was the Arm version better in all of the subtests, or was one a big difference maker? Let's take a look.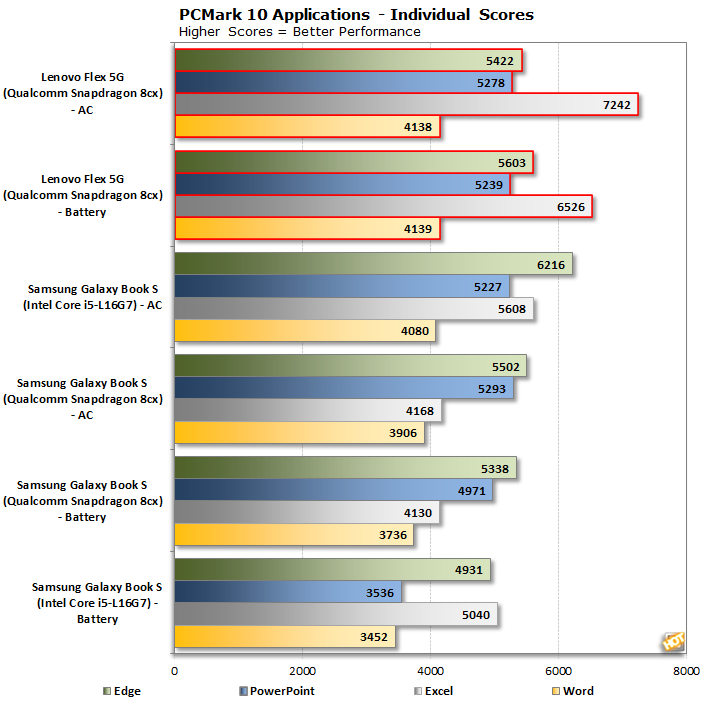 Excel was the Arm version of the Galaxy Book S's Achilles' heel, so to speak, but the Flex 5G turned that into a strength. Astute commenters in our last review pointed out that it could be the cooling solution that caused the Intel version to fall off a cliff, but that also might be true for the Snapdragon one as well. Excel didn't just perform better on the Flex 5G, it added a full 50% performance boost. The other apps didn't see nearly that kind of improvement.
3DMark Sky Diver

DirectX 11 3D Performance
We'll start our 3D tests with Ye Olde Standby,
3DMark Sky Diver
. This test uses the most common graphics API over the last few years, Direct X 11, to generate some 3D scenery, and also simulate physics on as many CPU cores as the processor can muster. Since these two CPUs both have four energy-efficient processor cores, this very likely comes down to how well Intel's big core can handle the Snapdragon's four high-performance cores. Officially, this test does not support Arm CPUs, but using the 3DMark command line utility, we could make it run anyway.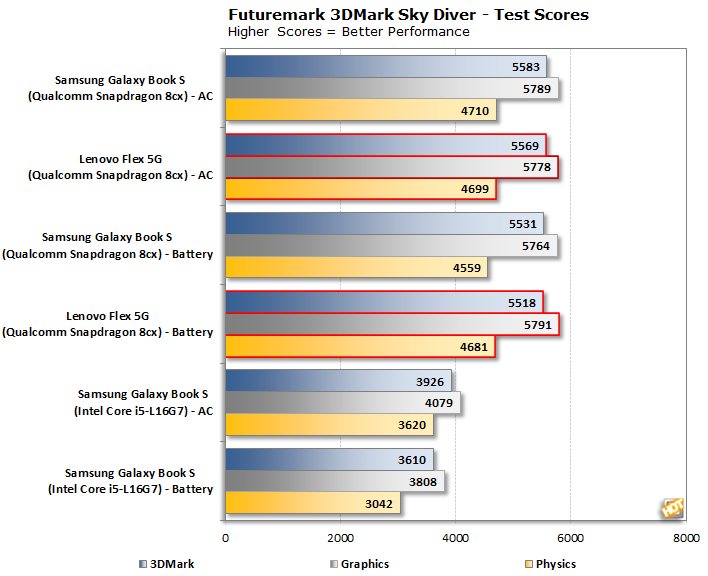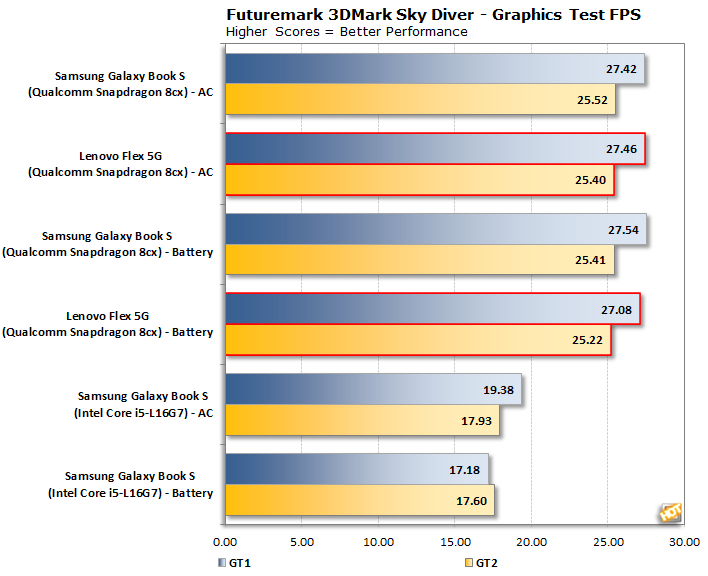 In Sky Diver, the Flex 5G runs about as well as the Samsung Snapdragon notebook. If cooling plays a part in Excel's score in PCMark, why hasn't the Flex 5G separated itself here? There must be something else going on in that test. 3DMark takes a good while to run, so the system should definitely be stressing the cooling system. At any rate, Sky Diver runs about as expected here, and a far sight better than the
Core i5-L16G7
. The graphics tests both hit the standard set previously by the Arm Galaxy Book S. There's nothing terribly unexpected here, so let's move on.
3DMark Night Raid

DirectX 12 3D Performance
Night Raid is the lightweight
3DMark
DirectX 12 benchmark for casual gaming on thin and light mobile platforms. It's a perfect candidate for these two low-power processors since DirectX 12 gets us closer to the "bare metal", so to speak, so it's all about what the hardware can do.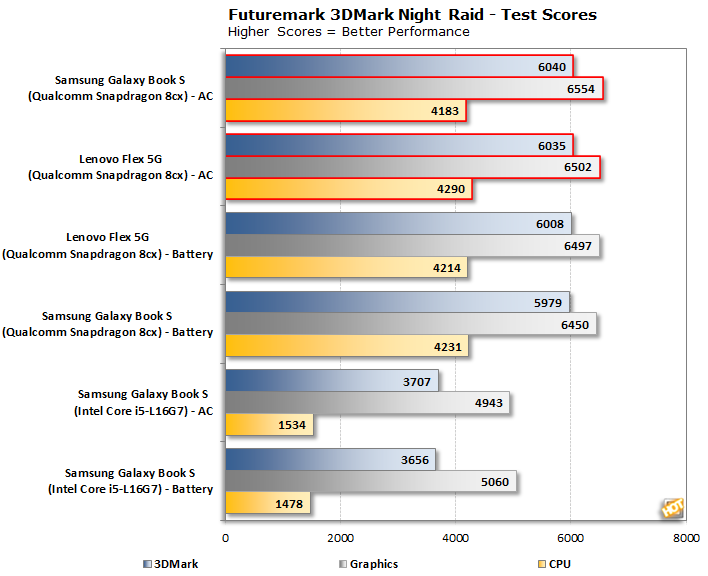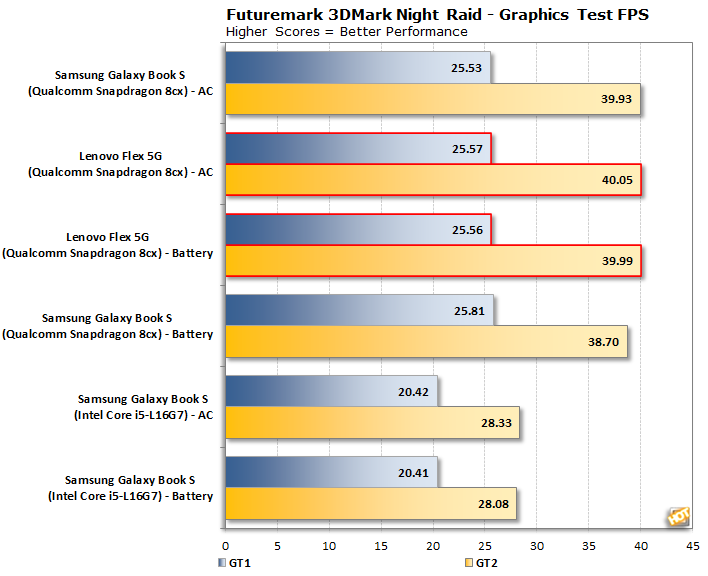 Much like Sky Diver, the Flex 5G performs about as expected on the
DirectX 12
Night Raid. This time it takes a slim victory from the Galaxy Book S and passes the 40 fps mark, a first for an Arm system we've tested in this benchmark. All of the scores for the different Snapdragon configurations land within a margin of error, so it's hard to say that one is significantly faster than the other.
HotHardware 1080p Video Playback

Battery Longevity Testing
The big draw to the always-on, always-connected Arm 64-based PC is its power consumption and the resulting battery life. In the
Surface Pro X
, we found that battery life could be much better than any x86-based PC we've tested even though the battery was much smaller than those Intel systems. The Samsung Galaxy Book S took that to a whole new level by putting itself on a level playing field, and under the right circumstances the battery could last more than 24 consecutive hours.
As with all of our systems, we calibrated the display to as close to 110 lux as we could possibly get it. On the
Flex 5G
that was actually 120 lux. 39% on the brightness slider was 120, where 38% dropped all the way to 102. The backlight isn't quite as finely-grained as we'd like, but that's true on the majority of laptops. As with our other Arm-based systems, we used the Arm beta of VLC and our custom playback video, which was rendered at 1080p at a bitrate of 10 megabits per second. Windows 10's Focus Assist made sure playback wasn't interrupted, and the system was set to never power down or put the display to sleep.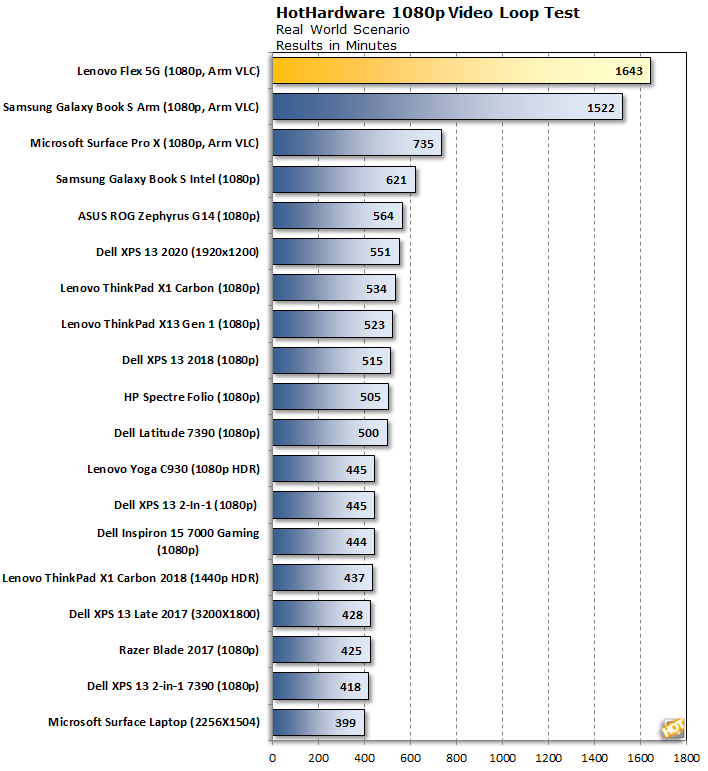 The
Lenovo
Flex 5G has a larger-than-average 60 Wh battery to go with its somewhat bigger display, so how long could it last? The answer is
a long time
. Like the Galaxy Book S before it, we set a new record of 1,623 minutes. If you're playing along at home, this is 27 hours and three minutes of video playback. That's about two hours longer than the Samsung notebook, and around three times as long as any x86 system on the chart. In practice, this system can deliver a solid and huge two full days of battery life.

In our Galaxy Book S shootout, we tested with battery life using Windows Media Player on a loop. This eliminated the one minute pause between runs, working the system a bit harder, and resulting in shorter runtimes. Because of that increased stress, we went from 27 hours to a mere 23 hours and 20 minutes. Any way you slice it, the Flex 5G runs an insanely long time away from the charger.
Speaking of the charger, it only took 110 minutes on the included 45W charger to replenish the battery from dead empty to 100% once more. A mere 30 minutes was all it took to get back to 50% battery, which means even a short layover in an airport will put back enough juice to be worth pulling out the charger. From a power efficiency standpoint, the Lenovo Flex 5G is pretty incredible.
Next up, we've finally gotten our hands on an
Arm
system that we can open up so we'll take a gander at the internals, and then discuss what we've learned today.
Related content
Comments