Lenovo Flex 5G Review: Incredible Battery Life With Caveats
Lenovo Flex 5G: Teardown, Power Efficiency, And Review Conclusions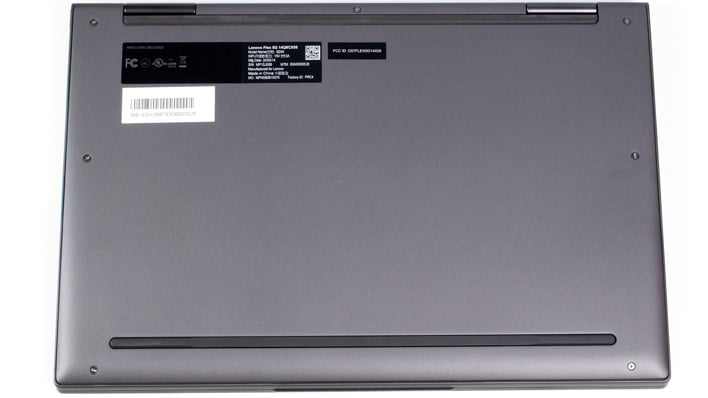 All of the previous Snapdragon-powered Windows PCs we've had through our offices have been completely sealed, preventing us from getting a good look at the cooling system and other components inside them. On the other hand, the Lenovo
Flex 5G
has an easily accessible design. While all of the major components are soldered down, the ability to at least swap out the battery should the stock one go bad makes this system more repairable and serviceable than others we've tested.
To get into the
Lenovo
Flex 5G, we just shut it down, turn it over, and remove a total of seven Torx T5 screws from the bottom of the body. Once we set those aside, some gentle prying on the bottom panel causes it to separate from the frame and grant us access. As you might expect, the motherboard is quite tiny, and the inside of the system is dominated by that generous 60 Wh battery.
The cooling system is pretty robust for a low-power
Snapdragon
chip. There's a single plate that stretches the entire width of the system to dissipate heat but there isn't a fan in sight. Unfortunately, we can't really get a good look at the cooler, because it has a black sheet of insulation glued to the top. That's okay, though, because we think this should be plenty to keep the chip cool.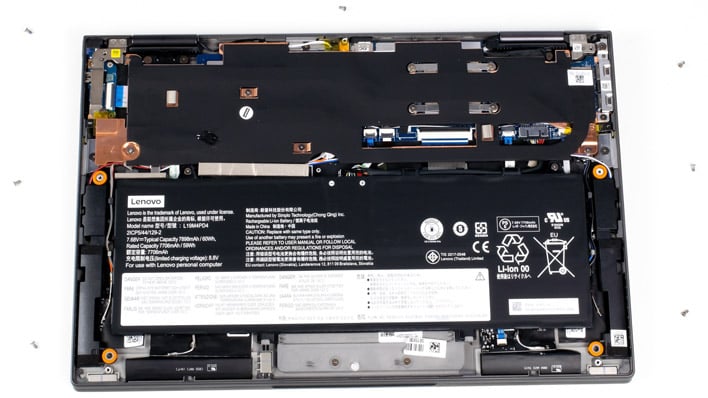 Just a handful of screws and disconnecting a plug is all it takes to remove the battery. As a result, users should be able to replace it with a fresh one once the system starts to age and if capacity depletes overtime. To the sides we see the top-firing
Dolby Atmos
speakers, and at the bottom, along the front edge, are the two bottom-firing units used in tablet mode.
Reassembling the Lenovo Flex 5G is simple enough. Just snap the lid back on and re-insert the screws, and you're good to go. It was a little tricky to get all of the tabs to snap back into place on our review unit. We just had to have a little patience and squeeze the edge above each clip to get it to go back together.
Lenovo Flex 5G Power Efficiency
We've said it a few times in this review, but in case you hadn't heard: the
Snapdragon 8cx
is a pretty power-efficient SoC that just sips juice. How else would you get 27 hours of video playback? Well, it's time to find out just
how
efficient that processor is. That's what our handy Kill-A-Watt is for.
Unfortunately there's no way to accurately measure the power draw of just the Qualcomm SoC itself without specialized equipment and soldering leads to the motherboard, so we're stuck looking at total system power. And even then, we have to look at it through the lens of the included charger's efficiency at a given load. That means whatever we get for a result, that includes not only the storage, display backlight, and other components, but it's compounded by the fact that no power supply is 100% power efficient. However, we know that it's not charging the battery because it's already up to 100%, so we have that going for us, and system power draw is a relative metric anyway...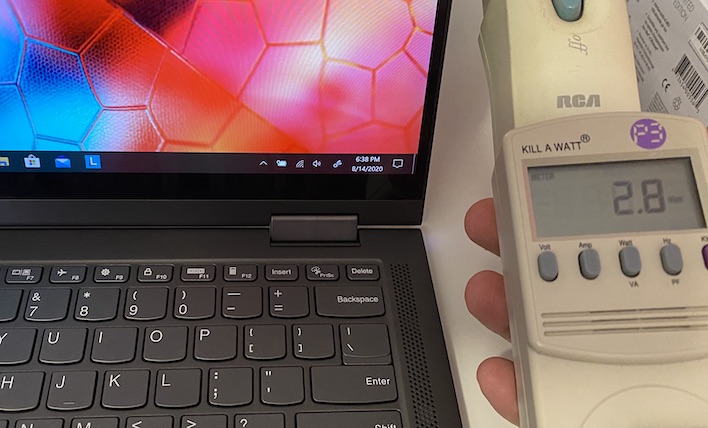 At idle, the Lenovo Flex 5G and its Snapdragon 8cx flat-out sip power
We measured power consumption the same way we measured battery life: with the display set to as close to 115 lux as possible, but this time with the charger plugged in. Sitting at idle, we measured 2.9 Watts. That includes the display, the system running Windows 10 at the desktop, and whatever power is lost by AC conversion. The
Snapdragon 8cx version of the Galaxy Book S
performed about the same in this regard. On the other hand, the Intel model consumed a bit more, at 4 W, which helps explain why that system did relatively poorly in our battery life test.
Then we measured power consumption at the wall during a
7-Zip
benchmark run, which lets us set the number of threads manually. When 7-Zip stressed a single hardware thread, the system consumed a high of 5.9 W of power. All of that extra was going to the SoC on a single thread, but it's just three W of extra power. Once we let 7-Zip keep all of the cores busy, that power consumption hit 11 Watts. Again, these matched up with the Snapdragon 8cx Galaxy Book S. The Intel system fell even harder this time around, consuming 8 W with one thread and around 12.5 W in the multi-threaded test.
We can also estimate approximate power consumption thanks to the battery's capacity rating of 60 Wh. It lasted 27 hours on a single charge, which works out to around 2.22 Watt-hours of energy per hour, or 2.2 W of actual consumption for the duration of the test. This is lower than what we saw coming from the wall wart, but we already know that no power supply is 100% efficient, so appears to be a reasonable calculation. Overall, the Snapdragon is a much more efficient platform than our Lakefield notebook, and the Lenovo Flex 5G is another great example of it.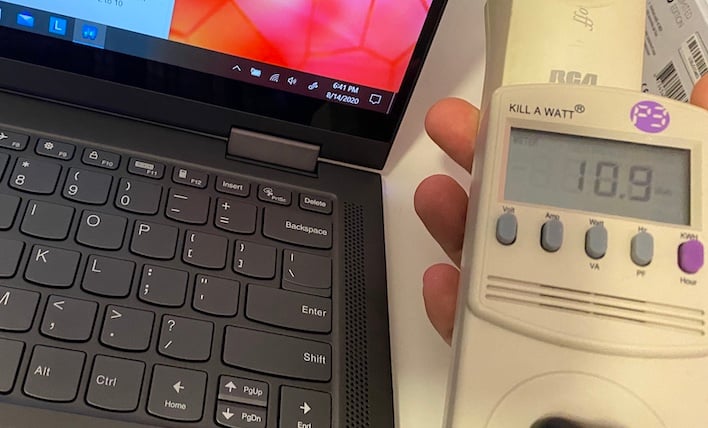 Even under a full load, the Flex 5G is far from thirsty
Unfortunately, none of the temperature monitor software we rely on can tell us anything about how warm the Snapdragon 8cx gets. That means it's time to bust out the trusty infrared thermometer again. This time the test was a little more casual than the Snapdragon system, mostly because we forgot it was running. We'd started up the 7-zip benchmark, which fully stresses all eight cores in the Snapdragon 8cx, and then went to get a glass of water. Somewhere between the office and the kitchen, we got distracted. Anyway, by the time we came back to measure the temperature, 7-zip's benchmark had been running for about two hours, which is far longer than it ran on either Galaxy Book S in our previous review.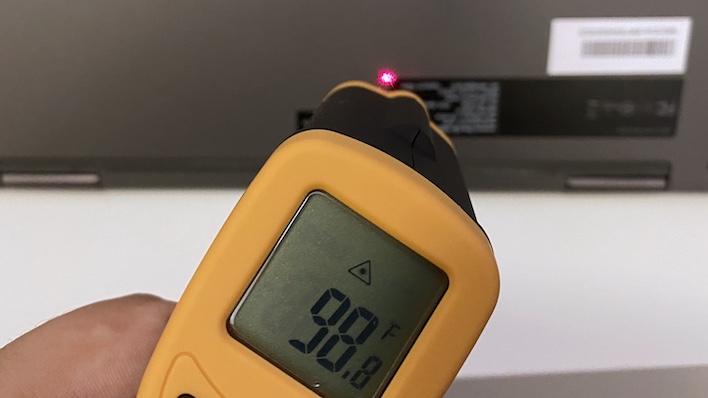 Our office was still a lovely 74 degrees Fahrenheit. Two hours of furious compression and decompression benchmarks later, the Flex 5G still hadn't hit a surface temperature of 100 degrees on the top or its bottom. The hottest point we could find on the Flex 5G measured 98.8 degrees F, which is a bit warm to the touch, but not at all uncomfortable and much nicer than the 108 degrees measured by the Intel version of the Galaxy Book S. On top it was even cooler, ringing in at 97.1 degrees F.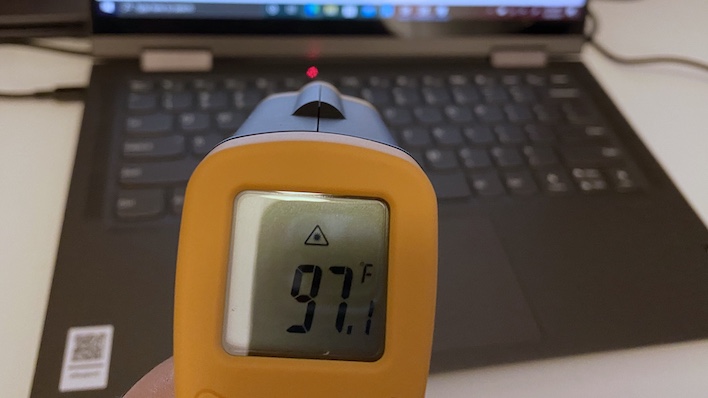 Lenovo Flex 5G Review Conclusions
Arm-based PCs have a sales pitch that's easy to sum up: killer battery life and good enough performance for mainstream productivity and consumption tasks. The Flex 5G certainly has both of those covered, as long as you're using an app that's built natively for Arm 64 processors. Geekbench 5 is a native Arm app, and that showed there is quite a bit of heretofore untapped performance for CPUs that draw less than 10 Watts of power. At the same time, our web-based benchmarks and general application testing showed that this machine is plenty fast enough to be productive. Combine that with more than a full day of battery life, and there's a potent lower power combo here. Add in the revelation that competing Lakefield designs just can't keep up on either performance or battery life, and the Lenovo Flex 5G's value proposition looks even better.
Network connectivity for an always-connected PC is a deal-breaker if it doesn't work well. Thankfully, the Flex
5G
lived up to its name, pulling down half a gigabit per second over the airwaves in a Verizon mmWave 5G location. If your city isn't on the bleeding edge of cellular connectivity like mine, the 4G LTE performance is about as good as it can possibly be. And when it's time to save some of that data plan for later, there's plenty of speedy Wi-Fi on board, as well. We only wish Verizon would drive its 5G roll out a bit more vigorously, so a solid 5G connection wasn't as scarce as hen's teeth.
Putting aside the performance, the Flex 5G is also a very handsome notebook. It's got a nicely-proportioned 14" 1080p IPS touch and Windows Ink display that's plenty bright enough indoors and has accurate colors and wide viewing angles. A laptop with a crummy display just isn't worth the cost savings, so Lenovo chose well here. This system's aluminum and magnesium alloy body feels great in the hand as well, and the keyboard is leaps and bounds above what we've seen from other Arm-based PCs. It's a bit heavier than the other Snapdragon systems we've tested, putting its size on par with many x86-based laptops, so a weight advantage isn't on the table, though the Flex 5G still squeaks in under 3 pounds. Part of that equation is its bigger footprint, though, and we do appreciate a slightly bigger display.
The problem, however, is pricing. There's a 5G tax to pay here, and it is steep. As we discussed earlier,
other members of the Flex 5 family
without the 5G modem are several hundred dollars less. Remember the AMD Ryzen 5 4500U-based version only retails for just over $800, and that system has the same 8 GB of memory and 256 GB SSD on board. Presumably battery life isn't nearly as long as what's on offer here, but $600 and absolute performance is a lot to pay for cellular connectivity and super long battery life if you don't absolutely need it.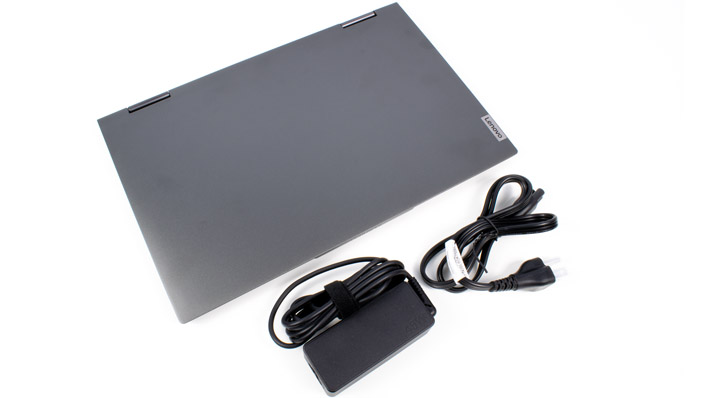 Our review unit has the Snapdragon 8cx with 8 GB of LPDDR4x memory and 256 GB of SSD storage. Lenovo is asking $1,499 for that configuration, which we feel is a lot to ask. Buying the system
from Verizon
instead saves $100, or costs $58.33 a month for 24 months. No matter how you slice it, this price point puts the Flex 5G in a premium ultrabook tier.
Generally speaking, laptops are a series of trade-offs. Some folks might be willing to compromise on battery life to get more outright performance, or would be happy to tether a traditional laptop to their phone as an internet hotspot. For those folks, there are other options. However, for those who value incredible battery life and 5G connectivity without the need for a hotspot or tethering above all other considerations, there's a short list of devices out there that can deliver and it starts with the Lenovo Flex 5G. It's for this demographic and in that situation that we're proclaiming this system
HotHardware
Approved. The Lenovo Flex 5G is an excellent example of what Qualcomm's Snapdragon 8cx always-connected PC platform has to offer.





Snapdragon 8cx gives battery life for days

5G connectivity is blistering fast

4G LTE fallback works very well

Most productivity tasks are Arm-friendly

Excellent keyboard
Big, beautiful display

Verizon's 5G coverage is not great
Battery life comes at the cost of performance
"5G tax" - pricey compared to other Flex 5 systems
Related content
Comments