Kamrui AM08 Pro Mini PC Review: Pint-Sized Ryzen Gaming
Kamrui AM08 Pro Mini-PC: Thermals, Acoustics, Benchmarks and Conclusions
We're going to dive right into performance of the Kamrui AM08 next. We'll hit some general system benchmarks first...
Kamrui AM08 Pro System Benchmarks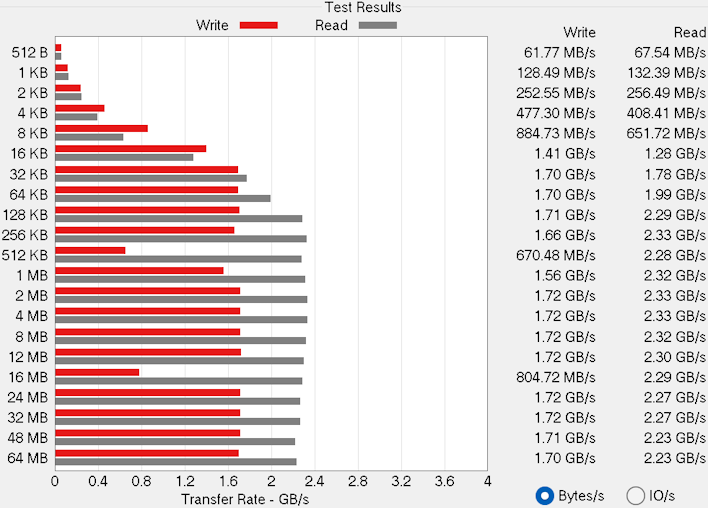 The AM08 has a WDC SN530 solid-state drive included. This is a PCI Express 3.0 drive, so the absolute performance as outlined by ATTO above isn't spectacular, but it's definitely serviceable. And given the drive bay's accessibility and inexpensive prices of budget PCIe 4.0 drives today, replacing the SN530 with a larger and faster option is definitely a possibility.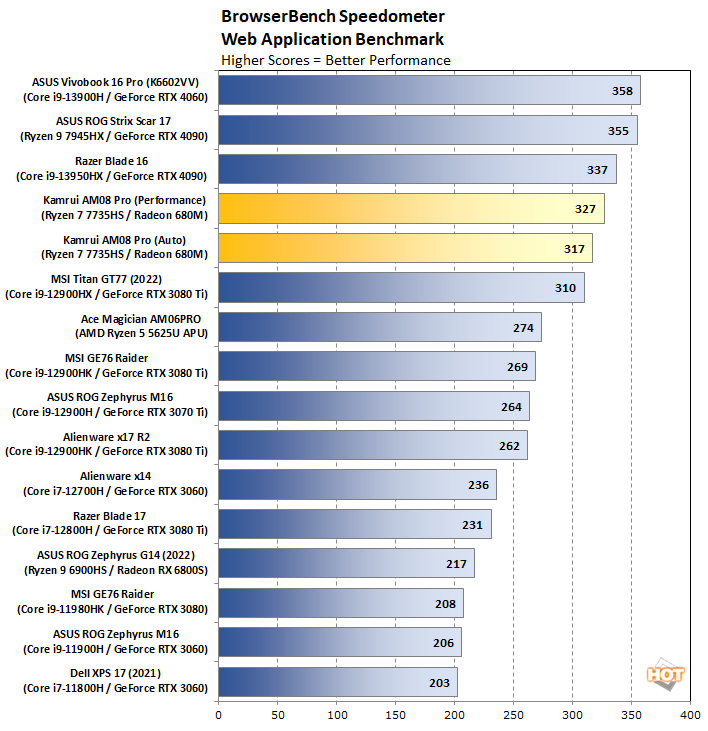 Speedometer shows that in lightly-threaded, burst-focused workloads, the Performance TDP setting didn't really make much of a difference. Still, Zen 3 has some legs as it's able to run this benchmark slightly better than an Alder Lake-based
MSI Titan GT77
gaming notebook, but trails more recent notebooks including the Zen 4-based
ROG Strix Scar 17
.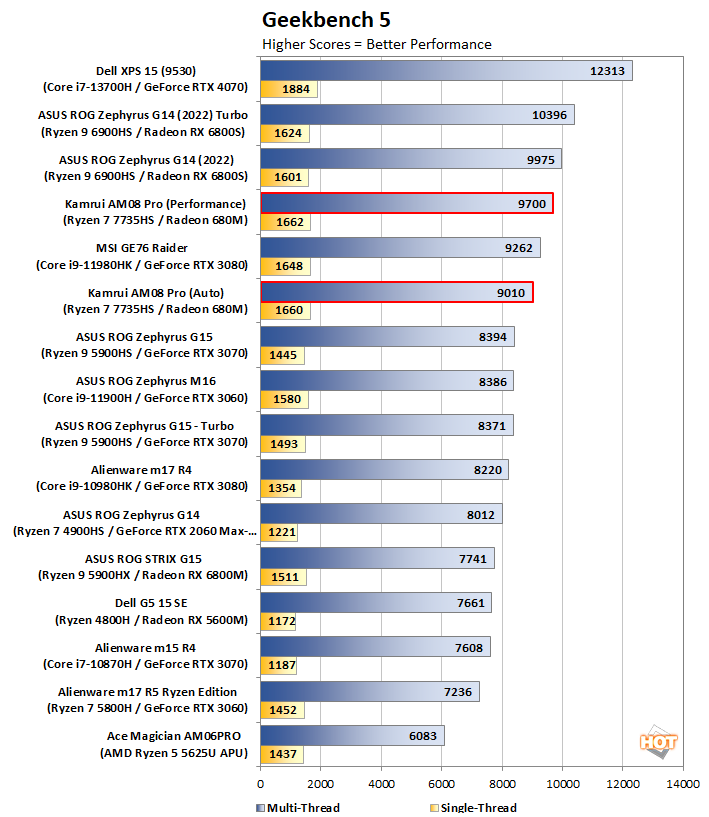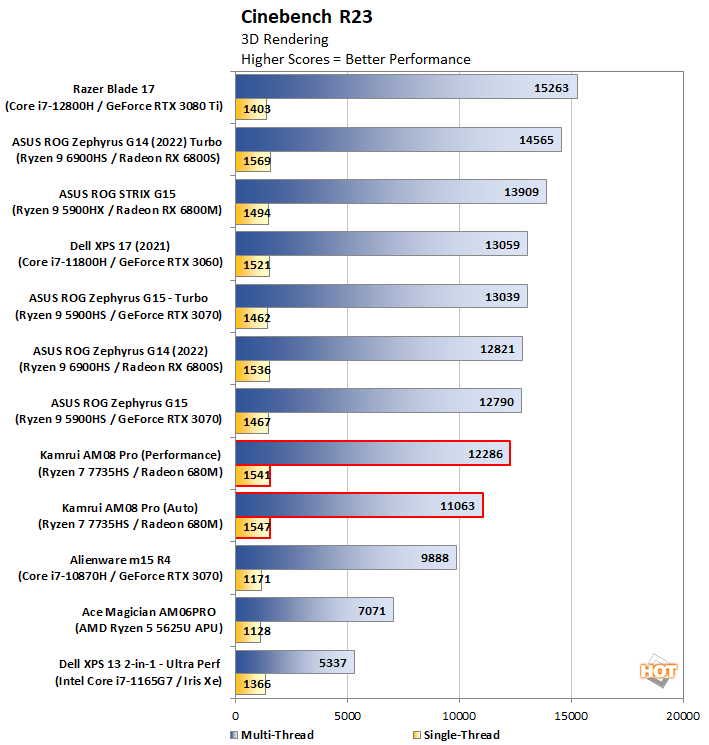 Geekbench 5 and Cinebench R23 both show off more of what the Performance mode can gain. It's not really much difference in single-threaded workloads, but it's close to a 10% gain on the heavily-threaded workloads. Either way, the AM08 Pro has a significant lead over sister brand
Ace Magician's AM06 Pro
with its lower-powered Ryzen 5 5625U. The AM08 Pro has more cores, more threads, and a higher power budget so the difference in performance is not surprising in the least. The AM06 model is a whole lot cheaper, though, so so we wouldn't expect similar performance.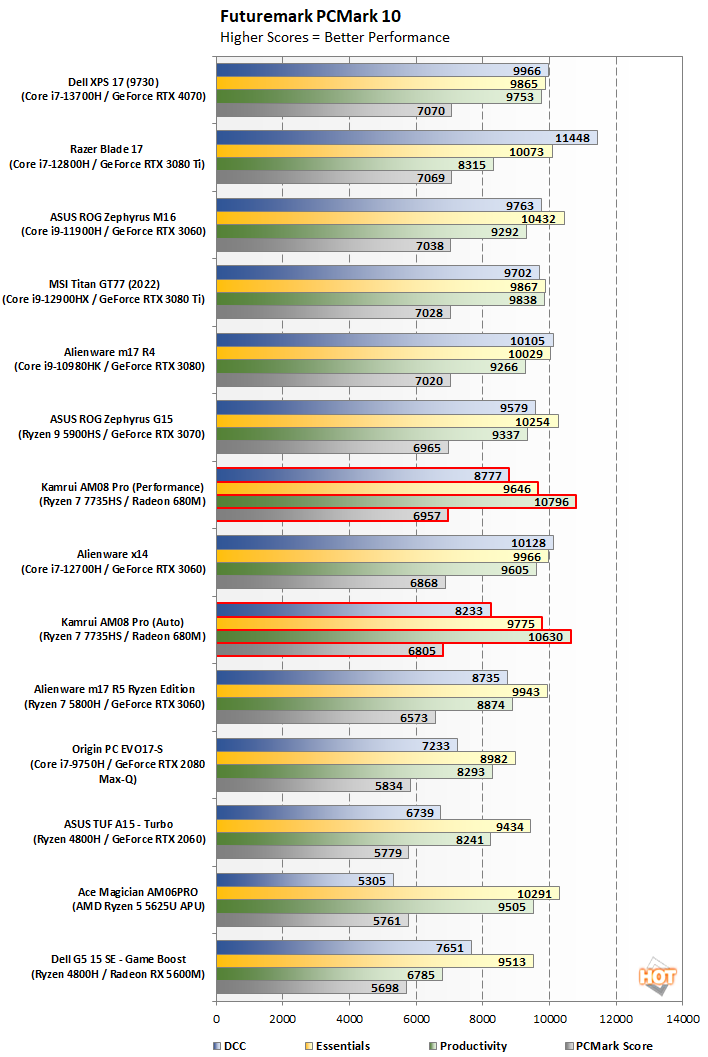 PCMark is a full-system test that goes beyond just the CPU, and the overall score isn't that different between Auto and Performance modes. It's also just a percentage point or two behind very expensive gaming laptops like the
Razer Blade 17
or premium notebooks like the
Dell XPS 17 9730
, both of which have discrete GPUs. Those GPUs go mostly to waste in a productivity benchmark, though, so it's just down to the CPU and I/O performance of the systems, and the AM08 Pro does a nice job at those tasks.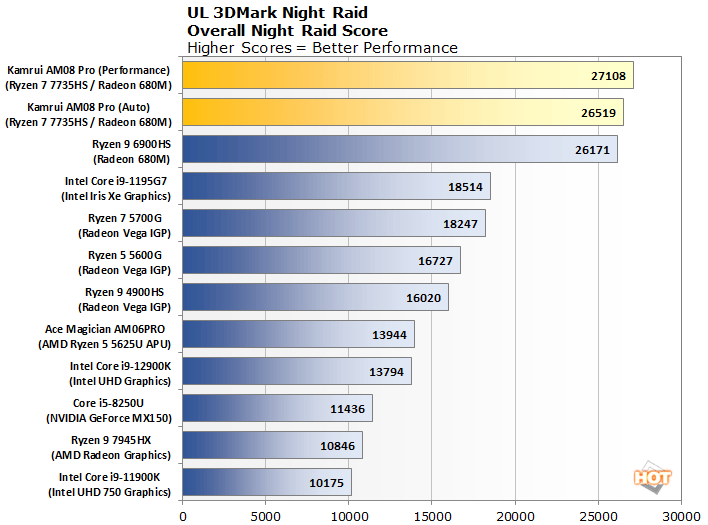 While we did already take a pretty deep dive into gaming in the video on the previous page, 3DMark Night Raid demonstrates how dominant the Radeon 680M integrated GPU is against its contemporaries. We have't gotten our mitts on a system with Radeon 780M graphics aside from the handheld ASUS ROG Ally, though, and it's likely that the RDNA3 architecture of those integrated graphics would pull it ahead here. All the same, this test shows that for lightweight 3D titles, the AM08 Pro could pull some solid performance, just as it did in some of the game in our gaming test.
Kamrui AM08 Pro Thermal Performance
The Kamrui AM08 Pro runs relatively cool and quiet. By default, the UEFI settings are configured for a maximum allowed SoC temperature of 87°C. In practice, it never gets that high, even under the Performance mode. Internal temperatures were recorded by the Radeon software and displayed in our video review, and the internal temperatures never got higher than 77-78°C.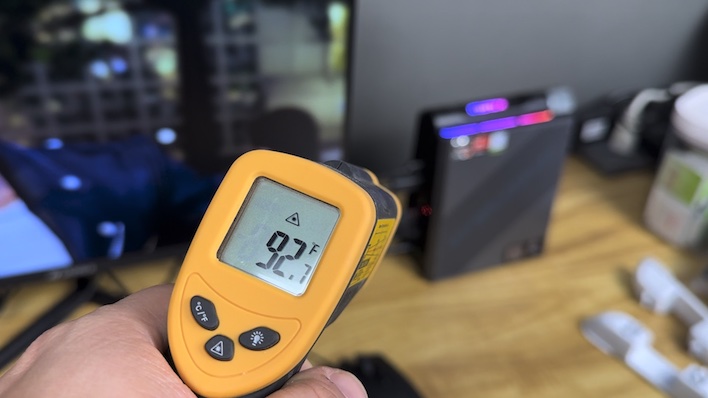 The hot air exhausted from the system was not all that hot, either. If the reported CPU temperatures were at the thermal limit, we'd think that the cooler was not doing its job. However, since it's able to keep the temps down off the ceiling, we have to think it's doing a pretty solid job of wicking heat way from the CPU. 90-93 degrees Fahrenheit was the common range for exhausted heat out the rear of the system, and that's barely warm to the touch compared to what some laptops pump out.
As for noise, the fans are relatively quiet in almost every scenario. The Silent mode lives up to its name, and even when the system is running fully loaded, our sound meter fails to register anything above the noise floor without getting closer than six inches to the vent. That's really great acoustics, but it does come at the expense of reduced performance. Besides, the fans under Auto mode are pretty quiet. From six inches away they register at around 40 dBA, and even the Performance mode is relatively quiet registering 45 dBA around 6-8 inches away from the intake vent. Due to performance concerns in games though, we'd stick to Auto, and in that case it's extremely quiet.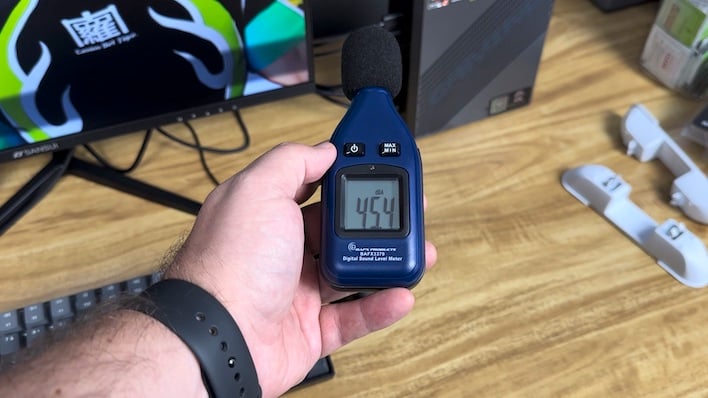 In the end, we're unsure why the AM08 Pro's performance takes a nosedive when running games in the Performance high-TDP mode. I've removed every screw I can find from the system and have not managed to pry any of the casing off aside from the magnetic removable panel. That means I can't get a look at the system's cooler or check the thermal compound application.
The reported CPU and GPU temperatures tell us that it's not throttling thermally, so something else must be at play. Perhaps the system's power regulation circuitry is getting hot or cannot provide enough power to sustain that performance, and has to take a break in order to recover. At any rate, we've reached out to Kamrui and will update this section if we find any answers.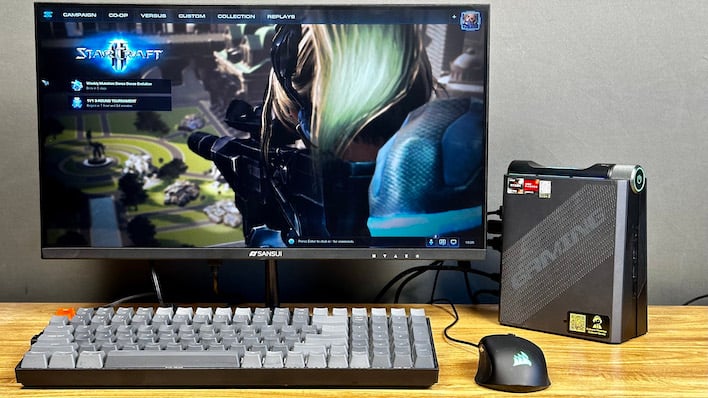 Kamrui AM08 Pro Summary And Conclusion
The
AM08 Pro from Kamrui
is a compact and relatively powerful micro-tower desktop PC. Its Ryzen 7735HS processor does a pretty nice job, and its integrated Radeon 680M graphics are fast enough to play most e-sports titles at 1080p with good detail settings. The most commonly-upgraded components are easily accessed through a magnetic side panel for additional RAM and storage, and the TDP is easily configured without having to reboot into the UEFI. For most people, this is a pretty reasonable desktop PC.
The trouble starts when we get to demanding games. The Radeon 680M is an integrated GPU that shares memory bandwidth with the CPU, and as a result it's not really capable of playing the latest titles in our experience. The Performance mode also results in worse performance than if we'd just left the system on Auto. It stays cool and quiet though, so something else is holding it back. We're not really sure what at this point, but as we said above, we're reasonably sure it's not the processor's cooling solution.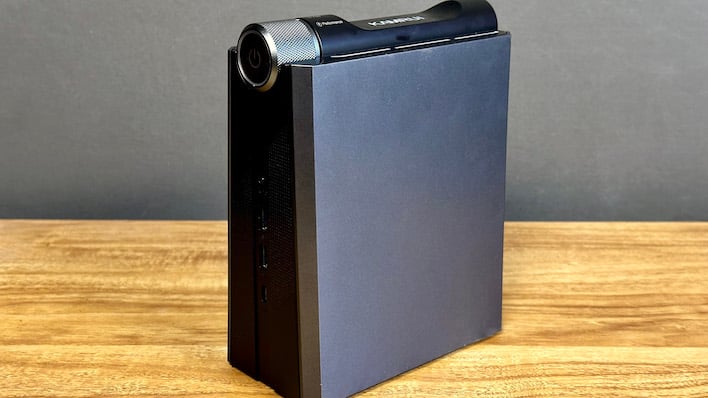 Find The Kamrui AM08 Pro @ Amazon - Use Coupon Code 2C729Y55 For $100 Off
Pricing on the AM08 Pro starts at $699 for our test configuration. That's with the Ryzen 7 7735HS, 32 GB of DDR5-4800 memory, and a 512 GB PCIe solid-state drive. That's a relatively low-cost desktop, but when we look at the competition, it starts to look a little less rosy. Beelink's SER7 is another mini desktop PC, but with a Ryzen 7 7740HS with 32 GB of RAM and a 1 TB SSD for $729. That Beelink system's CPU is based on Zen 4 and its GPU on RDNA3, so it's likely a fair amount faster than the Kamrui. Fortunately, Kamrui often has a significant coupon available on Amazon, and as of right now a $200-off coupon brings the total cost down to $499, which is a pretty good deal.
Overall we like the Kamrui AM08 Pro. It's got enough performance under the hood for most people, and it does a good job playing popular e-sports titles. The fact it comes with 32 GB of memory and an eight-core CPU out of the box makes it a surprisingly good choice as a cheap software development workstation, too. Its MSRP is a little high considering the CPU and GPU's roots in the previous generation, but that's as much AMD's fault for rebranding Zen 3 in the Ryzen 7000 series as anything. Still, if you can find it with the same steep discount it's had for the last several weeks, the Kamrui AM08 Pro is
HotHardware
Approved.
Related content