ASUS ROG Strix Scar 17 X3D Review: AMD 3D V-Cache Supercharges Laptop Gaming
ASUS ROG Strix Scar 17 X3D: A Fire-Breathing, 3D V-Cache Infused Mobile Gaming Powerhouse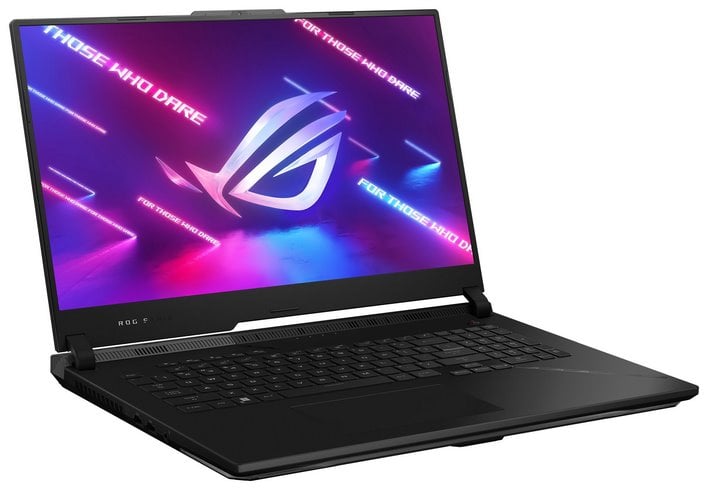 ASUS ROG Strix Scar 17 X3D: As Configured TBD - Likely $3,599+


The AMD Ryzen 9 7945HX3D powered ASUS ROG Strix Scar 17 X3D gaming laptop, with its GeForce RTX 4090 GPU, is the most powerful mobile PC gaming platform in the world currently.






EBeastly Performance
Enhanced Efficiency
Multi-Threaded Leader
Attractive Form Factor
Good Keyboard And Trackpad

Battery Life
Price Premium
Fan Pitch



---
Although there has been some speculation that AMD would bring its 3D V-Cache to Ryzen 7000 series mobile processors, it wasn't until late last month that the company made it official. AMD bolted a chunk of 3D V-Cache to one of the 8-core dies that reside on its "Dragon Range" Ryzen 9 7945HX mobile CPU, and the aptly-named
Ryzen 9 7945HX3D
was born.
As is the case on desktop systems, AMD's 3D V-Cache is ideally suited to boosting game performance. Of course, 3D V-Cache also adorns the company's "X" branded
EPYC server
processors, but the data center workloads those chips are a designed for are very different than consumer-class workloads. For consumers, 3D V-Cache is all about gaming. As such, the Ryzen 9 7945HX3D currently sits at the top of AMD's high-end mobile processor stack, and the company claims it offers a significant performance uplift in many games and may offer some effect on efficiency too.
There's a bit more to the story, though. So, let's get some specs and particulars out of the way and dive in a little deeper...
ASUS ROG Strix Scar 17 X3D (2023) Gaming Laptop Specs
We have previously detailed AMD's Dragon Range mobile processors and 3D V-Cache technology too, so we won't rehash that again here. For some background information on both, we suggest checking out our previous review of the Ryzen 9 7945HX-powered
ROG Strix Scar 17
from a few months ago and our reviews of the
Ryzen 7 5800X3D
and
Ryzen 9 7950X3D
. In those articles we talk about Dragon Range and AMD's first and second implementations of 3D V-Cache.
What Is The Ryzen 9 7945HX3D?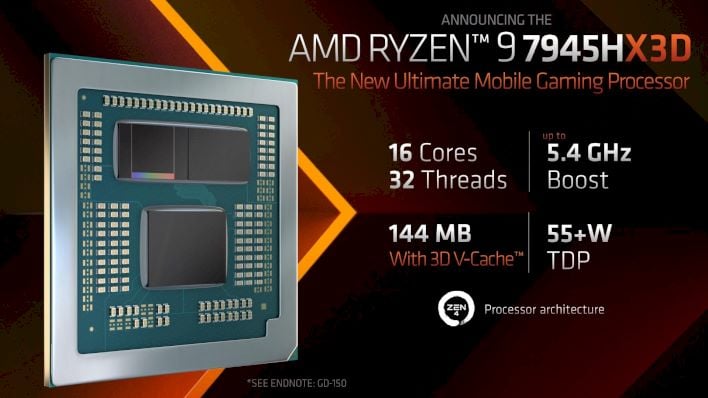 That said, there some things about the Ryzen 9 7945HX3D we should highlight. Versus the original Ryzen 9 7945HX, the new "X3D" version sports the same core count (16 Cores / 32 Threads), the same boost clock (5.4GHz), and the same configurable TDP range (55W to 75W). Similar to desktop Ryzen 7000 series processors with 3D V-Cache, the Ryzen 9 7945HX3D is outfitted with two eight-core Zen 4 CCDs, but only one of them gets the 3D V-Cache treatment. The means half of the CPU cores get a massive 96MB of total L3 cache (64MB + 32MB), while the other half get the standard 32MB of L3 cache.
Note that the "standard" cores are the ones that will hit the rated 5.4 GHz boost clock. The CCD with 3D V-Cache won't boost quite as high, for as long, which will have a marginal impact on multi-threaded performance, when the advantages of 3D V-Cache don't come into play.
As is the case with AMD's asymmetric desktop Ryzen 7000 series processors with 3D V-Cache, the Ryzen 9 7945HX3D requires the proper chipset drivers to achieve optimal performance. With the proper drivers installed, an 'AMD 3D V-Cache Performance Optimizer' entry will be visible in Device Manager and Task Manger. This driver and service monitors workloads on the system and ensures games are run on the CCD with 3D V-Cache, while the other CCD is dynamically parked, and workloads that benefit most from higher frequencies prioritize the standard CCD, but still have access to all CPU resources.
Say Hello To The ASUS ROG Strix Scar 17 - Build Quality & Design
At first glance, it becomes obvious the ASUS ROG Strix Scar 17 X3D is a gaming laptop. The system has a matte black, soft touch finish all around, with grey and silver accents, that include edge lighting, a ROG logo on the lid and actual ROG branding along the rear edge of the system, under the display hinge.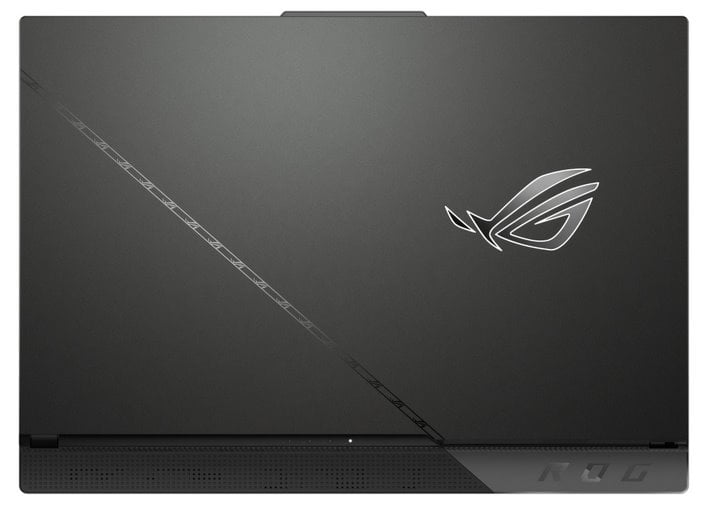 There is also plenty of air vents and additional lighting across multiple locations on the ROG Strix Scar 17 X3D, in addition to stripes that feature numerous ROG logos inside. All in all, the system's design language isn't quite as ostentatious as some of the powerful gaming laptops of the past, but there's no hiding that the ASUS ROG Strix Scar 17 X3D isn't an ordinary, run-of-the-mill laptop. The system's physical dimensions are relatively tame for a high-end gaming laptop too, at barely over an inch thick and about 6.6lbs.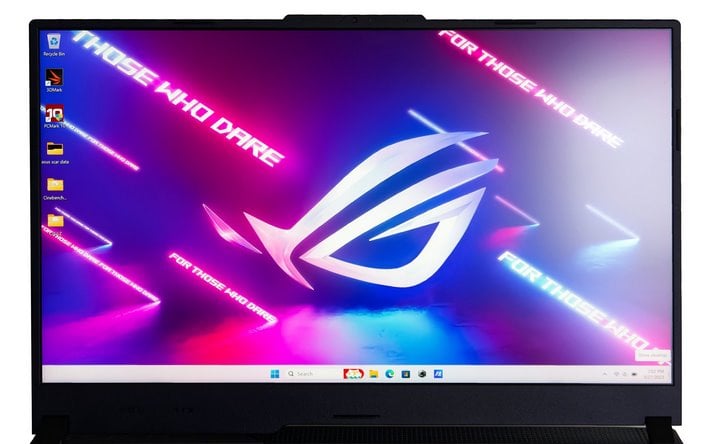 The IPS-level QHD display option on the
ASUS ROG Strix Scar 17 X3D
is excellent. It's not as bright or vibrant as some of the mini-LED laptop displays we've seen recently, but it offers excellent fidelity, with wide viewing angles and accurate color reproduction. The 3ms response time, 240Hz maximum refresh rate and support of NVIDIA G-Sync technology are also welcome features, which result in smooth animations and gaming, free of tearing artifacts.
We also think the QHD resolution is the sweet spot for high-refresh mobile gaming. The GeForce RTX 4090 in the ROG Strix Scar 17 X3D is capable of playable 4K gaming, but to maximize that high refresh rate and keep latency to minimum, while also cranking up the in-game details, QHD hits the sweet spot.
Just above the display you'll find a webcam and microphone array in the small bump-out at the top. The mics worked well, but the webcam is unfortunately 720p. Considering the premium nature of this system, we would have preferred a high-quality 1080p webcam, for obvious reasons.
The ROG Strix Scar 17 X3D also has an ample audio setup. The system features down-firing, Dolby Atmos tuned speakers that produce high-quality, distortion free sound. The maximum volume isn't quite as loud as some other notebooks, but it is very clean and offers a bit more bass than competing laptops in this class. The bass isn't going to rattle your windows, but the audio output does sound more balanced and richer than most laptops.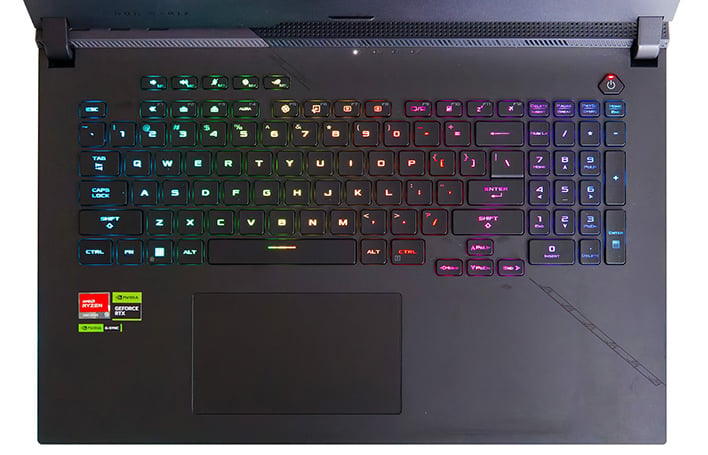 The keyboard and touchpad on the ROG Strix Scar 17 X3D are also very good. The keycaps are backlit, with full RGB controls, and there is plenty of space for comfortable typing. The keycaps are mostly flat, but there is a healthy 2mm of travel and the keyboard deck feels nice and rigid. The Cherry MX mechanical switches in
MSI's recent high-end gaming notebooks
have spoiled us, but the ROG Strix Scar 17 does offer a good typing experience, with good spacing, and room for a numeric keypad.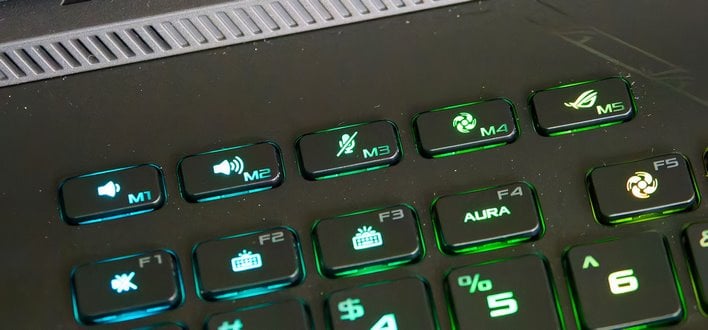 There are also dedicated function buttons for audio controls, switching power profiles, and opening Armory Crate, which we like not only for their convenience, but because you won't have to deal with hitting the FN key and using two hands for common tasks. The touchpad on the ROG Strix Scar 17 X3D is also very good and of a decent size, but like other gaming laptops, you're going to want to use an actual mouse while gaming.


In terms of connectivity, all of the ports on the ROG Strix Scar 17 X3D are available on the left side and rear of the machine. The front of the machine has a lighting strip and the right side of the machine some venting, but there are no ports or buttons to be found.
The left side of the system is home to a pair of USB-A 3.2 Gen 1 ports and a 3.5mm audio jack and on the rear you'll find dual USB-C 3.2 Gen 2 ports (one with power delivery), a full-sized HDMI output, a 2.5G LAN port and the power jack.
ASUS ROG Strix Scar 17 X3D Software Experience
ASUS ships the ROG Strix Scar 17 X3D with a fairly clean Windows 11 Pro installation that's mostly devoid of bloatware, save for a McAfee Security suite that we promptly uninstalled. ASUS does, however, nag users to register the system (on more than one occasion) through the MyASUS program.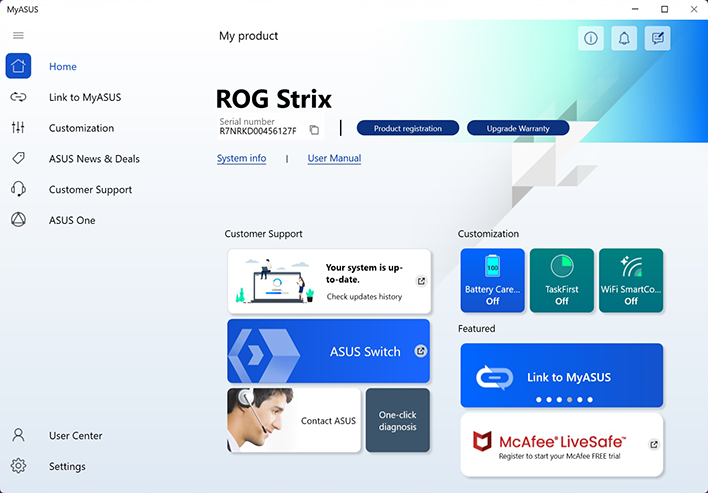 Other than that, though, ASUS includes a couple of utilities to help users customize and monitor their systems and get the most of out the machines.
The main application ASUS includes is called ROG Armory Crate. ROG Armory Crate presents users with detailed system information, including CPU and GPU clock speeds, usage, temperature, voltages, and other hardware/software health information. Game Profiles, memory/storage usage, fan speed data, Win Key lock functionality, ROG Key, and a toggle for the Touch Pad are also built-in.
Along with the hardware health and monitoring functions, current settings can be viewed via the radar chart and switched via the buttons directly below. The default profile for the machine is 'Performance' mode, but users are also offered Turbo, Silent, Windows, and Manual Operation modes. There are multiple modes available for the GPU too (visible on the right, in the screenshot above).
Users can also connect their mobile devices to the laptop via ASUS' app and adjust Armory Crate on the fly with their mobile devices.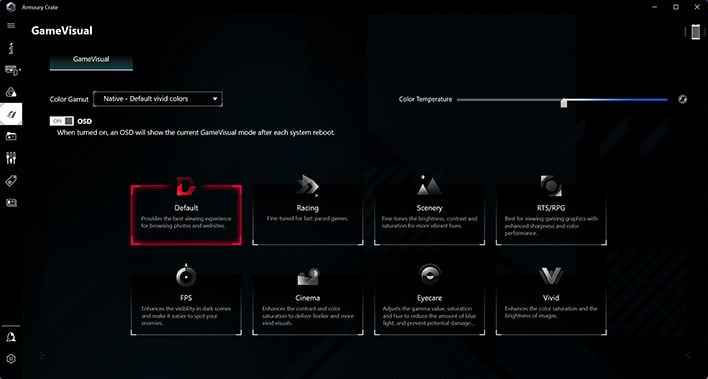 Inside Armory Crate, users have the ability to alter lighting effects and display color modes, among a myriad of other things. The lighting controls can interface with ASUS Aura Sync to match RGB lighting effects across multiple devices. In addition to offering a number of preset display modes in the GameVisual menu, it also allows users to manually tweak display color temperature if they so choose.
And with all of that out the way, let's see how the ASUS ROG Strix Scar 17 X3D and its AMD Ryzen 9 7945HX3D 16-core processor with 3D V-Cache performs...
Related content