Kamrui AM08 Pro Mini PC Review: Pint-Sized Ryzen Gaming
Kamrui AM08 Pro Mini-PC: A Powerful, Quiet Zen 3-Powered Ryzen "Gaming" PC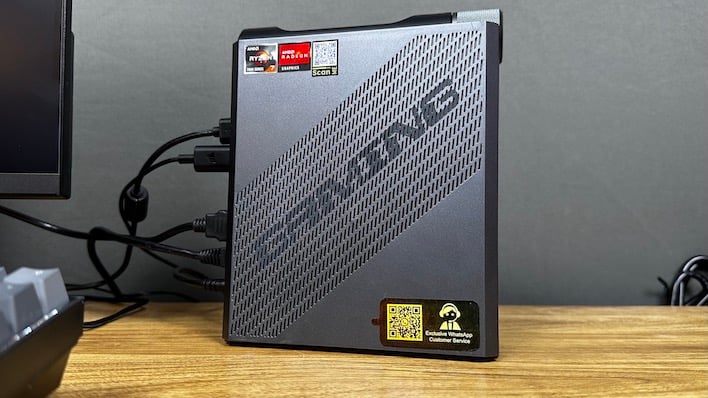 Kamrui AM08 Pro - Starting at $699 (Use Coupon Code 2C729Y55 For $100 Off)
A pint-sized Ryzen-Powered mini-PC with solid performance, the Kamrui AM08 Pro is held back somewhat by a middling price-to-performance ratio.







Compact micro tower form factor
User configurable TDP with a twist
Easy access to RAM and storage upgrades
2.5 Gigabit Ethernet and fast WiFi
Good CPU performance

Zen 4-based CPUs and RDNA3 iGPUs are faster
Performance mode frame rate drop-off

Priced like higher-performance options (discounts often available)

Not suitable for the most demanding games







---
For years, it has stood to reason that if a laptop with a mobile processor is good enough for every day use on the go, then a small desktop PC built with the same components should do equally well for most folks at home. We'e been pleased with small desktops from the likes of
Ace Magician's AM06PRO
and slightly larger ones like
Minisforum's HX90G
. Indeed, today's entrant has a lot in common with Ace Magician, as Kamrui is a sub-brand of the company for the North American market, and the Kamrui AM08 Pro is an evolution of the AM06 model.
When Intel decided to shutter its own
NUC mini PC lineup
and hand over
the reins to ASUS
, we noted that there's no shortage of competitors in the market for tiny PCs. You can see that in the list above, not to mention a host of others that can be found on Amazon. In this case, the Kamrui AM08 Pro is the company's current AMD-based flagship mini desktop. But is it a gaming PC as it's being marked? For certain gamers, we think so, and we've got video footage on YouTube linked below. In the meantime, let's dig into this small $700 desktop and see what's under the hood...
Kamrui AM08 Pro Specifications
Kamrui's AM08 Pro is powered by AMD's Ryzen 7 7735HS processor. If we pull out our handy
AMD decoder ring
, we can see that the three indicates that this CPU uses Zen 3 CPU cores, of which there are eight. Those cores have a nominal clock speed of 3.2 GHz, but under the right conditions, can boost up as high as 4.75 GHz. There's also 16 MB of L3 cache and Radeon 680M graphics, based on RDNA2, aboard. It's very much the same CPU as the Ryzen 7 6800H, but renamed to fit into AMD's new branding scheme. TDP for the CPU is officially 35-45 Watts, but the AM08 Pro can actually do a bit more, which we'll talk about in a second.
Kamrui advertises the AM08 Pro as a gaming PC, and we suppose to an extent that's true. The Radeon 680M shares its TDP and memory with the rest of the Ryzen 7 7735HS, and it has a relatively light loadout of 12 CUs, or 768 shading units based on RDNA2. There are also 32 ROPs and 48 texture mapping units, so it has some potential to push older games or lighter-weight titles at high speeds. That means most popular eSports titles should run relatively well on this system.
The AM08 Pro has plenty of RAM too -- 32 GB of DDR5-4800, the fastest officially supported by the processor in a pair of SO-DIMMs. The system also has maximum offiical capacity of 64 GB. There's also a 512 GB NVMe PCI Express 3.0 SSD in the lone M.2 slot. Both of these are user-upgradeable though, and getting into the system is a breeze. There's also a vacant 2.5" SATA slot that supports SSDs or spinning drives alike. Wired networking is handled by a Realtek 2.5 Gigabit Ethernet adapter, and there's also a Realtek 8852BE on board for Wi-Fi 6 and Bluetooth 5.0 wireless connectivity.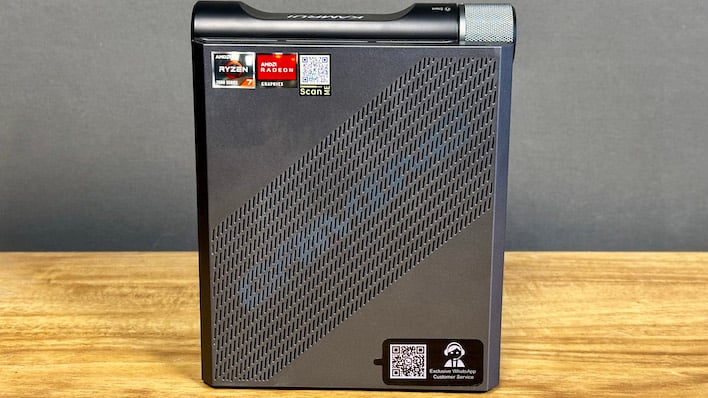 Kamrui AM08 Pro Build and Features
The AM08 Pro's enclosure is something of a trapezoidal shape, taller than it is wide, with a big round power button on front. The body is entirely plastic, but it's rigid and pretty thick, so there's no hint of flex, and it doesn't look "cheap" at all. Its unusual shape with relatively thin top, combine to make it look much taller than it actually is, but it fits pretty much anywhere. There are four rubber feet on the bottom to help prevent it from skidding around on a desk, too.
The big power button also has a secret: not only does it turn the system on, but it's built into a large dial that allows users to reconfigure the thermal profile on the fly without having to reboot into the UEFI interface. There are three settings: Silent, Auto, and Performance, and the button will change colors based on which item is selected. The whole button rotates, so the power icon actually rotates too. While that makes it look a little silly in some configurations, the functionality is a nice addition. Those settings correspond with 35, 45, and 55-Watt TDPs.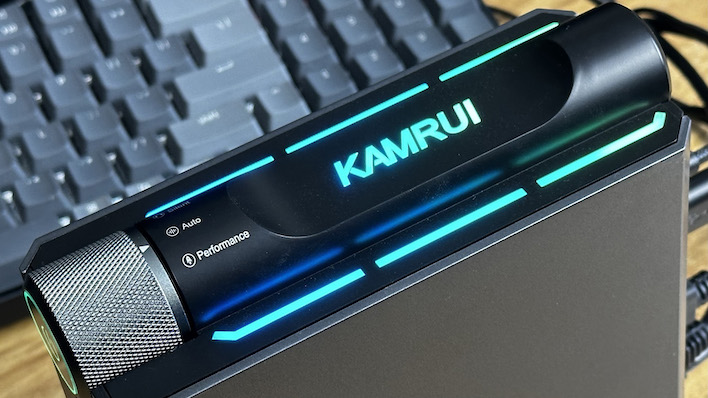 There's also a helping of RGB LEDs here, as the Kamrui logo and top panel light up with a fun rainbow effect by default. The power button changes color when switching profiles as well. Kamrui has software available on its website to control the lighting, but it wasn't installed on our machine by default. In fact, almost nothing beyond Windows 11 and drivers were installed out of the box, something we rather appreciated.
The port layout is relatively modest, as it often is on these tiny PCs. On the rear, in addition to the 2.5 Gigabit Ethernet port, there's a pair of USB 3.2 Gen 1 (5 Gigabits per second) ports, the barrel connector for the external power supply, and a pair of HDMI 2.1 ports, which do drive our 4K 144 Hz Gigabyte M28U to its fullest potential. Playing games at that resolution isn't really an option, but watching movies looks great. The front has another pair of USB 3.2 Gen 1 ports, a USB-C Gen 2 port that can carry 10 Gbps, and a combination audio jack for analog headsets or speakers.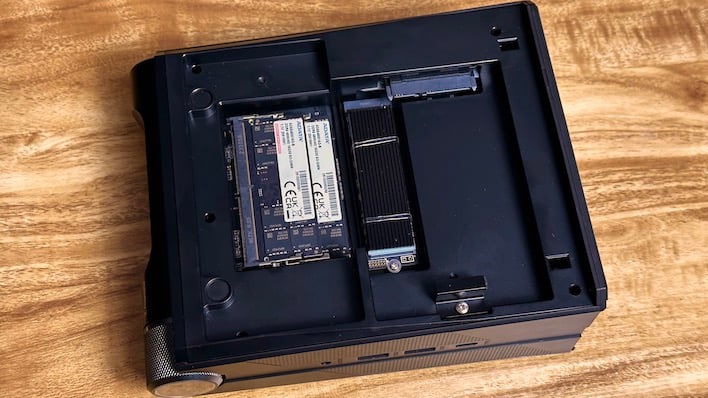 Getting into the AM08 is very simple. The right side of the machine is held on by magnets, and the panel just pops off with a little pull. Then we could swap out the DDR5 memory or M.2 SSD, and also install a drive into that empty 2.5" bay. Unfortunately, we couldn't really figure out how to pop the left side off of the machine without breaking it, so we didn't get a good look at the motherboard or CPU cooler up close and in person.
Gaming on the Kamrui AM08 Pro
The Kamrui AM08 Pro is billed as a gaming PC, but due to its integrated Radeon 680M graphics, its gaming prowess will be limited to 2D titles like
Hades
, e-sports titles that run on lower-end systems, like
CounterStrike GO
or
StarCraft II
, and older titles including the 2023 updated version of
Quake II
. As you can see in the video below, those games run really quite well on this system with high frame rates, fluid animations, and responsive performance.
It's when we get into gaming with demanding titles that the AM08 Pro starts to falter. Triple-A titles from 2023 don't run very well on this system. On anything but the lowest settings,
Street Fighter 6
encountered gameplay slowdowns and online disconnections as the system just couldn't keep up with the game. That was even with the in-game render target set to 1 on a scale of 1 to 5, which equates to roughly a 960 x 540 resolution that is then upscaled to 1080p, and the graphics were splotchy and ugly with a lot of missing detail.
Diablo 4
fared a bit better, as the game could at least run at full speed and felt mostly playable in our time with the system. This is where the thermal performance mentioned in the video first reared its head. With the TDP knob set to the Performance setting, the game started out smooth enough at around 45 fps, but quickly bled off performance down into the 20s. Only when we played with the Auto setting were we able to recover performance and get back into a playable territory. Spider-Man Remastered suffered the same slowdowns and performance degradation. We'll look into it more in the thermal section, but we don't think it's caused by temperature issues.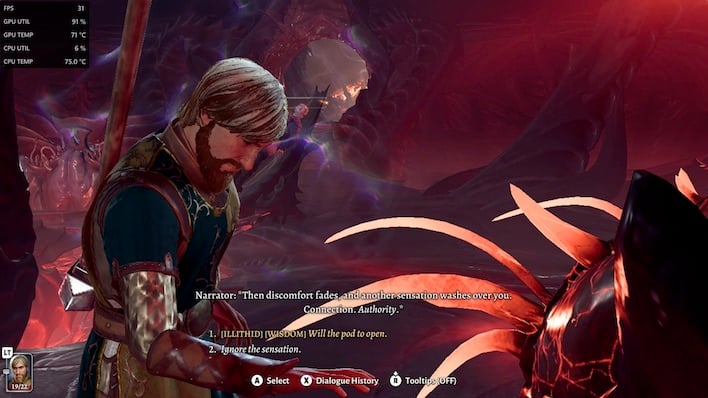 The 2023 game that's most enjoyable on this system is also the slowest-paced, and that's
Baldur's Gate 3
. We still had to resort to low details and FSR, but the roughly 30 fps we saw in most areas is plenty for turn based combat. You'll still get a much more enjoyable experience out of a system with even a modest discrete GPU, as you'll be able to get better performance and turn up the details a bit, but as a budget system that can play this game, it works out well enough.
That said, there are still a lot of games that this system can play well. We cover a pretty wide array of titles in the video above, so be sure to give it a watch in order to get a feeling of what the system can do.
Related content