Ace Magician AM06PRO Review: Speedy, Cheap, Ryzen-Powered Mini-PC
Ace Magician AM06PRO Review: A Tiny AMD Ryzen And Radeon Powered Mini-PC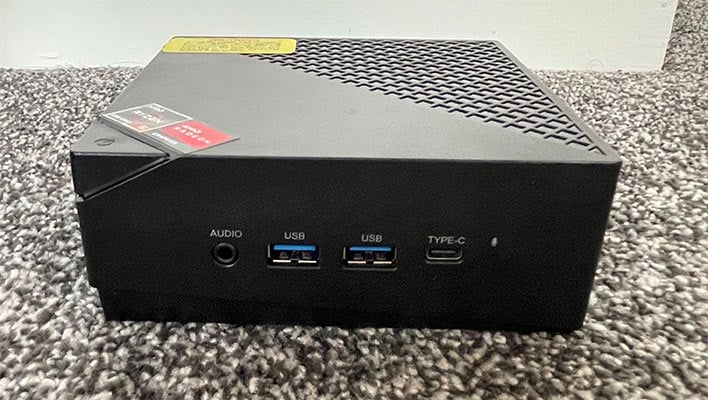 Ace Magician AM06PRO: Starts at $237.95 with Ryzen 5 5500U APU


The Ace Magician AM06PRO is a fast, affordable and surprisingly powerful Mini-PC, packing a 6-core / 12-thread AMD Ryzen processor and Radeon graphics.






Ryzen 5 5000U 6C/12T CPU with Radeon graphics
Compact form factor
Great price
Includes 16GB RAM, 500GB SSD, and Windows 11 Pro
Can add up to 64GB RAM and a 2.5-inch SATA drive
Works with USB-C power (65W included)

Basic build quality
iGPU is underpowered
Fan noise




Mini PCs are getting increasingly more popular, and rightly so in our opinion. If you want a compact PC, and probably won't update it over its usable lifetime, tiny boxes like the Ace Magician AM06PRO we'll be showing you here are widely available, which pack a ton of features into a miniscule form factor. Mini-PCs like the AM06PRO won't eat much desk space, and can even be VESA mounted to the back of a monitor or TV to free up desk or shelf space. Also, thanks to its capable modern AMD mobile APU, the AM06PRO will offer a balanced mix of CPU and GPU performance while keeping power consumption and noise admirably low.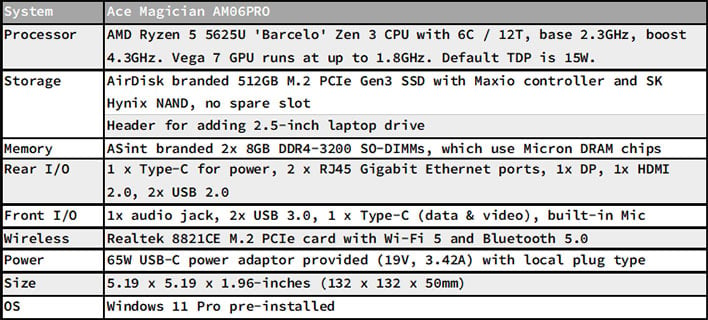 We have reviewed quite a few mini PCs over the last year,
NUCs
,
NUC-look-a-likes
, and other innovative and
expansive designs
. However, the Ace Magician AM06PRO mini-PC caught our eye for its appealing mix of compactness (like the original NUC), Ryzen 5 APU, and its affordable price.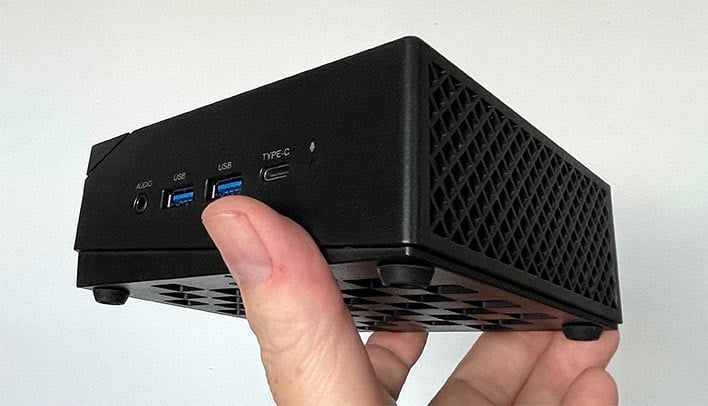 Ace Magician AM06PRO: Surising Affordability
Versions of the Ace Magician AM06PRO are available from
about $237 on Amazon
, with promotions and discount codes applied. And we aren't talking about barebones configurations here. This modestly-priced sub-$250 unit is a "fully populated" model with 16GB of RAM, a 512GB SSD and Windows 11 Pro installed and ready to go.
As you can probably tell, we feel the price of the AM06PRO might be one of its biggest attractions. We see lots of pricey, powerful mini PCs, but getting such a capable mix of components at the highlighted price makes these devices quite tempting for a second PC, HTPC, or something that might be handling lighter-duty workloads.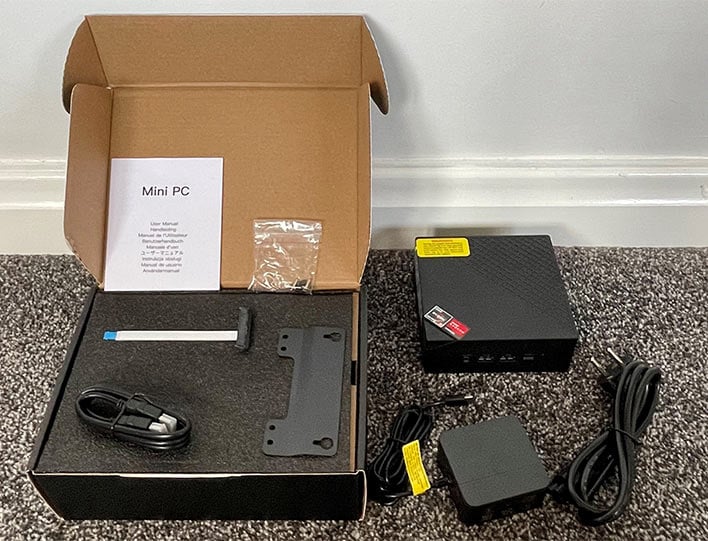 Ace Magician offered us the higher-end AMD
Ryzen 7 5800U version
, with the same RAM/SSD configuration, but we felt its considerably higher $399 price (currently
on sale at $296
) may not be entirely justified, for what we had in mind. That processor upgrade would deliver a 8C/16T CPU (and Vega 8 graphics) though, so it might be worth it if you are investing in a mini-PC for running frequent multithreaded workloads that needs a little more graphics power. For our intended purposes of mainly browsing and media consumption, it may not be worth moving up from ~$240 to $300 (at the time of this writing at least).
Ace Magician Branding Explained
Please note that, if you've seen this PC design before, or something very similar, the Ace Magician AM06PRO mini-PC is also sold under some other brand names. Ace Magician is the parent company in Hong Kong, but in the US you will also find these mini-PCs sold under the Kamrui brand on Amazon, and we have also seen them with a NiPoGi badge in Europe.
If you head on over to
Amazon's best selling
Mini PCs list though, you might be surprised to find Kamrui branded devices currently dominate the top-sellers, with five out of 10 mini-PCs made by this company. They must be doing something right?
Ace Magician AM06PRO Build: Outside And In
The Ace Magician AM06PRO is basically a small box, which is about the same physical size as a stack of four or five CD jewel cases. On the front left corner is a triangular power button, which is separated from the rest of the case by red LED lighting, when powered on. That is the end of the frills with this unit, though. The chassis is black plastic with a diamond mesh pattern on some sections, which is sometimes perforated to provide venting or fan exhaust.
Getting into this mini-PC case is very simple. On the bottom there are four rubber feet which are also thumb-screws -- unscew them, and the chassis pops right open, without the need for any tools.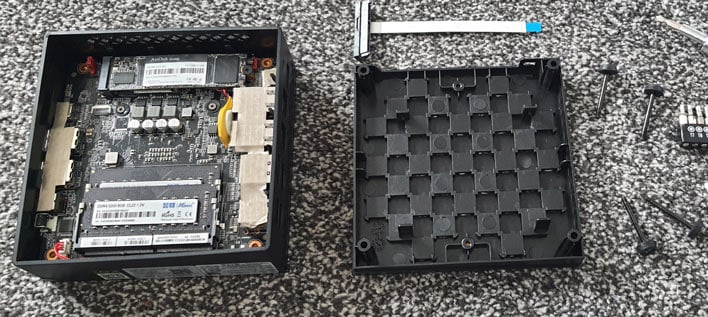 Once inside the case, there is easy access to the RAM and SSD slots. As the system supplied had an M.2 SSD and 2 x 8GB SODIMMs pre-installed, there was only one expansion option left open. In the box, Ace Magician includes a ribbon cable which terminates in a connector for a 2.5-inch SATA storage device. We didn't add SATA storage using it, but it looked pretty simple to flip up the ribbon cable lock connector on the motherboard and slide in the adaptor. It's not as good as a spare M.2 slot, but it beats dangling external storage devices off the PC if it requires some additional space.
After removing the M.2 SSD, we noted the presence of the Realtek 8821CE M.2 PCIe card with Wi-Fi 5 and Bluetooth 5.0 underneath. It has antenna wires which curl around the chassis, so be careful with them if / when further disassembling this device.
In the middle of the motherboard, there are a quarter of screws in the area directly behind the AMD Ryzen APU. Removing the four screws allows you to take the motherboard out of the chassis, which leaves the cooler behind in the top of the case.

The cooler is relatively flat and compact, similar to what you'd find in a larger laptop. There's a copper heatplate with a singular, thick heatpipe visible, with heatsink fins attached, which is affixed directly to the APU. A small barrel-type fan pulls air in through perforations in the chassis, and blows it across the heatsink, where it is ultimately expelled from the system out the back. Overall, Ace Magician makes use of virtually every square millimeter in the chassis, and while it doesn't feature premium materials, it gets the job done.
Related content