Intel Partners With ASUS To Keep Cranking Out Licensed NUC Mini PCs
It turns out Intel is not abandoning its Next Unit of Computing (NUC) initiative wholesale and leaving the branding to wither away into the footnotes of tech history. Instead, it's hammered out an agreement with ASUS to "manufacturer, sell, and support" 10th to 13th Gen NUC devices, while also giving the green light to produce future generation NUC models.
This is basically a licensing play and a non-exclusive one at that, meaning it's possible Intel could license the NUC brand to other companies too. There's no indication that Intel plans to go in that direction, though, as for the time being it seems perfectly content to let ASUS apply its
mini PC expertise
to the NUC brand that Intel introduced a decade ago.
"Our NUC systems product team delivered unique products that spurred innovation in the ultra-small form factor market. As we pivot our strategy to enable ecosystem partners to continue NUC systems product innovation and growth, our priority is to ensure a smooth transition for our customers and partners. I am looking forward to ASUS continuing to deliver exceptional products and supporting our NUC systems customers," Sam Gao, Intel VP and GM of Client Platforms Solutions, said in a statement.
This licensing play comes barely a week after Intel made the surprise announcement that it was
halting direct investments in NUCs
and, by extension, exiting direct consumer PC sales.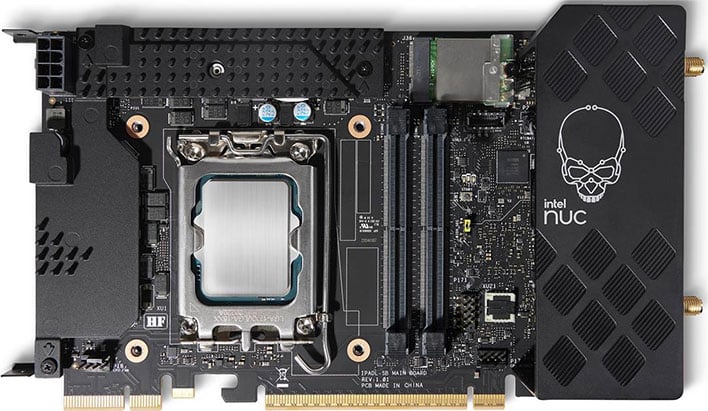 Intel NUC Extreme Compute Element
Intel had spent the past 11 years building up the NUC brand and helping to popular both mini PCs and small form factor (SFF) setups like the
NUC 13 Extreme
with support for 3-slot graphics cards. But then in October of last year, Intel CEO
Pat Gelsinger talked
about "aggressively addressing costs and driving efficiencies across the business to accelerate our IDM 2.0 flywheel for the digital future."
Gelsinger didn't bring up NUCs specifically, but said that in order to be "good stewards" to its investors' capital, Intel would be "taking aggressive actions to reduce costs of goods sold and operating expenses" for long-term market growth.

Now we know that part of that plan involves pivoting from direct sales of NUC devices to working with ASUS and other ecosystem partners to keep the initiative going.
"Thank you, Intel, for your confidence in us to take the NUC systems product line forward. I am confident that this collaboration will enhance and accelerate our vision for the mini PC–greatly expanding our footprint in areas such as AI and AIoT," said Joe Hsieh, ASUS chief operating officer."We are committed to ensuring the excellent support and service that NUC systems customers expect."
As part of the
agreement with Intel
, ASUS will form a new business unit called ASUS NUC BU. Hopefully we'll see some designs emerge that take aim at gamers, though there's no mention of any specific products yet.