Intel Halts Direct Investment In Popular NUC Business, Exiting Direct Consumer PC Sales
In quite a surprising move, Intel has announced today that it is stopping "direct investment in the Next Unit of Compute (NUC) Business." What does that mean? In short,
no more NUCs
. This is sort-of a shock because it was barely two months ago that
we heard about some upcoming NUCs
from Intel using its Alder Lake-N CPUs.
Despite the grandiose and arguably pretentious "Next Unit of Compute" name, NUCs started out as
downright modest miniature PCs
, with meager specifications and limited expansion. From those humble origins, the brand grew to include ruggedized models meant for embedded use as well as gaming machines with higher-end hardware, like last year's
"Raptor Canyon" NUC 13 Extreme
.

Current owners of NUCs probably shouldn't worry too much, as Intel says that it intends to fulfill "all of [its] current commitments—including ongoing support for
NUC products currently in market
." Along similar lines, it's business as usual for the rest of Intel's Client Computing Group (CCG) as well as its Network and Edge Computing (NEX) teams; the discontinued investment of NUCs won't have wide-reaching implications for Intel's other employees.
It probably will have wide-reaching implications for companies like
Zotac
,
ASRock
, and ironically, SimplyNUC, though. These vendors sell mini-PCs that compete directly with Intel's NUCs, and losing a competitor means a gap in the market that they will all likely be very eager to fill. SimplyNUC CMO John Deatherage says that his company had a focus on filling gaps in Intel's NUC product line, and that doesn't change with Intel's exit—
the gap just grows
.
Our friends at
FanlessTech
had similar sentiments, saying that this announcement is only good news for the standardized 4x4" format. That site remarks that "all major brands" are supporting the mini-PC motherboard standard—a list that includes ASUS, ASRock, MSI, and
Gigabyte
, as well as the aforementioned SimplyNUC. We've reported on a fair few 4x4 machines before, like
these Sapphire units back in 2020
.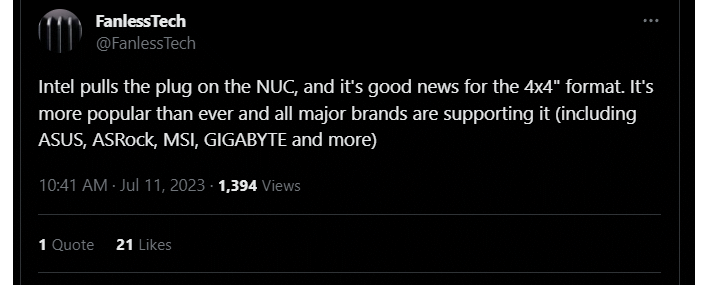 So if you're a fan of mini-PCs, don't worry—they're not going anywhere as a market segment. Intel says it is still fully committed to working with its partners in the mini-PC space—it's just not going to be competing with them anymore. Intel didn't create the mini-PC market, but it's arguable that the company's first-party offerings went a long way toward legitimizing the fledgling micro-machines.
What do you think, readers? Are you sad by this news because you loved Intel's micro machines? Or are you excited about the prospects of more mini-PCs using a standardized form factor? Let us know in the comments below.