HP Spectre X360 13 (2021) Review: Gem-Cut Beauty Of A Laptop
HP Spectre x360 13 (2021): Benchmarks And Performance
Before running our selection of benchmarks, we apply the latest Windows and driver updates to the system we are testing (in this case, the HP Spectre x360 13). Other than that, we do not change any settings. Our goal is to test the system as it ships, but after auto-updating, to accurately reflect what buyers can expect from an out-of-box experience.
ATTO Disk Benchmark
Peak Sequential Storage Throughput
The
ATTO disk benchmark
is a fairly quick and simple test which measures read/write bandwidth and IOPS across a range of different data sizes. We get a pair of results at each data point: bandwidth measured on MB per second (or GB per second if the result is that high), and input/output operations per second (IOPS).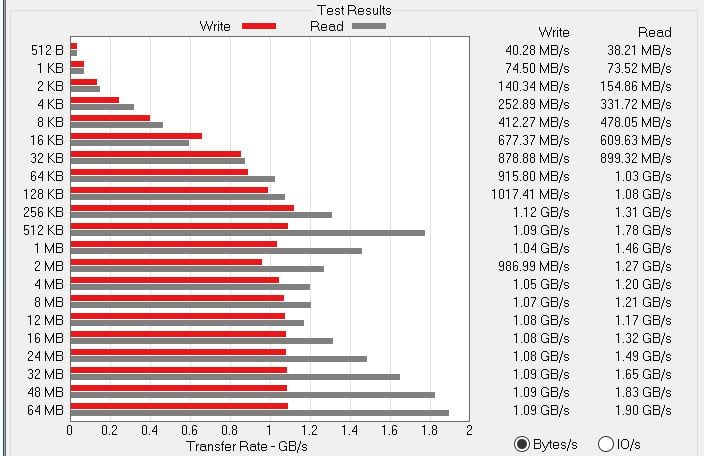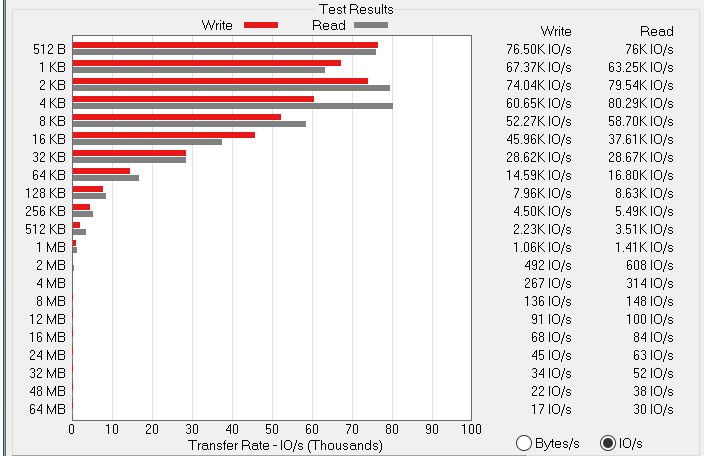 This particular build is packing an 'Intel Optane Memory H10 with Solid State Drive' module, as is its official designation. More plainly, this is a hybrid M.2 form factor SSD packing 512GB of storage space, enhanced with 32GB of onboard Optane memory. Intel rates the drive as being able to deliver up to 2,300MB/s of sequential read performance and up to 1,300MB/s of sequential writes.
The drive did not quite get to those numbers in ATTO, but came close—on the read side, it topped out at 1,900MBs, and for writes it sprinted to 1,120MB/s at the top end. It's not the fastest SSD on the market, though still two to three times speedier than the quickest SATA-based SSDs, so we'll take it.

Turning our attention to IOs, the drive peaked at around 80,290 IOPS and 74,040 IOPS, respectively. These are also below Intel's advertised speeds, and as we saw in our
Optane Memory H10 review
. The 32GB of Optane memory in the machine doesn't do much for for ATTO, which accesses the drive directly, but it should help with real-world performance, since the most accessed bits of data on the drive get cached in the fast, low-latency Optane memory.
Speedometer Web Application Benchmark
Browser Performance
We recently moved on to BrowserBench.org's
Speedometer
test, which takes a holistic look at web application performance. This test automatically loads and runs several sample webapps from ToDoMVC.com using the most popular web development frameworks around, including React, Angular, Ember.js, and even vanilla JavaScript. This test is a better example of how systems cope with real web applications, as opposed to a pure JavaScript compute test like JetStream. All tests were performed using the latest version of Chrome.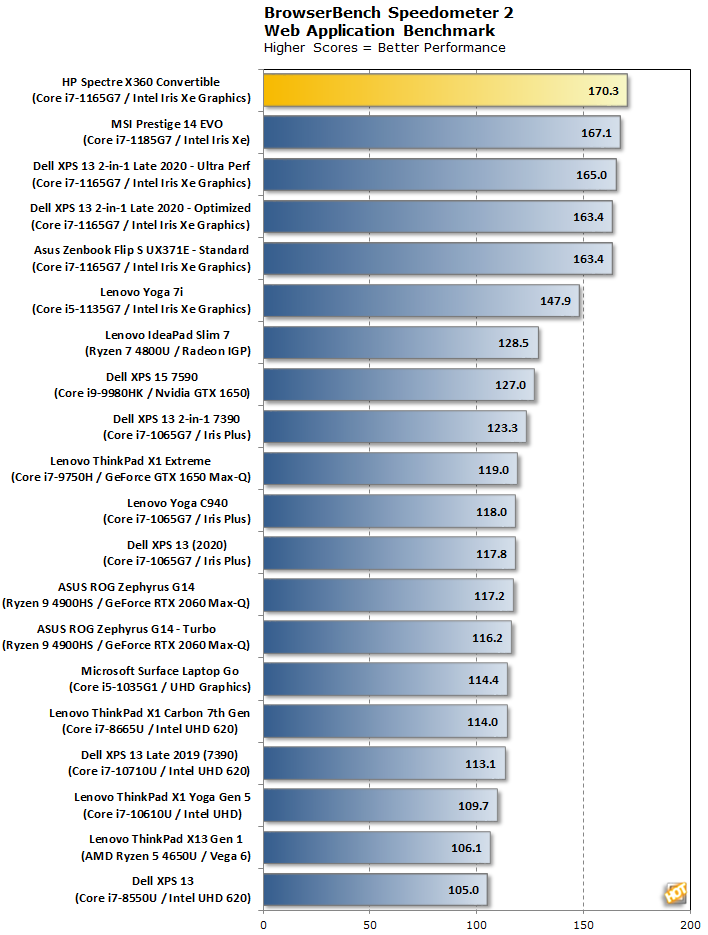 Moving on from storage, we fired up Speedometer, a benchmark
Tiger Lake has excelled in
so far. That trend did not come to an end with the Spectre X360 13. Just the opposite, HP's flexible laptop posted the best score of the bunch at 170.3, which is a few points higher than the
MSI Prestige 14 EVO
with its faster Core i7-1185G7, and
Dell's XPS 13 2-in-1
with the same Core i7-1165G7 as found in this laptop.
Cinebench R20

3D Rendering Performance
The current version of Maxon's rendering benchmark,
Cinebench R20
us a sustained multi-threaded workload, which makes it a good indicator of how well the cooling system performs. This version is a pure CPU benchmark, and we tested both single-threaded and multi-threaded performance here.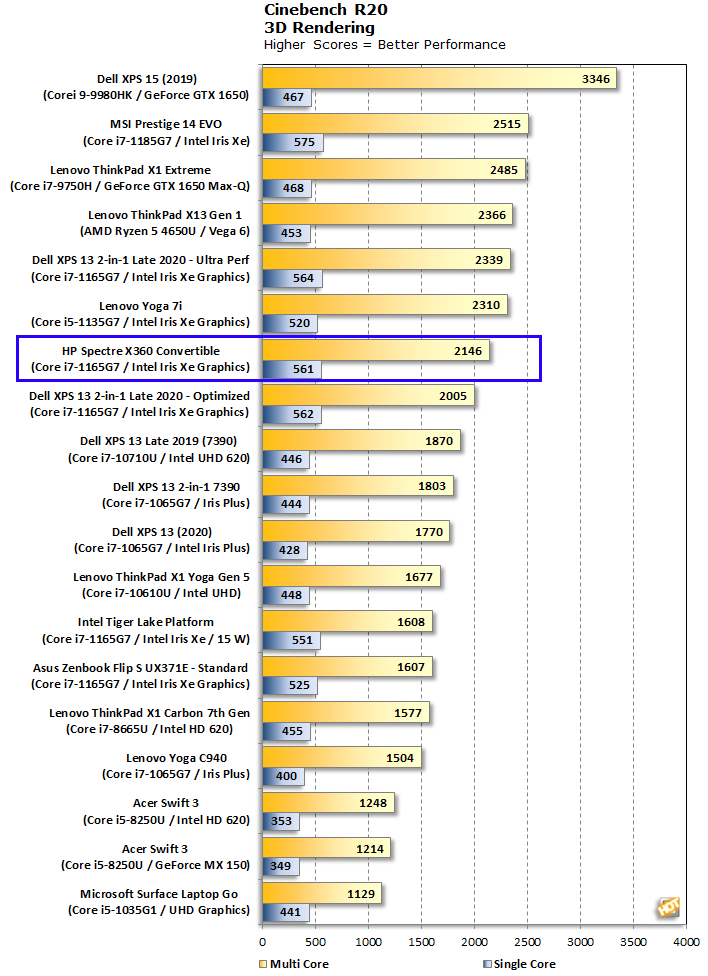 In Cinebench R20, the Spectre X360 13 posted one of the fastest single-threaded scores of the bunch, running neck-and-neck with the XPS 13 2-in-1. And in the multi-threaded test, it beat the XPS 2-in-1 when it was set to Optimized, but trailed the laptop when it was configured for Ultra Performance. Overall, however, it finished right around where we would expect it to.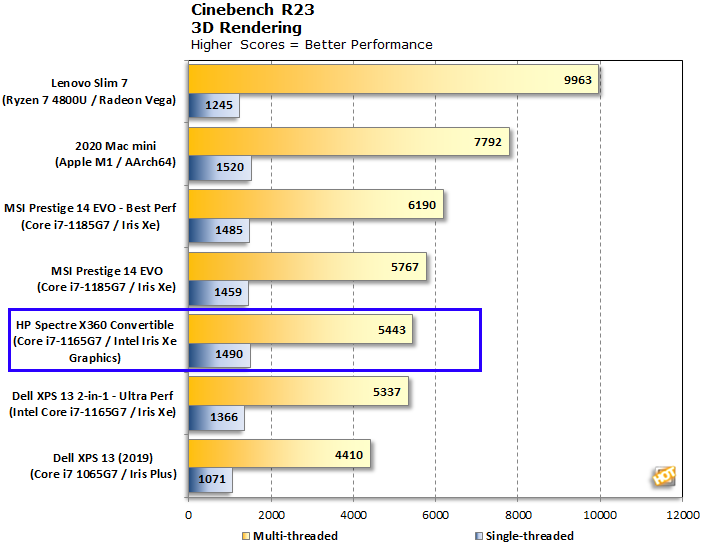 We also ran the newer Geekbench R23 benchmark. We don't have very many scores to compare against, but that is slowly changing with each new laptop we test. This time around, the Spectre X360 13 posted the highest single-threaded score of all the x86 systems, coming in behind only the Arm-based
2020 Mac mini
with its Apple M1 processor. In the multi-threaded test, it managed to nudge ahead of the XPS 13 2-in-1 configured in Ultra Performance mode.
Geekbench 5

Single and Multi-Core Performance
Geekbench
is a cross-platform benchmark that simulates real world processing workloads in image processing and particle physics scenarios. We tested the notebooks featured here in Geekbench's single and multi-core workloads.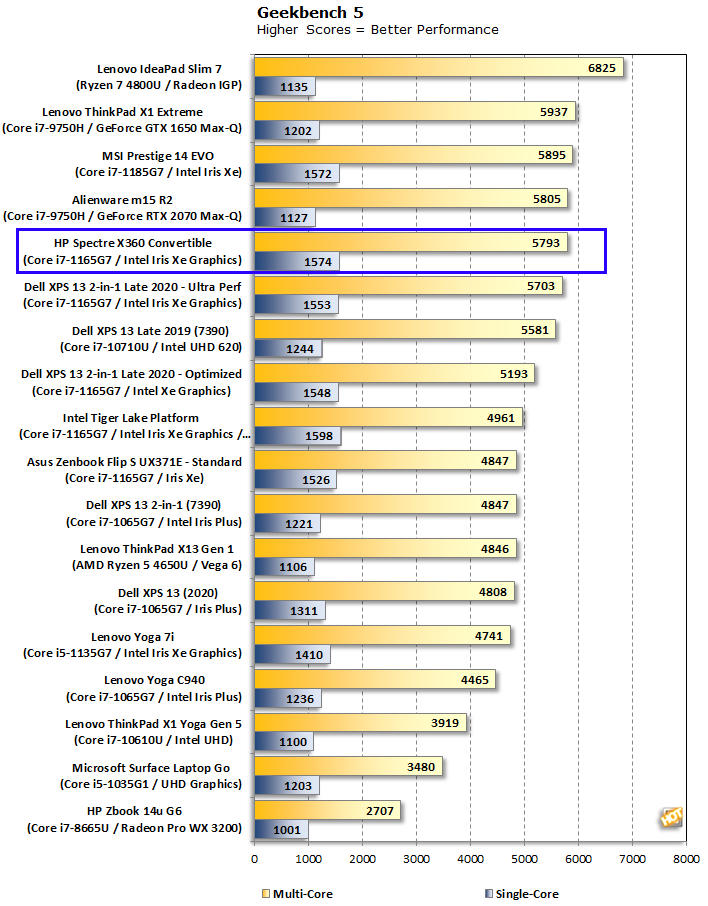 The Spectre X360 13 also beat the XPS 13 2-in-1 in Geekbench 5, posting slightly higher single-threaded and multi-threaded scores. It's a solid showing. It even outscored the Prestige 14 EVO by a hair in the single-threaded test.
What this tells us is that the Spectre X360 13 is capable of making the most out of the Core i7-1165G7 in short to medium bursts. As the laptop heats up, the scores go down a little bit, as is common in notebooks (and especially thin and light ones).

PCMark 10

Productivity and System-level Benchmarking
PCMark 10
uses a mix of real-world applications and simulated workloads to establish how well a given system performs productivity tasks, including image and video editing, web browsing, and OpenOffice document editing. While these scores appear to be all over the place, the systems are sorted by their overall PCMark score, which is the third (gray) bar in each cluster.
Sorted by overall scores, the Spectre X360 13 lands in the upper section, just four spots down from the top. It also posted one of the best scores in the Essentials category, and did really well in the Digital Content Creation portion as well. There was some slippage in the Productivity test, though nothing real concerning—it still came in ahead of
Lenovo's Yoga 7i
, another Tiger Lake system, but with a slower Core i5-1135G7.
Simply put, this is laptop built for getting work done, and it is capable of doing that, as our roundup of CPU, storage, and system benchmarks have shown. What about graphics performance? Let's have a look...

3DMark Benchmarks
3D Performance
3DMark
has several different graphics tests which focus on different types of systems. UL seems to have discontinued support for Cloud Gate, but fortunately there are a couple of tests remaining that run well on integrated graphics. First up is Sky Diver, which uses the DirectX 11 graphics API.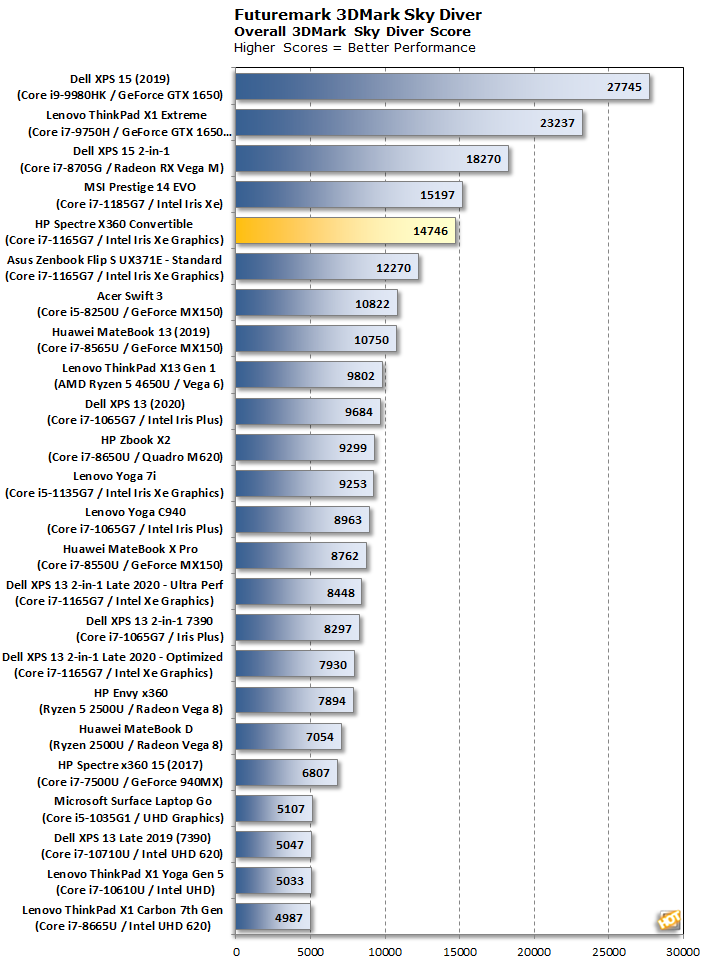 The Xe graphics solution in the Core i7-1165G7 is packing 96 execution units (EUs), with a max dynamic clockspeed of 1.3GHz. Our concern going into this review was that the slow-clocked RAM would hinder the system's graphics performance, as seemed to be the case with the Yoga 7i. Right out of the gate, however, the Spectre X360 13 defied our expectation with a strong run in Sky Diver.
It scored more than 20 percent higher than the
ASUS Zenbook Flip S UX371E
with the same Tiger Lake CPU and Xe graphics, and fell behind the Prestige 14 EVO by just 3 percent, despite having a 3.7 percent slower GPU clock. Good stuff.
Here is a look at 3DMark's Night Raid test...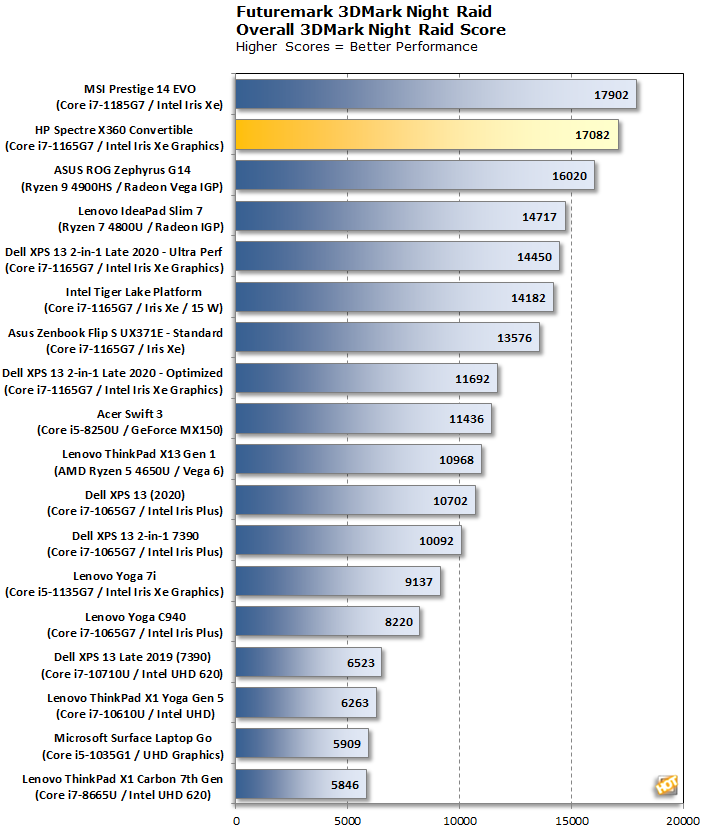 We saw the same thing play out in Night Raid, with the Spectre X360 13 taking second place among the laptops we've tested with a score of 17,082. Even more impressive, it widened the gap between it and the XPS 13 2-in-1, which scored quite a bit lower (14,450). If the slower clocked RAM is holding the Spectre X360 13 back, it is not evident in our benchmarks.

Next up is 3DMark's Fire Strike Extreme test...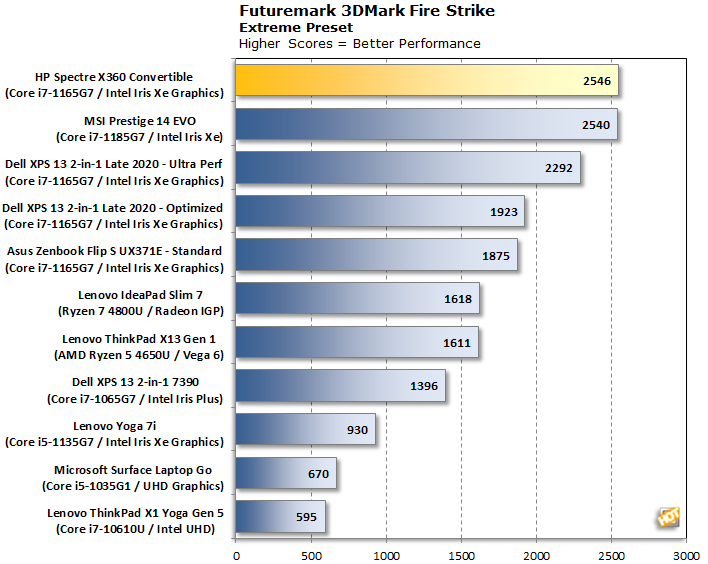 We wrapped up our 3DMark testing with the Fire Strike Extreme test, and the Spectre X360 13 finished strong, taking pole position, this time by a nose hair. It's basically a tie between it and the Prestige 14 EVO, as just 6 points separate the two. Against the XPS 13 2-in-1, however, the Spectre X360 13 widened the gap by around 150 points. Very impressive showing here.

Now let's look at some actual games...

GRID Autosport
Gaming Performance
GRID Autosport
is a cross-platform racing simulation developed by Codemasters. The developer wanted to make up for GRID 2, which released to mediocre reviews from critics and gamerse alike. Codemasters set out to improve
GRID Autosport
's handling and environment rendering to make it a true racing simulator. The third GRID game is built on Codemasters' EGO engine that boasts more realistic physics and damage systems to add a bit of danger and some extra realism to the racing. Codemasters also tuned its graphics engine to perform well over a wide variety of mainstream systems, which makes it a great test for systems with integrated graphics. Codemasters also promotes that
GRID Autosport
is "optimized for integrated Intel HD Graphics", which is certainly something. We tested at 1080p with the High image quality preset.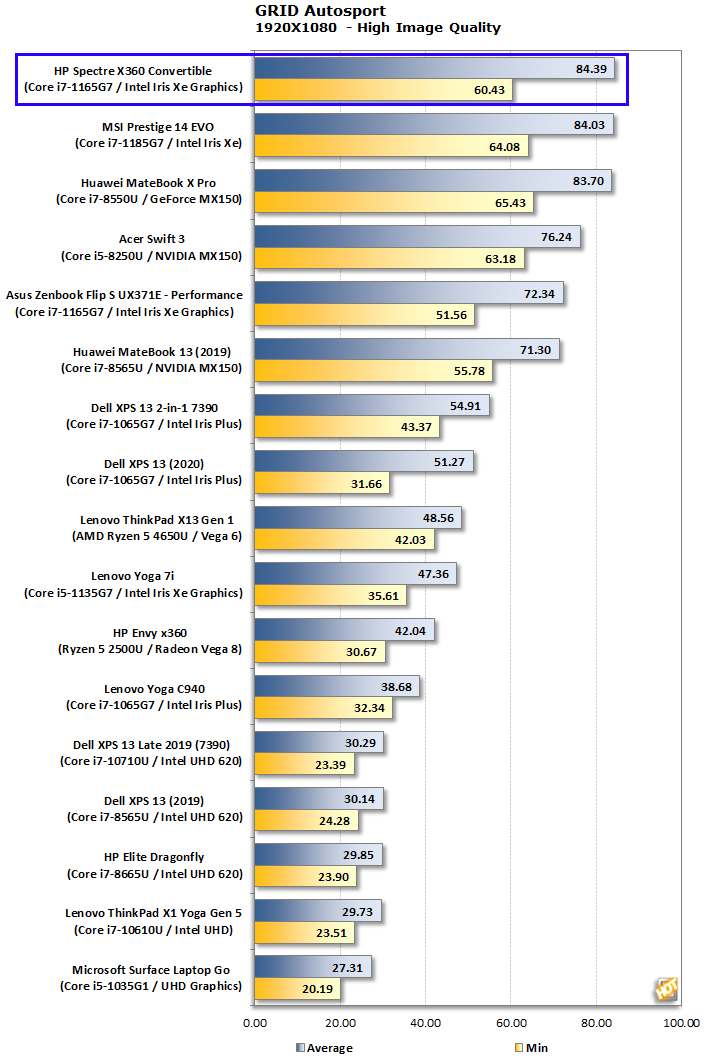 Once again, the Spectre X360 13 jumps to the front of the pack. At the High quality image preset, it averaged around 84 frames per second, and consistently stayed above 60 fps to keep the action fast and smooth. This is a very strong showing for Intel's Xe graphics.

Gears Tactics
UE4 Gaming Performance
Gears Tactics is a much more recent title that runs on the Unreal 4 Engine. It's a pretty fun tactical real-time strategy game, and has a wide array of graphics options that can look pretty great if the system is up to the challenge. We turned off all the automatic frame rate adjustments, turned the resolution up to 1080p, and then tested at Low, Medium and High details settings.
In Gears Tactics, it was yet another first place finish, at least at the High preset. The victory is mostly academic, though, because an average of 33 fps doesn't make for a great gaming experience. It's technically playable, but dips in frame rates during busier scenes threaten to spoil the fun. Still, it's best in class here.
At the Medium preset, the Spectre X360 13 approaches that desirable 60 fps mark, falling just 8 fps short. That's good enough for a fourth place finish.
Finally, the Low present allowed this laptop to get in front of 60 fps, with an average of 75.2 fps. Among the systems compared here, it is the third fastest at the Low setting.

Let's move on to battery life and our final thoughts...
Related content