HP Spectre X360 13 (2021) Review: Gem-Cut Beauty Of A Laptop
HP Spectre x360 13 (2021): Acoustics, Battery Life And Our Verdict
Using the Performance setting, the HP Spectre X360 13 was oftentimes quick to spin up its cooling fans, even when just knocking around the web. You can switch to a less aggressive cooling profile, as we covered in the software section, but if you're looking to maximize Intel's
Tiger Lake
platform performance, you can expect fairly frequent fan noise.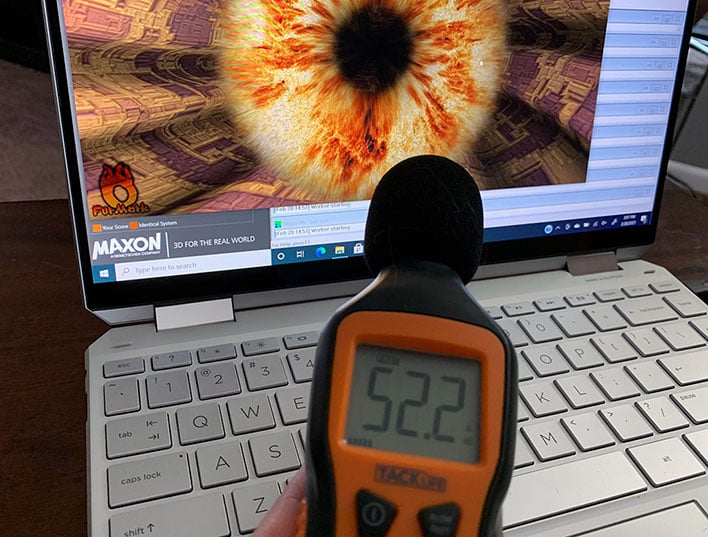 We ran a combination of Prime95 and Furmark to fully stress the CPU and GPU, then measured the fan noise with our handy sound meter. It peaked at around 52 decibels. There are various decibel level charts on the web, and if going by the CDC's ranking, 40 dB is equivalent to a refrigerator hum, while 60 dB is a normal conversation or a running air conditioner. So there are your points of reference. We will say 50db is where things get more noticeable for laptop acoustics, though pitch matters almost as much at that level and the X360's fan pitch wasn't annoying. In this case, it's just a noticeable exhaust tone. We're fine with the fan noise, we just wish this machine's fans were not so easily triggered.
HotHardware Custom Video Loop
Battery Life Performance
We run a custom 1080p HD video loop test developed in-house, to prove out battery life with our test group of machines. In all tests, Windows 10 Quiet Hours has been enabled and the displays are calibrated with lux meters on pure white screens to as close to 115 lux as possible. For the average laptop this is somewhere between a 40-60 percent brightness setting. In the case of the Spectre X360 13, this required lowering the brightness to 49 percent on the slider in the Windows 10 sidebar.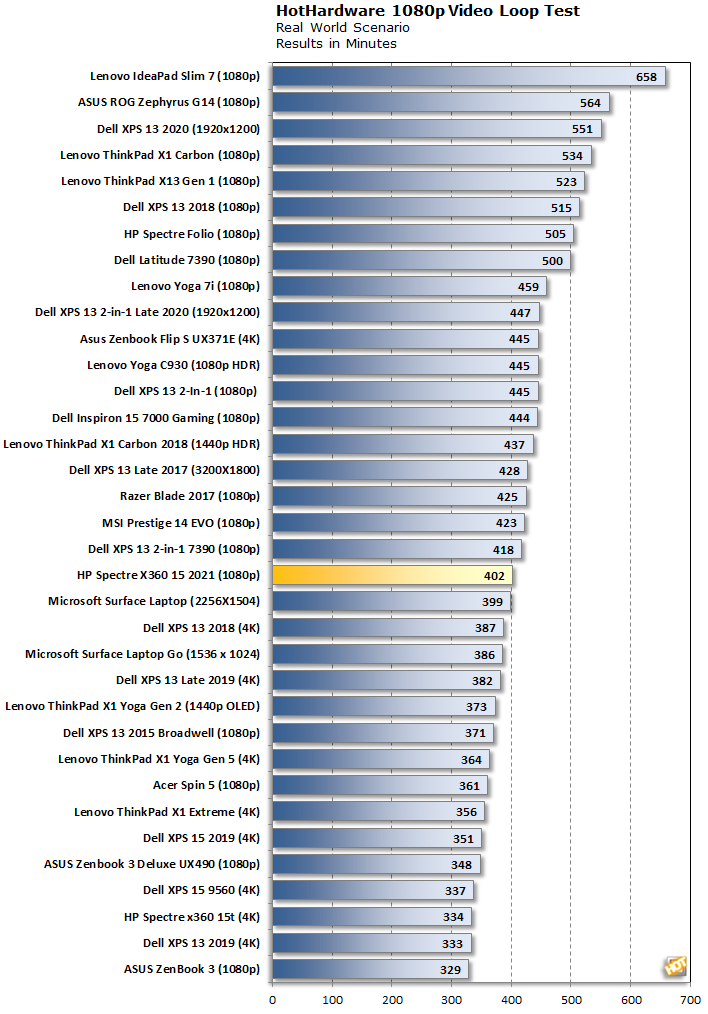 In our video loop test, the Spectre X360 13 kept the party going for 6 hours and 42 minutes before it passed out. That puts it within 21 minutes of the
Prestige 14 EVO
, and a few minutes above Microsoft's
Surface Laptop
. This seems to be the general vicinity of Tiger Lake thin-and-light laptops so far, give or take about an hour. Also note that your actual mileage will vary, depending on how you're using the machine. For general purpose computing chores, like data entry and hammering out TPS documents, a full work day is within reach. On the flip side, if you're going to fire up a game when the boss isn't looking, you can expect less run time.
HP Spectre X360 13 Review Wrap-Up
One of the trends we are seeing with Intel Tiger Lake-based laptops and convertibles is a higher value proposition from the premium segment than what previous generation platforms have delivered. We noted this in our
Lenovo Yoga 7i
review, and certainly the HP Spectre X360 13 offers a lot of premium bang for your buck, from its stylized dressing to the capable hardware tucked inside. Looking at the overall package, the 2021 model is a worthy upgrade over past editions.
It's not a drastically different 2-in-1 than previous models, but it does not have to be, either. HP has mastered the art of wrapping the latest generation of mobile technologies in an attractive package, without resorting to overly bold design cues or LED lighting. Some users like those things, and that's fair enough. HP, however, makes a fashion statement in a more conservative way, with a sleek aluminum housing sporting beveled edges and angled corners to garner its Spectre X360 13 more subtle character points.
This machine's build quality is excellent too. Looks can sometimes be deceiving, but not here—the Spectre X360 13 is a sturdy laptop that looks and feels premium. It's not faking it, in other words, as is sometimes the case, especially in less expensive laptops. That's not to say the Spectre X360 13 is cheap, but then again it's not expensive per se either, with a starting price of $979.99.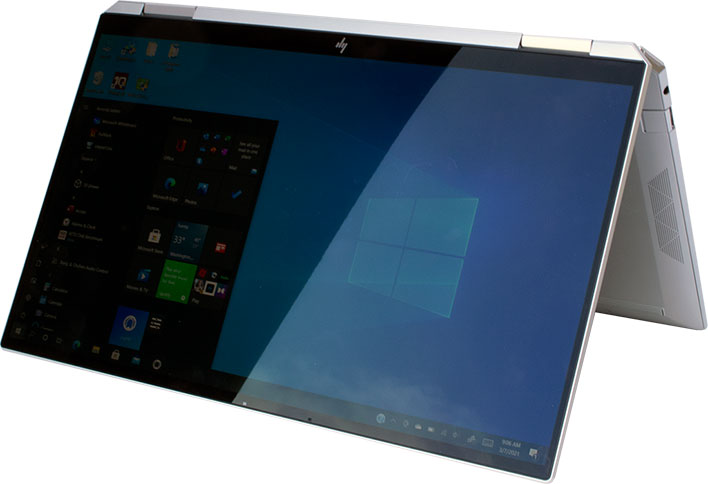 Our configuration runs a little higher at $1,279.99, but is still reasonable for the hardware on board and this HP laptop's materials and build quality. In addition to an Intel Core i7-1165G7 processor, 16GB of RAM, and a 512GB SSD with 32GB of
Optane memory
, this config sports an OLED touchscreen display and comes with a rechargeable stylus and slim carrying case.
This Spectre X360 13 model's performance is really good, too -- surprisingly so in some cases, like gaming. For whatever reason, HP saddled the Spectre X360 13 with DDR4-2133 (that's how it's recognized, anyway). That has the potential to choke graphics performance, as we have seen in the past. However, the Spectre X360 13 did not seem to mind, as it delivered excellent graphics and gaming numbers for this class of machine. Mind you this is not a gaming laptop, but Intel's Xe graphics can handle some gameplay, depending on the title and settings.

All in all, this is one of the better looking Tiger Lake laptops on the market, with very solid all-around performance to boot. If you're content with a 16:9 display aspect ratio, the 2021 Spectre X360 13 should be on your short list of candidates.





Intel 11th Gen Core CPU delivers

Surprisingly good graphics performance

Attractive design (love those beveled edges)

Can cut off power to the webcam

Includes 3.5mm audio port and SD card reader
Competitively priced for a premium laptop


Fans kick on too often

Some might find its 16:9 format display a turn-off

Relatively slow RAM (didn't hurt graphics)
Related content
Comments