Google Pixel Tablet Review: A Tablet And Smart Home Hub All-In-One
Google's Pixel Tablet Brings A Lot Of Value For Its Price Tag With Its Included Speaker Dock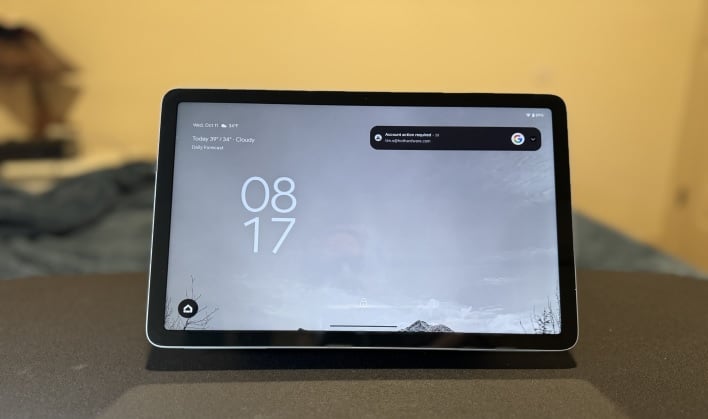 Google Pixel Tablet And Charging Speaker Dock: Starting at $499 (128GB)


The Google Pixel Tablet combines the portability of a thin slate PC with the functionality of a smart home hub thanks to its included dock, with a lot of great use case options on tap for consumers.






Bright And Vibrant Display
Included Charging Speaker Dock
Stellar Battery Life
Good Camera Quality

Comparatively Soft Performance
Lack Of Accessories Currently
No MicroSD Slot For Expansion
Dock Must Be Attached To Tablet For Audio






The Google Pixel Tablet, combined with its Charging Speaker Dock, brings useful functionality to users who want the portability of a tablet combined with the convenience of a smart hub device in the home. Whether you want to sit on the couch and catch up on the latest show with just the tablet, or use the tablet in conjunction with its dock as a smart home assistant, the Pixel Tablet and its accessories work together to offer more than any run of the mill slate.
The Google Pixel Tablet launched in May 2023 during Google's annual I/O developer's conference. It is the company's first attempt at a tablet, and expands Google's product offerings and device eco-system to better compete with companies like Apple and Samsung. Currently, the company offers the
Pixel smartphone
, Pixel Buds, and the
Pixel Watch
, alongisde the new Pixel Tablet. In addition, the Pixel Tablet is also the first on the market to receive Android 14.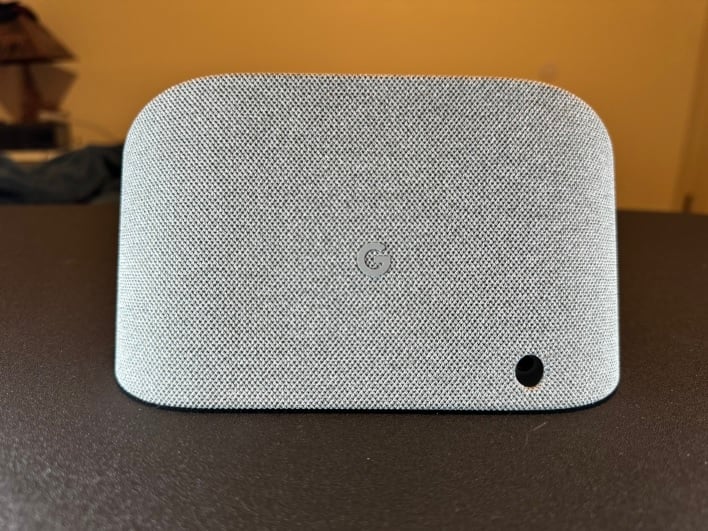 The Pixel Tablet's dock makes this combo package somewhat unique with expanded capabilities over most of its competitors. It marries what most users look for in Google's Nest Hub with a full-featured Android tablet that can be taken anywhere in the home or on the road.
Pixel Tablet Specifications
The Pixel Tablet is the first Android tablet powered by Google's Tensor G2 chip, with specific support for machine learning functionality, like the on board camera that can follow a user's movement around the room, keeping them in the frame for video calls and the like. It also runs Google's latest advanced speech recognition, which learns how each user speaks and even learns the names of family, friends, and favorite places. More on the Tensor G2 chip later, but it also is backed up by 8GB of LPDDR5 RAM and 128/256GB of UFS 3.1 storage options.
Android platform
device, and is the first tablet with Google Chromecast functionality built-in as well. With a few easy steps, Chromecast allows users to cast music and videos from a smartphone to a docked tablet. Users can also take advantage of Google TV and all the gaming and apps content available on Google's Play store platform.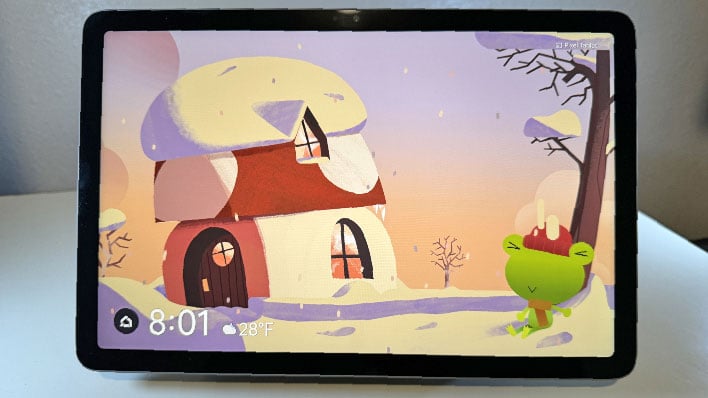 The Pixel Tablet's display is a bright, vibrant 10.95-inch LCD display with a 2560 x 1600 resolution. It is excellent for watching videos, controlling your smart home, or placing video calls to family and friends. We used the Pixel Tablet to video chat with friends and family 4,000 miles away on Zoom, and the video and call quality was excellent, outgoing and incoming. This is of course also dependent on the speed and quality of your WiFi connection.
Users can connect with WiFi 6, Bluetooth 5.2, and Google Cast. The
tablet
is said to have an estimated 12 hours of video streaming with its 27-watt-hour battery, and is currently offered in three color options: of Porcelain, Hazel, and Rose.
Pixel Tablet And Docking System Design And Features
The Pixel Tablet's design is a fairly straight-forward, though premium approach without any obvious innovations externally. While on the dock in landscape mode, users will find a fingerprint sensor and volume rocker on the top right. There are two speakers on each side of the tablet, which provide a decent but not exceptional sound for a tablet. Along with the two speakers on the left side is a USB-C port for data and charging.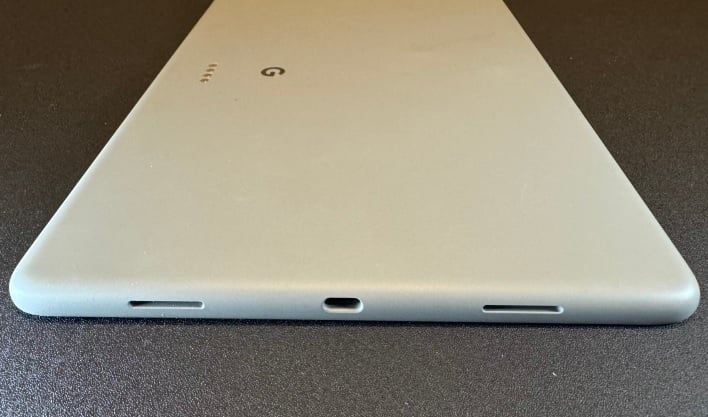 Two microphones are also positioned on the top, with a third on the right side. The magnetic docking interface is located on the lower middle of the tablet, along with the 8MP rear camera. The front-facing camera is located just above the display in the center of the device.
The tablet has a nice feel and weight to it. Users should not feel much if any fatigue from holding this thin and light device for long periods. The tablet's body is comprised of an aluminum frame, backing and glass front which feels durable, generally speaking. The matte finish of its exterior is also not a fingerprint magnet like some
other tablets we've tested
recently, though it can still feel a bit slick.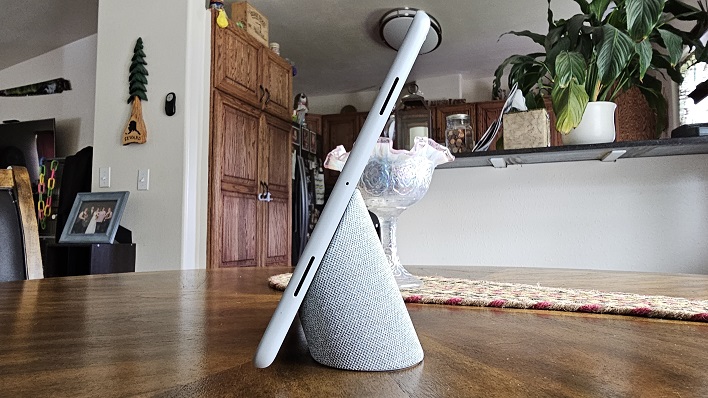 The Charging Speaker Dock has a nice design that fits perfectly with the tablet while it is docked. It provides a low profile and good viewing angle in its docked configuration. On the front of the dock, users will find the magnetic docking interface that is comprised of a Pogo pin connector. The power supply connection is on the back of the dock, as well as the 43.5mm full-range speaker. It is covered in a cloth-like fabric, making for a pleasing aesthetic that should fit most settings. It has also proven relatively easy to keep clean.
The sound quality emitted from the Pixel Tablet Dock speaker system is a pleasant full spectrum across both highs and lows. Its volume output is robust enough to fill a room, and the speaker dock is also an excellent way to watch video content with the immersive sound it produces. It should be noted, however, that the tablet must be physically on the dock for the speaker to work.
Pixel Tablet Camera Features And Performance
Some may place less value on a tablet's camera system, but there are many compelling use cases. The Google Pixel Tablet has a rear and front-facing camera with identical specs. Both are 8MP, f/2.0, with an 84-degree field of view. Each can record video at 1080p at 30fps, which on a tablet should be sufficient. However, it does fall short of the 4K video video playback the OnePlus Pad is capable of.
There is one feature the Pixel Tablet comes with that the
OnePlus Pad
does not, however, and that's Continuous Framing. While in this mode, the camera of the tablet while docked will automatically pan and zoom to keep the user in the center of the frame. This is ideal for when someone needs to be moving around on a video call, such as cooking dinner while talking to Aunt May.
Pixel Tablet Docking In Hub Mode
While the Pixel Tablet is on its dock, Hub Mode brings along several features of its own. Like with a Google Nest Hub, users can choose a screensaver that will shuffle through selected images from a Google Photo account. Making it a nice portrait frame when not in use.
Another feature while docked is getting hands-free help from
Google Assistant
. While anyone can ask it questions and get answers, only the primary user can receive personalized results, if their voice is recognized and matched.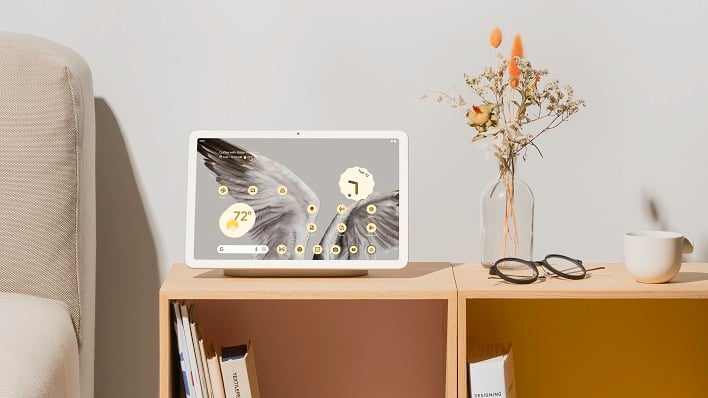 While on the Charging Speaker Dock in Hub Mode, only the people with a fingerprint recorded in the settings, or those who know the PIN, can gain full access to the tablet, making it safe and secure from prying eyes.
Google's Hub Mode is also a great asset to those with a smart home. Users can control lights, receptacles, thermostats, and more with their voice. These features are still available once the tablet is unlocked, along with the ability to control more sensitive smart home features such as cameras.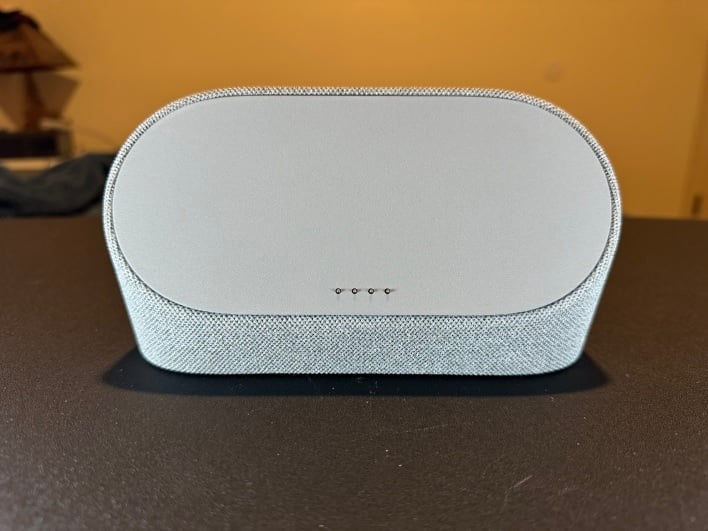 One last feature we want to mention is the ability to use multiple speaker docks together in a home. The Pixel Tablet must be docked to use a speaker group, allowing a user to play audio to a group or directly cast to a group. Unfortunately, we could not test this feature due to only receiving one device for our evaluation.
Up next is how the Google Pixel Tablet performed in a few benchmarks, as well as battery life results and the final verdict.
Related content