OnePlus Open Review: This Folding Phone Puts All Others On Notice
OnePlus Open: Superb Hardware, Excellent Cameras, And Great Software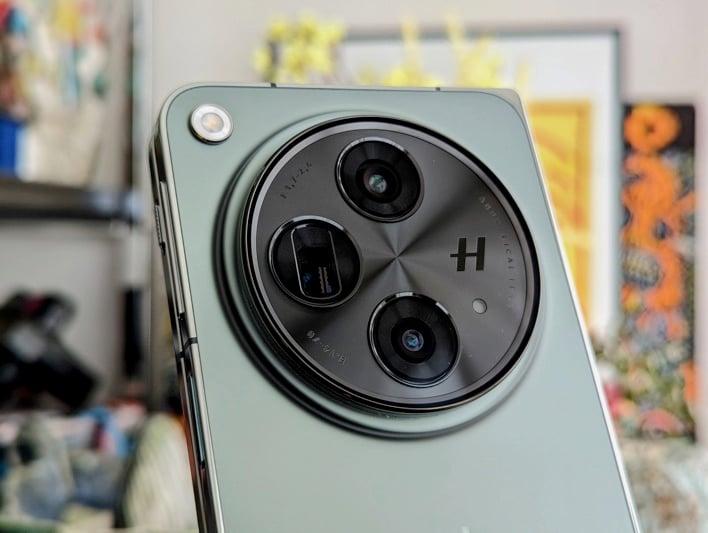 OnePlus Open - Starting at $1699


The OnePlus Open is the most affordable book-style folding phone available in the US today. It delivers superb hardware, excellent cameras, and great software, with few compromises.







Unrivaled value
Superb design and build
Beautiful displays
Excellent cameras
Blazing performance
67W wired fast charging, charger in the box
Clean and responsive software


No wireless charging
No mmWave 5G
No pen support






---
A lot has changed in the folding phone landscape over the past 6 months, especially here in the US. While the rest of the world has enjoyed a variety of flip- and book-style folding handsets for several years now, Samsung's pretty much been the only viable option here in North America. But things started changing in June with the introduction of
Moto's $999 Razr+
and $699 Razr (2023), plus
Google's $1799 Pixel Fold
.
Then, in July, Samsung refreshed its folding phone lineup with the
Galaxy Z Flip5 ($999) and Z Fold5 ($1799)
, which – despite being fairly iterative – are still regarded as the
high bar
in folding handsets. Enter the
OnePlus Open ($1699)
, a book-style folding phone co-developed with parent company Oppo and sold in China as the Find N3. It's the first time both brands have launched the exact same handset.
On paper, the OnePlus Open beats the competition with a lower price, a thinner and lighter design, better cameras, more base RAM and storage, and faster charging. But we all know specs alone don't make a great smartphone experience, especially for a folding phone. So, what's this handset like day-to-day? Does OnePlus' latest have what it takes to compete with Samsung and Google's best? Find out more here in our full review...
OnePlus Open Hardware And Design
Book-style folding phones are getting thinner and lighter, and while the
Pixel Fold
is slim (5.8mm open, 12.1mm closed), it's quite heavy (283g). Meanwhile, the
Galaxy Z Fold5
is neither (6.1mm open, 13.4mm closed, 253g). This is where the OnePlus Open shines. It's both thin (5.8mm open, 11.7mm closed), and light (239g). For reference, that's almost the same weight as last year's iPhone 14 Pro Max (240g).
For the Open, OnePlus was able to achieve this without sacrificing durability by using exotic materials like titanium, magnesium, cobalt molybdenum, and zirconium-based alloys in the hinge and frame, plus carbon fiber and Ceramic Guard glass – which is 20% more impact resistant than Gorilla Glass Victus. The end result is a sleek and sturdy folding handset with superb build quality and an IPX4 splash resistance rating.
What further differentiates the Open from the competition is the industrial design, which is simply outstanding. Not only does this smartphone look stylish and feel premium, but the outer display's 6.3-inch size and standard 20:9 aspect ratio are familiar. So, instead of being awkwardly tall and narrow like the Galaxy Z Fold5 or oddly passport-shaped like the Pixel Fold, the Open's form factor mimics a regular handset when closed.

In addition to the fancy metal and glass construction, the Open comes in two colors with two different accent materials – Emerald Dusk with a frosted glass back (like our review unit), and Voyager Black with a vegan leather back. But it's the Open's massive 2.25-inch diameter glass camera pod that really sets it apart. This bump (or imaging mesa, perhaps?) contains three Hasselblad-branded high-res shooters (48/48/64MP).


Beyond the general polish of the Open's design, we're also impressed with OnePlus' attention to detail. We appreciate how the small circular flash module protrudes slightly from one corner in the back, how the outer screen and back panel are inlaid into the metal frame with perfectly symmetrical corner radii, and how the Open's weight is evenly distributed, making it easier to hold whether it's open or closed.

Open the phone, and you'll find the volume rocker and power / lock key (which doubles as a capacitive fingerprint sensor) on the right side, and OnePlus' signature alert slider on the left. The USB Type-C port (USB 3.1), nano SIM tray, primary mic, and two speakers are located along the bottom edge, while the infrared transmitter, secondary mic, and two additional speakers are mounted on top.
Before we jump into the specs, check out our unboxing video:
OnePlus Open Specs And Features
Processing and 5G Platform

Qualcomm Snapdragon 8 Gen 2 With X70 5G Modem


Display

7.8" 2k LTPO AMOLED, 2440x2268, 1-120Hz + 6.3" 2k LTPO AMOLED 2484x1116 , 1-120Hz


Memory

16GB LPDDR5x


Storage

512GB UFS 4.0


Rear-Facing Cameras

48

MP f/1.7 Main OIS, Omni-Directional PDAF, Pixel-Stacked - 48MP f/2.2 114º Ultra-Wide AF - 64MP f/2.6 3x Periscope Telephoto OIS, PDAF

Front-Facing Cameras

20MP f/2.2 (inner) -

32MP f/2.4 (outer)


Video Recording

U

p to 4K @ 60fps, 1080p @ 60fps, 1080p slow-mo

Battery

4805 mAh, 67W wired charging, no wireless charging


OS

Android 13 With OxygenOS 13.2


Dimensions

Unfolded: 153.4 x 143.1 x 5.8mm - Folded: 153.4 x 73.3 mm x 11.7 mm (glass back)




Unfolded:

153.4 x 143.1 x 5.9

mm - Folded: 153.4 x 73.3 mm x 11.9 mm (vegan leather back)

Weight

245 grams (glass back) - 239 grams (vegan leather back)


Connectivity

802.11be Wi-Fi 7, Bluetooth 5.3+LE, NFC, USB-C, LTE, 5G (sub-6GHz)


Colors

Emerald Dusk, Voyager Black


Pricing

Find the OnePlus Open @ Amazon, Starting at $1699



OnePlus Open Display Quality
The OnePlus Open boasts two state-of-the-art displays. Inside, there's a 7.8-inch 2k (2440 x 2268 pixels, 426ppi, 10-bit) folding LTPO 3.0 AMOLED panel with an almost square 1.07:1 aspect ratio and 1-120Hz dynamic refresh rate. More importantly, the crease on this screen is significantly less noticeable than the competition's. This, combined with a special anti-glare coating, minimizes reflections in a variety of lighting conditions.
As for the outer display, it's a 6.3-inch 2k (2484 x 1116 pixels, 431ppi, 10-bit) LTPO 3.0 AMOLED panel with a standard 20:9 aspect ratio and 1-120Hz dynamic refresh rate. Both screens are absolutely gorgeous, with punchy colors, inky blacks, wide viewing angles, and superior brightness (1400 nits typical, 2800 nits peak) – making them easy to read in direct sunlight. These also support for 1440Hz PWM dimming.
Bezels are reasonably small and even all the way around, and both displays have punch holes for selfie cameras – top center for the outer panel (32MP), and top right for the inner screen (20MP).

OnePlus Open Camera Performance And Image Quality
On the imaging front, the OnePlus Open packs a trio of high-tech shooters. These consist of a 48MP f/1.7 1.12-micron pixel-stacked main sensor (1/1.43-inch Sony LYT-T808) with omni- directional PDAF and OIS, a 48MP f/2.2 0.8-micron 114-degree ultrawide (1/2-inch Sony IMX581) with AF, and a 64MP f/2.6 0.7-micron 3x periscope telephoto lens (1/2-inch OmniVision OV64B) with PDAF and OIS.
Sony's
pixel-stacked
LYTIA sensors
are the latest imaging breakthrough, and the Open is one of the first handsets to benefit from this tech. Instead of the photodiode and pixel transistor being arranged side-by-side like in conventional sensors, Sony's Dual-Layer Transistor Pixel tech stacks the photodiode above the pixel transistor, increasing full-well capacity – the amount of light each pixel can gather.
In practice, this means that a 48MP 1/43-inch 1.12-micron pixel-stacked sensor like Sony's LYT-T808 almost matches a conventional 50MP 1-inch 1.6-micron sensor like Sony's IMX989 in terms of low-light performance and dynamic range, while only taking up about half the amount of space. A smaller sensor means smaller lenses, which means a thinner optical stack (less Z-depth) and a thinner camera system.
In addition, the Open's 3x periscope telephoto supports 6x in-sensor zoom, which disables pixel binning and crops the center 16MP area of the 64MP sensor before sending the imaging data to the ISP. This results in virtually lossless "optical quality" 6x magnification. Rounding up the shooters, there's also a 32MP f/2.4 0.7-micron selfie camera in the outer display, and a 20MP f/2.2 0..7-micron shooter in the inner screen.
Like other OnePlus handsets, this phone offers a variety of shooting modes. Photo modes include portrait, night, pro (manual), 48/48/64MP high-res, action, panorama, and long exposure. Night mode supports all five shooters, but pro mode works on all three rear cameras. Like Apple's multi-frame ProRAW, OnePlus' 12-bit RAW+ option combines the benefits of RAW and computational photography.
Besides pro mode and its RAW+ option, Hasselblad specific features include "Master Style" filters (Radiance, Serenity, and Emerald) and XPAN mode, which replicates the company's iconic 45mm shooting experience with a 65:24 aspect ratio. The Hasselblad-inspired orange shutter button is another nice touch. It's also worth noting that there's a macro mode which uses the autofocus-equipped ultrawide.

On the video front, all three rear shooters capture stabilized video (with stereo audio) at up to 4k/1080p 60fps. Selfie videos max out at 4k/1080p 30fps. Video modes include ultra steady (ultrawide and main, 1080p 60fps), Dolby Vision HDR (main, 4k/1080p 30fps), movie (manual, 21:9, 4k 30fps, supports LOG), slow motion (1080p 240fps and 720p 480fps), time lapse (main and selfie 1080p 30fps), and dual view (rear plus selfie, 1080p 30fps).
So, how do these shooters perform? As you'd expect, the Open takes fantastic pictures with excellent detail, accurate exposure, and superb colors. The 48MP main, 48MP ultrawide, and 64MP telephoto cameras all bin (combine) groups of four pixels into one larger pixel to improve dynamic range and low-light performance, resulting in 12/12/16MP images (with 2.24/1.6/1.4-micron binned pixels), respectively.
The 3x periscope telephoto really stands out. 6x photos look terrific, 10x results are solid, and even 20x shots are still usable. Things only really start breaking down beyond 30x. Selfies are lovely, and video performance is pretty decent, too. We've been fans of Oppo's camera tuning and color science for years now, and while Hasselblad's role is less obvious here, it's clear that the Open benefits from Oppo's imaging expertise.
Speaking of zoom, the Open borrows a feature from the
iPhone 15 Pro and Pro Max
, and lets you pick between three focal lengths for the main shooter – 24, 28, and 35mm (1.0x, 1.1x, and 1.4x). Unlike the iPhone, you can't change this by repeatedly tapping on the 1x button in the camera app. Basically, it's only an option in the settings, and there's a slight loss in quality at 1.1x and 1.4x, so choose wisely.
Overall, we're very impressed with the OnePlus Open's shooters. These are definitely the company's best cameras yet – by a wide margin. As such, OnePlus is finally playing in the same league as Apple, Samsung, and Google when it comes to smartphone photography.

Next up: audio, performance, and battery life...
Related content