OnePlus Pad Review: An Affordable, Mainstream Android Tablet
OnePlus Pad Review: Solid Hardware With A Great Build And Comfortable Form Factor


OnePlus Pad - $479 MSRP


The first OnePlus tablet offers slick, beautiful hardware in a compelling form factor, but its software support could use some work.






Sharp, bright display with 7:5 aspect ratio
Fast 67W charging and included plug
Excellent battery life
Sleek aluminum chassis
Consistent performance


Stylus and keyboard case are expensive and not supported well
OxygenOS lacks tablet refinement currently
Low Quality Cameras






---
OnePlus has been making Android phones since 2014, when it was only producing enough devices to supply its invite-based purchasing system. Over time, OnePlus did away with that system, however, and started making multiple smartphones across various price categories every year, but never in all that time has it produced a tablet -- until now. Android tablets were already on the decline when OnePlus gained prominence, but things are different now. Improved hardware and Google's new focus on large-format
software for foldables
have breathed new life into tablets, and OnePlus is hoping to capitalize on it.
The OnePlus Pad
is a competent Android slate, but it's not much more than that. Android has some rudimentary tablet optimizations today, and OnePlus didn't go above and beyond a la Samsung to build upon that foundation. In fact, it even skipped some tablet features that have been added to the core Android OS. The OnePlus Pad is sleek, powerful, affordable and has great battery life, but you're still mostly doing the same things you can do on a smartphone—just with a bigger screen. On the plus side, it's under $500. There are definitely worse Android tablets to buy, but the iPad looms large over this one.
OnePlus Pad Features and Specifications
| | |
| --- | --- |
| SoC | MediaTek Dimensity 9000 |
| Display | 11.61-inch 2000 x 2800 LCD @144Hz |
| Memory | 8 GB |
| Storage | 128 GB |
| Rear-Facing Camera | 13 MP f/2.2 |
| Front-Facing Camera | 8 MP f/2.3 |
| Video Recording | 4k30 |
| Battery | 9510 mAh, 67W charging |
| Authentication | Face unlock (camera-based) |
| OS | Android 13 (OxygenOS) |
| Dimensions | 258 x 189.4 x 6.5 mm |
| Weight | 552g |
| Dust/Water Resistance | None |
| Connectivity | Wi-Fi 6, Bluetooth 5.3 |
| Colors | Green |
| Pricing | $479 MSRP - Find It @ OnePlus |
---
The OnePlus Pad looks and feels like a premium piece of hardware. There's no plastic or mirror-finish glass on the chassis. Instead, you get an elegant unibody aluminum design with one camera module centered on the back. The overall build quality is even better than we'd expect for the sub-$500 asking price. This is also a fantastic size for a tablet. The 11.6-inch screen is big enough that it can offer a meaningfully different experience versus a phone, and the narrow bezels give you just enough room to hold the slate without hitting the touchscreen.
At just 6.5mm thick and 552g, the OnePlus Pad is very comfortable to hold in landscape. You'll find speaker grilles on the left and right, and there are pogo pins on the bottom for the optional keyboard case. The top edge is a bit flatter to provide a place for the (also optional) stylus to attach and charge. The USB-C port is on the right edge.
Those directions only apply when you're holding the OnePlus Pad in landscape, but it invites portrait orientation use with the unique 7:5 ratio. Many of today's Android tablets, like those from Samsung, have gone back to widescreen form factors, which don't lend themselves well to holding a tablet in portrait. The OnePlus Pad doesn't feel ungainly this way, but the 13MP camera module placement suggests to us that
OnePlus
didn't fully account for this usage mode. When you turn the tablet the other way, the camera module is right where your hand falls. It's sure to get smudged and generally interferes with holding the tablet. Although, the image quality is poor anyway, so the smudges might not matter all that much.
You won't find a fingerprint sensor anywhere on this tablet. The screen is an LCD, so an under-display sensor won't work, and the power button is just a button. The tablet does push face unlock pretty aggressively, but that just uses the front-facing 8MP camera, which isn't as secure as a true biometric sensor. That said, it's reasonably fast.
As for the display itself, it's got its ups and downs, but we like it overall. At 2000 x 2800 pixels, it looks razor-sharp most of the time, but lacks contrast at lower brightness levels, and there's noticeable backlight bleed in a few places around the edges. The max brightness is good (for a tablet) at 500 nits, and the high refresh rate theoretically allows for smoother animations. Out of the box, the OnePlus Pad had some performance issues that made the UI jerky. An update has mostly alleviated that, but the UI and still locked at 120 fps. So, those extra refresh cycles are just going unused (OnePlus says apps can run at the full 144Hz, but it's unclear if any ever will). This is an LCD, so you don't get those perfect OLED blacks.
OnePlus isn't just shoving its first tablet out into the world without company. It has released a keyboard case and a Bluetooth stylus as well, which you can purchase as add-ons for $150 and $100, respectively. The keyboard case is compact and feels well-made, attaching securely to the tablet with magnets. It's stable enough when deployed that you can sit it on your lap to type. The typing itself, though, isn't great. The keys are small and mushy, and while the trackpad has good tactility, it's also too small. Let's not forget Android is a touch-based OS, and OnePlus didn't do anything to optimize Android for keyboard or mouse input.
The same goes for the OnePlus Stylo, which looks a lot like an Apple Pencil, but the functionality doesn't compare. There are no preloaded apps to take advantage of the stylus, and the Play Store is light on that kind of content. The tablet doesn't even have handwriting recognition. We tested a few third-party drawing and coloring apps, and the stylus response was somewhat laggy. When price is one of the main selling points of a tablet, and specific customizations aren't made for add-ons like the Stylo, they don't make much sense from the get-go. Perhaps down the line OnePlus will incorporate some hooks for the Stylo, but we'll have to wait and see.
OnePlus Pad: Software Experience
OnePlus might not have aced the hardware, but it did surprisingly well for a first effort. The software on this device is mediocre, however. The OnePlus Pad runs a version of the company's custom version of Android known as OxygenOS. In recent years, this software has merged with ColorOS, which is what Oppo (OnePlus' parent company) uses on its devices. OxygenOS lost a lot of features it used to have, and some are implemented in different, less convenient ways. It also bears a strong resemblance to Apple's iOS on the Pad, even more so than
OxygenOS on phones
.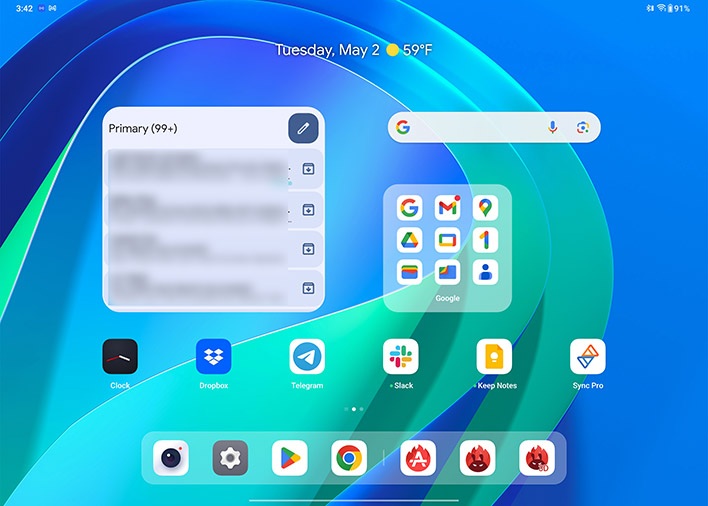 Google has worked with Samsung to make Android more capable for large-screen multitasking in the past few versions, but we don't see much evidence of that feeding into OxygenOS. Opening apps in split-screen is awkward, and you're limited to just two apps on the screen with no three-up option. The taskbar Google added to stock Android is also missing. OnePlus has an option to save app groups to the home screen for quick access, but this feature doesn't seem to work currently.
Still, if you just want a bigger screen for videos and apps, the OnePlus Pad has it. You get the large format UI for apps like Gmail and Drive, which is genuinely useful. We also appreciate some of OnePlus' tablet-optimized widgets that change appearance based on how large you make them. However, Android still lacks wide support for tablet-optimized apps after years of stagnation. That's why Samsung, one of the few companies to consistently make Android tablets, bundles so many additional tools. This is a large tablet with a keyboard and a stylus, but it basically works like an oversized phone without enough software chops currently to back it up.
OnePlus promises three years of OS updates and four years of security patches. This policy might not match the likes of Samsung or Google, but it's respectable for a mid-range tablet.
Related content