Pixel Watch 2 Spotted In FCC Listing But It's Missing A Key Feature
Rumors percolated for years that Google would release its own smartwatch, but year after year, Android wearable fans were left with dwindling options. Google finally got it together in 2022, releasing
the Pixel Watch
(above). That device is coming up on a year old, and its replacement, presumably the Pixel Watch 2, has just stopped by the Federal Communications Commission.
As is customary, Google requested hardware confidentiality, so the FCC report doesn't include photos of the device, the manual, or schematics. However, there is some interesting info to be gleaned from the documents.
The FCC was provided with three different versions of the Pixel Watch, two with LTE and one with just Wi-Fi and Bluetooth. The FCC lists four versions of the non-LTE watch, all bearing model number G4TSL but with different straps. There's a plastic active band, a metal mesh strap, a metal link bracelet, and a slim metal strap.
Google will also offer the Pixel Watch 2 with LTE, which allows you to add a mobile data plan to the watch's internal eSIM. Model GC3G8 only has LTE bands 5 and 7, but GD2WG will be the version you see on sale in the US with LTE on bands 2, 4, 5, 12, 13, 17, 25, 26, 66, and 71.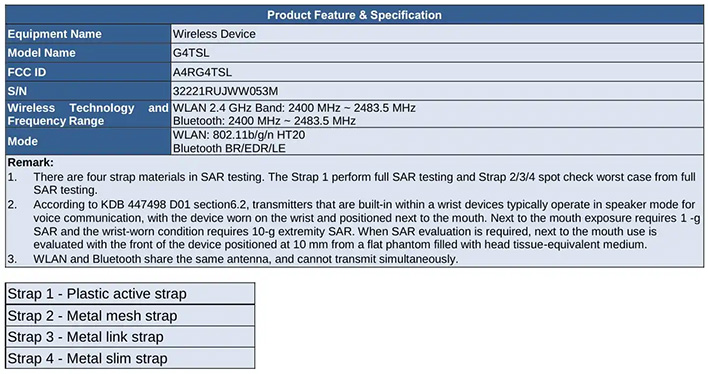 Reliable rumors have pointed to the Pixel Watch 2 sporting ultra wide-band (UWB), but that's not listed anywhere in the FCC report, says
9to5Google
. UWB would provide more precise location data for device-finding features and integration with a tracker tag. Google doesn't make any of those—yet. Even if Google launched the watch without UWB enabled, the component would still need to be tested at the FCC. UWB already exists in some Google products, like the
Pixel 7 Pro
.
Beyond the FCC report, the Pixel Watch 2 is expected to debut in Q4 alongside the Pixel 8 and 8 Pro. Leaks have suggested it will have an updated processor, an improved display, and a slightly larger battery. The current
Pixel Watch
has stuck close to its $350 starting price, but Google recently put it on sale for $60 off. Maybe Google's clearing space for a new model.