Samsung Galaxy Tab S9 Ultra Review: A Gorgeous But Big Slate
Samsung's Galaxy Tab S9 Ultra Is A Top-Notch Android Tablet With Beautiful, Big OLED Display At A Premium Price Point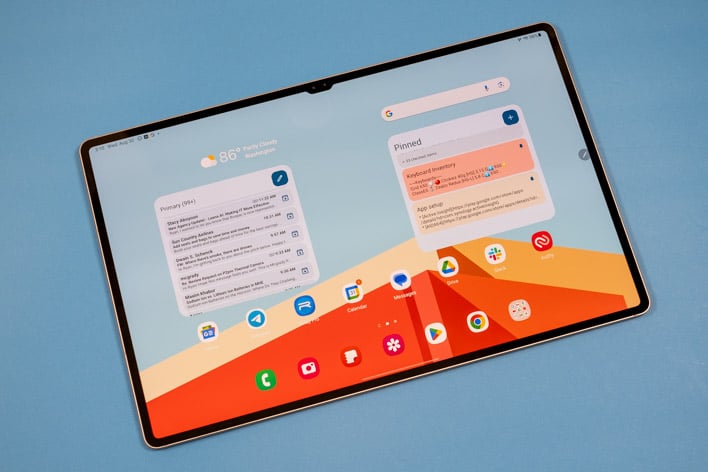 Samsung Galaxy Tab S9 Ultra - Starting at $1,199.99


The Samsung Galaxy Tab S9 Ultra is a big, bodacious and powerful Android tablet that's in a class of its own, but may be too big and expensive for some consumers.







The 14.6-inch OLED screen looks gorgeous
Excellent performance
Unparalleled multitasking capabilities
S Pen included
Improved S-Pen charging mechanism

$1,200 starting price
Gargantuan for a tablet
Keyboard add-on is $350
Android still lacks tablet apps



Like last year's Galaxy Tab S8 Ultra, the recently released Galaxy Tab S9 Ultra has a relatively large footprint and a price tag to match. This Android slate has a whopping 14.6 inch display, making it one of the largest tablets on the market, and it's got enough power to keep up with even the fastest of today's mobile devices.
Android tablets technically predate the
original iPad
, but Google didn't give Android the attention it deserved on large displays in those early days. Things have changing now, thanks in large part to optimizations made for tablet-style foldables like the
Galaxy Z Fold 5
. While there are still a dearth of dedicated tablet apps, Samsung is making the best of the situation. The Galaxy Tab S9 Ultra lets Samsung's impressive multitasking features shine, and the display is undeniably gorgeous. The $1,200 starting price, however, may be tough for some to justify. Let's dive in and take a closer look...
Samsung Galaxy Tab S9 Ultra Specs And Design
| | |
| --- | --- |
| Processor | Qualcomm Snapdragon 8 Gen 2 |
| Display | 14.6-inch 1848 x 2960 OLED @ 120Hz |
| Memory | 12GB |
| Storage | 256GB, 512GB, 1TB - microSD card slot |
| Rear-Facing Cameras | 13MP f2.0, 8MP f2.2 ultrawide |
| Front-Facing Cameras | 12MP f2.2, 12MP f/2.4 ultrawide |
| Video Recording | 4K@30/60fps, 1080p@30fps |
| Battery | 11,200mAh |
| OS | Android 13 |
| Dimensions | 326.4 x 208.6 x 5.5 mm |
| Weight | 732g |
| Connectivity | Wi-Fi 6e, Bluetooth 5.3+LE, USB-C 3.2 |
| Colors | Beige, Graphite |
| Pricing | Starting at $1,199.99 |
The Galaxy Tab S9 Ultra has a very clean design with only a handful of external features to talk about. All large tablets are, to some degree, just a vehicle to get as much screen real estate in your hands as possible. The Galaxy Tab S9 Ultra takes that to the extreme with its massive 14.6-inch 1848 x 2960 OLED. There's a narrow bezel around it, giving you just enough space to grip the tablet without touching the screen. The bezel is almost symmetrical—there's a notch on the top edge housing the slate's dual front-facing cameras. It takes a small bite out of the status bar but is otherwise surprisingly unobtrusive. The addition of a wide-angle camera gives you more options for video chats, but the cameras are standard fare and don't stand out in any meaningful way.
The frame and back are aluminum, composed of the same "Armor Aluminum" alloy that Samsung uses on its Galaxy S phones. This material is supposed to be harder than other types of aluminum used in mobile devices, however.
The Tab S9 Ultra is wafer-thin at a mere 5.5mm. It can afford to be even thinner than phones because the large footprint affords it lots of internal space to fit components like the 11,200mAh battery. That doesn't mean it's light, though. The Tab S9 Ultra tips the scales at 732g (1.61 pounds), which is 50g heavier than the largest iPad Pro.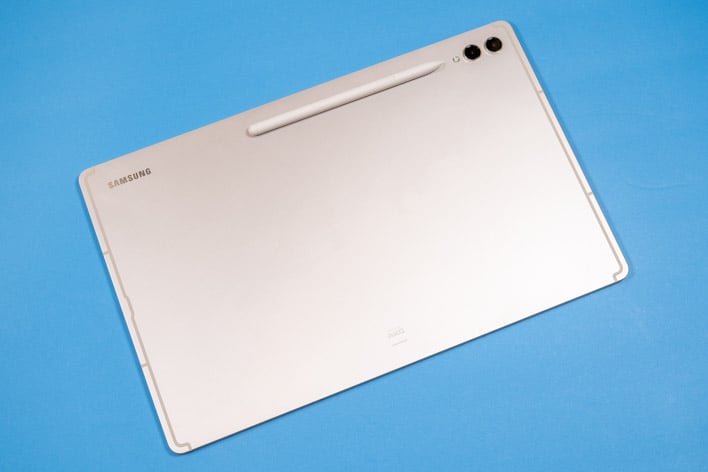 The upshot of the massive proportions is the 14.6-inch OLED display. It's sharp and dense enough that you'd be hard pressed to see individual pixels, even if you eyeball it really closely. The viewing angles and colors are also perfect, which can be handy with something this bulky. You don't have to worry about holding it exactly front and center for the screen to look good. It gets bright enough to be visible outdoors, but it's also very reflective. You'd be better off with a matte display if you're going to be doing a lot of outdoor computing.
Samsung supports the S Pen on the Tab S9 Ultra, and it comes bundled with the tablet. This is the larger S Pen that looks like a proper pen rather than the slim version that docks inside the Galaxy S23 Ultra. It's comfortable to use, and it feels great on the display—much less slippery than the Apple Pencil. The S Pen works on the display even if its battery is drained, but it's not hard to keep it juiced up. The magnetic connector on the back is easy to line up and charges the S Pen quickly. Unlike last year's Ultra tablet, the left-right orientation doesn't matter when attaching the pen. That's a welcome change. When powered, the S Pen can launch and control select apps via a button press, which adds an additional layer of usefulness, over and above a simple stylus.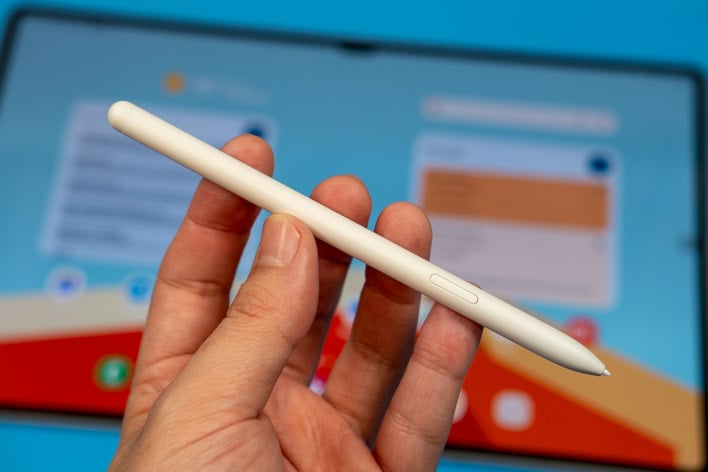 You don't get a case or dock with the tablet, but Samsung sells a keyboard case that essentially turns the Tab S9 Ultra into a laptop. However, it costs a whopping $350. And if you bought last year's $350 keyboard dock, you're out of luck. Despite the 2023 tablet having the exact same dimensions, it won't fit on the new tablet because the camera module is a slightly different shape. This feels a bit like planned obsolescence, especially after only one year, but the S8 Ultra will remain in Samsung's line-up for now and is still being sold. At least Apple's overpriced accessories like the $300 Magic keyboard work across multiple tablet generations.
If you want to watch video on something larger than your phone the Tab S9 Ultra is hard to beat. As previously mentioned, the widescreen OLED panel is fantastic, but the speakers are amazing as well. There are four of them spaced around the periphery of the frame. They're loud, crisp, and they even have a little bit of bass. This tablet definitely sounds better than the average laptop speakers.
On the other hand, this Galaxy Tab S9's size is something of a no-man's-land. It's so much larger than the average tablet that it can be ungainly—it's like a laptop without the keyboard. A a Windows or macOS based laptop offers much more functionality than Android. The widescreen ratio that makes it so nice for video also means it's even more awkward in portrait orientation. A smaller version of this tablet,
of which there are two
, would be much more manageable for the average consumer.
Samsung Galaxy Tab S9 Ultra Software
The Galaxy Tab S9 Ultra runs Android 13 out of the box with
Samsung's One UI
5.1 customizations. Usually, OEM customizations do little to enhance the experience but not so on Samsung's large-screen devices. Samsung has the best multitasking features of any Android device maker, and the Tab S9 Ultra is particularly well-suited to running multiple apps.
With the expansive screen, Samsung's split-screen UI is incredibly useful. You can have up to three apps live on the screen at once, just like on the Galaxy Z Fold 5. Unlike that phone, however, the apps have room to breathe on the Tab S9 Ultra. You can easily navigate and swap between apps with no weird rendering errors from lack of space. One UI also makes it easy to save groups of apps as a shortcut. Just tap, and the two or three apps you've chosen will launch immediately in split-screen. There's also a floating window mode, which again, is so much more useful on a device of this size.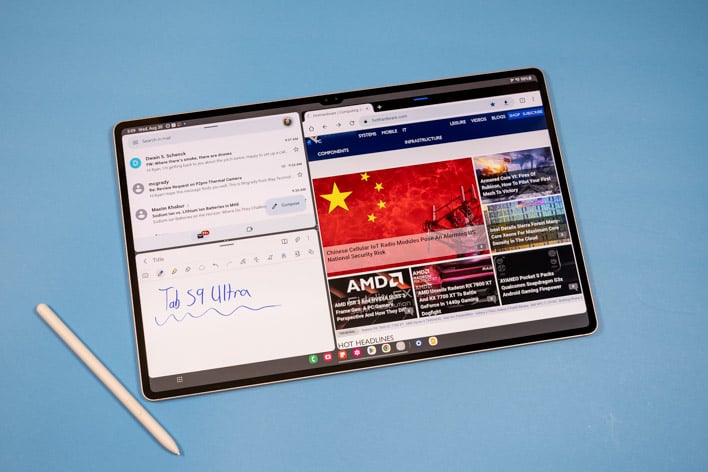 Google's multi-year break from tablets has left the application ecosystem heavily tilted toward phones. Very few apps render well on large screens, and while the multitasking features do help, there are too many times when we opened an app in full screen to find the UI was too tiny or broken on the Tab S9 Ultra's screen. Some apps don't even support landscape mode, forcing you to rotate the tablet into the more awkward portrait orientation.
Getting timely updates on Android devices has always been a struggle, but things are better today, as long as you're willing to buy a high-end device. Samsung's flagship phones and tablets are now guaranteed robust support. In the case of the Tab S9 Ultra (and its smaller siblings), you get four years of Android OS updates (ending with Android 17) plus another year of security patches. Samsung's updates aren't as quick as Google's, but you can count on long term support, which is a big plus, especially versus lesser known off-brands.
Samsung Galaxy Tab S9 Ultra Performance And Battery
Look at the spec sheet above, and you'll notice the Tab S9 Ultra has a lot in common with the latest Samsung smartphones. It has the same overclocked Snapdragon 8 Gen 2 chip, along with a healthy 12GB of RAM and at least 256GB of storage. We've got some benchmarks below, but there aren't many surprises. The Tab S9 Ultra is always fast, even when running multiple apps or playing a heavy game like Civilization VI.
UL's PCMark for Android is an excellent suite of tests if you want to benchmark a wide range of tasks on a handset -- things like image and video editing, as well as lighter-duty, everyday workloads such as email and web browsing. When you see the test running live, it's clear the scripted application tests are carefully selected and tuned to make use of the mobile platform in a very controlled way.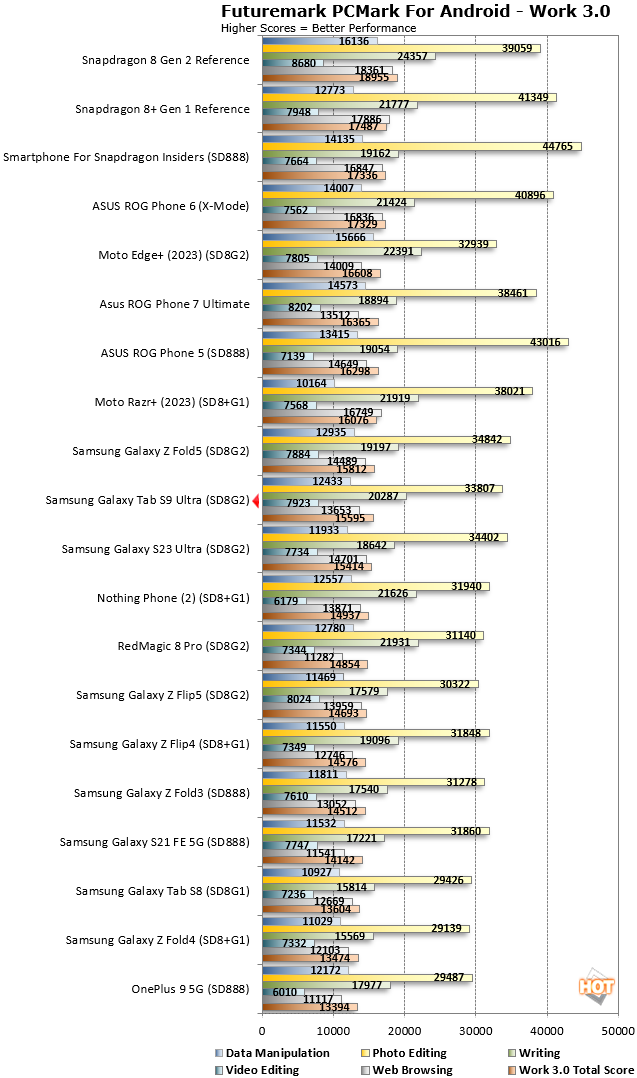 The Tab S9 Ultra performs well and is tightly grouped with some of the fastest devices currently on the market here, squeaking past the similarly equipped Galaxy S23 Ultra. Last year's
Galaxy Tab S8
isn't that far behind, though.
Now, let's take a look at how the Tab S9 Ultra stacks up in GFXBench, which has been one of the standard mobile graphics/gaming performance benchmarks for years. To ensure that display refresh (v-sync) and resolution aren't limiting factors, we're comparing off-screen test results here. GFXBench tests OpenGL ES graphics workloads and we're specifically testing OpenGL ES 2.0 and 3.0, as well as Vulkan in the latest iterations.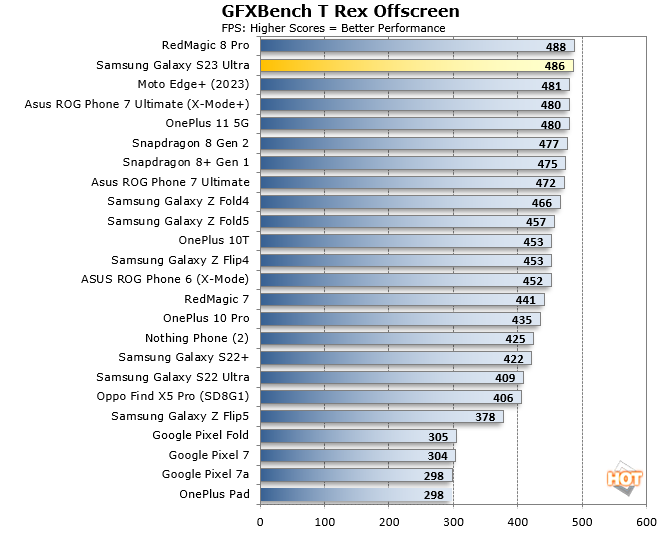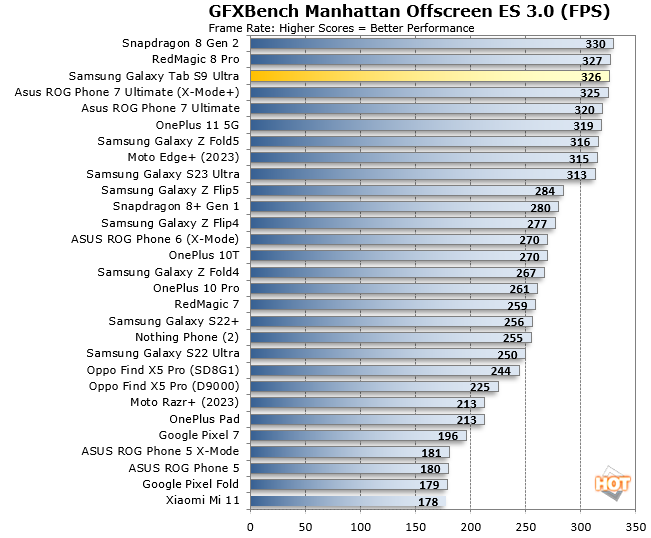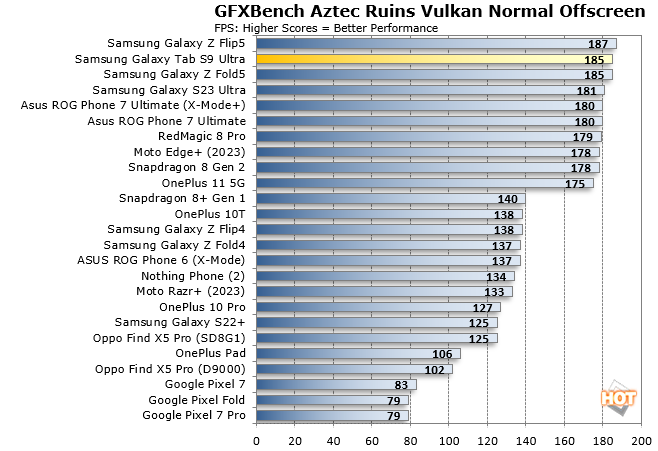 There's no doubt about it—the Tab S9 Ultra is one of the most powerful Android devices for games. It scores near the top in all three GFXBench tests. Even devices from last year are a step down compared to the latest Snapdragon Adreno GPU. This story continues in 3DMark.
UL's 3DMark Sling Shot is one of several modules in the 3DMark mobile suite. Unlike previous gen 3DMark mobile tests, Sling Shot is a much more advanced OpenGL ES 3.1 and Metal API-based benchmark that employs more advanced rendering techniques, like volumetric lighting, particle illumination, multiple render targets, instanced rendering, uniform buffers and transform feedback. We're running this test in off-screen mode once again to remove display resolution differences from the equation. This allows us to compare cross-platform results more reliably.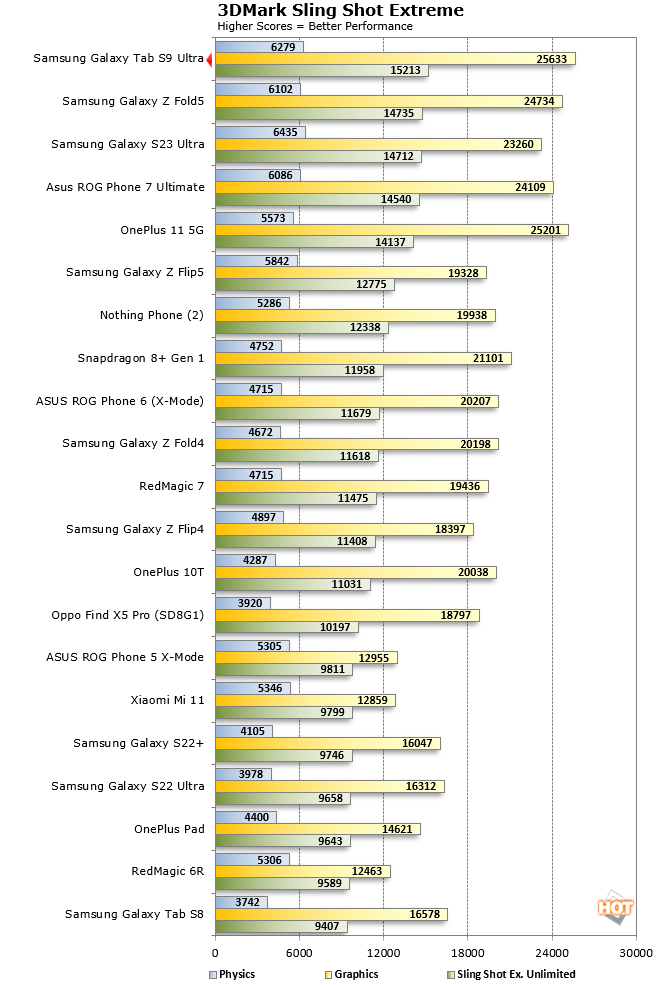 Again, the Tab S9 Ultra is one of the fastest devices in Slingshot. The Tab S8 is at the bottom of this graph, but the performance differential is not as vast as it may appear. 3DMark's Wild Life benchmark is newer and more demanding than Slingshot, and it allows powerful devices to shine. The Tab S9 Ultra manages another impressive victory, showing a greater difference between it and the last-gen Tab S8.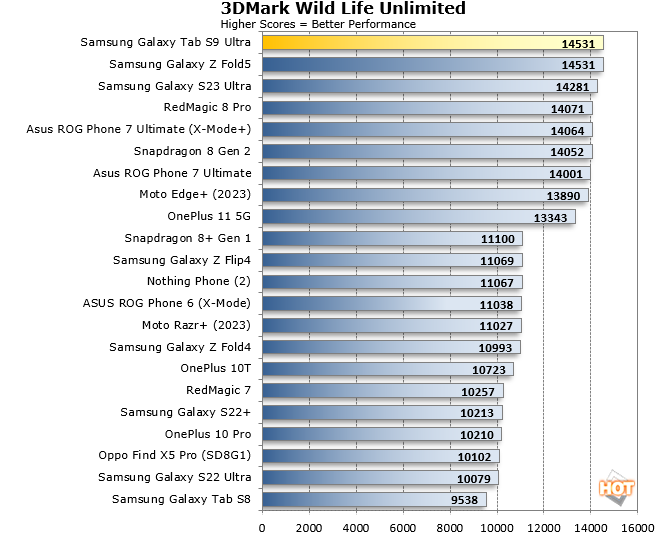 All the impressive benchmarks in the world won't do any good if a device throttles performance to a fraction of its peak after a few minutes of continuous use. We've seen some phones and tablets drop about half of their benchmark scores in response to heat, but the Tab S9 Ultra fairs well here. The 3DMark Wildlife stress test shows how well (or not) a device handles heat during sustained periods of usage. The Tab S9 Ultra is not constrained by a pocket-friendly form factor, so it remains much cooler and sustains top performance longer, losing only 14% to throttling.

You can't get something for nothing, and the flip side of all that power is the battery life. Even with a large 11,200mAh cell, the Galaxy Tab S9 Ultra not going to set any records for longevity. We ran the Tab S9 Ultra through the PCMark battery rundown test, and it lasted a bit over nine hours. That puts it near the back of the pack. It falls far short of the smaller, more efficient OnePlus Pad.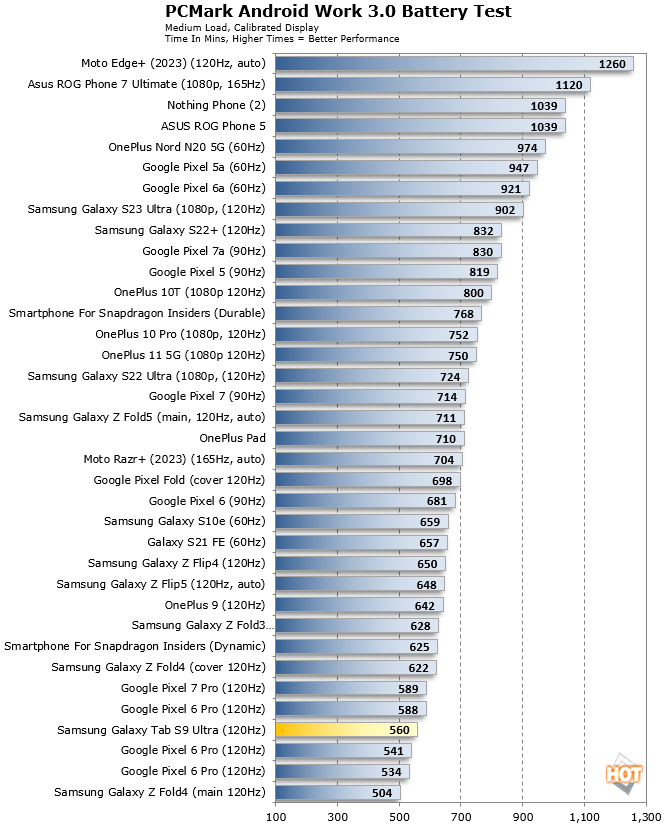 During daily use, the Tab S9 Ultra doesn't drain its battery especially fast. The display does sap the battery, but tablets tend to idle a lot between usage sessions with the screen dimmed. A phone with the above numbers would be a problem, but we had no trouble using the Tab S9 Ultra on and off for a few days between charges.
Samsung Galaxy Tab S9 Ultra Conclusion: Should You Buy It?
Like some of Samsung's other high-end Android devices, the Galaxy Tab S9 Ultra's price requires careful consideration. If you balk at the idea of spending $1,200 or more on an Android slate, you should move along. While the Tab S9 Ultra is great for many things, the gorgeous display, video conferencing prowess, and solid performance are not going to convince price-sensitive buyers to overlook it's premium price.
Samsung's One UI integrations, which give users the ability to share data, messages, and even phone calls among Samsung devices also add value to the Tab S9 Ultra. If you're livin' the vida Samsung,
and
you want a big, beautiful tablet, then maybe the Tab S9 Ultra is for you. This is the best way to experience Android's powerful multitasking features, with the option to run three apps side-by-side with enough screen real estate that they're all usable.
We also appreciate Samsung's S Pen integrations. The Tab S9 Ultra is great for taking notes and drawing. It's a huge canvas on which to express yourself, but only so far as Samsung's apps will take you. There are very few third-party Android apps that look right on a display this big, and even fewer that offer a passable S Pen experience.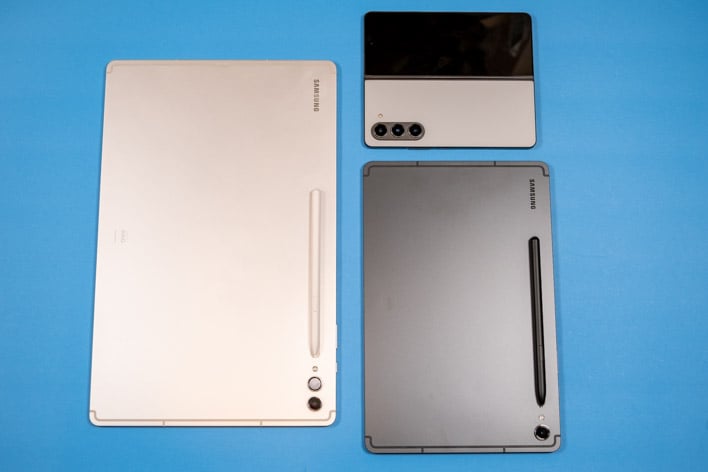 Even if you're a Samsung fan who wants a big tablet, you might have bought one last year. If you've got a Tab S8 Ultra, there's little reason to upgrade to this year's model. The refined S Pen holder and slight processor bump isn't worth another $1,200.
We should also mention that Samsung maintains software support for an extended period, so if you are considering a premium device like the Galaxy Tab S9 Ultra, rest assured that Android and security updates will be made available for a number of years.
Though it clearly commands a premium, the Samsung Galaxy Tab S9 Ultra is a well-built, high-performance device that stands-out for a number of reasons over lesser Android tablets. If the large OLED display, S Pen support, class-leading performance, and ability to multitask are appealing to you, and you've got the budget, the Samsung Galaxy Tab S9 Ultra delivers.
Related content