Google Integrates Bard AI Into Gmail, YouTube, Maps, And More Popular Apps
Google says its AI assistant
Bard
is improving with its latest update. The latest Bard model now integrates with Google apps and services to better assist with more helpful responses through Bard Extensions and an enhanced "Google it" button.
The tech giant launched Bard Extensions in English yesterday, introducing a new way to interact and collaborate with the
AI chatbot
. Through the new extensions, Bard can find and show users relevant information from Google tools that people utilize daily, such as Gmail, Docs, Drive, Google Maps, and YouTube. It can achieve this even when the information is scattered across multiple apps and services.
An example Google shares is when someone plans a trip to the Grand Canyon. Users can ask Bard to fetch the dates that work for all those going from Gmail, search for real-time flight and hotel information, grab Google Maps directions to the airport, and snag some handy YouTube videos on what to do while there. And all of this is done within the same conversation.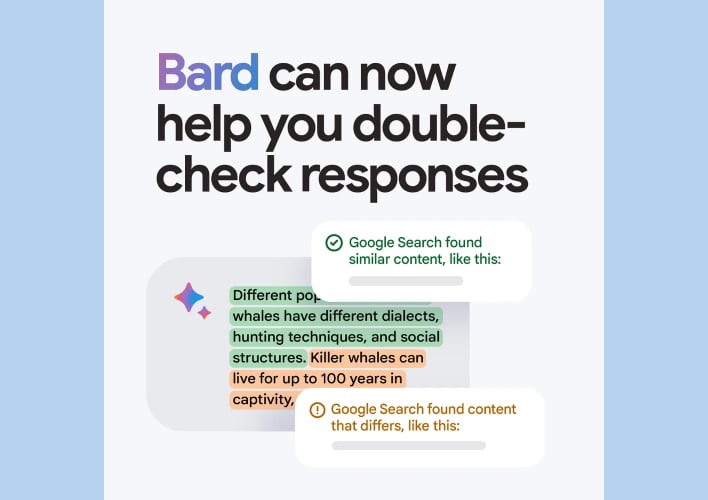 Google
emphasizes that it is committed to protecting a user's personal information, so someone who chooses to use the Workspace extensions or content from Gmail, Docs, or Drive will not be seen by human reviewers, used by Bard to show ads or train the Bard model. The company adds that users are always in control of their privacy settings when choosing how to use these extensions, and they can be turned off at any time.
Another addition is the ability to double-check responses and build on shared conversations (in English only for now) while utilizing Bard's "Google it" button. When a user clicks on the "G" icon, Bard will look at the response and then evaluate whether or not there is content on the internet that substantiates it. If a statement can be assessed, the user can click the highlighted phrase and learn more about information that confirms or contradicts it.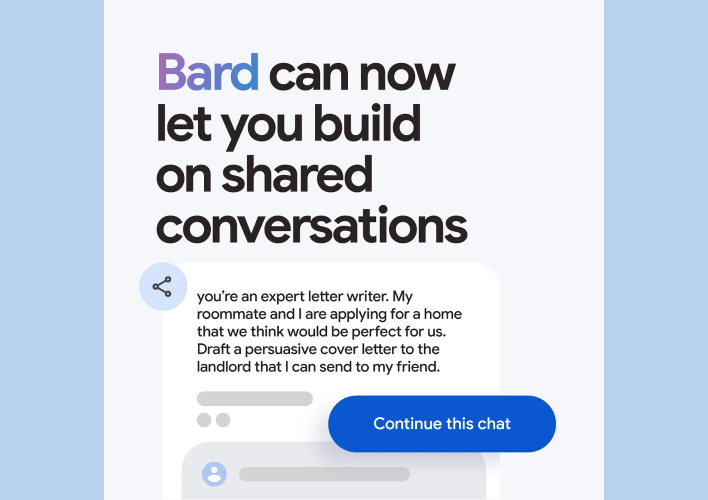 Bard can now also be used to build on shared conversations. Users can share a Bard chat via a public link with another person, and then continue the discussion, allowing both to ask Bard additional questions about the topic. This new feature can also be a jumping-off point for a new idea.
Google continues to advance
Bard's capabilities
and expand access to existing English language features, such as uploading images with Lens. The company is also working on modifying Bard's responses to more than 40 languages.