Pixel 8 And Pixel 8 Pro Review: Artificially Intelligent, Naturally Elegant
Google's Latest Pixel 8 Phones Are The Smartest Smartphones In Town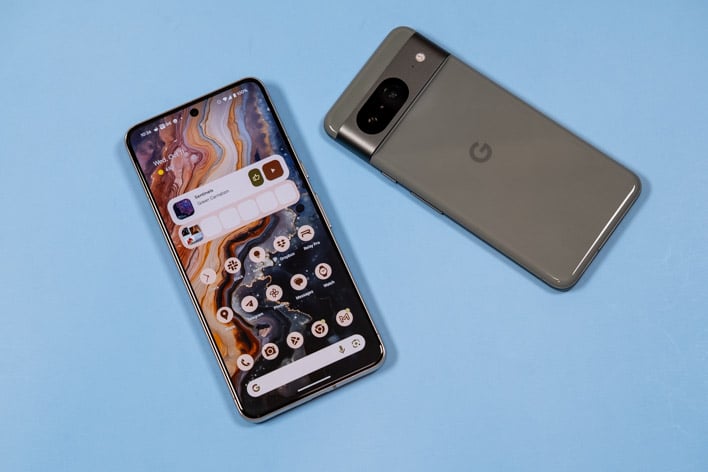 Google Pixel 8 and Pixel 8 Pro: Starting at $699.99 and $999.99


Google's latest Pixel phones are the smartest smartphones in town, and t

here's better battery life, brighter displays, new cameras, sleeker designs, new AI features, and more on tap here.






Brighter, flatter screens
Seven years of OS updates
Useful AI camera features and pro photo mode
Refined, attractive design
Faster charging

Pro camera controls arbitrarily limited to Pixel 8 Pro
$100 price bump on both models
Tensor G3 falls behind in games






---
It took Google six years of tinkering with the Pixel lineup before it had an unequivocal winner on its hands. It's smart and understandable that Google built on that success with the
Pixel 7
, and now the Pixel 8 and 8 Pro have arrived to carry on that legacy. So, there are no profound changes in the Pixel formula—you might not even be able to tell the Pixel 8 from its predecessor, until you get it in your hand that is.
These phones are not bereft of upgrades, though. There's better battery life, brighter displays, new cameras, sleeker designs, new AI features, and more on tap here. Taken together, this is about as much of a year-over-year upgrade as you can expect for a non-folding smartphone in 2023. That said, let's run down some specifics and dive deeper into Google's new Pixel flagships...
Google Pixel 8 and 8 Pro Features and Specs
Processor

Google Tensor G3


Display

Pixel 8: 6.2-inch 1080 x 2400 OLED @ 120Hz
Pixel 8 Pro: 6.7-inch 1344 x 2992 LPTO OLED @ 120Hz

Memory

Pixel 8: 8GB
Pixel 8 Pro: 12GB


Storage

Pixel 8: 128GB, 256GB UFS 3.1
Pixel 8 Pro: 128GB, 256GB, 512GB, 1TB UFS 3.1

Rear-Facing Cameras

Pixel 8: 50 MP f/1.7 primary (OIS), 12MP f/2.2 ultrawide
Pixel 8 Pro: 50 MP f/1.7 primary (OIS), 48MP f/2.8 5x telephoto (OIS), 48MP f2.8 ultrawide

Front-Facing Cameras

10.5MP f/2.2 (autofocus)


Video Recording

U

p to 4K @ 60fps, 1080p @ 60fps

Battery

Pixel 8: 4575 mAh
Pixel 8 Pro: 5050 mAh


OS

Android 14


Dimensions

Pixel 8: 150.5 x 70.8 x 8.9 mm
Pixel 8 Pro: 162.6 x 76.5 x 8.8 mm

Weight

Pixel 8: 187g
Pixel 8 Pro: 213g

Connectivity

Wi-Fi 7, Bluetooth 5.3, NFC, USB-C, LTE, 5G (sub-6GHz both, and mmWave on Pro), UWB


Colors

Pixel 8: Hazel, Obsidian, Rose
Pixel 8 Pro: Porcelain, Obsidian, Bay


Pricing

Pixel 8: Starting at $699.99
Pixel 8 Pro: Starting at $999.99

The new made by Google Pixel 8 and Pixel 8 Pro retain the increasingly iconic design features of Google's last few Pixel phones. There's an aluminum frame that merges seamlessly into the camera visor on the back. Google streamlined this part of the device a touch, grouping all three of the 8 Pro's camera sensors in the same window. That makes the design more consistent across the Pixel 8 and Pixel 8 Pro, and they are quite attractive phones. The corners are more aggressively rounded, and the frame itself avoids that stark, iPhone-style flatness that so many other phones are going for lately.
The Pixel 8 Pro has virtually identical dimensions to last year's phone, but the display is now flat. Curved edges can make a large phone easier to hold, but they reduce the usable screen area and increase the likelihood of accidental touches. Samsung also
flattened its S23 Ultra
a bit, but it does still have rounded edges. The rounder frame helps this mammoth phone nestle in your hand, though, so it's probably a wash. Plus, we prefer the appearance of a flat screen.
Google upgraded the OLED panels this year, with bigger improvements coming to the smaller phone. The Pixel 8 now supports a 120Hz refresh rate for its 1080p OLED. It adjusts dynamically between 60 and 120Hz to save battery, but the Pixel 8 Pro can adjust from 1 to 120Hz thanks to its LTPO technology. And you'll need those battery life savings on the 1440 x 3120 OLED. Colors on both phones are vibrant, and the blacks are as dark as can be. Behind the display is the same optical fingerprint sensor from last year's phones. It's fast and reliable enough, but if your fingers are wet or grimy, the optical sensor gets confused. We've had more luck with Samsung's ultrasonic sensors, and these won't light up a dark room like optical sensors.
It's also nice to see Google has upgraded face unlock to work with secure features like Google Pay. It has declined to explain in detail, saying only that the front-facing camera uses machine learning to create a more accurate 3D model of your face. We've found face unlock has good range, but unsurprisingly, it doesn't work well in dim lighting. Regardless, it's better than the Pixel 4's
secure but overwrought
face unlock solution was.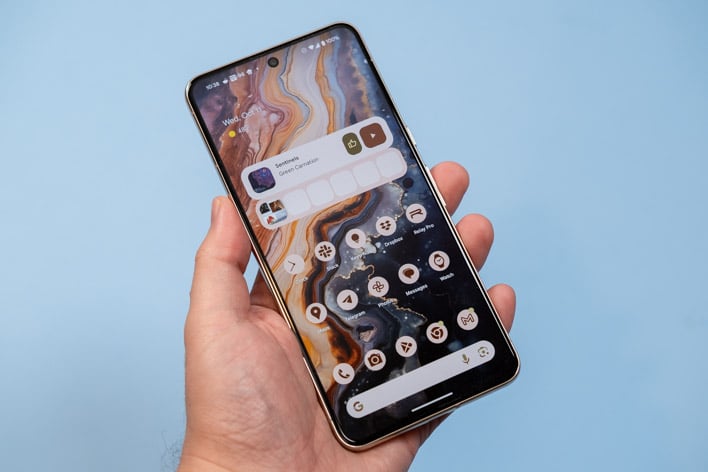 Brightness is an often overlooked feature of smartphone displays, but middling luminance can make a phone almost impossible to use outside. That's not an issue with the new Pixels. Google boosted the maximum brightness for the Pixel 8 and Pixel 8 Pro to 2,000 and 2,400 nits, respectively. That's up from 1,400 and 1,500 nits last year. That's actually higher than the latest Samsung and Apple phones. However, Google's OLED screens don't have the supernatural clarity at super-low brightness that we've noted when using Samsung and Apple phones.
The Pixel 8 comes in hazel, obsidian, or rose colors, and 8 Pro offers porcelain, obsidian, or bay (blue). The back panels are all Gorilla Glass Victus 2, the same material used on the front. The finish varies by color, but we prefer the matte porcelain to the glossy obsidian on our review units. All versions of the phone have recycled aluminum frames, but some are polished and others matte. The shiny metal can be a little more ungainly in the hand. Like other flagship phones, the new Pixels are IP68 rated for water and dust resistance.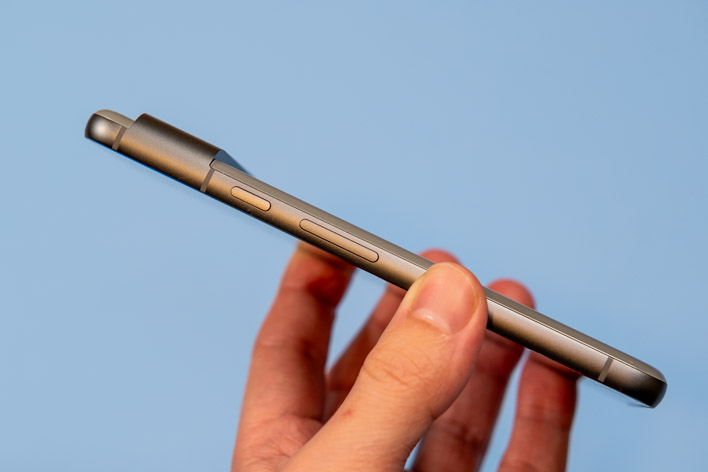 This is a Pixel, so you won't see an SD card slot or a headphone jack—we're just relieved there's still a physical SIM card slot considering Apple's recent
move to eSIM only
. The only port on the phones is the USB-C, which is sadly limited to USB 2.0 speeds.
The Pixel 8 Pro has gained one additional sensor that wasn't present in any previous Google phone: a non-contact thermometer. Google says it's working to get FDA clearance to use it for reading human body temperature, but for the time being it's only tuned for various non-human materials like wood, glass, and liquids. We've found it to be fairly accurate, but the utility of this sensor is unclear.
Google Pixel 8 and 8 Pro Software
The Pixel 8 and 8 Pro are the first phones to ship with
Android 14
out of the box. This update doesn't make any seismic shifts in how Android looks or works, but it does refine the Pixel formula a bit. While Google hasn't given its version of Android a name, it's not the same as a "stock" build of Android. In addition to a handful of platform changes that all phones will have, Android 14 on the Pixel includes a slew of AI features and custom Google features.
Google's version of Android is definitely the most elegant and consistent you'll find. The use of Material You color accents is expanded to the back animation, charging indicator, settings toggles, and more. If you want to fancy up your lock screen, there are more layout options available in Android 14. Install a lot of apps that want access to your files? Android 14 lets you limit access to select files instead of all of them. Most of the important Android 14 changes are on the system side, giving developers more camera and media APIs, and apps with API levels from before 2015 are blocked by default.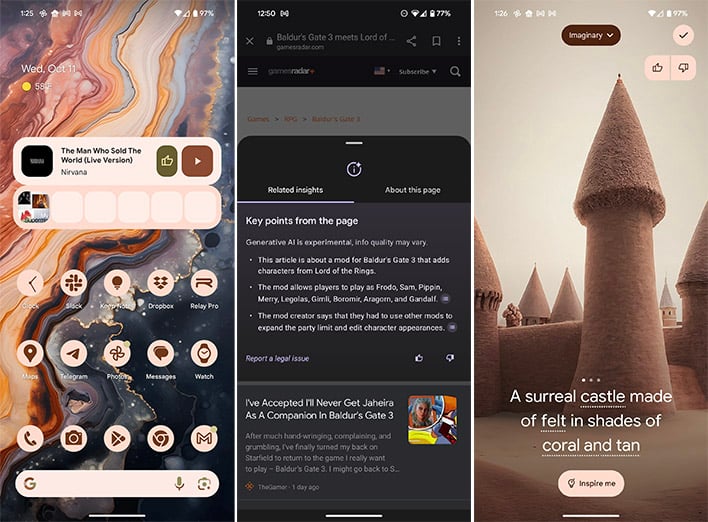 Google's newfound obsession with AI is on full display here. You can create custom wallpapers on the Pixel 8 with AI by filling in blanks with one of several suggestions like a Mad Libs puzzle. The results in our testing have been unimpressive to say the least. Almost everything the phone generates bears little resemblance to the prompt.
Some AI image generators are impressive
, but whatever Google is doing with this feature on the Pixel is not. We had more luck with Google's AI-powered proofreading feature. It made some useful suggestions beyond basic spellcheck when we fed it some blocks of unedited text. Although, this will vary considerably based on what you're writing.
Google's Recorder app is already impressive with its ability to create a transcription and differentiate between multiple speakers. On the Pixel 8 and 8 Pro, can summarize a recording in a few bullet points. A similar feature will offer to summarize web pages with AI, distilling all those tedious words into just a couple of lines. These features are hit and miss in our testing. We didn't see any outright hallucinations pop up, but the web summaries sometimes missed the point.
Not all of Google's promised AI features are available right now. For example, an improved language model later this year will unlock more helpful smart replies in Gboard. Likewise, the Pixel 8 Pro will get a "zoom enhance" feature that zooms in and upscales photos, which Google jokingly equates with science fiction. Call Screen will get contextual awareness in an update, too, allowing you to send more replies to callers without answering yourself.
The most important software change on the Pixel 8 is a matter of time—instead of three or four years of support, Google promises to keep the Pixel 8 and 8 Pro updated with security patches and new builds of Android for an impressive seven years. So, the Pixel 8 will still be safe to use in 2030. That's an Apple level of software support and far outclasses other Android device makers.
Google Pixel 8 and 8 Pro Cameras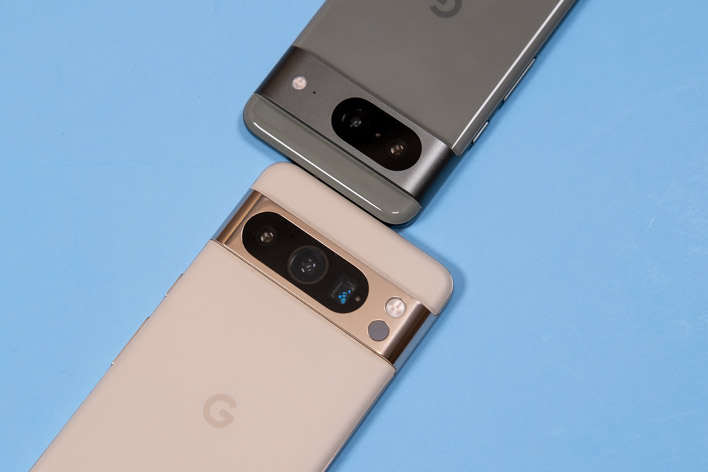 The Pixel camera experience gets a number of updates this year. The smaller phone still has the same 50MP primary and 12MP ultrawide sensors, but the Pro has a new 48MP ultrawide in addition to the 50MP primary and 48MP 5x telephoto lenses. The upgraded ultrawide is appreciated, but the 5x telephoto could stand to be longer. Samsung offers a 10x optical zoom lens on the S23 Ultra. The phones have a 10.5MP front-facing camera in a centered hole-punch, and Google added autofocus this time. Presumably, this is important for the enhanced face unlock, but it also means better selfies.
We tested the cameras in a variety of lighting situations, from almost pitch black to intense outdoor light. In general, the Pixels do a better job of evening out lighting to retain detail in both dark and light areas compared to other phones. We've also noticed the HDR processing is now much faster. On the Pixel 7, you could see the unenhanced version in your camera roll for a few seconds before it was updated. Now, it's almost instantaneous.
Here are some shots from the 50MP primary, which is the same on both phones.
The Pixel camera gets praised year after year in part because it's great for capturing the moment. You can launch the viewfinder, snap a pic, and you almost always get a good shot. That ease of use makes the Pixel camera a phenomenal experience, though a limited one.
Google has never offered a manual mode until this year, and it's about time. The ability to alter exposure or shutter speed can be a real game changer, but there's a problem. Google only supports this on the Pixel 8 Pro. While the Pro has a telephoto and upgraded ultrawide sensor, the main camera is identical between the phones. And of course, they both have the Tensor G3 inside. Locking the manual mode to the Pixel 8 Pro is an arbitrary product decision, not one driven by hardware.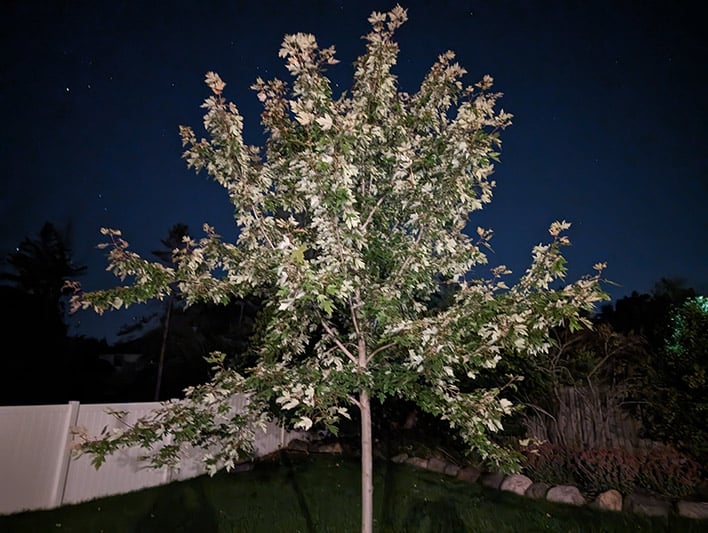 Similarly, Google has a new Video Boost feature, which isn't available yet, but will be live later this year. When it appears, it will only be available for the Pixel 8 Pro. This feature processes video through Google's HDR+ algorithm, which was previously only for photos. The result is more vibrant videos for Google's most expensive phone. The cheaper one with the same primary camera doesn't get this treatment for whatever reason.
There's even more AI baked into the camera this year.
Magic Eraser
is still around, but it's even more magical as "Magic Editor." With a few taps, you can scrub unwanted objects and people from your photos. With Magic Editor, you can also move them or even change the size. We've had trouble with the latter, but our review unit is currently on pre-release software. Magic Eraser has also expanded to audio, allowing you to quiet background noise that might otherwise ruin your video. This feature works better than we expected when we tested it with traffic noise—its ability to reduce ambient sounds could save some videos.
Lastly, there's Best Take, which lets you swap in different heads so everyone in a group photo looks their best. We had some trouble getting good alternative faces with this feature, but pasting them into a photo worked well. You really can't tell these photos contain a mix of different images.
Let's look at some performance benchmarks, next...
Related content