ASUS ZenBook Flip S UX371 Review: Tiger Lake Bite, OLED Pop
ASUS ZenBook Flip S UX371: Teardown, Thermals, Acoustics And Review Summary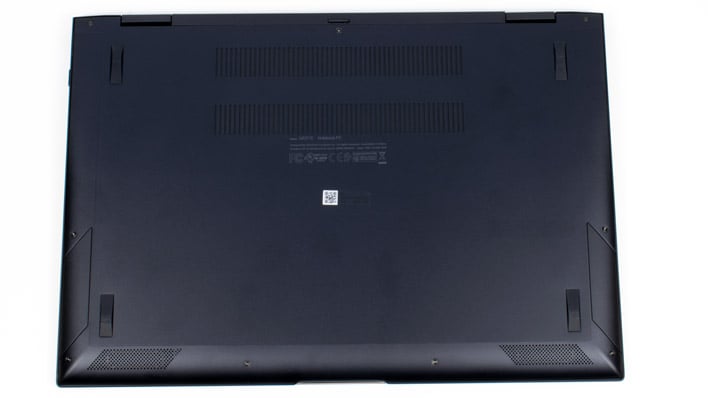 Underneath the
ZenBook
Flip S UX371, we can see a couple sets of screw holes. Towards the front (on the bottom in the photo) we can see the speaker grilles for the Harmon Kardon speaker system. Closer to the rear at the top of the photo we can see two generous vents for the notebook's cooling system to draw in cool air, which then collects heat and pushes out the rear through the exhaust vent. Four little rubber feet make sure that the system doesn't slide around on a desk or coffee table. Those two hatch-looking pieces don't budge; they're just for show.
The ZenBook has a total of nine screws holding it together. The one in the rear center position is a bit longer than the rest, so when it comes time to reassemble, be sure to put it back in the right place. Once the screws are out, getting into the system is a matter of gently lifting on the front edge. The rear vent has several small tabs that pull out of the system, and need to be re-inserted properly at reassembly time. Once the bottom is out of the way, we can take look at all the tech goodies inside.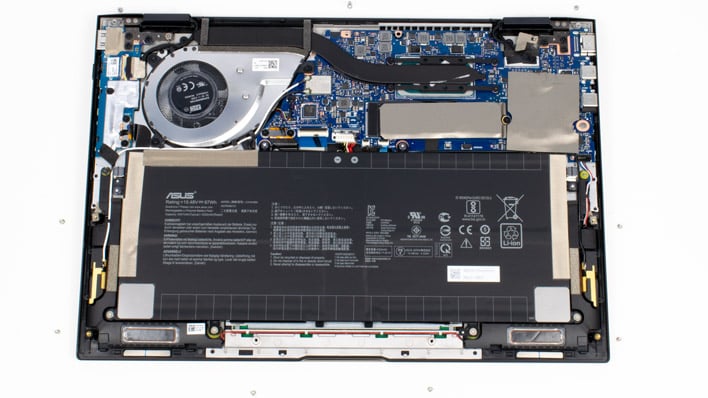 The
Tiger Lake
-enabled diminutive motherboard sits at the top of the ZenBook Flip S UX371. We can see a single heat pipe that directs heat from the processor to a fin array on the rear to a blower-style fan that draws cool air in through the vents and pushes it out the back. The system has 16 GB of LPDDR4X-4266 memory soldered to the motherboard, and the WD SN730 M.2 2280 slot for the system's
SSD
. That SSD appears to be all that we can easily replace as far as system components go, but that's fairly common in laptops of this size.
Below that we can see the 67 Watt-hour battery dominates the remaining space. It seems that it can be easily replaced, should this juice pack fail, by removing a handful of screws that secure it in place. Below that, we can see the two Harmon Kardon speakers that sat behind the grills. There's not much left to see here, so let's put it back together and see how its cooling system performs.
ASUS ZenBook Flip S Cooling Performance
We're still waiting for our favorite temperature monitoring systems to figure out the new SMBus controller from Intel so that we can get some software temperature monitoring. Regardless, in the absence of that, we'll once again bust out the handy laser thermometer. To get the system totally heated up, we ran Cinebench until the system screamed, but that term is pretty loose. The default fan profile for this laptop barely registered 40 dBA on our sound meter. It was only when we turned the fans up to the max did we start to hear anything that we could describe as "noisy".
Using the default fan profile, we ran Cinebench R20 repeatedly. At first we saw performance scores in the low 1600 range, similar to the
Tiger Lake
reference platform's 15W profile, but that dropped on the second run to 1440 and eventually settled in at around 1380. The surface temperature touched 108 degrees Fahrenheit but didn't stay there long. The hottest part we could measure was the top of the chassis near the exhaust vent. This is good news, since the hottest part of the laptop isn't something we normally touch.
Thermals And Acoustics With The ZenBook Flip S Performance Setting
Then we fired up MyASUS and turned the fan profile to the Performance setting. As mentioned previously, this does more than kick up the fans; it also pumps up the TDP to unlock higher performance. The utility warned us that this mode is not supported on battery power, and we tested that out by unplugging the laptop. The system reverted to the Standard profile. Undeterred, we plugged it back in and changed picked Performance once more. Now it was time to fire up Cinebench R20 again and see what it does for performance and cooling.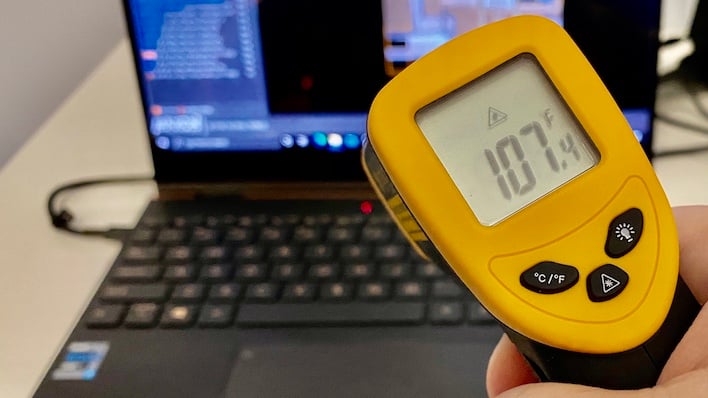 Not only did the Performance mode turn the fans up to their maximum part-way through the run, our test scores made a jump as well. The first Cinebench run we had ended with a score of nearly 2000, which is roughly what our
Tiger Lake reference platform turned in
at its 28W TDP. While that didn't quite match the 2100+ of the Tiger Lake reference platform's 28W setting, it's pretty great considering how thin and light this laptop is. Based on all these tests, we have to think the ZenBook Filp S jumps up to the Core i7-1165G7's 28W TDP at this setting, and only doesn't quite hit those same heights due its ultra-thin the form factor.
The second run in Cinebench didn't fare quite a swell well, hitting 1755. The third and fourth runs held steady in the mid 1750s, too. Once around 45 seconds had passed with the system idle, the ZenBook Flip S got cool enough to spin its fans down. That means the cooling system is doing its job relatively well. If you do need to run extended, higher workload tasks, regardless of their nature, this seems to unlock a bit of extra performance at the cost of power and noise (as long as you're tethered to a wall outlet).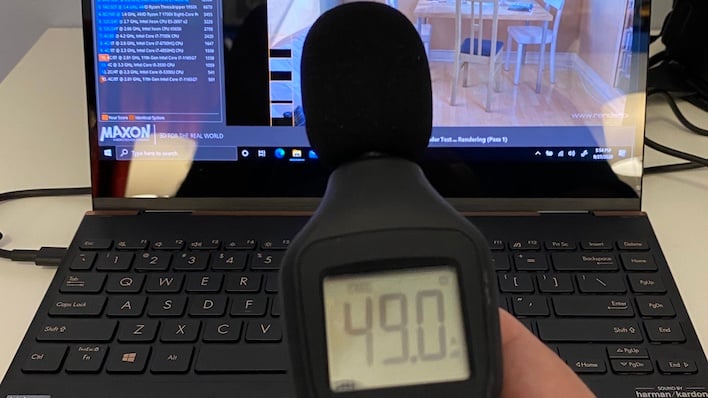 How much power and noise was it? From the same vantage point, we measured the fans hitting 49 to 50 dBA on our sound meter. The A-weighted decibel system is a logarithmic scale where each 10 dBA is twice as loud as the level before it. That means our 40 dBA reading was pretty quiet, but 50 dBA is twice as loud. The sound was just air wooshing through the vent, though, without any sense of tonality and we didn't find it annoying or distracting in our use. And generally speaking, 50db of acoustic output is rather tame, such that most users will find it completely inoffensive.
As far as temperatures go, the system's surface area wasn't much warmer than it was before, but it was still noticeably warm to the touch. Our laser thermometer measured 112 degrees Fahrenheit from the same spot as before, right near the vent above the fin array. The nice thing about having a bit of a gap above the keyboard means that the keyboard itself doesn't get overly warm. It's nice that ASUS gives us the option of added performance in exchange for a higher noise floor, rather than forcing this on users, when standard mode performance is already so solid.
ZenBook Flip S UX371 Review Conclusions
ASUS's ZenBook Flip S UX371 is a really feisty laptop. Performance is excellent all around. Thanks to its Intel 11th Gen Core i7-1165G7 processor, the ZenBook was able to handle our entire productivity and synthetic CPU suite with aplomb. It's pretty rare that a processor comes along and pushes the previous generation of silicon as far down as this Tiger Lake processor does in spots versus Ice Lake.
ASUS
did a really nice job integrating it into the ZenBook lineup and producing a laptop we'd be happy to rock both in the office and on the road.
The single-threaded performance improvements in this generation is somewhere between revolutionary and evolutionary, but without a doubt the UX371 is the fastest ultraportable laptop we've tested in a whole host of lightly-threaded tests. Cinebench R20, GeekBench, and especially the Speedometer 2.0 web app benchmark all showed pretty sizeable gains. PC enthusiasts and we reviewers alike like to get caught up in the core count race, but performance in lightly-threaded tasks delivers better overall system responsiveness, especially in this class of thin and light laptops.
Battery life afforded by the ASUS ZenBook Flip S, for such a thin and light notebook with a 4K display, is pretty special, too. Sure, the battery in the UX371 is a bit bigger than most ultraportable notebooks we've tested, but that doesn't matter; the ZenBook is still just as thin and light as many other notebooks we've tested at just 2.65 lbs, so that has to count for something. Even the extra graphics performance provided by Intel's
Iris Xe
integrated GPU helps quite a bit, too. That performance pairs quite nicely with the ZenBook Flip S's beautiful OLED display to culminate in a system that shines on a number of levels delivering a premium experience.
Speaking of which, let's take a moment to appreciate that display. The contrast ratio is through the roof since
OLED
pixels can be shut off individually. The screen is vibrant and colorful and both still images and video content just pop. Covering 100% a very wide color gamut means the panel is suitable for just about any kind of color-critical work. With a pixel density of 331 dpi, text on the UX371's OLED display is razor-sharp, too.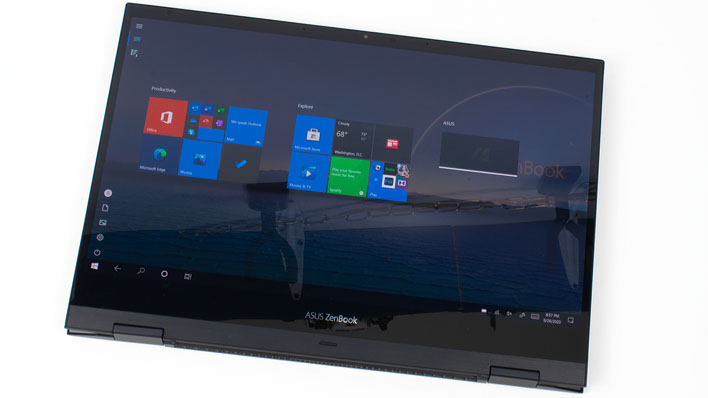 Once we get past those two highlights, the rest of the
ZenBook Flip S
is still pretty great. ASUS gave the machine a lovely aluminum alloy chassis and copper-colored accents that look great without having to be the center of attention. A laptop isn't really viable for serious content creation pros unless there's a quality keyboard at play, and ASUS went above and beyond here as well. There's also a good amount of external expandability thanks to Thunderbolt 4 and a USB Type-A port, and outputting to a second 4K display is just an HDMI or USB-C to DisplayPort cable away.
ASUS packed all of these great features into a 2.65-pound package that looks great and feels great in the hand. All that's left to talk about is the pricing. Our review unit with the Core i7-1165G7, 16 GB of LPDDR4X-4266 memory, 1 TB of SSD storage, and that wonderful 13.3" OLED display,
costs just $1,499 currently
. For comparison, and even ignoring the latest generation of CPUs in the ZenBook Flip S, Dell's XPS 13 2-in-1 7390 in its closest configuration is $1,699. That system is also saddled with just half the storage of the ZenBook (and a non-OLED display), which underscores how much bang for the buck ASUS has going here, beyond just its Tiger Lake engine. For folks in the market for a lightweight 2-in-1 with the latest CPU tech, great battery life and a killer display, the ASUS ZenBook Flip S UX371 needs to be on your short list of systems to check out.





Great Single-Threaded Performance

Robust Gaming/Graphics Performance

Great Battery Life

Gorgeous 4K Touch-Enabled OLED Display

Excellent Keyboard
Extremely Lightweight 2-in-1
Tame Acoustics
Good Value For Its Performance And Premium Components

It Doesn't Do The Dishes?
No Fingerprint Reader Or MicroSD Card Reader
Related content
Comments