ASUS ZenBook Flip S UX371 Review: Tiger Lake Bite, OLED Pop
ASUS ZenBook Flip S UX371: System Benchmarks And Battery Life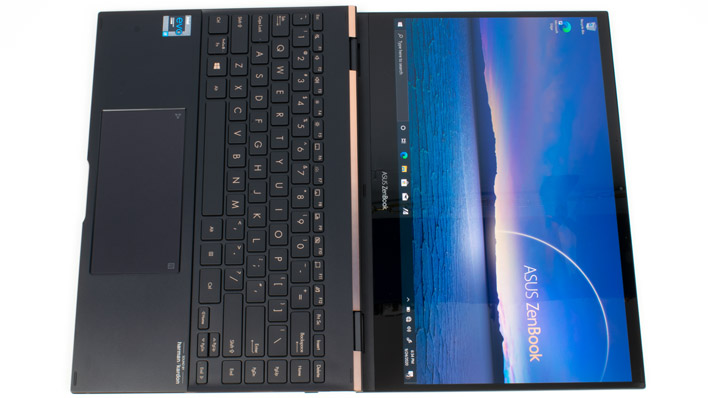 We've already seen what Tiger Lake CPUs can do in our platform review, but this ZenBook Flip S from ASUS is the first retail notebook we've gotten our hands on with Intel's 11th-generation processor technology. More important than Intel's showcase is how this machine performs against other retail examples of notebooks we can purchase today, but the Tiger Lake reference platform is included for the tests where we had results anyway.
As we tested, we noticed that some 3D performance was lower than expected--much lower than the Tiger Lake reference platform. To see if we could suss out the cause, we dove into the ZenBook Flip S's UEFI to check out the graphics configuration. The amount of memory pre-allocated to the integrated GPU is always relatively low, but in this case it was set to just 32 MB. The drop-down let us bump that up to 64 MB, which still doesn't seem like a lot, but it got performance in line with where we expected it to be. Production units may be configured differently, but it's worth checking out if performance isn't what was expected.
ATTO Disk Benchmark
Peak Sequential Storage Throughput
The
ATTO disk benchmark
is a fairly quick and simple test which measures read/write bandwidth and IOPS across a range of different data sizes. We get a pair of results at each data point: bandwidth measured on MB per second (or GB per second if the result is that high), and input/output operations per second (IOPS).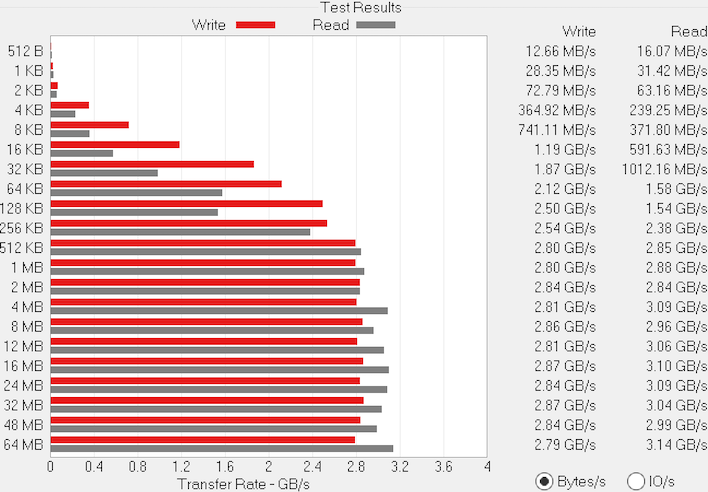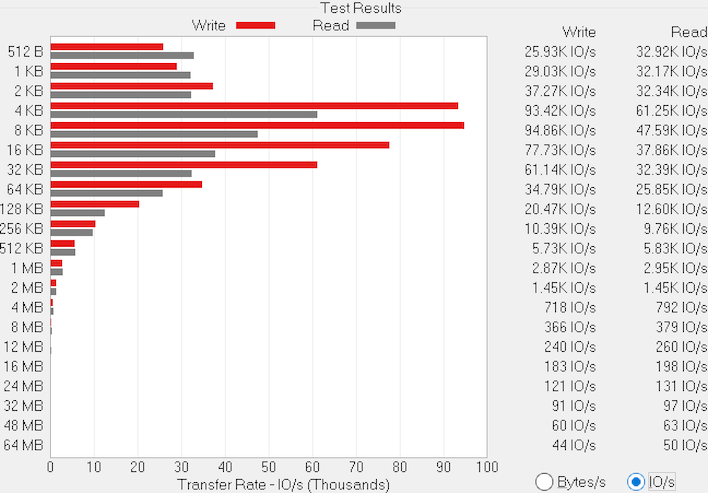 The SSD in the ZenBook Flip S UX371 is a Western Digital WDC SN730, which isn't really advertised online but seems to perform in the same ballpark as the retail WD Black SN750. Once the drive ramps up to speed, we see write bandwidth at around 2.75 GB per second and reads top just over 3 GB per second. That's a whole lot of performance on tap, for sure. IOPS are pretty solid as well, though the drive doesn't handle files smaller than NTFS's default 4 KB block size very gracefully. Still, we approach 100,000 IOPS at 4 kB and 8 kB block sizes before petering out because larger operations require more time. The drive feels great in practice, and we hardly felt like we were waiting for anything to load.
Speedometer Web Application Benchmark
Browser Performance
BrowserBench.org's
Speedometer
2.0 test takes a holistic look at browser performance using real-world code samples. This test automatically loads and runs several sample webapps from ToDoMVC.com (a great resource for web developers who want to check out a new framework) using the most popular web development frameworks around, including React, Angular, Ember.js, and even vanilla JavaScript. This test is a better example of how systems cope with real web applications, as opposed to a pure JavaScript compute test like JetStream. All tests were performed using the latest version of Chrome.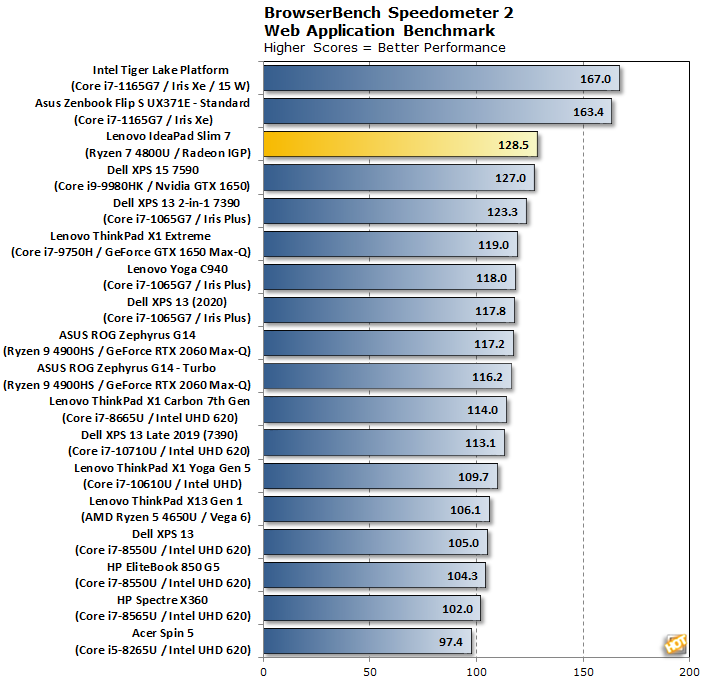 The ZenBook Flip S UX371 just rewrote the scale for browser performance in Speedometer 2.0. Before too long, lots of other Tiger Lake notebooks will be able to make the same claim, but it's particularly stark here. The ZenBook is nearly 30% faster than the next-fastest system, a
Dell XPS 15
that uses a whole other weight class of processor with a much higher thermal budget. The Core i7-1165G7 is a ridiculously fast mobile processor for lightly threaded workloads, and the ZenBook gets out of its way and lets it run. It's even
more than
30% faster than the Dell XPS 13 that uses the 10th-generation Core i7-1065G7, and pushes up over 50% faster than most 8th gen Core notebooks, as well as the ThinkPad X13 with AMD's Ryzen 5 Pro. This CPU is the real deal, for sure.
Cinebench R15 and R20

3D Rendering Performance
Cinebench R15 is a 3D rendering benchmark that tests both the CPU and GPU engines in the processor. Cinebench is developed by Maxon, which is better known for its Cinema 4D software employed in professional 3D rendering and animation studios. We use both of Cinebench's integrated tests for CPU and GPU.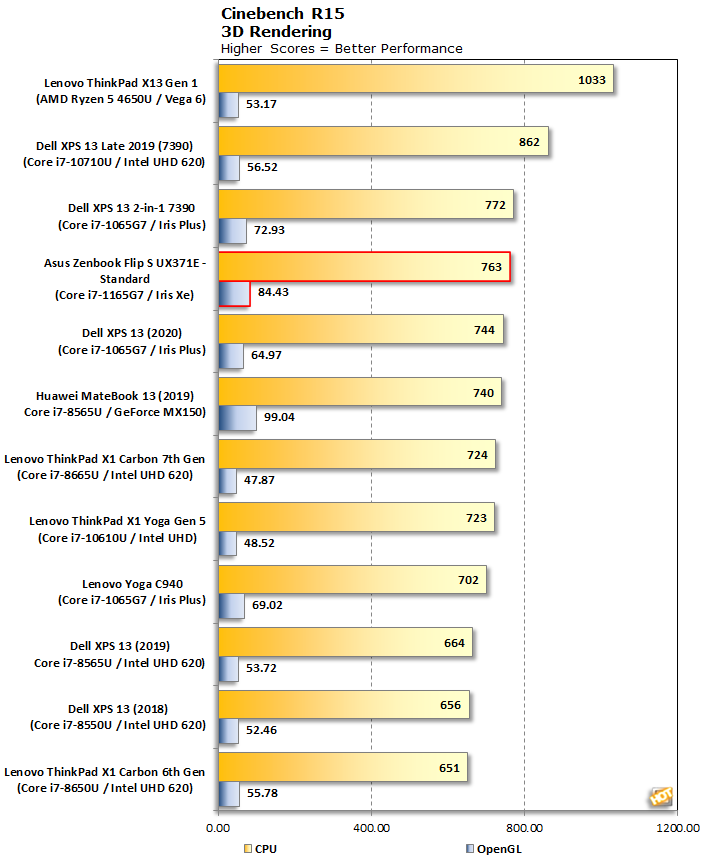 This test is a little less burst-happy, and certainly uses more threads than any web app benchmark, so the ZenBook Flip S sinks a little bit in the standings. Still, its CPU performance is not all that far off of the six-core Core i7-10710U in the 2019 XPS 13. On the Open GL side, the Iris Xe graphics are by far the fastest integrated graphics solution around, not only beating out the Iris Plus from the
Dell XPS 13 7390
but even the Radeon graphics processor built into the ThinkPad X13's Ryzen 5 PRO 4650U. This little 2-in-1 is already shaping up to be one of the fastest ultra-portable notebooks we've tested.
The latest version of Maxon's rendering benchmark,
Cinebench R20
, takes longer to complete, so this is a better test of the machine's cooling system. This release also drops the OpenGL test, making Cinebench a pure CPU benchmark this time. We tested both single-threaded and multi-threaded performance here.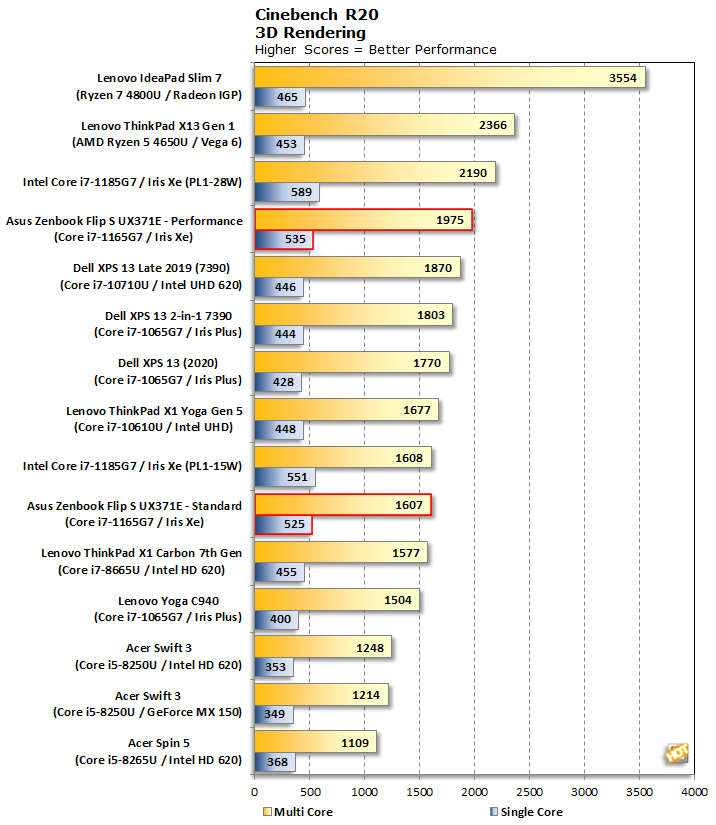 Single-core performance in Cinebench R20 is quite impressive, but the multi-threaded test with the ZenBook Flip S in Standard mode is only about as fast as the last-gen Core i7 systems. With the Performance profile enabled, performance jumps quite a bit. It doesn't quite catch the 28W version of the Core i7-1185G7 reference platform, but that processor has a bit faster clock speed, so that's fine. The ZenBook Flip S also closes the gap considerably with the ThinkPad X13 and its six-core Ryzen processor, but still loses out by around 15% in a workload not typical of such small laptops.
Geekbench 5

Single and Multi-Core Performance
Geekbench
is a cross-platform benchmark that simulates real world processing workloads in image processing and particle physics scenarios. We tested the notebooks featured here in Geekbench's single and multi-core workloads.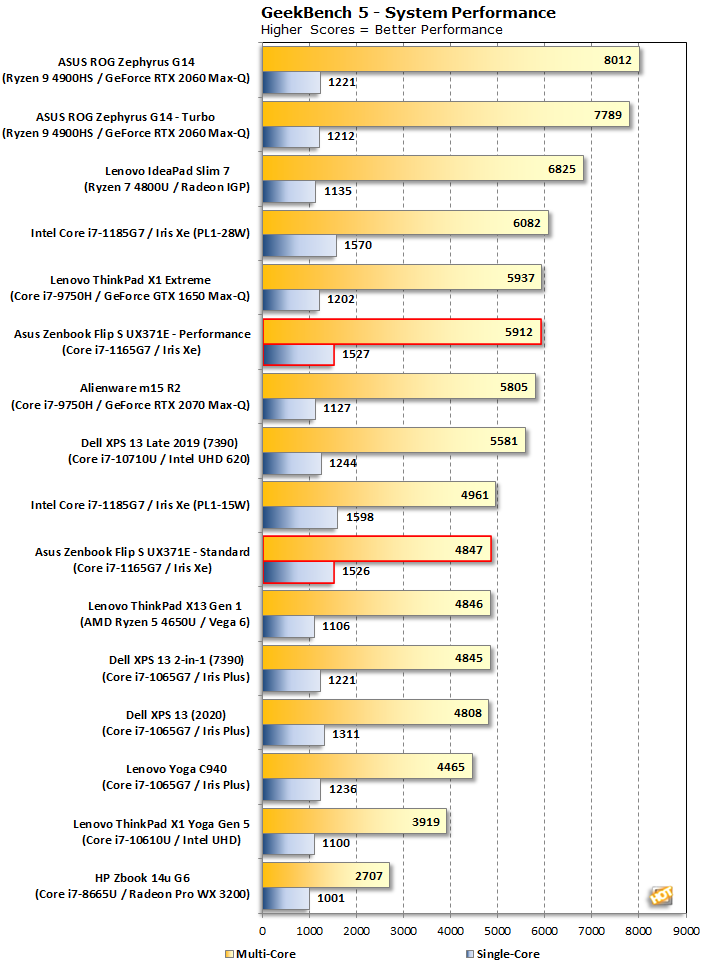 In GeekBench, the ZenBook Flip S again set land speed records for best single-threaded performance by an ultraportable notebook. It beats out the Core i7-1065G7 by more than 15% and then dwarfs the
Lenovo ThinkPad X13
with AMD's Ryzen 5 PRO and the two Comet-Lake based systems, too. Even better for ASUS, it basically matches the performance of the ThinkPad X13's AMD CPU in the multi-threaded benchmark, and that processor has two extra cores helping it out. It can't quite catch Intel's six-core processors for multi-threaded performance, but it's pretty rare that a 2-in-1 notebook is tasked with a wide multi-threaded task for an extended period of time.
What's wild, though, is that once we turn on the Performance fan profile, the ZenBook's Core i7-1165G7 is finally able to catch a 45W Core i7-9750H in the ThinkPad X1 Extreme. That's all thanks to the incredible single-threaded performance provided by the ZenBook Flip S with Tiger Lake. Once again it's just a tick behind the slightly higher-spec reference platform.
PCMark 10

Productivity and System-level Benchmarking
PCMark 10
uses a mix of real-world applications and simulated workloads to establish how well a given system performs productivity tasks, including image and video editing, web browsing, and OpenOffice document editing. While these scores appear to be all over the place, the systems are sorted by their overall PCMark score, which is the third (gray) bar in each cluster.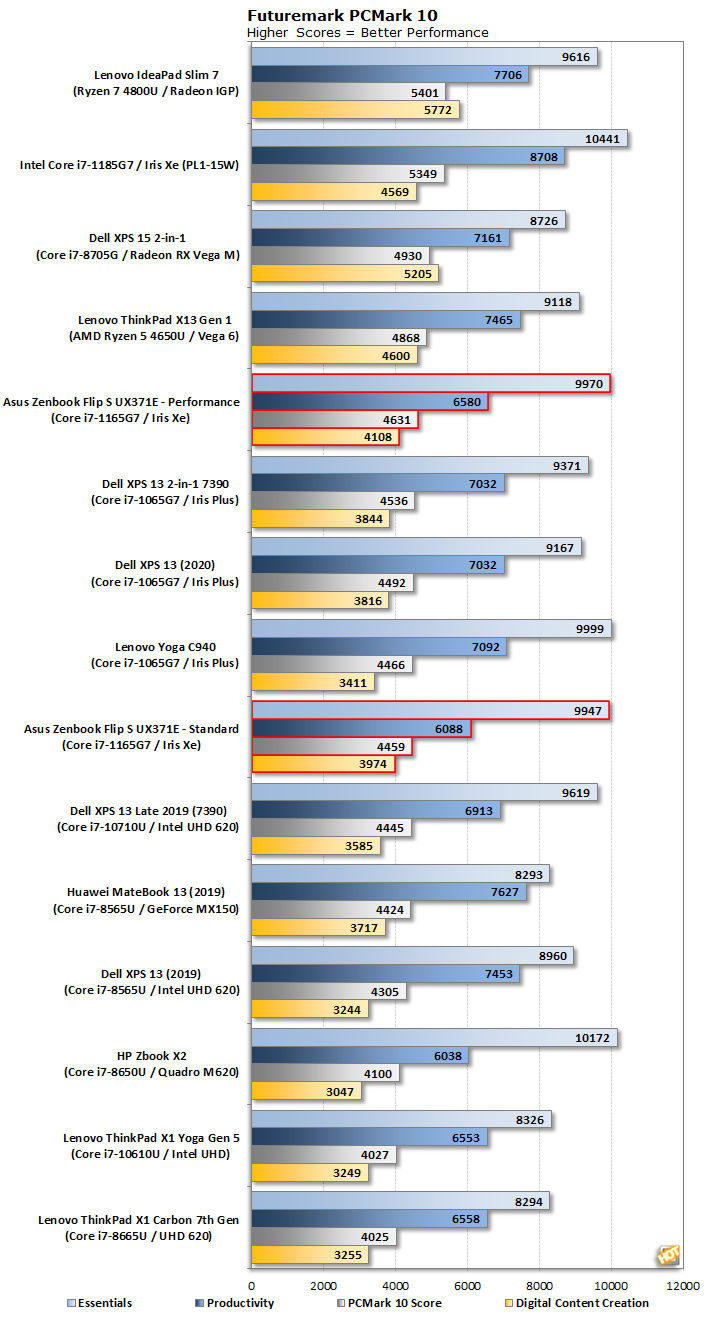 The ZenBook Flip S UX371 does a nice job in most of the PCMark 10 sub-tests, but stumbles a little bit in the Digital Content Creation benchmark relative to some of the other laptops here. As a result, its overall score isn't as great as the rest of the benchmarks have been. Overall, though, performance is pretty solid, and we think the ZenBook would still make a very solid mobile office workstation. The DCC test relies heavily on the graphics processor, and it's pretty early days for Intel's Xe architecture. This score could actually improve over time. The Performance setting adds around 5 on each subtest, which makes its usefulness questionable for basic productivity tasks.
3DMark Benchmarks
3D Performance
3DMark
has several different graphics tests which focus on different types of systems. UL seems to have discontinued support for Cloud Gate, but fortunately there are a couple of tests remaining that run well on integrated graphics. First up is Sky Diver, which uses the DirectX 11 graphics API.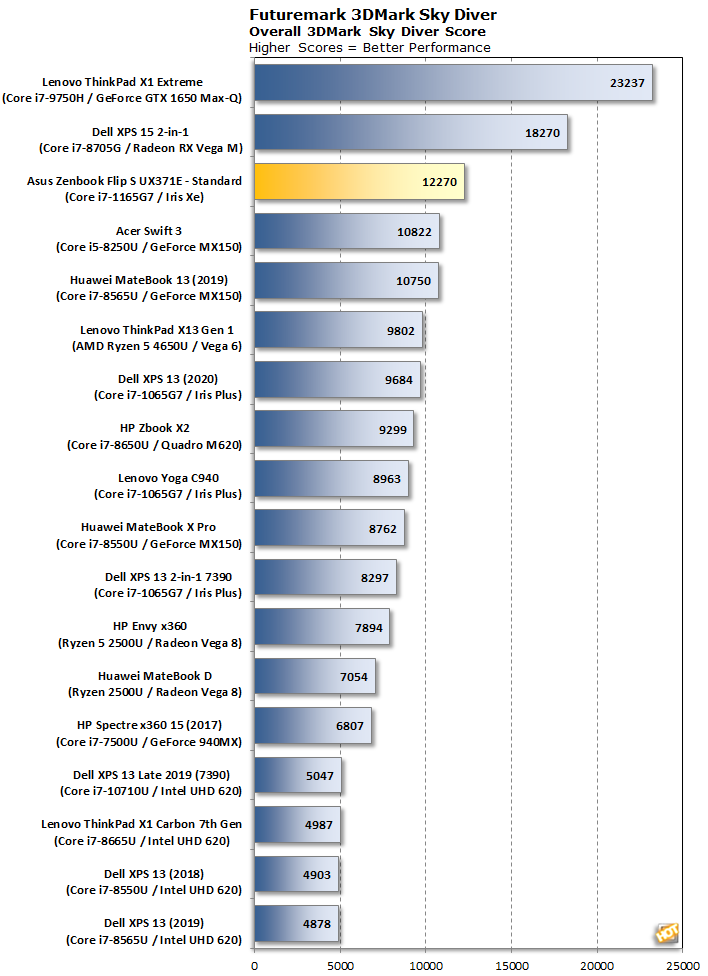 Whatever caused the ZenBook to stumble in PCMark doesn't show up in 3DMark. The UX371 put up an outstanding score in the DirectX 11 Sky Diver benchmark, beating out not just the Iris Plus by 20%, but the AMD
Radeon
integrated graphics in the ThinkPad X13 by 30%. Even low-end discrete graphics processors are seemingly obsoleted by Xe. At the bottom of the chart we can see the UHD 620 is still doing its best out there, but it's less than half as fast as the current graphics architecture from Intel.
Next up we took a look at Night Raid, a DirectX 12 test aimed at notebooks with integrated graphics processors. Since this test uses the latest graphics API, it should give us a forward-looking peek at the Xe's graphics capabilities on newer games.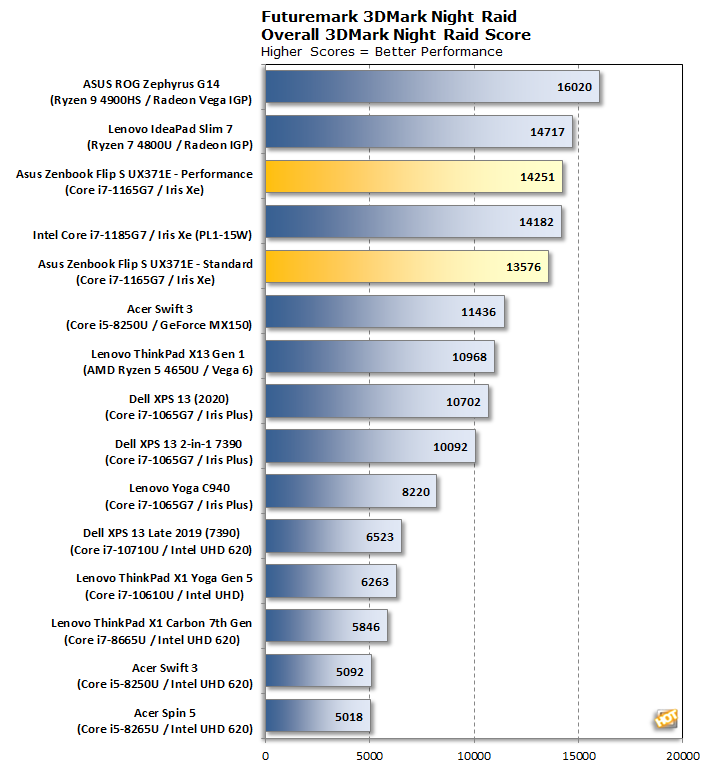 Once again, the ZenBook Flip S puts up a really excellent performance compared to its competitors. It still beats out the ThinkPad X13's Vega 6 graphics and the MX150 from NVIDIA. Of course, the
2020 XPS 13
and its Iris Plus graphics processor in the Core i7-1065G7 trails by a wide margin, and the UHD 620 limps along in this test, too.
3DMark hasn't been much of a challenge for the
ZenBook
so far, so we decided to up the ante and take a look at Fire Strike's Extreme preset, which renders internally at 2560x1440 and puts the hurt on bigger gaming PCs, let alone notebooks. Let's see how it performed.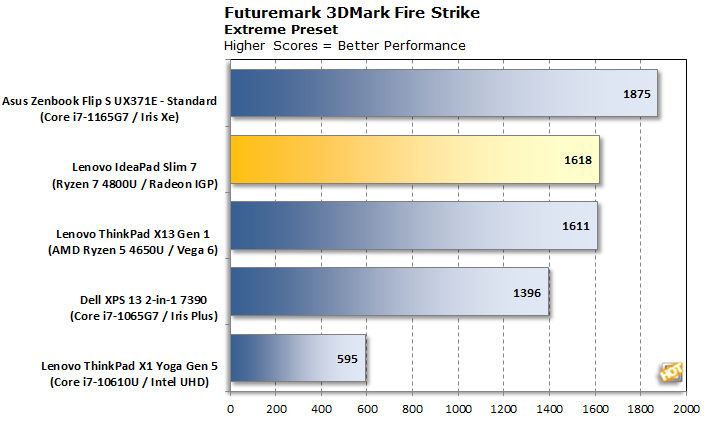 We see the same sort of pattern on a different scale. The Core i7-1165G7 and its Iris Xe graphics processor is just the fastest integrated solution we've tested. That means the ZenBook Flip UX371 from ASUS has the fastest integrated graphics solution of any ultra-light notebook we've tested. The AMD solution trails by just over 10%, the Iris Plus lags by 30%, and the Intel UHD for 10th Generation Graphics in the ThinkPad X1 Yoga Gen 5 loses by more than 200% in this extreme test.
GRID Autosport
Gaming Performance
GRID Autosport
is a cross-platform racing simulation developed by Codemasters. The developer wanted to make up for GRID 2, which released to mediocre reviews from critics and gamerse alike. Codemasters set out to improve
GRID Autosport
's handling and environment rendering to make it a true racing simulator. The third GRID game is built on Codemasters' EGO engine that boasts more realistic physics and damage systems to add a bit of danger and some extra realism to the racing. Codemasters also tuned its graphics engine to perform well over a wide variety of mainstream systems, which makes it a great test for systems with integrated graphics. Codemasters also promotes that
GRID Autosport
is "optimized for integrated Intel HD Graphics", which is certainly something. We tested at 1080p with the High image quality preset.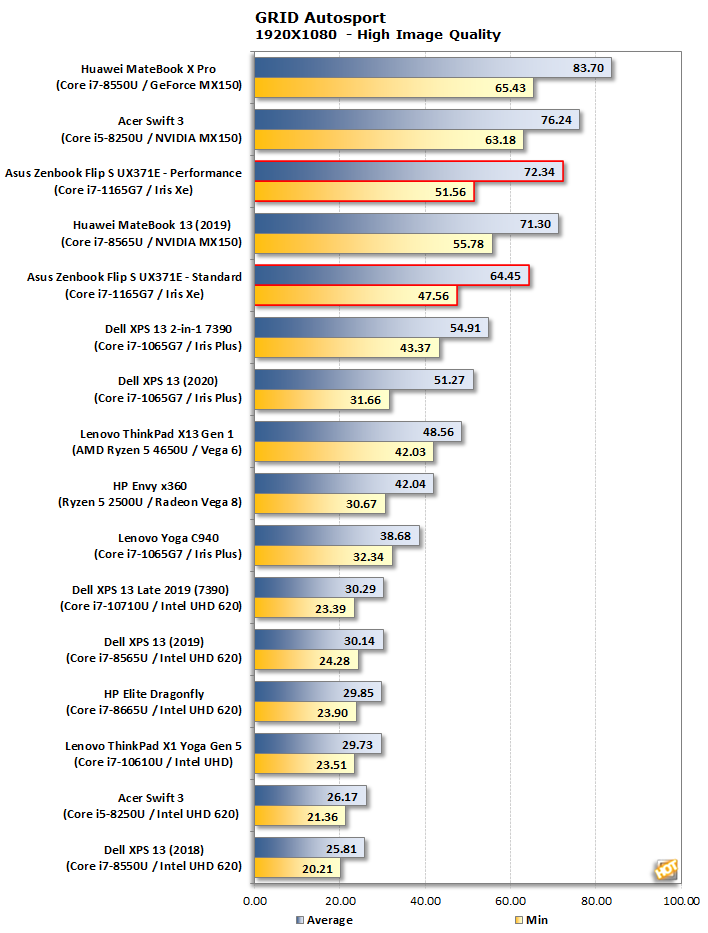 Just as the ZenBook Flip S posted great scores in 3DMark, so does it in GRID Autosport. The system's 64 FPS average on High at 1080p puts it into discrete GPU territory. While the Standard profile's average framerate says it might not be necessary, performance does improve by around 20% in the Performance profile and bumps the minimum framerate up over 50, and out-runs the older MX150 in the MateBook 13 by a fraction.
Middle Earth Shadow of War

Intensive AAA Gaming Performance
Middle Earth: Shadow of War is a fun and and beautiful game title set in Tolkien's Lord of the Rings universe. To test the game's performance relative to other systems, we set the resolution to 1920x1080 and turned the visuals up to the High, Medium and Low presets. The frame rates here are the average reported by the game's built-in benchmark utility.
Performance across the board is really solid. Overall, the ZenBook Flip S can't quite keep up with the Tiger Lake reference platform, but it's within melee range. More importantly, it's consistently 50% faster than the Iris Plus graphics in any of our Ice Lake candidates and even a touch faster than the Lenovo IdeaPad Slim 7 and its Ryzen 7 4800U with Radeon graphics. Once we turn it up to the Performance mode, the game becomes pretty playable on the Medium preset. For a resolution of 1080p on integrated graphics, that's charting new territory.
Gears Tactics

Unreal Engine RTS Performance
Gears Tactics
is a turn-based tactical game spun-off of the popular
Gears of War
franchise. This title is a prequel to the first game released in April. Like
Gears 5
,
Gears Tactics
features a wide array of graphics options that can be tweaked and tuned to optimize performance on a given system. We tested with the game's built in benchmark utility and High, Medium and Low image quality presets.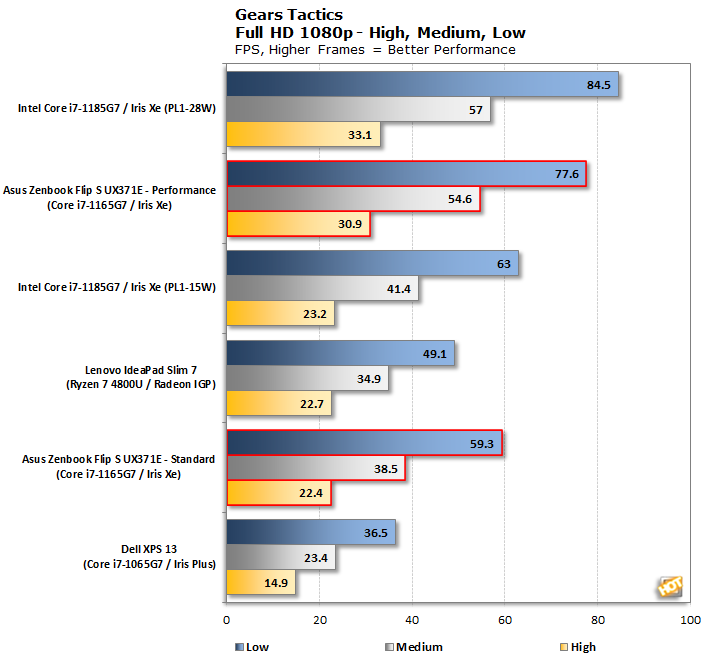 Gears Tactics is extremely playable on the ZenBook Flip S's default Standard fan profile on its Medium preset, which is true for the IdeaPad Slim 7's Ryzen 7 4800U, but not the case for the 10th-gen XPS 13. There's a big jump in graphics performance between Iris Plus and Iris Xe, to be certain. Bumping up to the Performance profile makes for higher frame rates, and the High setting is borderline playable with its average 30 frames per second. Neither profile can quite keep up with the Tiger Lake reference platform's 15 and 28W settings, but that's a pattern we've observed all along.
HotHardware Custom Video Loop

Battery Life Performance
We run a custom 1080p HD video loop test developed in-house, to prove out battery life with our test group of machines. In all tests, Windows 10 Quiet Hours has been enabled and the displays are calibrated with lux meters on pure white screens to as close to 115 lux as possible. For the average laptop this is somewhere between a 40-60 percent brightness setting. In the case of the ThinkPad X13, this required lowering the brightness to 18 on the slider in the Windows 10 sidebar.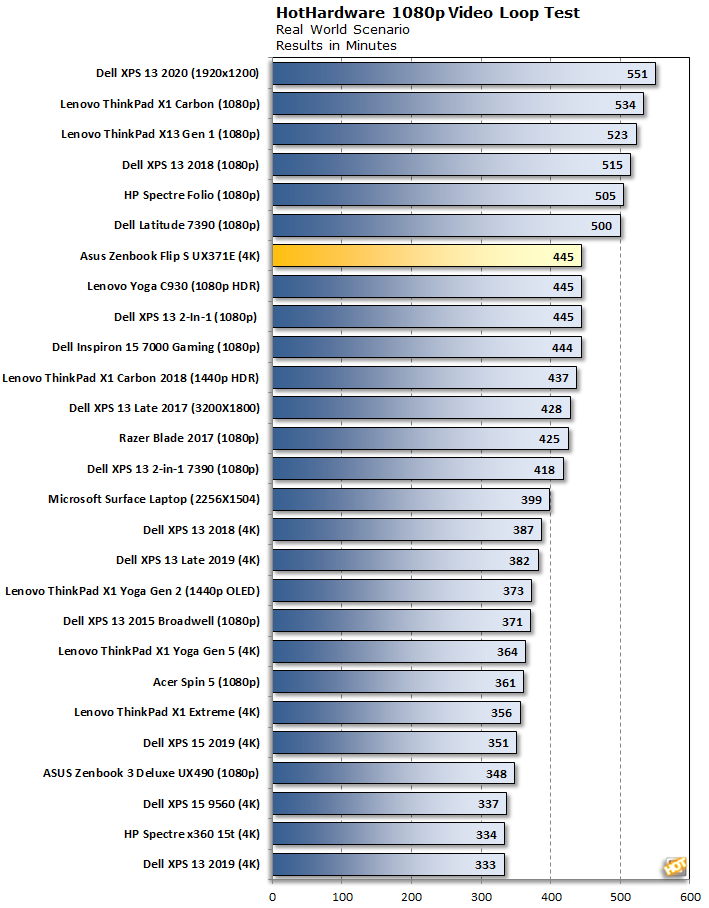 The ZenBook Flip S has a 67 Watt-hour battery, which is a bit bigger than most of the notebooks on this chart. That means the fact that this 4K OLED-equipped notebook outlasted all of the other 4K notebooks shouldn't be much of a surprise. However, it does so in a notebook just as thin and light as most of these competitors, and even lighter in some cases. Regardless of the battery size, we carry around more than just a battery when we travel with a notebook, so Asus should be commended here. More than seven hours of video playback puts the
ZenBook Flip S
UX371 towards the top of our traditional notebook charts.
Next up, let's tear this system down and see what makes it tick...
Related content
Comments