ASUS ROG Strix Scar 17 X3D Review: AMD 3D V-Cache Supercharges Laptop Gaming
ASUS ROG Strix Scar 17 X3D: System Benchmarks, Game Performance And Battery Life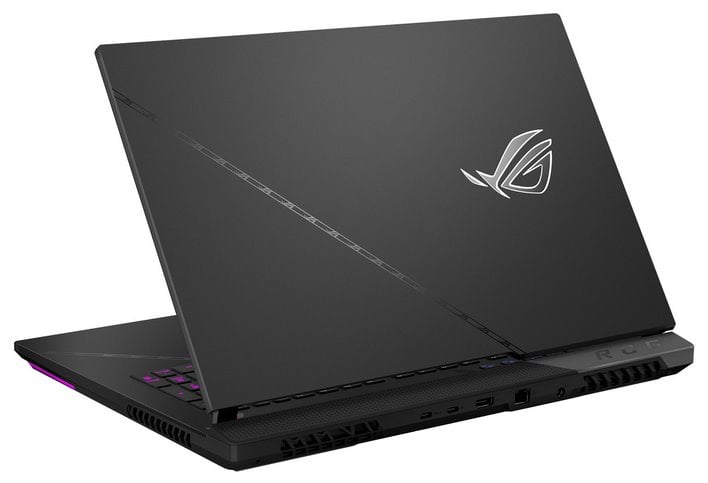 Before running any benchmarks on a system, we apply all of the latest Windows and driver updates available for it. Our particular ASUS ROG Strix Scar 17 X3D sample shipped with
Windows 11
Pro 22H2 and needed minimal updating, save for the latest Game Ready GeForce drivers, Windows Store updates, and some ASUS-related updates available through the MyASUS app. Other than applying those updates (like most consumers would), we run all of our tests on an un-modified system. Our goal is to test the system as it ships, but after auto-updating, to accurately reflect what buyers can expect from a retail experience.
The ASUS ROG Strix Scar 17 X3D, however, adds some additional wrinkles. This machine gives users the option to configure the discrete GPU to operate in a hybrid mode (NVIDIA Optimus), which switches between the
Ryzen 9 7945HX3D
's integrated Radeon 610 iGPU and the GeForce RTX 4090 dGPU depending on the workload, or in an always-on discrete mode that keeps the GeForce powered up and directly connected to the display to provide the best performance. All of our benchmarks were run with the always-on discrete graphics mode enabled unless otherwise noted.
ATTO Disk Benchmark
The
ATTO disk benchmark
is a fairly quick and simple test which measures read/write bandwidth and IOPS across a range of different data sizes. While we don't typically compare these results across multiple machines, it's useful to gauge whether a particular notebook's storage subsystem is up to snuff.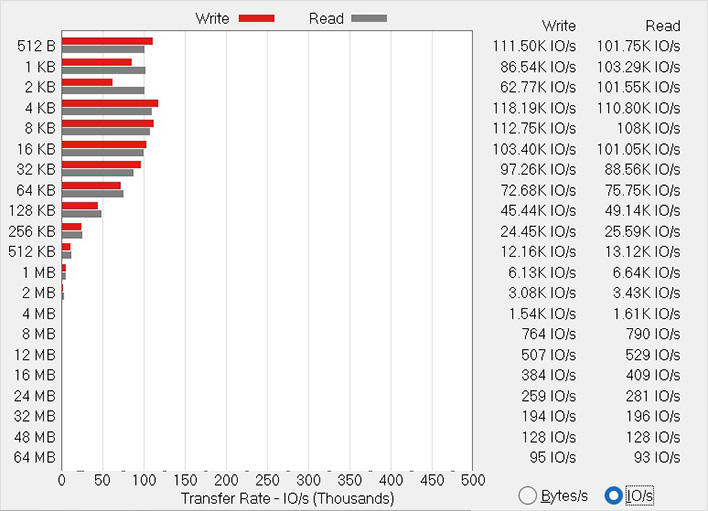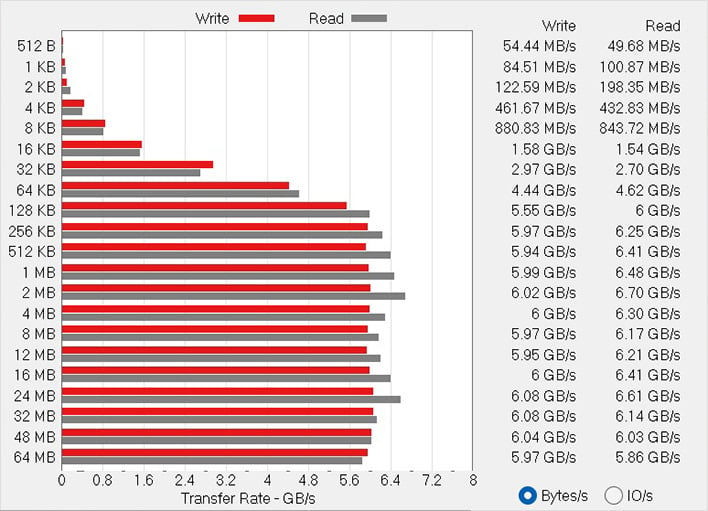 The ASUS ROG Strix Scar 17 X3D configuration we tested included a single, 1TB SK Hynix NVMe PCIe Gen 4 SSD. As you can see, performance is about in-line with most high-end drives in this class, with peak read speeds of approximately 6.7GB/s and writes of up to 6GB/s. This kind of performance is a notch higher than the original Strix Scar 17 we looked at, however, which had a Samsung drive inside.

Speedometer 2.0 Browser Benchmark
We use BrowserBench.org's
Speedometer
test to gauge our web experiences, which takes a holistic look at web application performance. This test automatically loads and runs several sample web apps from ToDoMVC.com using the most popular web development frameworks around, including React, Angular, Ember.js, and even vanilla JavaScript. This test is a better example of how systems cope with real web applications, as opposed to a pure JavaScript compute test like JetStream. All tests were performed using the latest version of Chrome.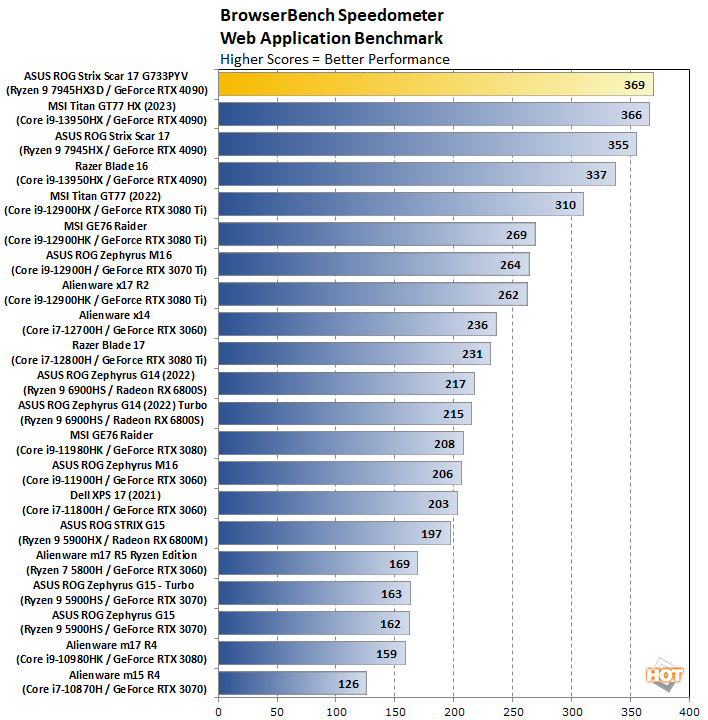 We should mention that this test is influenced by browser updates, and we don't have all of these machines on hand indefinitely to continually re-test. That said, we don't think the ranking would have changed all that much. The ASUS ROG Strix Scar 17 X3D lands smack dab at the top of the list, squeaking by the
MSI
GT77 Titan. Of course, all of these machines are more than capable of handling web-apps, but the ASUS ROG Strix Scar 17 X3D scores its first victory nonetheless.
Cinebench R23 Rendering Benchmark
This is the latest 3D rendering benchmark from Maxon, based on the Cinema 4D R23 rendering engine. We tested both single-threaded and multi-threaded tests on all of the notebooks represented here...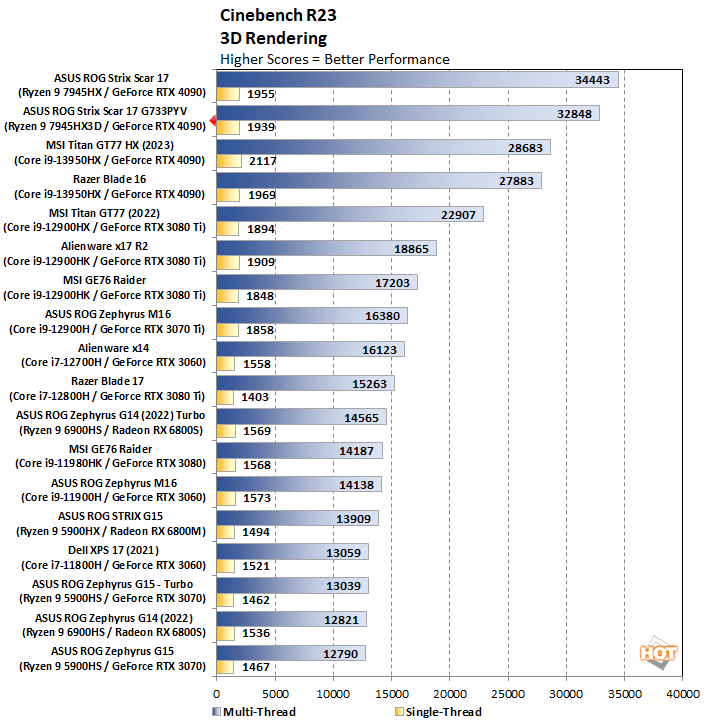 We were impressed by the original ASUS ROG Strix Scar 17's multi-threaded performance in Cinebench when we first evaluated the machine a few months ago, and it continues to reign supreme. The new ASUS ROG Strix Scar 17 X3D's Ryzen 9 7945HX doesn't quite turbo as high or as long on its 3D V-Cache equipped compute die, which pulls performance down slightly. It's still enough to outrun Intel's fastest mobile processors, though -- at least in the multi-threaded test. Intel's P-Cores lean overall in single-thread perf.
Geekbench 5 Benchmarks
Geekbench
is a cross-platform benchmark that simulates real world processing workloads in image processing and particle physics scenarios. We tested the notebooks featured here in Geekbench's single and multi-core workloads. It measures single-threaded performance allowing a single core to stretch its legs, and multi-threaded throughput to put all cores under a heavy load.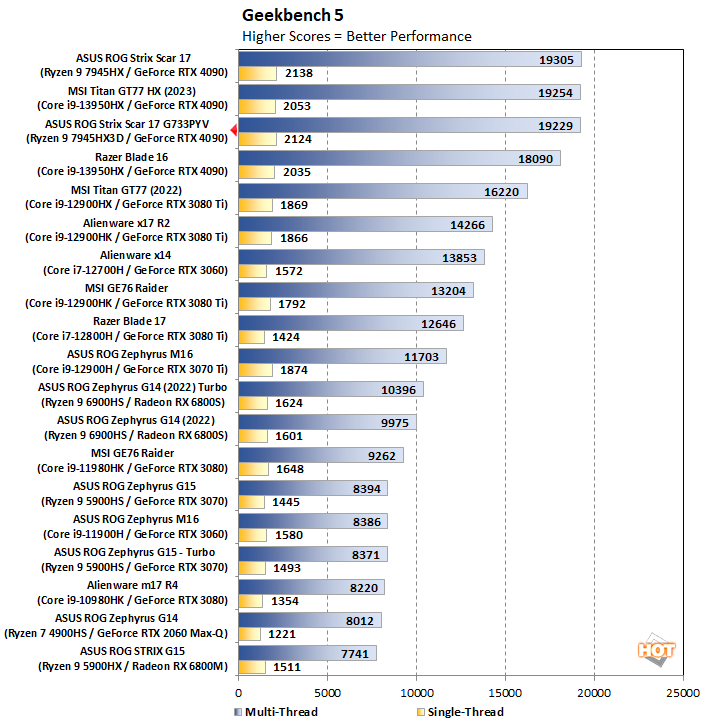 Our GeekBench results have the top three systems finishing right on top of each other. The ASUS ROG Strix Scar 17 X3D technically lands in the third position here, thanks to its slightly lower single and multi-threaded performance versus its
non-3D V-Cache enabled
counterpart, but we're talking about some miniscule deltas. The ASUS ROG Strix Scar 17 X3D is easily one of the most powerful gaming notebooks on the market today.
PCMark 10 Whole System Benchmarks
PCMark 10
uses a mix of real-world applications and simulated workloads to establish how well a given system performs productivity tasks, including image and video editing, web browsing, and OpenOffice document editing. While these scores appear to be all over the place, the systems are sorted by their overall PCMark score, which is the third (gray) bar in each cluster.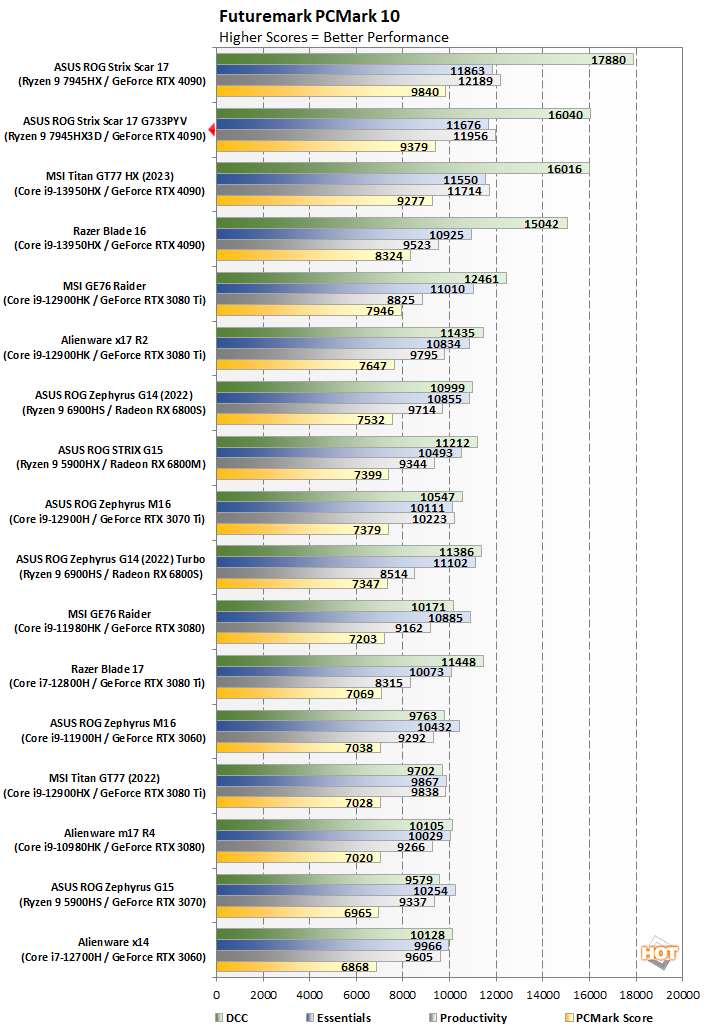 Once again we see the Ryzen 9 7945HX3D-powered ASUS ROG Strix Scar 17 X3D putting up excellent numbers, that are just a bit behind the original ASUS ROG Strix Scar 17's standard Ryzen 9 7945HX. Still, we're talking about some killer performance, that leads previous-gen notebooks by a decent margin.
3DMark Graphics And GPU Tests
3DMark has several different graphics tests which focus on different types of systems. We start with Time Spy, which was 3DMark's headline benchmark until just recently. This test presents a pretty significant challenge for the system's CPU and GPU using the DirectX 12 API...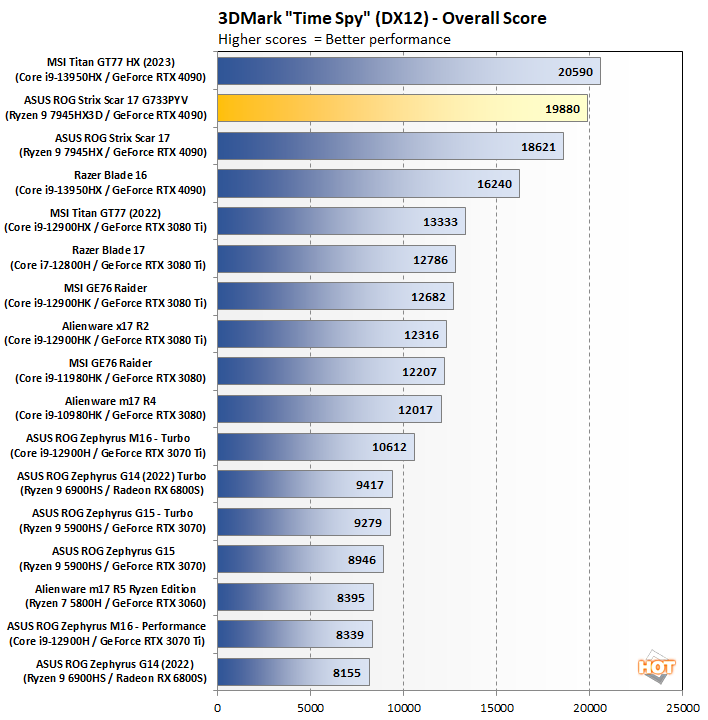 The new ASUS ROG Strix Scar 17 X3D scores over 1,200 points higher than the ASUS ROG Strix Scar 17, which is noteworthy considering the only major differences between the systems are their processors and SSDs. While that is a healthy increase in performance, it's not enough to catch the MSI GT77 Titan. The larger MSI machine has additional volume for a more robust cooling solution, which helps the GPU remain at higher frequencies, for longer periods. That ultimately increases performance in an application like this that hammers on both the
CPU
and
GPU
.
Next up, let's take a look at the Extreme preset for the punishing 3DMark Fire Strike test. This DirectX 11 test has been around for a while, but it's still pretty challenging for mobile GPUs.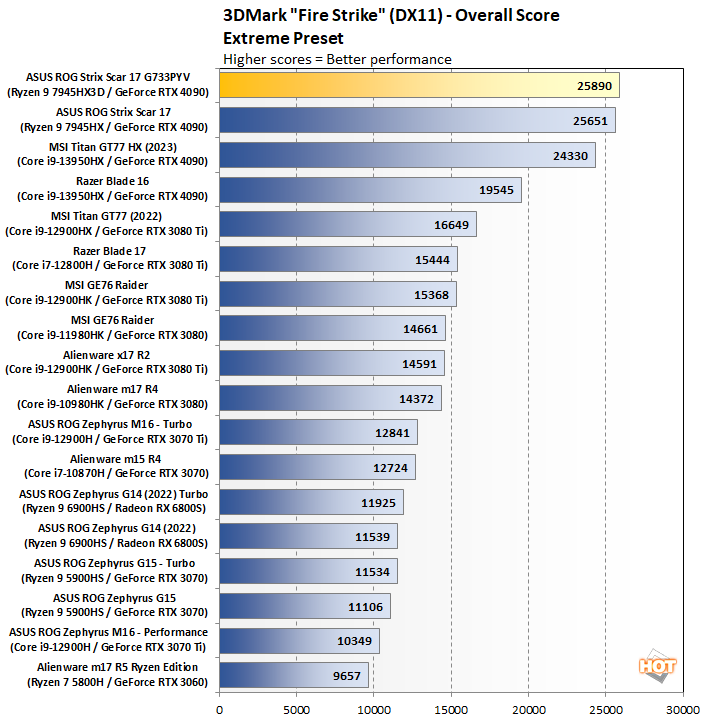 We saw a somewhat different hierarchy in the Fire Strike test. Here, ASUS ROG Strix Scar 17 X3D is able to pull into the lead by a few percentage points, thanks in part to the Ryzen 9 7945HX3D's better multi-threaded performance and slightly higher framerates in the GT1 and GT2 components of this benchmark. The CPU Physics score (which is multi-threaded) and the framerates in GT1 and GT2 are factored into the overall result, which puts the ASUS ROG Strix Scar 17 X3D in the lead.
Lastly, the Port Royal test uses DirectX
Ray Tracing
(DXR) along with traditional rasterization techniques to illuminate a scene...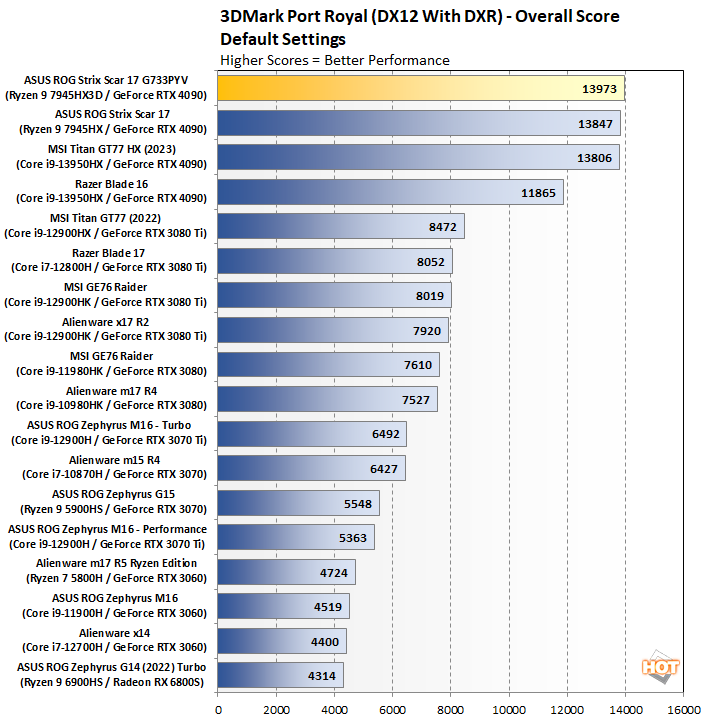 DXR hardware is a requirement for this test, so we don't have quite as many machines represented, but there's still plenty for comparison purposes. Here the RTX 4090-equipped MSI and ASUS machines finish right on top of each other, battling it out at the top of the charts. While only a few points separate the top systems, the ASUS ROG Strix Scar 17 X3D still manages to pull into the lead.
Middle Earth: Shadow Of War Tests
Middle Earth: Shadow of War
is a fun and beautiful title set in Tolkien's Lord of the Rings universe. To test the game's performance relative to other systems, we set the resolution to 1920x1080 (or 2560x1440) and turned the visuals up to the High preset. The frame rates here are the average reported by the built-in benchmark.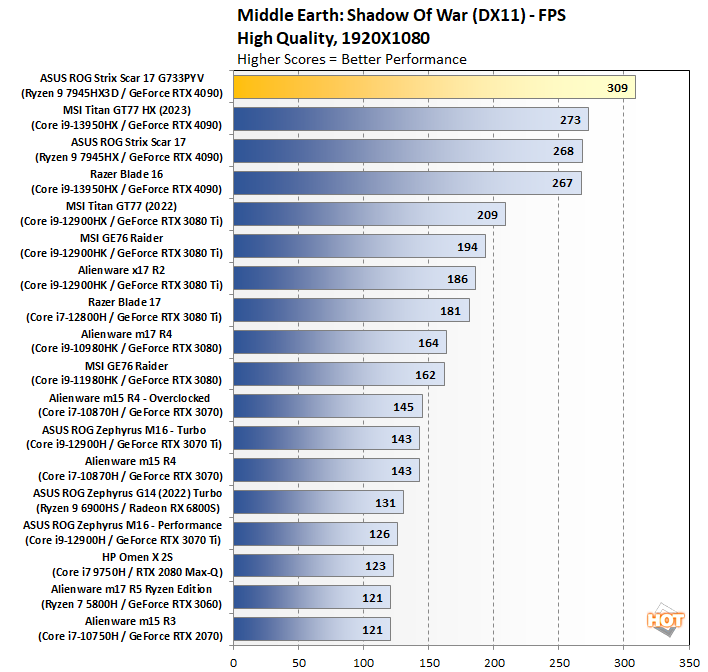 In the first of our actual game tests, we're going to show results at two resolutions, 1080p because that's where we've got the most reference data, and 1440p. In the 1440p tests, we only have results from a handful of machine, which isn't ideal, but still provides an adequate frame of reference with some competitive, high-end mobile gaming platforms.
As you can see, the Ryzen 9 7945HX3D +
GeForce RTX 4090
combo in the ASUS ROG Strix Scar 17 X3D finishes at the top of the charts at both resolutions, clearly outgunning everything else we tested.
Shadow Of The Tomb Raider Benchmarks
The finale in the rebooted Tomb Raider trilogy, Shadow of the Tomb Raider is easily the best-looking of the bunch. It's also brimming with Tobii eye-tracking hardware support, and leading-edge graphics technologies. To test this game out, we again turned the visuals up to their highest preset and tested at the FullHD resolution of 1920x1080, and again at 2560x1440.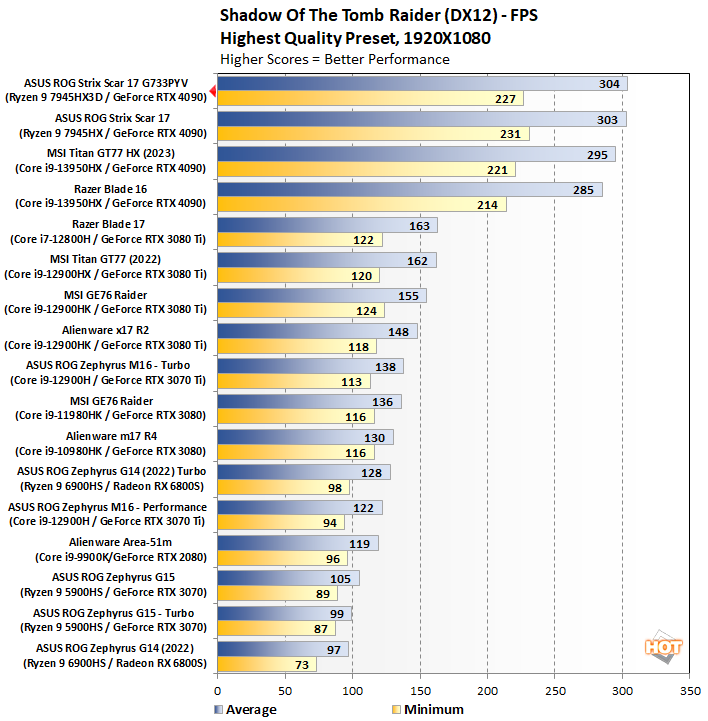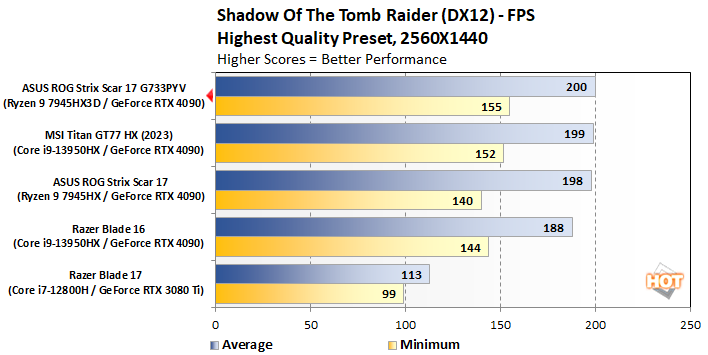 In this game, the ASUS ROG Strix Scar 17 X3D, the
original Scar 17
, and the MSI Titan GT77 duke it out for supremacy at both resolutions, but the ASUS ROG Strix Scar 17 X3D takes the lead yet again. Tomb Raider, however, doesn't benefit nearly as much as Shadow Of War by the 7945HX3D's 3D V-Cache.
F1 2021 Benchmarks
F1 2021 supports DirectX 12 with ray tracing, and it incorporates support for a number of AMD's FidelityFX Super Resolution (FSR) and NVIDIA technologies (like DLSS). We tested the games with its Ultra High graphics preset, with ray-tracing and TAA enabled at a couple of resolutions to see what the Razer Blade 16 could do...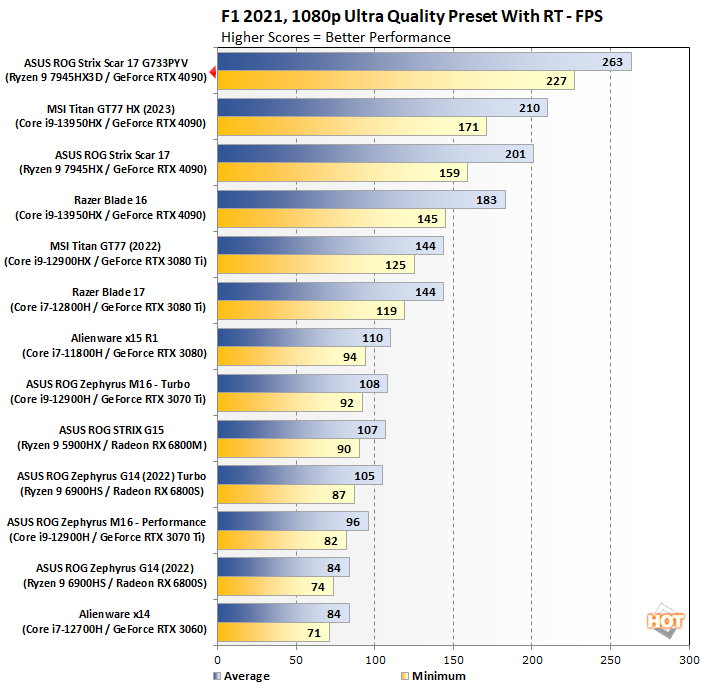 The ASUS ROG Strix Scar 17 X3D exhibited big performance gains over it's non-3D V-Cache equipped counterpart, and once again jumped into the overall lead at both resolutions.
Marvel's Guardians Of The Galaxy
Marvel's Guardians of the Galaxy is an action-adventure game where you play as Star-Lord and lead the rest of the Guardians from mission to mission. The game's minimum requirements call for a Radeon RX 570 or GeForce GTX 1060-class GPU, but it also supports some of the latest graphics technologies, including DXR and
DLSS
.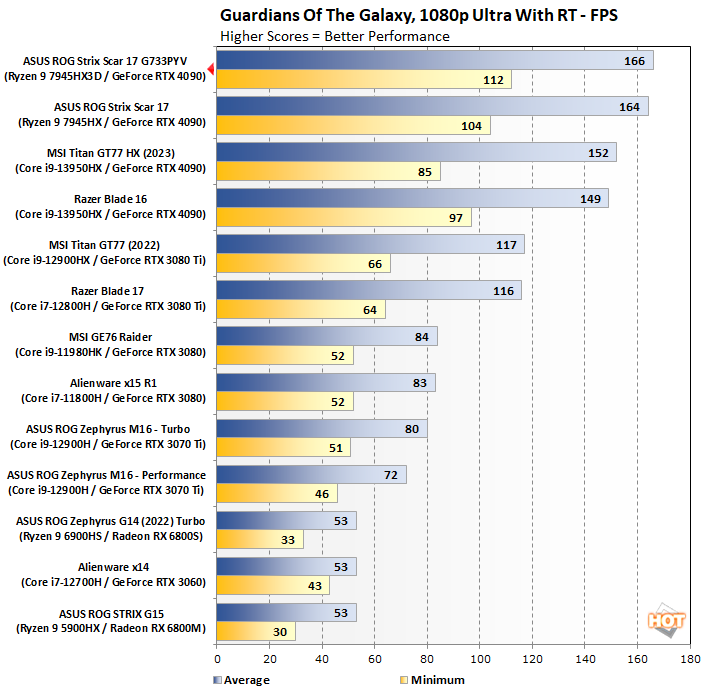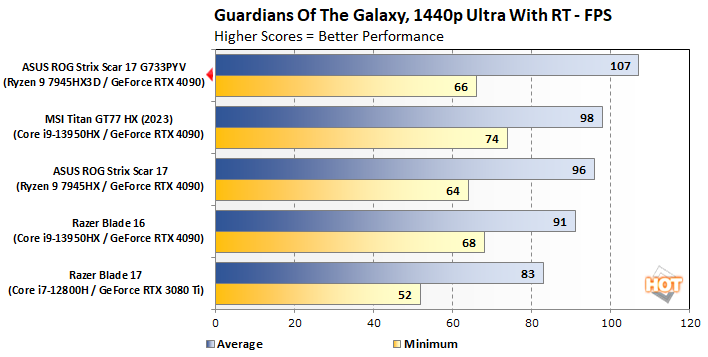 Guardians Of The Galaxy's performance increased slightly with the Ryzen 9 7945HX3D's 3D V-Cache, which was enough to put it into the overall lead yet again, at both resolutions.
AMD Ryzen 9 7945HX Integrated Radeon Test
The AMD Ryzen 9 7945HX includes a basic, integrated Radeon GPU, similar to Ryzen 7000-series desktop GPUs. The "AMD Radeon Graphics" engine (as it is labeled in Device Manager) isn't a powerful iGPU like the Radeon 680M found in the mobile 6000-series, but rather a minimal 2CU config that will often be paired to a discrete GPU.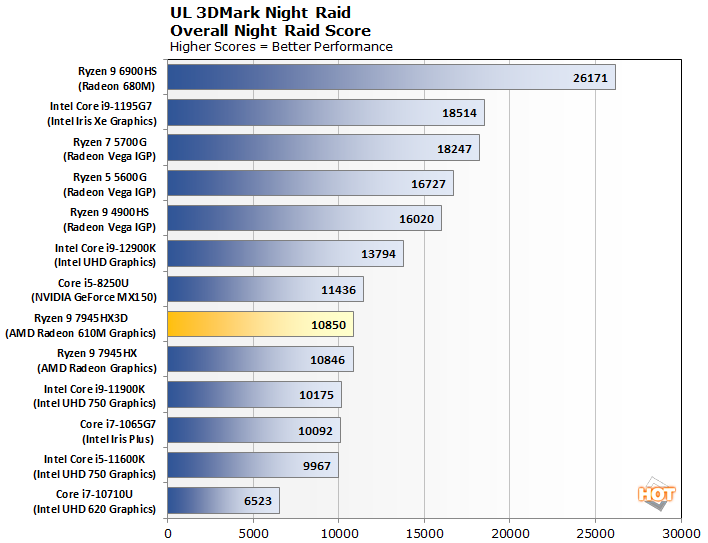 Performance of the AMD Ryzen 9 7945HX's integrated Radeon GPU falls somewhere in between the NVIDIA MX150 and Intel's UHD 750 graphics. You're not going to break any benchmark records with the Ryzen's iGPU, but it's plenty adequate for tooling around on the desktop, browsing, and consuming media.
ASUS ROG Strix Scar 17 Battery Life And Power Tests
We run a custom 1080p HD video loop test developed in-house, to evaluate battery life with notebooks and laptops. In all tests, Windows Quiet Hours / Focus Assist has been enabled and the displays are calibrated with lux meters on pure white screens to as close to 115 lux as possible. For the average laptop this is somewhere between a 40-60 percent brightness setting.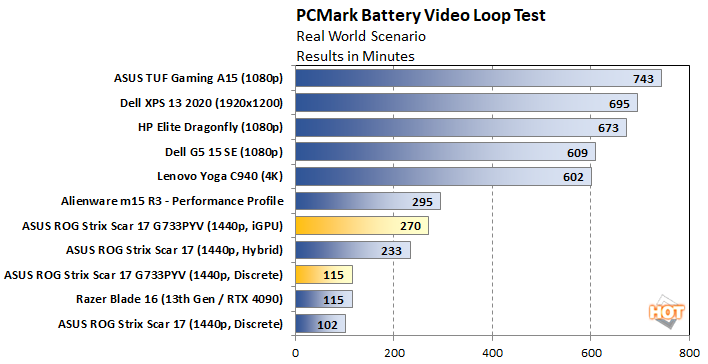 We tested the ASUS ROG Strix Scar 17 X3D in two modes here: discrete graphics mode, which keeps the GeForce RTX 4090 fired up at all time and again with NVIDIA Optimus enabled in a hybrid mode that automatically switches between the iGPU and dGPU depending on the workload. In discrete mode, the ASUS ROG Strix Scar 17 notched a bit less than 2 hours, which put it near the bottom of the stack. In hybrid mode, however, things improved considerably, and the machine lasted for over 4.5 hours. It's worth noting that the ASUS ROG Strix Scar 17 X3D put up better battery life than the original
ASUS
ROG Strix Scar 17 in both modes, which is most likely due to somewhat higher overall efficiency with the 3D V-Cache enabled Ryzen 9 7945HX3D.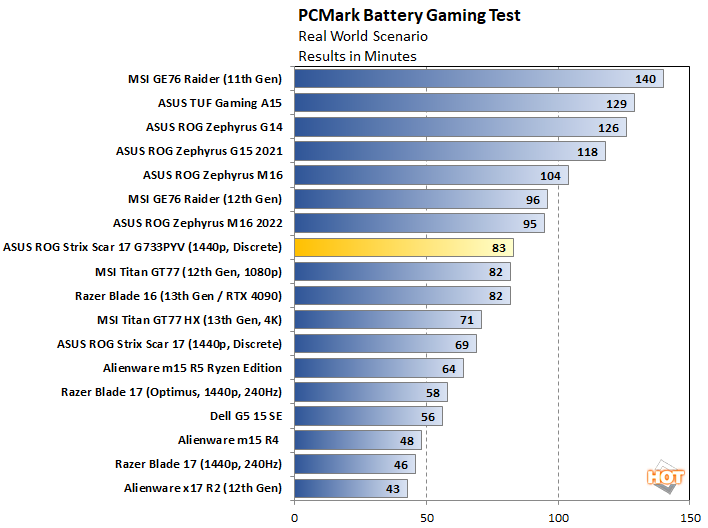 With a more taxing gaming workload, the ASUS ROG Strix Scar 17 X3D offered 83 minutes of uptime, which put it just a bit ahead of the MSI Titan GT77 HX we recently reviewed. Note, however, that the ASUS ROG Strix Scar 17 X3D has a smaller battery
than the
MSI
machine -- 90whr vs. 99whr.
We'd also like to mention that, except for the hybrid result in the video test, these are essentially worst case scenario numbers, measured with the notebooks in discrete graphics mode. With large, high-refresh displays and today's most powerful mobile processors and GPUs, keeping all that screen real estate lit and silicon fired up will eat through battery life very quickly.
Related content