ASUS ROG Strix Scar 17 Review: AMD Dragon Range Breathes Fire
ASUS ROG Strix Scar 17: Amazing Performance With AMD Dragon Range Ryzen CPUs And RTX 40 GPUs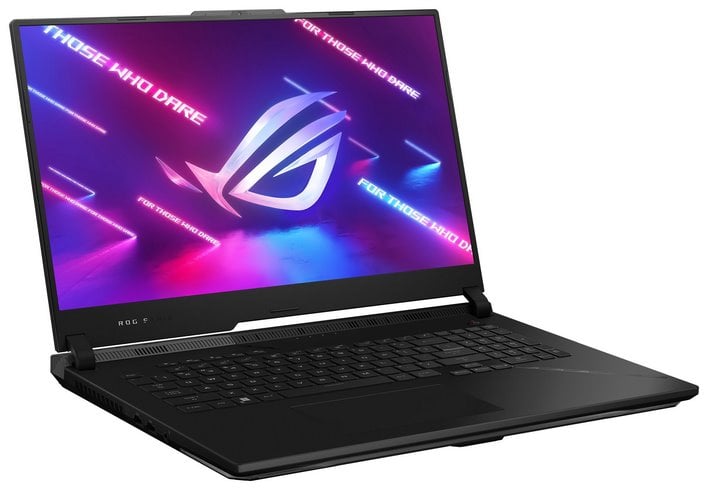 ASUS ROG Strix Scar 17: As Configured - $3499


The new ASUS ROG Strix Scar 17 is an immensly powerful gaming notebook, equally adept at multi-threaded creator workloads as it is for the latest AAA games.






Excellent Performance
Multi-Thread Leadership
Balanced Form Factor
Decent Keyboard, Nice Trackpad

Battery Life
Price Premium
Fan Pitch



---
After a couple of leaks and unsubstantiated initial reports, AMD officially confirmed its plans to release a series high-end mobile processors, codenamed "
Dragon Range
," during a financial conference call in June of last year. Then at CES this past January, AMD revealed the starting line-up of Dragon Range processors, which will hit store shelves, featuring Ryzen 7045 HX branding. The flagship processor in the family is the AMD Ryzen 9 7945HX, a 16-core, 32-thread part that's fundamentally similar to its desktop counterpart. It is this powerful processor that beats at the heart of the latest ASUS ROG Strix Scar 17 gaming laptop we'll be showing you here today.
As its name suggests, the ASUS ROG Strix Scar 17 is a large format 17" gaming machine, but it is thinner and lighter than the average laptop in this class. And paired to the beefy Dragon Range processor is an equally powerful GPU, the NVIDIA GeForce RTX 4090. Needless to say, with AMD's and NVIDIA's latest and greatest silicon inside, the ASUS ROG Strix Scar 17 should be one powerful beast, well-equipped for a wide variety of workloads. Just how powerful the ASUS ROG Strix Scar 17 is relative to the stiff competition in this space, however, remains to be seen. So, let's stop beating around the bush and get right to it...
ASUS ROG Strix Scar 17 (2023) Gaming Laptop Specifications
A quick glance at the
ASUS
ROG Strix Scar 17's specs reveals some key features. There's the aforementioned Ryzen 9 7945HX and GeForce RTX 4090 (175w TDP, 2,040MHz boost) with 16GB video memory, of course, along with 32GB of DDR5-4800 memory operating in a dual-channel configuration and a 1TB NVMe PCIe Gen 4 SSD. The 17" display features a high-refresh rate IPS panel with a QHD (2560x1440) native resolution, and WiFi 6E, Bluetooth 5.3, and wired ethernet are all supported as well. All told, save for the CPU and GPU, the configuration we tested isn't over the top like some other machines we've looked at recently, but it is plenty powerful – just be prepared to expand the storage if you've got a massive Steam game library.
What Is AMD Dragon Range?
Before we tour the machine, a recap of what AMD's Ryzen 7045 HX Dragon Range processors are all about is in order...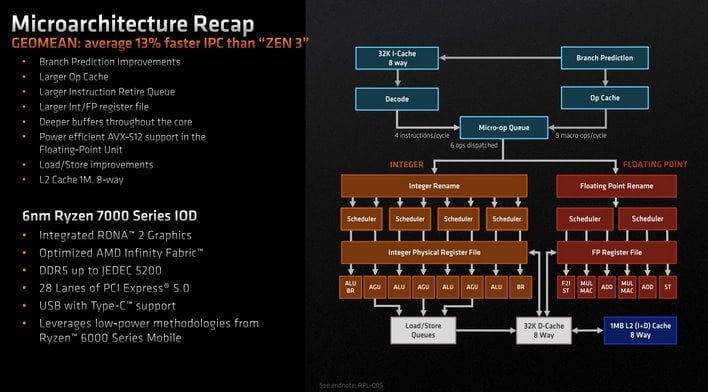 The Ryzen 7045 HX series is based on the
Zen 4
microarchitecture, just like their Ryzen 7000 series desktop counterparts. The very same 6nm Ryzen 7000 series IO Die is also present, which features DDR5 memory support, integrated PCI Express 5 connectivity, and a basic RDNA2-based graphics engine, etc. All told, Zen 4 and the new IO brought significantly improved performance and the latest IO technologies to AMD's desktop and mobile platforms.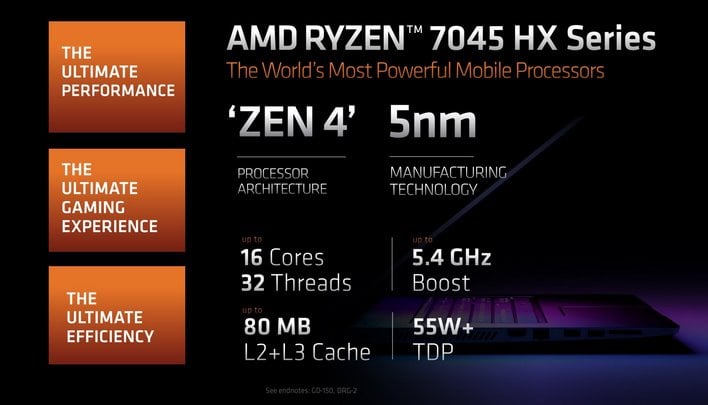 Ryzen 7045 HX series processors will feature up to 16 cores (32 threads), with up to 5.4GHz boost clocks and up to 80MB of combined L2 and L3 cache. The TDP is rated for 55W+, which is typical for the high-end class of laptops the processors are designed for. And note, all of those "up-tos" are referring to the top-end Ryzen 9 7945HX, which we'll be testing here shortly.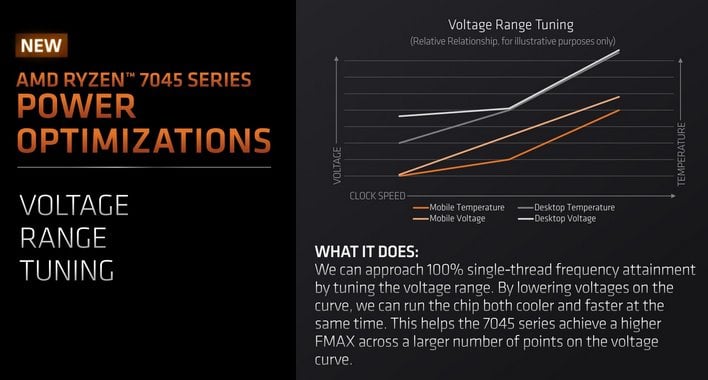 Although fundamentally similar to desktop Ryzen 7000 series processors, the Ryzen 7045 HX series does sport some mobile-focused optimizations. The first is fairly straightforward: Ryzen 7045 HX processors and selectively binned and have a VFC (voltage frequency curve) tuned for lower voltages than their desktop cousins. This allows the Ryzen 7045 HX processors to achieve similar frequencies (and hence performance), at lower voltages, which reduces power consumption and thermal output.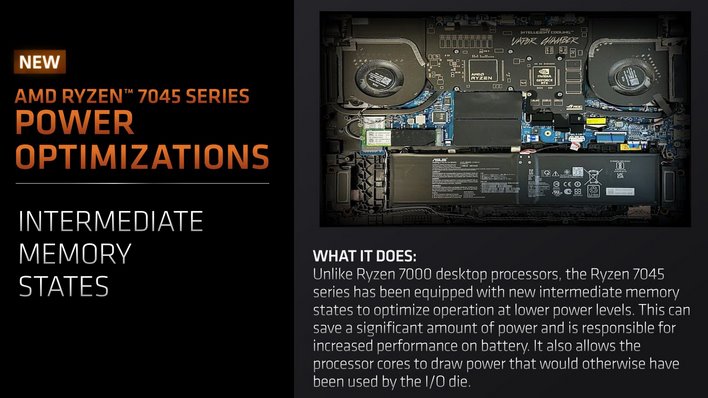 Ryzen 7045 HX processors also offer what AMD is calling intermediate memory states. These intermediate memory states allow the memory to operate at lower power levels, which commensurately reduces the load and thermal output of the IO die. Freeing up some power from the IO die allows the processor cores to use that bit of additional power headroom to further optimize performance.
ASUS ROG Strix Scar 17 Build Quality & Design
There is no mistaking the ASUS ROG Strix Scar 17 for anything but a gaming laptop. The machine has a matte black, soft touch finish all around, with grey and silver accents, that include a ROG logo on the lid and actual ROG branding along the rear edge of the system, under the display hinge.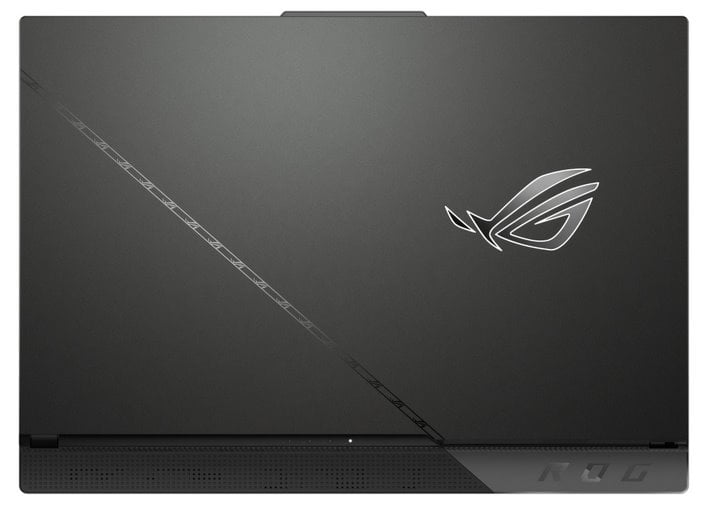 There's also venting and lighting across multiple locations around the ROG Strix Scar 17, in addition to stripes that feature numerous ROG logos inside. Overall, the aesthetic isn't as garish and in-your-face as powerful gaming laptops of yesteryear, but everyone will know at first glance that this isn't your Auntie's laptop either. The system's physical dimensions are relatively tame for a high-end gaming notebooks as well, at barely over an inch thick and about 6.6lbs.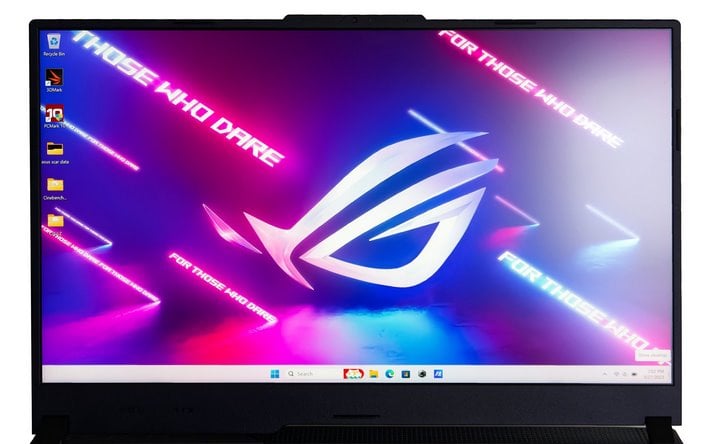 The IPS-level QHD display option on the
ASUS ROG Strix Scar 17
is excellent. It's not as bright or vibrant as some of the mini-LED laptop displays we've experienced recently, but offers great fidelity, with wide viewing angles and accurate color reproduction. The 3ms response time, 240Hz maximum refresh rate and support of NVIDIA G-Sync technology are also welcome features, which results in buttery-smooth animations and gaming, free of tearing artifacts. We also think the QHD resolution is the sweet spot for high-refresh mobile gaming. The GeForce RTX 4090 in the ROG Strix Scar 17 is plenty capable of smooth 4K gaming, but to maximize that high refresh rate and keep latency to minimum, while also cranking up the in-game eye candy, QHD is great.
Just above the display you'll find a webcam and microphone array in the small bump-out at the top. The mics worked well, but the webcam is unfortunately 720p. Considering the premium nature of this system, it would have been nice to see a high-quality 1080p webcam included.
The ROG Strix Scar 17 also delivers on the audio front. The system features down-firing, Dolby Atmos tuned speakers that produce some high-quality output. The maximum volume here isn't quite as loud as some other notebooks, but it is surprisingly distortion free and offers a bit more bass than competing laptops in this class. It's not room shaking bass, obviously, but the audio output does sound more balanced and richer than most laptops.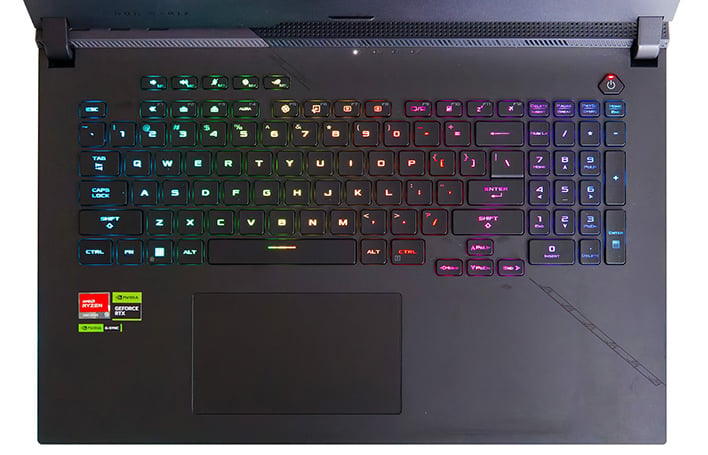 The keyboard and touchpad on the ROG Strix Scar 17 are also quite good. Everything and backlit, with full RGB controls, and there is plenty of space for comfortable typing. The keycaps are mostly flat, but there is a healthy 2mm of travel and keyboard feels nice and rigid. The Cherry MX mechanical switches in
MSI's recent high-end gaming notebooks
have spoiled us, but the ROG Strix Scar 17 does offer a good typing experience.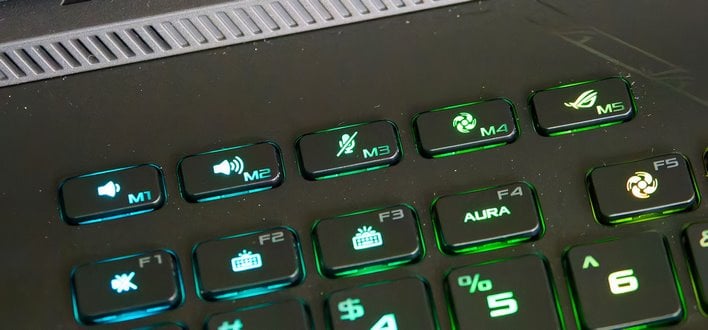 There are also dedicated buttons for audio controls, switching power profiles, and opening Armory Crate which we like not only for their convenience, but because you won't have to deal with hitting the FN key and using two hands for common tasks. The touchpad on the ROG Strix Scar 17 is also very good and of a decent size, but like other gaming laptops, you're going to want to use an actual mouse with most games.


In terms of connectivity, all of the ports on the ROG Strix Scar 17 are available on the left side and rear of the machine. The front of the machine has a lighting strip and the right side of the machine some venting, but there are no ports to be found.
The left side of the system is home to a pair of USB-A 3.2 Gen 1 ports and a 3.5mm audio jack and on the rear you'll find dual USB-C 3.2 Gen 2 ports (one with power delivery), a full-sized HDMI output, a 2.5G LAN port and the power jack.
ASUS ROG Strix Scar 17 Software Experience
ASUS ships the ROG Strix Scar 17 with a fairly clean Windows 11 Pro installation that's mostly devoid of bloatware, save for a McAfee Security suite that we promptly uninstalled. ASUS does, however, nag users to register the system (on more than one occasion) through the MyASUS program. Other than that, though, ASUS includes a couple of utilities to help users customize and monitor their systems and get the most of out the machines.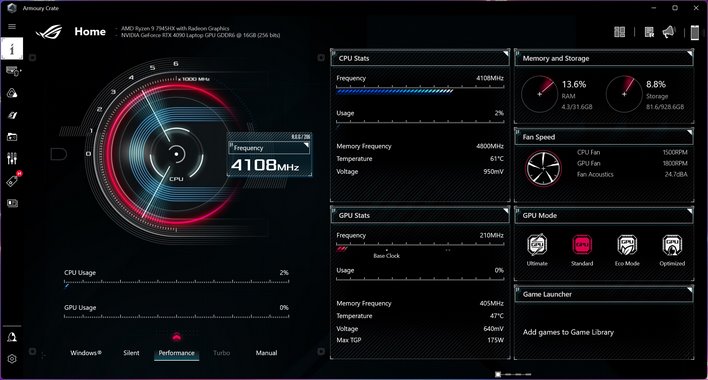 The main application ASUS includes is called ROG Armory Crate. ROG Armory Crate presents users with detailed system information, including CPU and GPU clock speeds, usage, temperature, voltages, and other hardware/software health information. Game Profiles, memory/storage usage, fan speed data, Win Key lock functionality, ROG Key, and a toggle for the Touch Pad are also built-in.
Along with the hardware health and monitoring functions, current settings can be viewed via the radar chart and switched via the buttons directly below. The default profile for the machine is 'Performance' mode, but users are also offered Turbo, Silent, Windows, and Manual Operation modes.
Users can also connect their mobile devices to the laptop via ASUS' app and adjust Armory Crate on the fly with their mobile devices.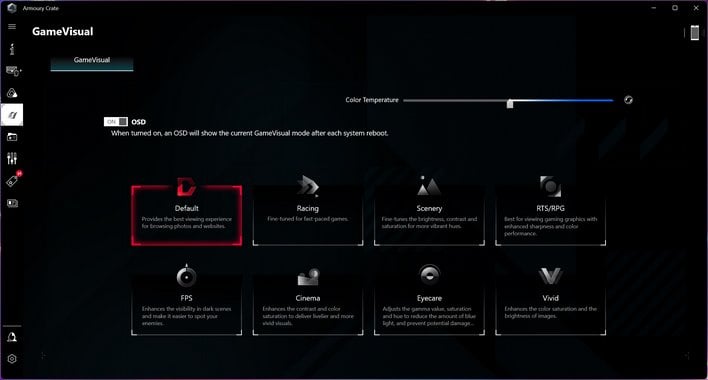 Inside Armory Crate, users also have the ability to alter lighting effects and display color modes. The lighting controls can interface with ASUS Aura Sync to match RGB lighting effects across multiple devices. In addition to offering a number of preset display modes, the GameVisual menu, also allows users to manually tweak display color temperature if they so choose.
And with all of that out the way, let's see how the ASUS ROG Strix Scar 17 and its AMD Ryzen 9 7945HX 16-core processor performs...
Related content