AMD Announces Ryzen 9 7945HX3D, Its Fastest Mobile Gaming CPU Yet
AMD's stacked 3D V-cache memory technology has been a big hit for PC gamers that are
looking for the best performance
out of their processors. By stacking on an extra 64MB of L3 cache, AMD is able to drastically reduce how often the CPU has to go out to main memory for game data, and that in turn radically improves the performance of the processor in memory-latency-sensitive tasks like games.
So far, 3D V-Cache has been limited to desktop CPUs like the
Ryzen 7 5800X3D
and the Ryzen 9 7950X3D. However, AMD and Intel both have been gleefully shoving desktop CPUs into gaming laptops, and thus it should come as no surprise that the Ryzen 9 7950X3D has found its way into a laptop form
as the Ryzen 9 7945HX3D
. Mouthful name aside, we've little reason to doubt AMD's claim that the "new" CPU is the fastest gaming chip around for laptops.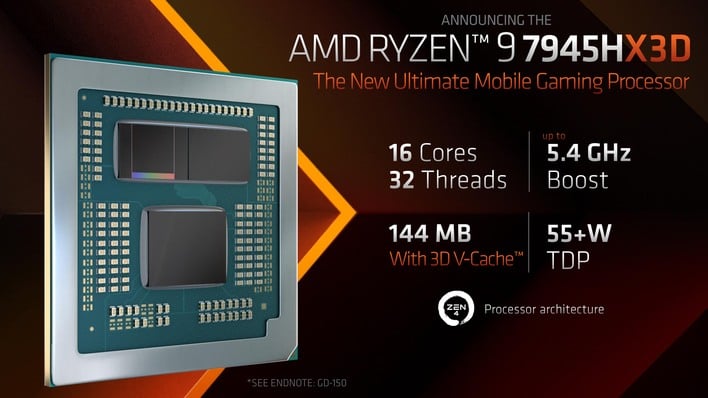 Compared to
the Ryzen 9 7945HX
, the "X3D" version sports the same core count, the same boost clock, and the same configurable TDP range of 55 to 75W. Just like the desktop version, it comes with two eight-core Zen 4 CCDs, and only one of the CCDs gets the 3D V-Cache die, meaning that half of the CPU cores get a massive 96MB of L3 cache, while the other half are stuck with the standard 32MB of L3 cache. However, those cores are probably the only ones that will hit the rated 5.4 GHz boost clock.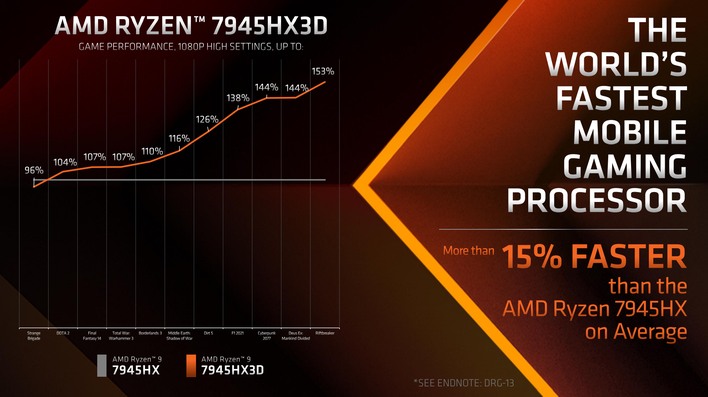 Comparing the Ryzen 9 7945HX3D against its non-V-Cache-equipped sibling, AMD says that it is "more than 15% faster on average," while the benchmarks presented in the graph on the same slide represent an average of a 22% uplift. Claims of 44% gains in
Cyberpunk 2077
and
Deus Ex: Mankind Divided
are both very impressive, and better than
anything we saw from the
(still very impressive) desktop version of the chip.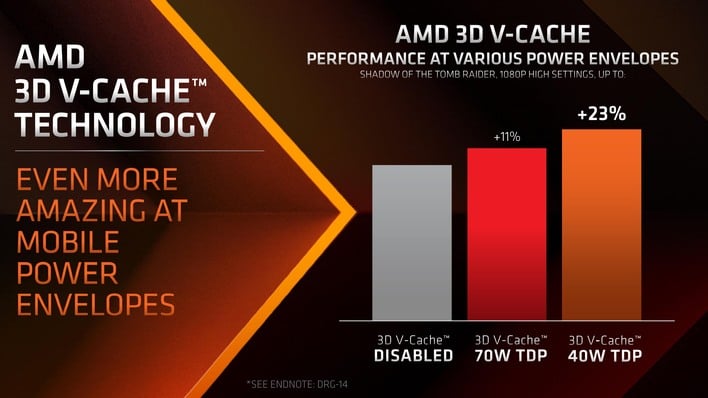 Actually, AMD says that 3D V-Cache is even better in a power-constrained environment. That does make some sense; every access that goes to CPU cache instead of to main memory is a little bit of saved power. The company claims that with the chip at a 70W TDP, it's 11% faster than with 3D V-Cache disabled in Shadow of the Tomb Raider, but cutting the TDP down to 40W gives a larger 23% gain over the same chip without 3D V-Cache enabled.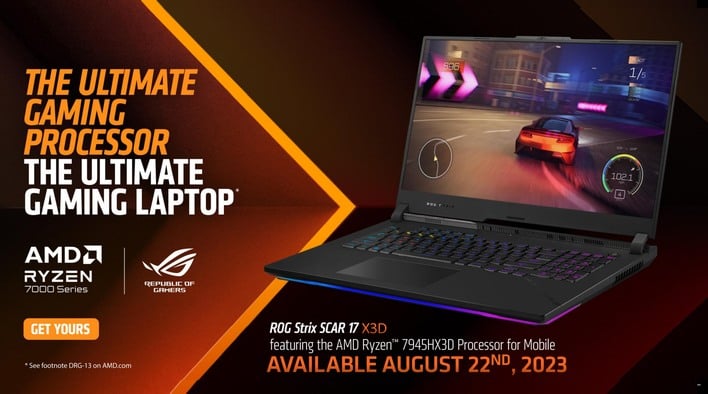 We could talk at great length about 3D V-Cache and how AMD attaches the extra die to its CPUs, but we've already done so. If you'd like to know more about how the Ryzen 9 7945HX3D is assembled, check out our previous coverage of
AMD's 3D V-Cache CPUs
, particularly
the Ryzen 9 7950X3D
. And stay tuned to HotHardware for more info as laptops powered by the chip arrive in market in the weeks ahead.